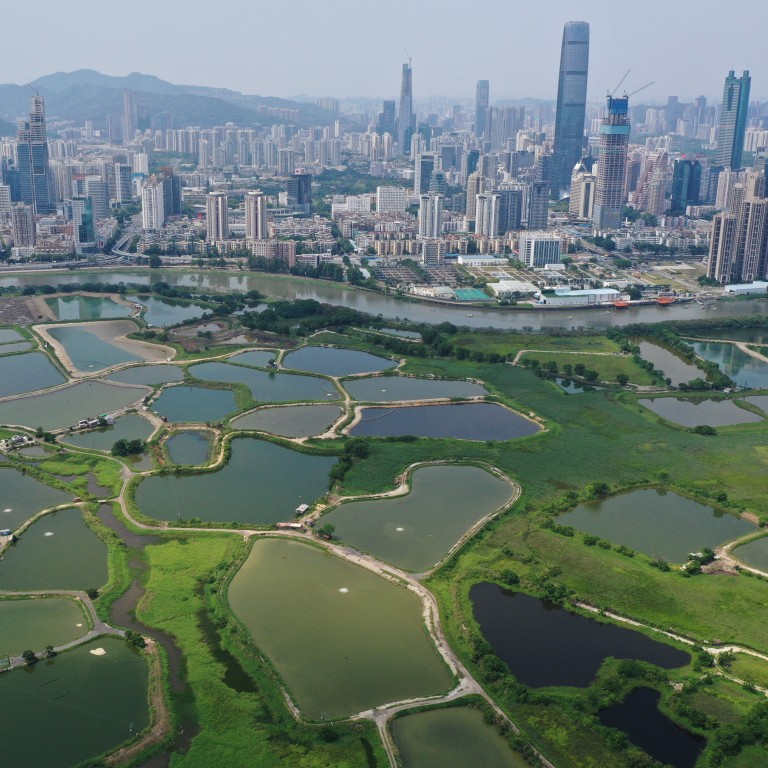 Hong Kong's role as bridge between China and world 'clearer, more essential' amid rising geopolitical tensions, experts say at Post forum
Speakers at annual China Conference: Hong Kong 2023 point to trends in finance sector and technology, as well as tertiary education
Panel agrees that if city aspires to ride Greater Bay Area development, it should prioritise flow of capital, people and information
Hong Kong's position as a bridge between mainland China and the world had only become "clearer and more essential" amid rising geopolitical tensions, financial and political experts on Tuesday said, as they noted the city had the support of the "one country, two systems" governing model.
At the South China Morning Post's China Conference: Hong Kong 2023, experts from the technology sector also predicted that the city would become a popular spot for technology and innovation investments in the next 10 years.
"I would say that Hong Kong still remains as an important bridge between China and the rest of the world. And I think over the past few years, Hong Kong's positioning is even [clearer] in terms of how we are connecting [with the world] despite the geopolitical situation and US-China relations," John Lee Chen-kwok, city-based vice-chairman and head of Greater China global banking at Swiss investment bank UBS, said.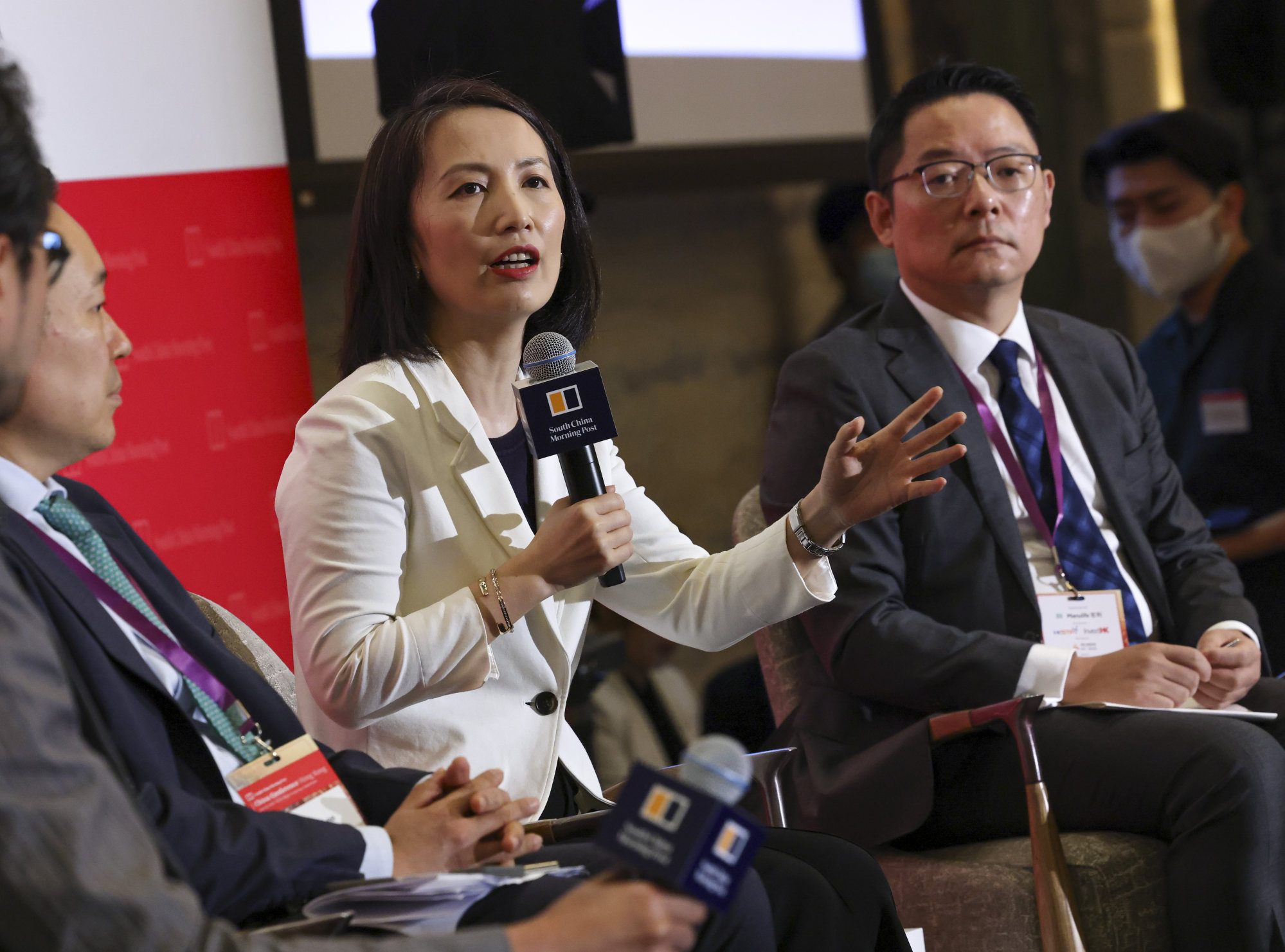 The annual one-day conference was held under normal circumstances for the first time in three years after Covid-19 curbs were lifted.
In the first panel, titled "Navigating the Future: Hong Kong's City Blueprint and Role in China's Economic Vision," Lee said Hong Kong's connector role remained and was most evident in the financial sector.
He pointed to an increasing number of companies, local and foreign, choosing the city as a listing venue in recent years, thanks to a series of initiatives implemented by the Hong Kong Exchanges and Clearing Market, including the current dual-currency trading counters that allow investors to trade stocks in Hong Kong dollars or the renminbi.
Another panel speaker, Helen Qiao, Greater China chief economist and head of Asia economics at Bank of America Global Research, added that Hong Kong's role as a gateway to the world had expanded beyond finance.
"At a time when misunderstanding between China and the West probably has been rising, this is a great opportunity for Hong Kong to shine, not only in finance, but also technology and tertiary education," Qiao said, referring to a recent trend of more mainland Chinese students opting to attend colleges in the city.
The economist said Hong Kong's free and convenient access to information and its comprehensive business network with the world had enabled it to boost (I&T) developments.
Panellist Yan Xiaojun, director of the Research Hub on Institutions of China at the University of Hong Kong, cited Beiing's commitment to upholding the one country, two systems principle, which had helped maintain Hong Kong's role as a bridge to the rest of the world.
"I see that is a very important factor … in a time of uncertainty and Sino-US rivalry," Yan said.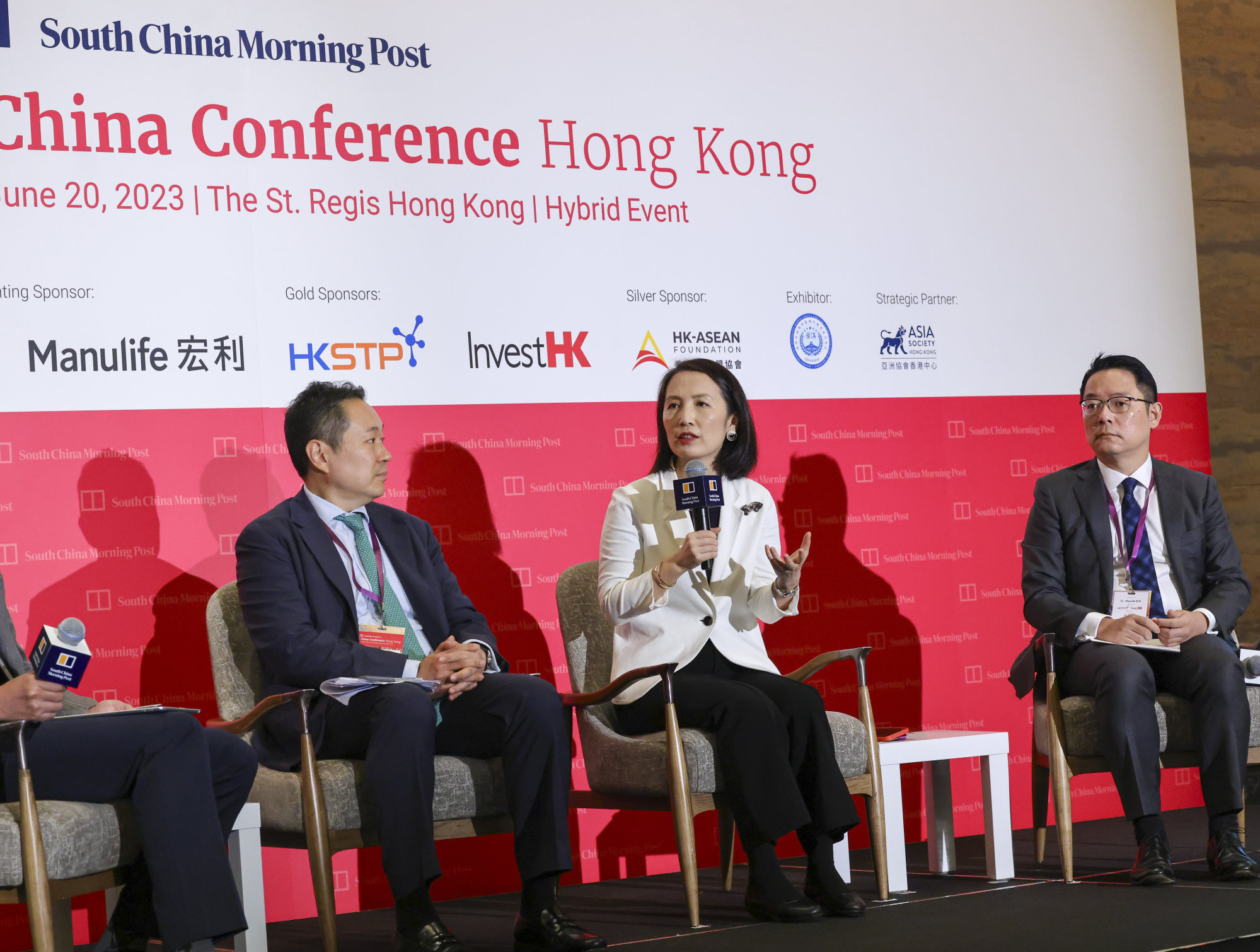 The panel also discussed the development of the
Greater Bay Area
– a national plan to integrate Hong Kong, Macau, and nine mainland cities in the region into an economic powerhouse rivalling Silicon Valley.
All three panellists agreed that if Hong Kong aspired to take advantage of the bay area development, the city should prioritise the flow of capital, people and information.
In her opening remarks, Post editor-in-chief Tammy Tam said the heavyweight speakers from different sectors underscored the significance of the conference in shaping the future of Hong Kong.
"Hong Kong, with its strategic location and rich financial heritage, serves as a beacon of opportunity. We recognise the vital role played by financial hubs like Hong Kong, Shanghai, and Shenzhen in driving global growth," she said.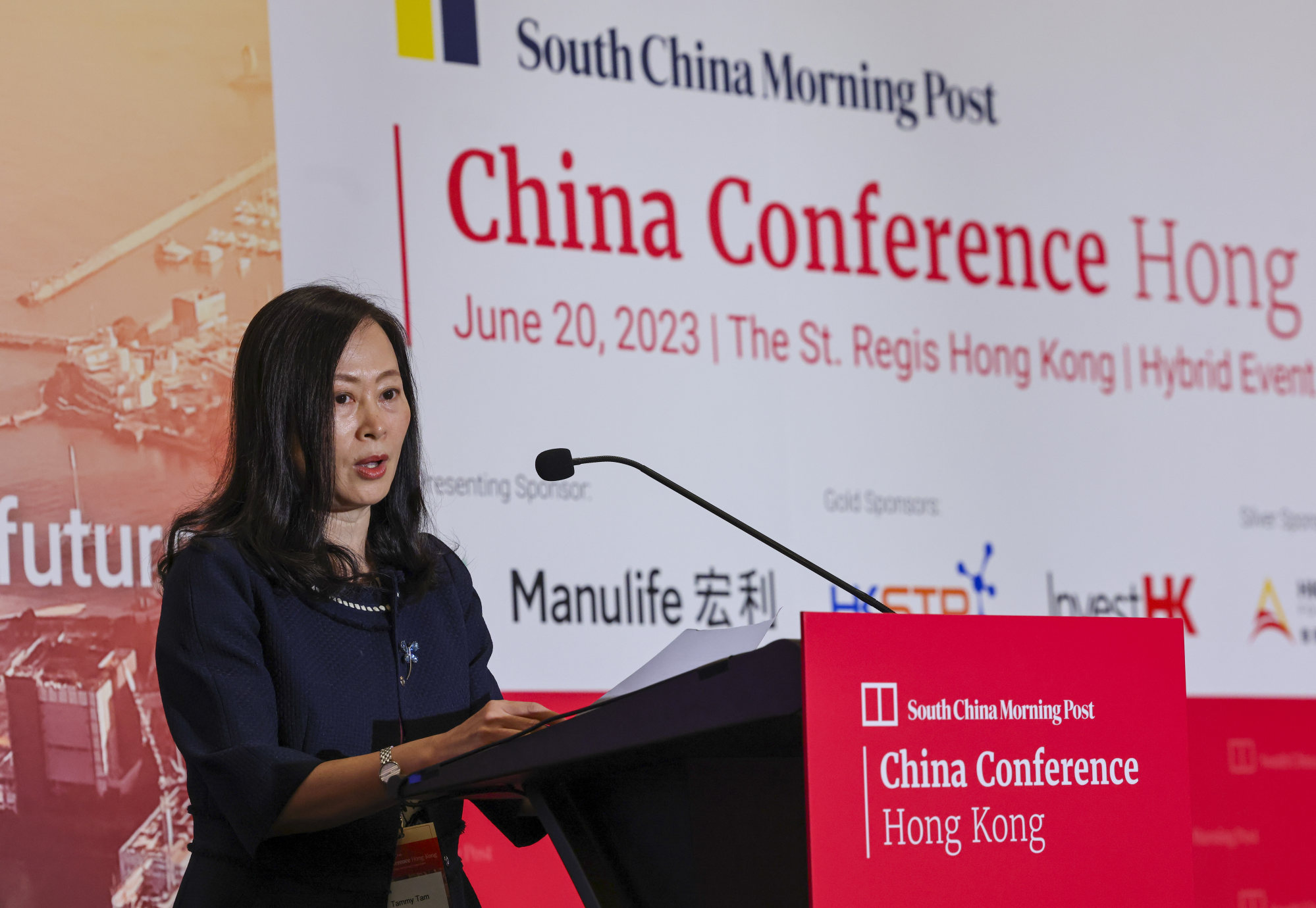 "Our mission is to provide comprehensive coverage that unravels the intricate dynamics at play, fostering a deeper understanding of how collaboration, innovation, and regulatory harmonisation can propel these hubs forward."
At another panel titled "Creating a Connected Ecosystem: Fostering Advancement and Innovation in the Greater Bay Area and Beyond", observers from the city's innovation frontline said they expected the city to become a popular spot to drive investments for the technology and innovation sector.
"We have done a lot of work in the past six to seven years. I want you to tell everyone involved the next thing [that] is going to happen in Hong Kong would be in the investment area," Hong Kong Science and Technology Parks CEO Albert Wong Hak-keung, said.
He highlighted Silicon Valley and Boston in the United States and neighbouring Shenzhen, saying they were places where "the investors, the venture capitals, drive the growth of their innovation growth" and appealed to venture capitalists not to waste a second and take a look at Hong Kong.
World-renowned scientist and president of the Hong Kong University of Science and Technology Nancy Ip Yuk-yu echoed Wong and noted the landscape for (I&T) investment had fundamentally changed over the past 10 years, with venture capitalists now more being proactive in contacting universities.
"I think the next 10 years, we really should lavish this kind of change of mindset from the VC's [venture capitalists] point of view – they [are] eager to invest, they are willing to take risks. I think this is really the most exciting time," she said.
Panellist Frank Fang, general manager and head of commercial banking, Hong Kong and Macau, at HSBC, said he believed Hong Kong had the chance to become a financing centre for innovation industries across the Asia-Pacific region.
"That is a great opportunity for the financing industries to look into and also to engage the research institutions early," Fang said.
Andy Wong, head of innovation and technology at Invest Hong Kong, told investors not to forget that, with the Greater Bay Area concept, Hong Kong's technology and innovation did not only have research capabilities, but was also backed by the industrial capacity to turn research into marketable products.