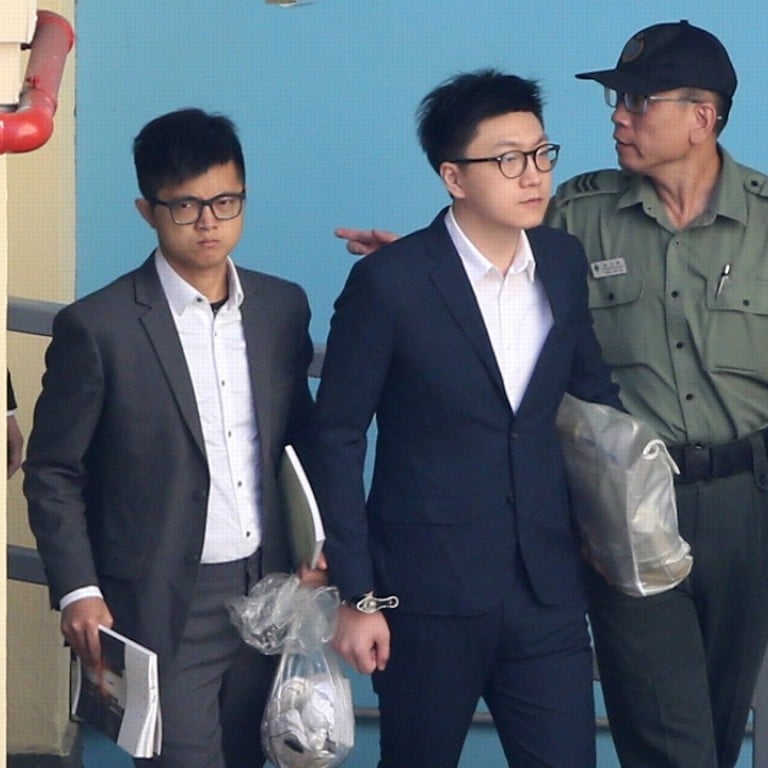 Hong Kong activist Edward Leung, the face of city's independence movement, jailed for six years over Mong Kok riot
Former convenor of political group Hong Kong Indigenous learns his fate at High Court for role in 2016 unrest
Edward Leung Tin-kei, the young activist seen as the face of Hong Kong's marginalised independence movement, was jailed for six years on Monday for his role in one of the city's worst outbreaks of civil unrest in decades.
The stiff sentence for the 27-year-old former student leader over the Mong Kok riot more than two years ago was the second most severe punishment handed to a Hong Kong protester since public order laws were introduced in the 1960s.
Judge Anthea Pang Po-kam described the riot that rocked the busy shopping district on February 8 and 9, 2016, as "organised violence" that was "extremely serious".
Carried out by a mob with a bitter desire for "revenge", the offences committed that night could not be mitigated by one's political aspirations, Pang said. The court would not allow people to resort to violence in the name of pursuing social and political causes.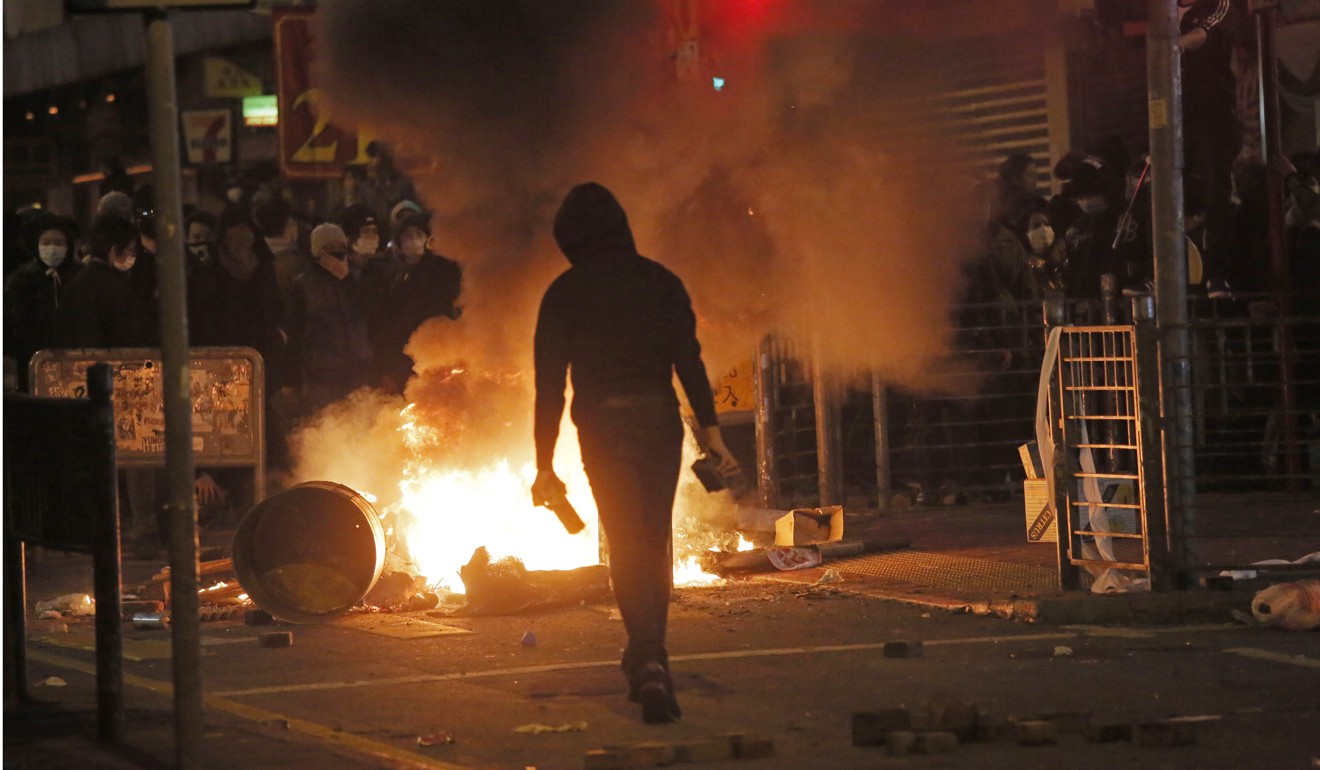 "That would send a wrong message to the public that those fed up with the government can resolve matters with violence," the judge said.
The length of Leung's sentence was surpassed only by the penalty given to his co-defendant in the same case, Lo Kin-man, 31, who was jailed for seven years over one count of rioting.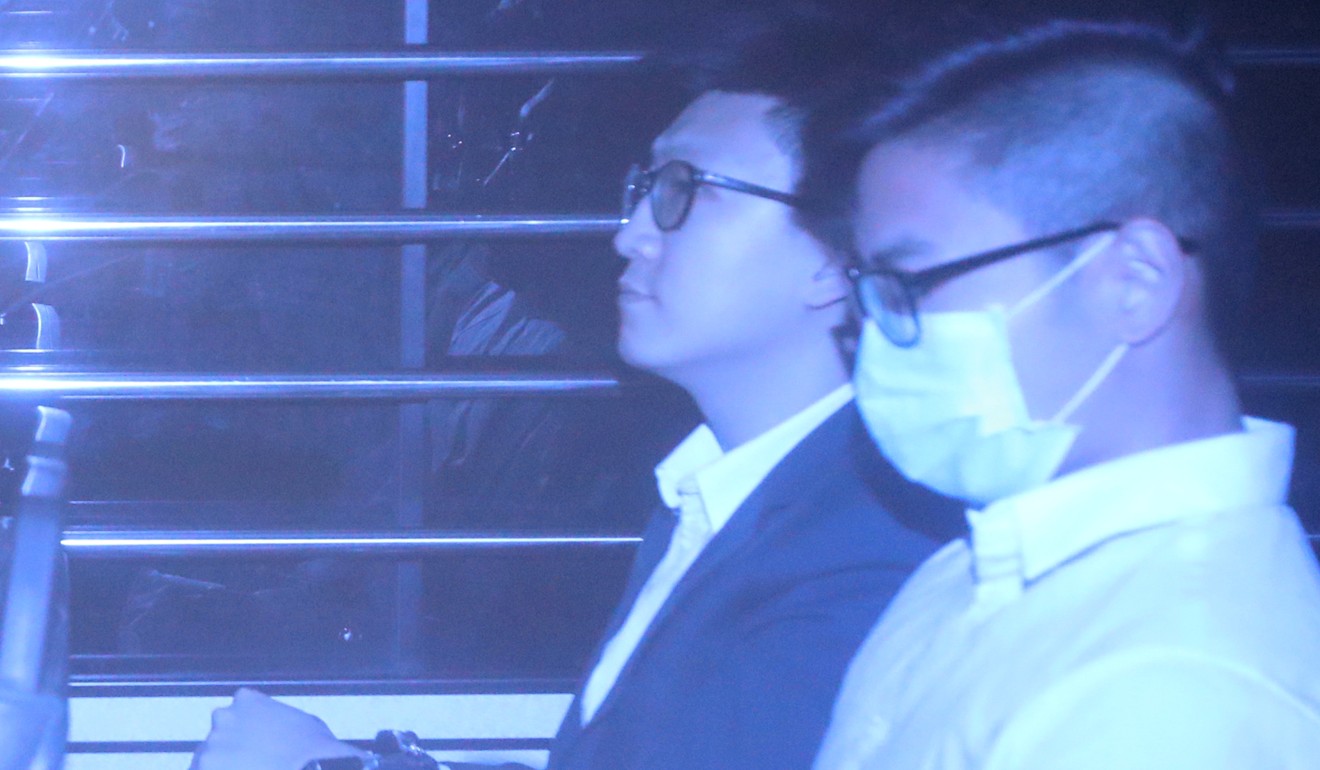 On May 18 this year, Leung, the former convenor of localist political group Hong Kong Indigenous, was found guilty unanimously by a nine-member jury on one count of taking part in a riot, but was cleared of inciting unrest.
The jury was undecided on another riot charge, for which Leung would face a retrial, prosecutors revealed on Monday.
At the start of the trial, Leung also pleaded guilty to assaulting a police officer.
A third defendant, Wong Ka-kui, 27, who admitted to one count of rioting, was jailed for 3½ years.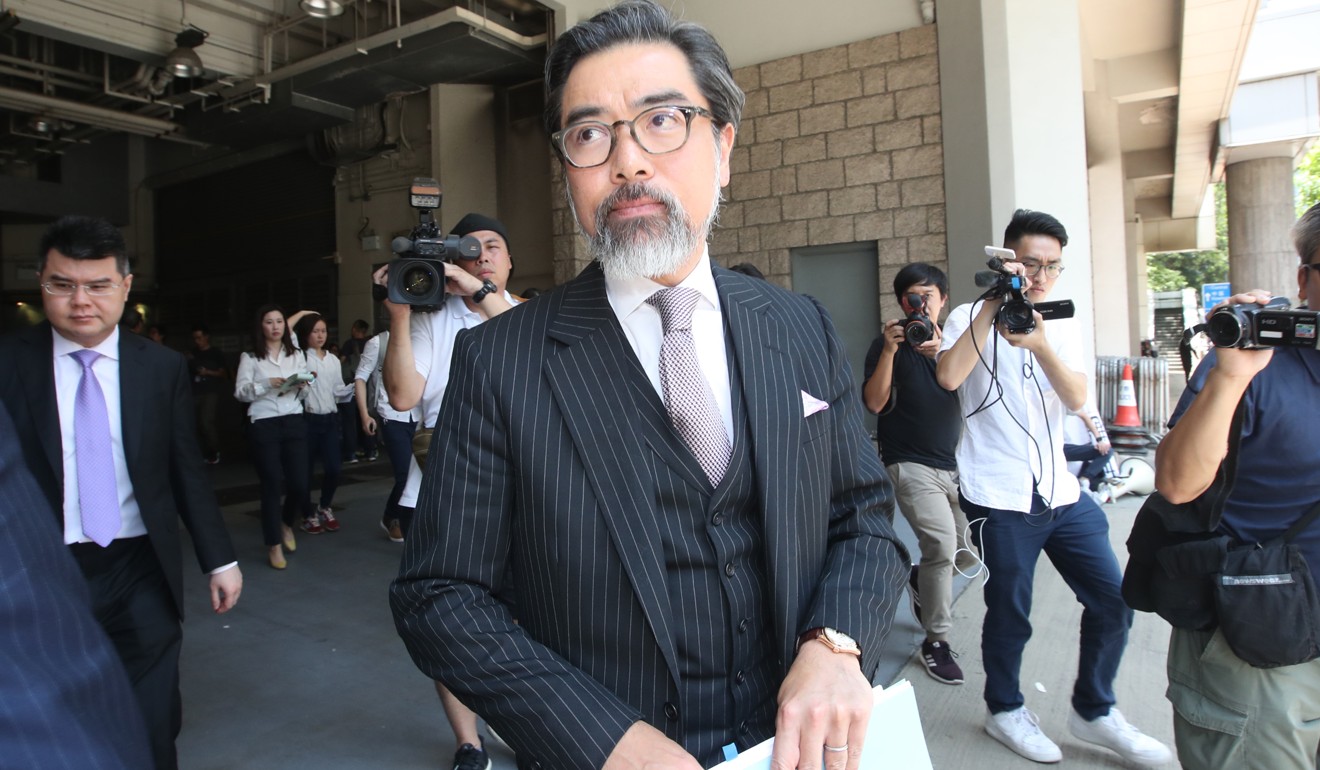 Leung blinked and looked over to the public gallery from time to time as his sentence was read out. He kissed his girlfriend goodbye from the dock before being led away by correctional services officers. Supporters in court burst into tears after the judge left the courtroom.
"We will wait for your release," one woman said as she wept.
Prosecutors during the trial described how the night of chaos in 2016 began on Portland Street with what appeared to be a scuffle between hawker control officers and street vendors. It escalated very quickly into violent clashes during which angry mobs hurled objects at police, who resorted to pepper spray and batons to disperse them.
Streets were set on fire, and protesters attacked officers with bricks, wooden crates and other items. A policeman drew his gun and fired two warning shots at one point as he tried to protect an unconscious colleague from the rioters.
Prosecutors said protesters also wreaked havoc on nearby Argyle, Shantung and Fa Yuen streets.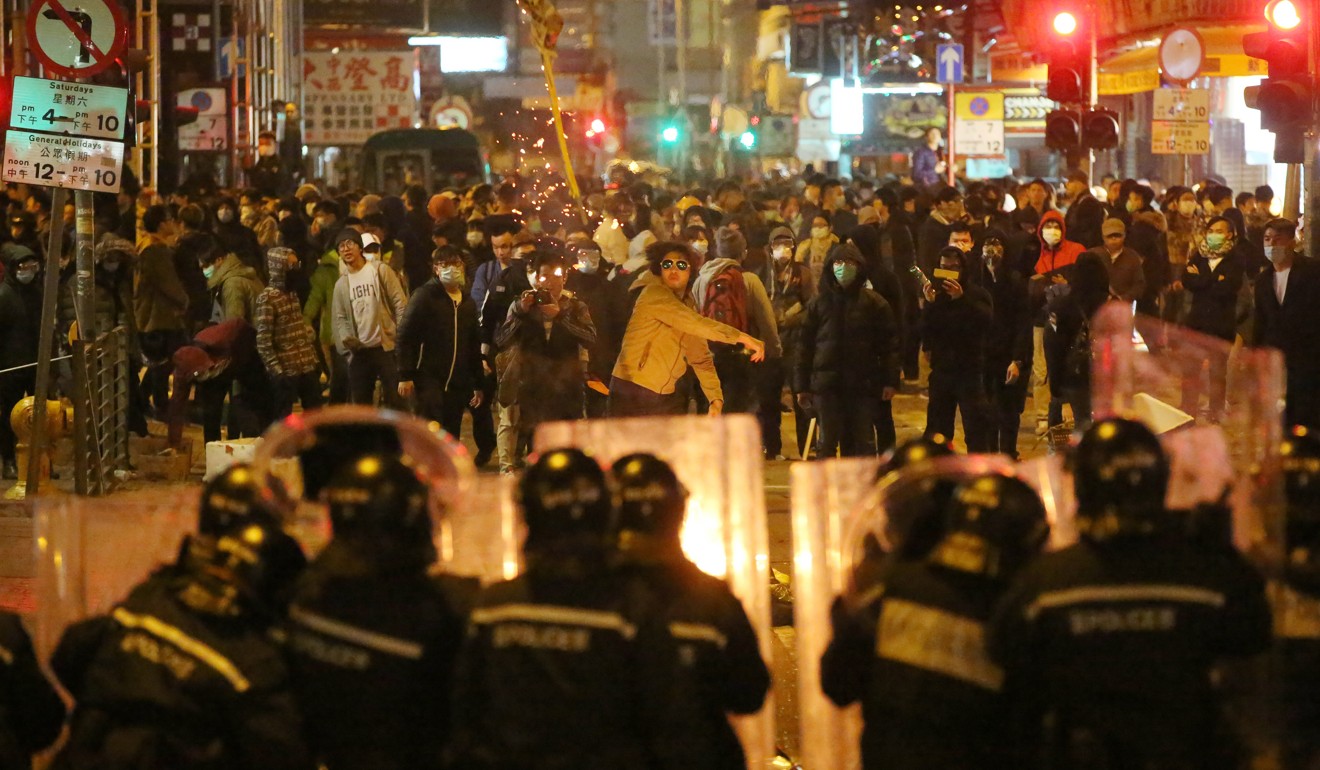 The judge on Monday noted that protesters were seen donning masks and arming themselves, indicating that the unrest had been organised, a fact that necessitated "a deterring sentence".
"It was large scale and extremely serious," Pang said.
About 500 people had converged on Portland Street during the first night of the Lunar New Year in 2016. The combination of the location and the festive date, the judge said, had made the situation all the more dangerous.
Leung had remained in the area despite being warned repeatedly by police to leave, Pang said. The activist then took part in another outbreak of violence at Argyle Street, where protesters threw bricks, rubbish bins and wooden crates at unarmed traffic police officers.
Leung admitted to physically assaulting a police sergeant by kicking and hitting him with a wooden board at the site.
Lo was spotted throwing various objects at police at least 11 times on Portland Street.
Citing past legal cases in both Hong Kong and Britain, Pang said the three should be punished not just for their own culpability but for the criminal behaviour the crowd engaged in that night.
However, Leung's defence counsel, Edwin Choy Wai-bond SC, said his client was considering whether to appeal against the sentence.
"From our point of view, it is not a light sentence at all," he said.
While pro-establishment and conservative figures said the tough sentences were justified, given the scale of the violence, opposition leaders questioned their fairness.
Former director of public prosecutions Grenville Cross said the courts owed the public a clear duty to deter serious public disorder through sentencing. The ruling sent a clear message that "everyone must obey the law and respect others, irrespective of their political beliefs", he said.
Prominent figures from across Hong Kong's pan-democratic political camp turned out to support Leung, including youth leaders Joshua Wong Chi-fung and Alex Chow Yong-kang, who championed the city's 2014 Occupy democracy protests, as well as ousted lawmaker Sixtus Baggio Leung Chung-hang.
"Simply put, it is a politically motivated judgment and revenge on those who have put up resistance since the 'umbrella movement' in 2014," former lawmaker "Long Hair" Leung Kwok-hung said.
In mitigation earlier, Choy said his client had expressed remorse and never shirked his responsibility for the night's events. He said Leung acted in what he thought was the city's interest.
Instead, it was Hong Kong's older generation – complacent about their lives despite stalled democratic development in the city – who had shied away from their responsibilities, Choy said.
But the judge refused to accept this as a mitigating factor.
Edward Leung was also hailed by former opposition lawmaker Margaret Ng Ngoi-yee as one of his generation's finest, someone equipped with an in-depth, rational and analytical mind, which he used in passionate pursuit of his ideals and social justice.
"What is particularly rare is that he would reflect on himself … [he] does not shy away from results and responsibilities," the veteran Civic Party politician wrote in a letter.
Hong Kong's former governor Chris Patten expressed concern about Leung's sentencing and hit out at the city's Public Order Ordinance, noting that he had once sought to revamp it.
Leung was convicted of rioting under the ordinance on the basis that an incident constituted a riot if an "unlawful assembly" led to "a breach of the peace".
"We attempted to reform the Public Order Ordinance in the 1990s and made a number of changes, because it was clear the vague definitions in the legislation are open to abuse and do not conform with United Nations human rights standards," Patten said.
His effort was eventually reversed by the Provisional Legislative Council set up by the Chinese government in 1997, the year Britain returned Hong Kong to Chinese control.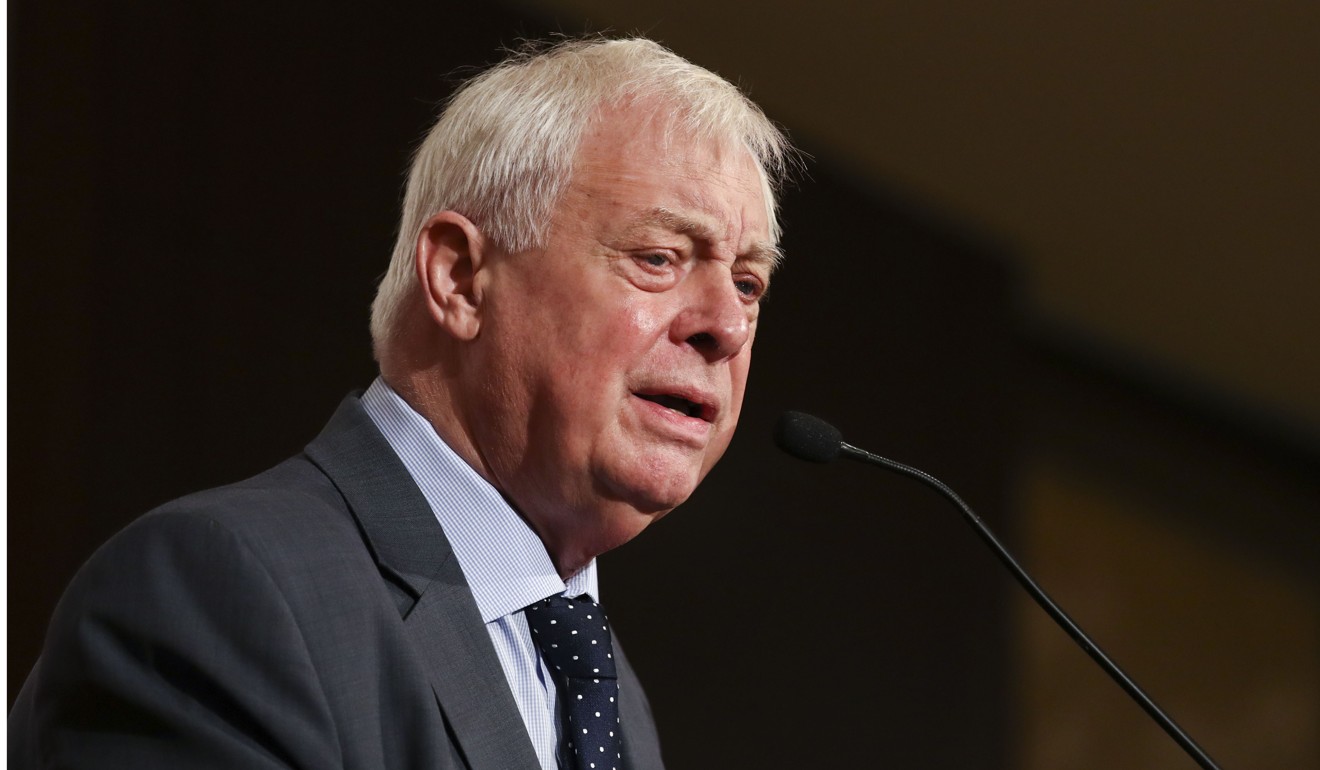 In a blog post published on his Facebook page after the sentencing, Leung spoke of his feelings.
"If I can take lessons away from what happened today, and continue to fight for our future generations, I believe my parents will be happy," he said.
The independence activist, once a staunch critic of what he said was an overly moderate pan-democratic camp in the city, urged all those seeking social and political change to unite and put aside their differences.
He asked young people not to abandon Hong Kong.
"Only when we are rooted to this piece of land will there be a chance for a change," he said.
This article appeared in the South China Morning Post print edition as: INDEPENDENCE ACTIVIST jailed for six years