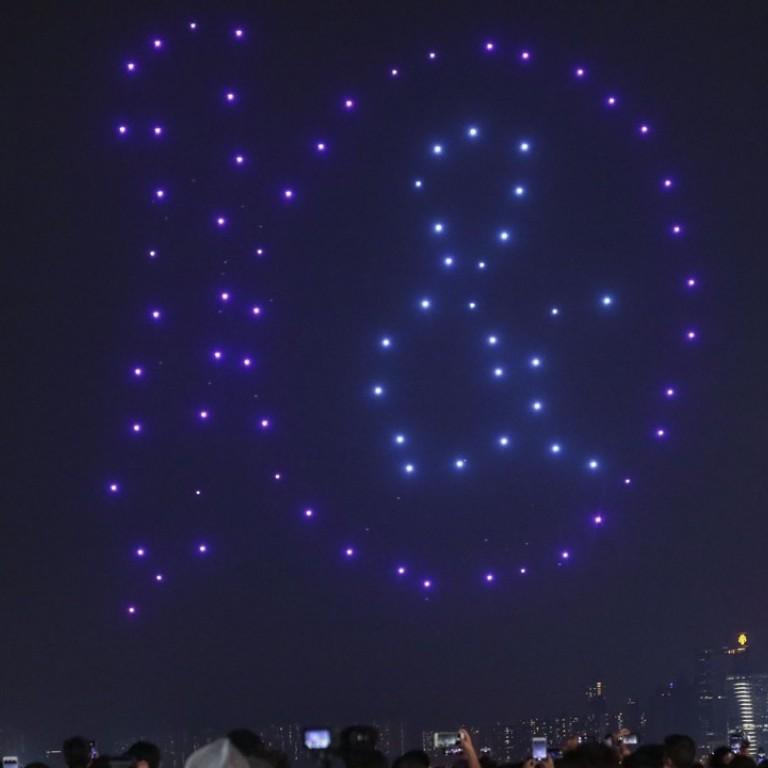 HK$1 million in damage caused by GPS jamming that caused 46 drones to plummet during Hong Kong show
Expert says powerful device must have been used given how far machines were from land
Online search shows large range of drone jamming and hacking electronics available for sale
The GPS jamming that caused 46 drones to plummet during a display over Victoria Harbour during the weekend caused at least HK$1 million (US$127,500) in damage, according to a senior official from the Hong Kong Tourism Board.
The incident occurred on Saturday evening at the annual Hong Kong Wine and Dine Festival, where 100 drones performed a choreographed light show commemorating the event's 10th year.
The board's executive director, Anthony Lau Chun-hon, said on Monday it was "unfortunate" that the event had been disrupted so badly.
"These are professional drones, which are already built with technologies that would direct them back to the take-off origin," he said. "But the signals were so strong that many of them just dropped from the air."
Tourism board chairman Peter Lam Kin-ngok said the culprit not only upset hundreds of thousands of visitors at the wine and dine event but also damaged Hong Kong's reputation.
"I don't understand why the person did that to the show, which did no good to any parties," Lam said.
Meanwhile, the Office of the Communications Authority on Monday raided two radio dealers in Sham Shui Po for suspected illegal sale of radio jammers. The ­enforcement operation followed regular market ­surveillance, the office said.
Experts questioned the security mechanisms surrounding the display, which was produced by international drone performance company SkyMagic. The Post understands that the Singapore firm has performed in more than 10 countries in Asia, the Middle East and Europe, and had never encountered any incident on this scale.
"We are thinking about why the performance agency didn't consider this issue, if it was about cost," said Lock Chow, head of UAV Hong Kong.
Rex Ngan, founder of the Hong Kong Professional Unmanned Aerial Vehicles Association, said the interference was likely to have been caused by someone standing by the harbour and pointing a device towards the drones, which landed on the water when they detected a signal interruption.
The distance from the water to the drone show suggested the jammer used on Saturday was a powerful device.
"It's really easy to jam the GPS signal of a drone," Ngan said, pointing out that in Hong Kong, tall buildings were often the culprit for this effect. "But a powerful signal would be needed to reach them from land."
A Shenzhen drone expert who has been involved in large-scale deployment of drones told the Post there were a variety of methods available on the market to interrupt or intercept a drone display performance.
More advanced means included using a jammer to intercept and interrupt signals to disrupt a drone's flight path, or using a small hardware module that was able to fully hijack a range of popular drones and remote control devices.
"Just do a search on Taobao, you will be amazed by the range of drone jamming and hacking products available and how cheap they are," he said. An online search by the Post found near 250 such products for sale, with prices ranging from 100 yuan (US$14) to 50,000 yuan. Taobao is an online shopping platform run by Alibaba, which owns the South China Morning Post.

The expert said his company had to add new layers of security software to ensure the machines were not jammed or hacked during large-scale projects undertaken in Shenzhen.
Another approach would be to have the drones guided not just from the sky but from the ground to enhance signal strength, Ngan said.
Thomas Ng, managing director of security firm Guardforce, said a lack of awareness about the potential for hacking or similar interference meant that organisations contracting drone services often did not stipulate the level of security the companies must adhere to.
"As long as there aren't terms and conditions or a penalty in the contract, a businessman who wants to maximise profits would lower the related [security] countermeasures," Ng said, adding that if such clauses were standard in Hong Kong, "whoever wins contracts would be aware of these requirements and take appropriate preventive measures".
SkyMagic could not be immediately reached for comment about the security measures they had in place for the show.
Visitor numbers for the four-day festival, which ended on Sunday, hit 160,800, or 18 per cent higher than last year. Of these, 20 per cent were tourists.

The 10th anniversary event saw a record number of exhibitors – 450 booths, or a 10 per cent increase from last year – stretching from the Central Harbourfront event space to Tamar Park.

This article appeared in the South China Morning Post print edition as: HK$1m loss after jamming attack on drone show