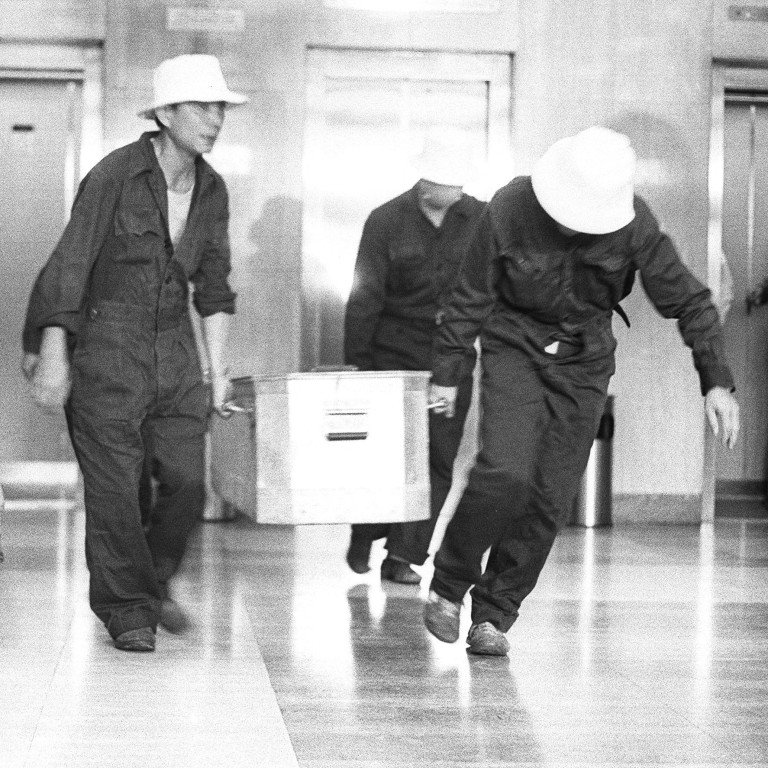 Mortuary staff putting one of the corpses into a temporary coffin. Two bodies were uncovered in a flower bed at Elizabeth House in 1984. Photo: Chan Kiu
Hong Kong's unsolved crimes: cardboard box killing, flower tomb and naked corpse among chilling murder mysteries
City's gory tragedies fuel online rumours and conspiracies to this day, as some wonder if killers are still on the roam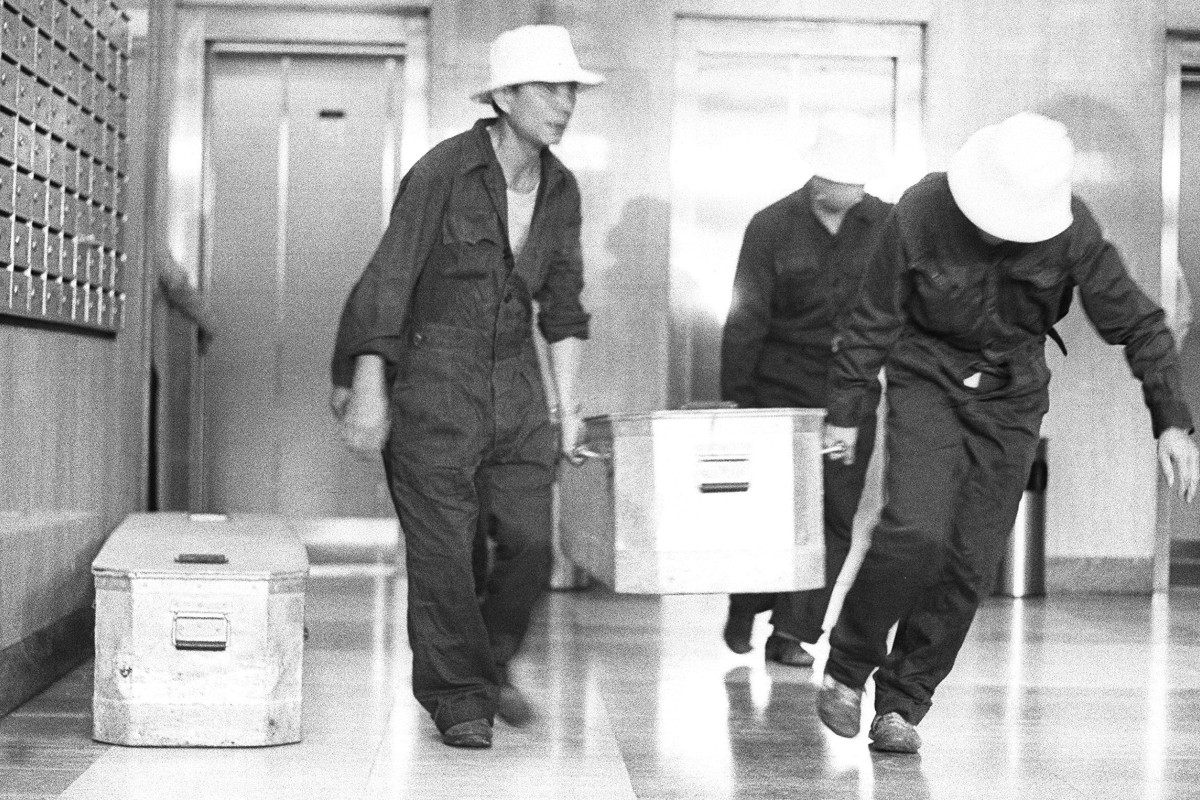 Mortuary staff putting one of the corpses into a temporary coffin. Two bodies were uncovered in a flower bed at Elizabeth House in 1984. Photo: Chan Kiu
Despite its reputation as a safe city, Hong Kong is not short on crime mysteries, some of which would confound even Sherlock Holmes.
According to police statistics, a total of 45,653 crimes were reported between January and October last year, and among them, 42 were homicides, up from 18 during the same period in 2017. Numbers also show 55 per cent of crimes in the first half of 2018 remain unsolved.
Compared with other jurisdictions, Hong Kong's figures are better – in Britain, only 9 per cent of reported crimes ended with suspects being charged or summonses issued in the 12 months up to March 2017, according to the Home Office.
Neighbouring Taiwan however, seems to be doing stellar detective work with the clearance rate for crimes reaching 94.3 per cent in the first half of 2017.
As with anywhere in the world, Hong Kong's unsolved crimes grow into urban legends over time, with everyone having their own theory on the case. Some of the most infamous incidents have inspired books and films.
Last November, global streaming giant Netflix aired its original Hong Kong-based horror-comedy series Demon's Path, adapted from real-life murders which made headlines in the city.
Here are some notorious cases that still send chills down the spines of residents.
Happy Valley Cardboard Box murder (1975)
The killing of 16-year-old schoolgirl Pin Yuk-ying took place in 1975. Her body was dumped in a TV cardboard box in Happy Valley with her nipples cut off and pubic hair charred, but with no indication of sexual penetration.
Police arrested Au Yeung Ping-keung, 28, a married man with a child. Au Yeung worked at an ice-cream shop where Pin and her friends sometimes stopped by for treats. It was the first case in Hong Kong's legal history in which a suspect was convicted based on forensic evidence. The prosecution used only circumstantial evidence, with no witness or confession.
Police found fibres on the corpse's fingernails that matched those from Au Yeung's clothes. He was convicted of murder and originally given the death sentence, before having it commuted to life imprisonment.
But till today, Au Yeung and his family maintains his innocence. For years, whispers on the internet persisted over what some saw as weak points in the investigation. The police force at the time was widely believed to be corrupt.
Cynics pointed out a lack of murder motive, centred on the fact that Au Yeung's fingerprints did not match those found on the cupboard box, and that only seven of 269 fibre strands found on the body matched his clothes.
It was alleged that authorities were under pressure to close the case because it was a landmark one involving the use of scientific evidence.
Defence barrister Henry Hu Hung-lick, founder and president of the Hong Kong Shue Yan University, said he was convinced Au Yeung was innocent.
Barrister and Executive Council member Ronny Tong Ka-wah, who assisted Au Yeung on his failed appeal, told media he felt very sad when his client, in tears, insisted to him that he was innocent. Since then, Tong said he had decided not to take on any more criminal cases.
Au Yeung has been on conditional release from Stanley Prison in 2002 after serving 28 years in jail. But for those who believe he is innocent, the real killer remains at large.
"Window-box tomb" murder in Causeway Bay (1984)
Two badly decomposed bodies were uncovered in a flower box of a flat in Hong Kong's Causeway Bay on March 31, 1984, after police received a complaint of foul smell and blood trickling into a neighbour's flower bed.
Officers spent three hours breaking open the flower box at Elizabeth House, which was sealed with cement.
The bodies were found wrapped in a bloodstained sheet, one on top of the other, and their hands were tied behind their backs with chains and cloth tied round their heads and bare feet.
The victims were later identified as Singaporeans George Chia Soon Seng, 27, and his brother Steven Chia Soon Huat, 32, heirs to a wealthy goldsmith in the island state. They were believed to be involved in a monetary dispute with an Indonesian group over gold futures trading in Singapore and had came to Hong Kong to settle their differences, according to a report by the Post.
According to the report, the brothers were believed to be abducted on March 2 and held captive. In mid-March, a recorded tape and a picture of a severed arm was sent to the family and the kidnappers demanded a ransom of several million Singapore dollars from their family.
However, the severed arm was obviously a hoax because the bodies had not been mutilated, the report stated. The Chia family paid about S$1 million – HK$6 million by present conversion rates – but it was unknown why the brothers were still killed. The case remains unsolved to this day.
Naked woman dead in Tsim Sha Tsui (1975)
The sensational murder case of a newlywed woman whose naked body was discovered at Windsor Mansion in Tsim Sha Tsui in 1975, shocked Hong Kong.
The woman, 25, identified as Tam, was only married for two months when she was reported missing by her husband after she left work at a garment company in San Po Kong on June 5, 1975.
At 9am on June 6, a renovation worker discovered her body in an attic of a mansion in Tsim Sha Tsui, near to her home.
She was found naked, with hands and feet tied up and her mouth stuffed. Knife cuts were found on her chest and a wooden stick had pierced her groin, according to police. But there were no signs of sexual assault, a postmortem found.
Given the nature of the act, police suspected it was a crime of passion and investigated two ex-boyfriends of the victim – one who had migrated to the United States, and another who was a jade maker. However, no headway was made on the case.
After a 10-month probe, police offered a reward of HK$10,000 on information leading to an arrest. The killer has not been found.
Yacht club manager murder (2002)
On December 17, 2002, the body of Judy Nip Ho Mo-ling, 41, a Royal Hong Kong Yacht Club manager, was found in a pool of blood and covered by black trash bags at the club's Causeway Bay office.
According to police, the sides of her head showed injuries inflicted by a blunt object. The cause of death was determined to be a stab wound on her neck.
There were signs of a struggle at the scene, and the victim's handbag, a platinum finger ring, wrist watch, black wallet, Hong Kong ID Card, three bank cards and grey upper coat were missing.
The victim, a mother of twin nine-year-old sons, was last seen outside the administrative block of the club at 6.45pm on December 16, and the estimated time of death was about 10pm that night.
The woman had worked for the club for about 20 years and was responsible for moorings and competitions, according to her employer.
About 40 officers and two tracker dogs searched the club but no weapon was discovered. The case remains unsolved.