LGBTQ
Get more with myNEWS
A personalised news feed of stories that matter to you
Learn more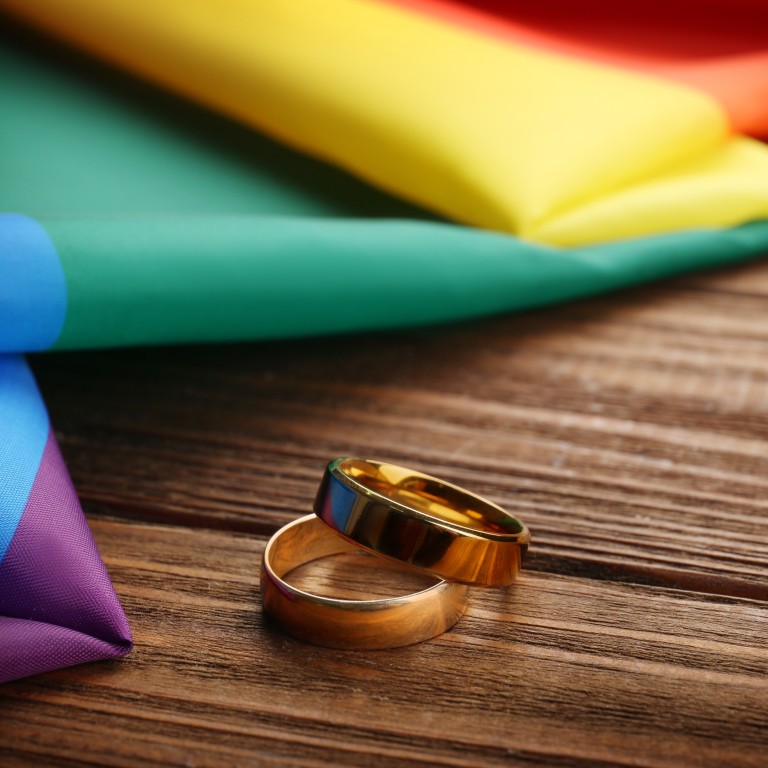 Two gay men mount first legal challenges to Hong Kong laws banning same-sex marriage, with court giving their applications green light to proceed
University student, 21, and activist, 31, argue in High Court that lack of options for same-sex couples to marry violate right to equality
Judge gives both applications nod to proceed, but will first deal with similar case
Two Hong Kong gay men have launched the first legal bids challenging the city for not allowing them to get married, it was revealed during a court hearing on Thursday.
The two separate legal challenges were mounted by a 21-year-old University Hong Kong student, known as TF, and a 31-year-old activist, known as STK, who argued in the High Court that the lack of options for same-sex couples to get married violated their right to equality under the city's Bill of Rights and mini-constitution, the
Basic Law
.
Hong Kong does not recognise or permit marriage between two people of the same sex, an issue that has sparked numerous court challenges in recent years.
But while there have been legal challenges relating to spousal visas, taxation and the lack of civil partnerships, it is the first time the issue at the core of the minority rights movement – whether same-sex couples should be allowed to marry – has come before Hong Kong's courts.
A victory for the applicants would be the most progressive development for LGBT rights in the city. But on the other hand, some LGBT activists and legal experts fear that if the challenges are unsuccessful then potential advancements in smaller increments will be shut off.
One human rights lawyer, who preferred not to be named, said it was important to lay a foundation before bringing such a big case.
"Launching that case prematurely without laying a proper foundation could be disastrous as under our system of law, an adverse precedent could take many years to overcome and end up delaying change for decades," he said.
Raymond Chan Chi-chuen, the city's only openly gay legislator, said he was aware of such a dilemma, but respected the legal bids, saying different people in the LGBT community would want to fight for their rights to various extents.
The two judicial reviews were lodged last year. But because the court documents were not made available due to their sensitive nature, the legal challenges only came to light during a preliminary hearing at the High Court on Thursday.
Barrister Hectar Pun Hei SC, for the two applicants, said the Marriage Ordinance and Matrimonial Causes Ordinance were "inconsistent" with the city's human rights laws because they only allowed "voluntary union for life of one man and one woman to the exclusion of all others".
That violated the Basic Law and Bill of Rights, which required people to be treated equally, he said. Instead, Pun urged the court to reinterpret the definition of marriage in the ordinances as a "voluntary union for life of two persons".
"By reformulating the relevant statute … [my client STK] can get married immediately," he said.
He also said STK, who had already married his partner in New York, took issue with his foreign marital status not being recognised in Hong Kong. He urged the court to address that.
Mr Justice Anderson Chow Ka-ming gave both applications the green light to be heard, but suspended them to first deal with a similar case.
He intended to first hear another case involving a 29-year-old lesbian, known as MK, who was seeking a civil union partnership system in Hong Kong. MK's case, he said, would cover the principle issues found in the applications lodged by the pair.
Chan said he and other activists had discussed the issue of litigants, and believed that if there were more applicants in a challenge, there would be more people of different backgrounds involved and more support.
He said these were usually cases that would reach the highest court, so a higher number of applicants could prevent the problem from dropping away.
Kelley Loper, director of the University of Hong Kong's Centre for Comparative and Public Law, said there were strong arguments for same-sex marriage based on the constitutional right to equality and non-discrimination in the Basic Law and Bill of Rights.
"Courts in many other common law jurisdictions have granted rights to same-sex marriage or civil unions based on similar arguments. And Hong Kong frequently finds human rights judgments from these countries very persuasive," she said.
Hong Kong could become part of the global trend towards judicial recognition of same-sex marriage, she added.
The present legal bids join a list of other high-profile cases which have come before the court in recent years.
This article appeared in the South China Morning Post print edition as: Gay men launch first legal challenges to laws banning same-sex marriage in city