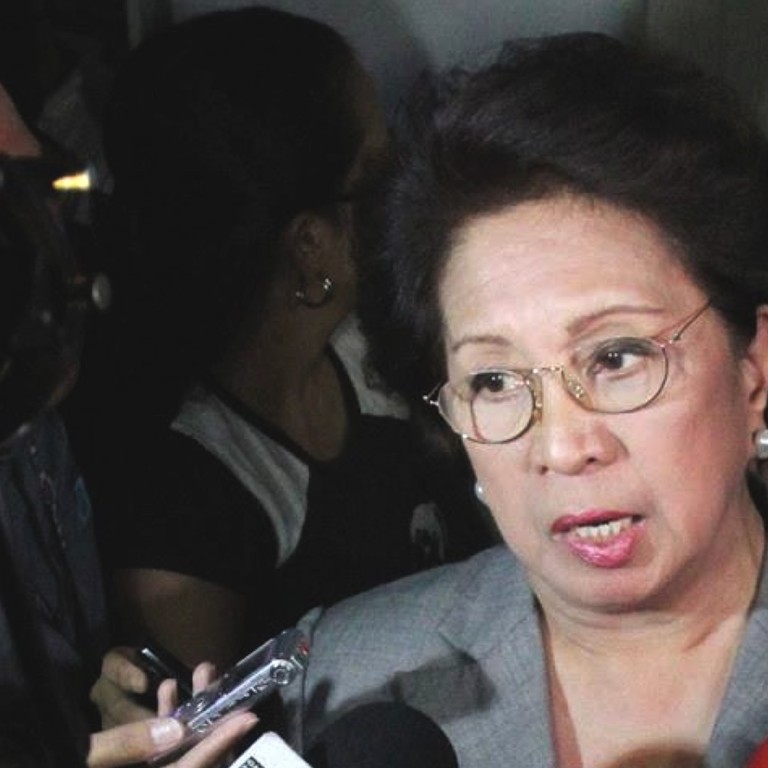 Philippines demands Hong Kong explain grilling of former official who accused President Xi Jinping of crimes against humanity at International Criminal Court
Former Supreme Court associate justice Conchita Carpio-Morales was held for three hours at airport by immigration officers
She was one of two officials to file a complaint over Beijing's actions in the South China Sea
The Philippines wants a full explanation why a former Supreme Court associate justice, a staunch critic of President Xi Jinping, was detained at Hong Kong's airport for three hours on Tuesday.
Germina Aguilar-Usudan, deputy consul general in Hong Kong, said on Wednesday she understood every government had the discretion to grant or deny visitors entry to its soil, but she needed answers as to why Conchita Carpio-Morales was held for questioning before she was let in.
"The immigration department of every government has the discretion to allow visitors to enter or not," she said. "Our government [in the Philippines] has the discretion to do so as well. We will be sending formal inquiries to the Hong Kong government on this."
Morales, 78, was also a former ombudsman in the Southeast Asian country. She arrived at the city's airport at around noon on Tuesday with her husband, son, daughter-in-law and two grandchildren for a holiday.
Upon arrival, she said immigration officers took her to a detention room where she was interrogated about the purpose of her visit. Morales' lawyer, Anne Marie Corominas, said the former ombudsman was told she was considered a "security threat".
The immigration officers later asked Morales to sign papers in Tagalog but she wanted an English version. She refused to sign them because the papers were full of blanks and missing a lot of detail. She also refused food and water offered to her.
Immigration officers later told her there had been a mistake and that she could proceed to enter Hong Kong. But she decided to return home, calling the incident "bullying".
She believed her detention was related to her complaint earlier this year to the International Criminal Court (ICC) over Beijing's actions in the South China Sea.
According to Aguilar-Usudan, it was already around 3.18pm when Morales was allowed to enter Hong Kong.
But even though the Philippines wanted answers, the diplomat said the saga would not harm her country's relationship with Hong Kong and mainland China.
A person with knowledge of the matter said that after Morales was allowed entry, she cleared customs and left the airport, but then took a 6pm flight back to the Philippines.
"Whether three hours is long is relative to [different individuals]," Aguilar-Usudan said. "It can be long when you are under pressure."
She said a Filipino journalist had recently been briefly questioned at Hong Kong airport as well before she was let in. That happened because the journalist's passport showed her married name, while she used her maiden name to enter the city previously.
Erin Tanada, vice-president of the Liberal Party of the Philippines, told CNN Philippines on Wednesday: "I think the question that has to be asked is what made her be in the watch list of the Hong Kong government? Obviously the only reason … is that she was one of the two complainants to the [ICC]."
Morales and Albert Del Rosario, the former foreign affairs secretary, filed a complaint with the ICC in March against Xi for alleged crimes against humanity.
They accused Xi and other Chinese officials of turning seven disputed reefs in the South China Sea into islands in a massive feat of engineering that caused extensive environmental damage.
Last year, 54,195 tourists were barred from entering Hong Kong, compared to 49,033 in 2017.
An Immigration Department spokesman declined to comment on individual cases.
He would only say that, according to the city's laws, "persons who do not have the right of abode or the right to land in Hong Kong are subject to immigration examination upon their arrival".
The spokesman added: "The [department] will handle each case in accordance with law, prevailing policies and procedures, and individual circumstances of each case."
Pan-democrat lawmaker Ted Hui Chi-fung called the department's handling "barbaric" and "unreasonable".
"It looks like political reasons rather than security reasons were considered," he said.
"This incident harms Hong Kong's declining international reputation. I urge the government to explain this case openly."
Additional reporting by Christy Leung
This article appeared in the South China Morning Post print edition as: Manila seeks explanation for detention of ex-official