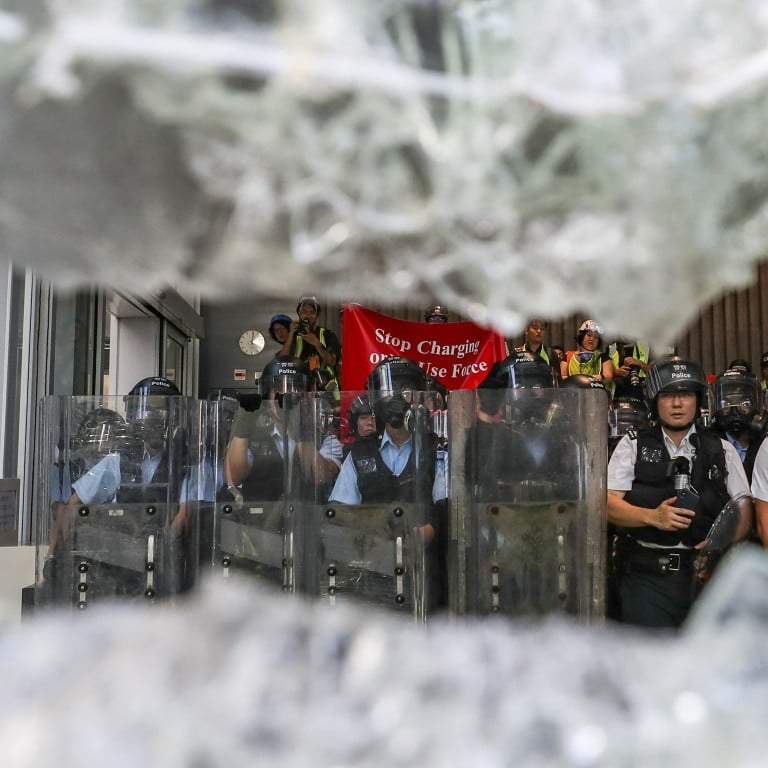 'Negligent' police strategy during Hong Kong protests sacrificed force morale and image, say frontline officers, while others praise restrained approach
Tolerant approach a 'PR show' after police accused of using excessive force during an earlier protest, senior officer says
Demonstrators attacked legislature's doors and windows with metal bars for about eight hours while about 1,000 officers stood guard inside
Police restraint as protesters rampaged through Hong Kong's legislature on Monday earned praise for avoiding bloody clashes but others, including frontline officers, called it "negligence" that sacrificed force morale and the rule of law the city takes pride in.
"If someone breaks the law, we, as police officers, must deal with it as fast as possible. It is a simple logic," a senior officer said, on condition of anonymity.
Protesters against a contentious extradition bill stormed the Legislative Council in Admiralty for more than 11 hours, including a three-hour rampage inside the building that left a trail of damage.
A clearance operation began at midnight, during which 3,000 officers dispersed thousands of protesters inside and outside Legco within an hour.
The officer said the inaction was "negligence" in policing work.
"Protesters were deliberately allowed to ram the glass doors and windows of Legco in front of cameras and television crews for hours because no action was taken to stop them," he said.
He called the tolerant approach a "PR show" after officers were accused of using excessive force against protesters in June.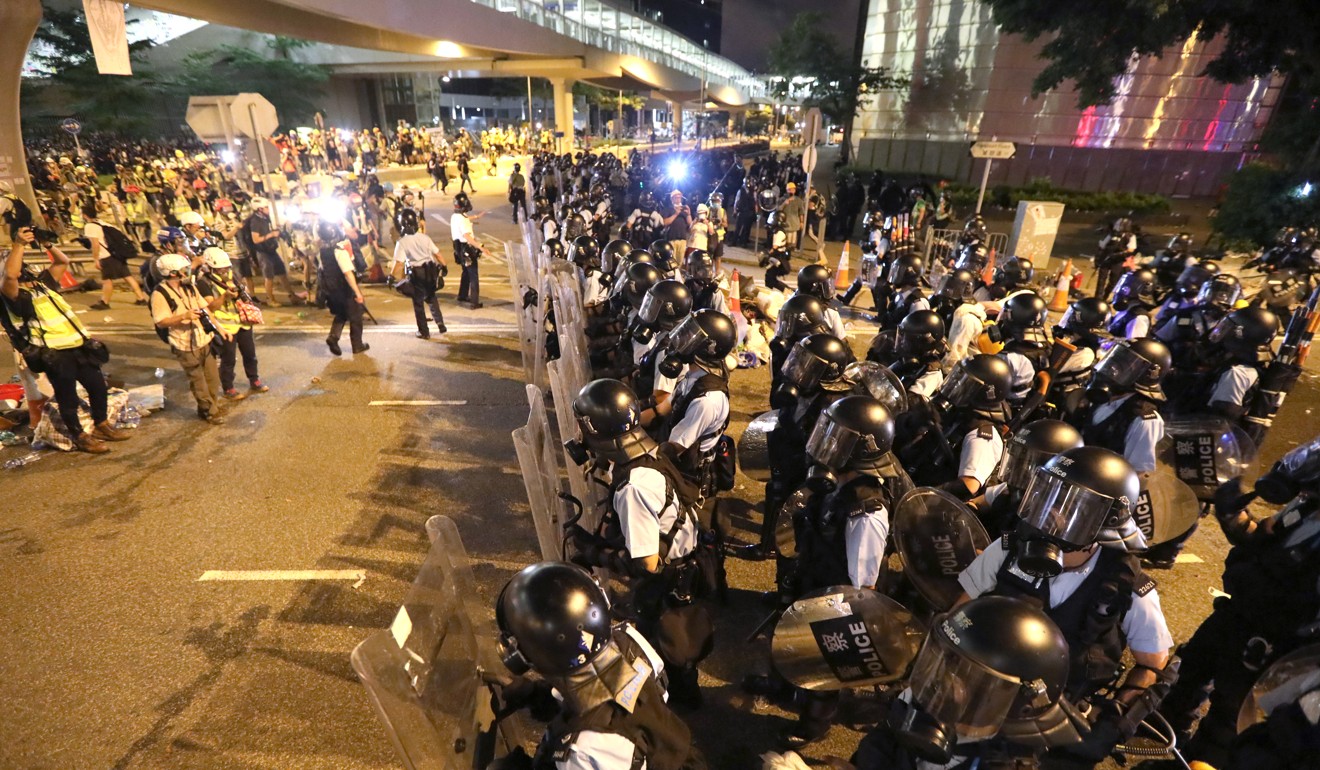 Police have adopted a controlled approach and kept a minimal presence since June 12, when officers fired tear gas, rubber bullets and beanbag rounds to disperse protesters, some of whom used sharpened metal poles, bricks and barriers to storm officers' defence lines outside the legislature and government headquarters in Admiralty.
From 1pm on Monday, protesters used a metal cart to pound the legislature's glass door and rammed the building's windows and glass doors with metal bars for about eight hours – while about 1,000 officers in riot gear stood guard inside.
When protesters broke in at about 9pm, police retreated, allowing the invaders to tear down political leaders' portraits, spray slogans on the wall and smash furniture.
"It appears police had no intention to make any arrests during the clearance operation in a move to avoid bloody clashes," another officer said.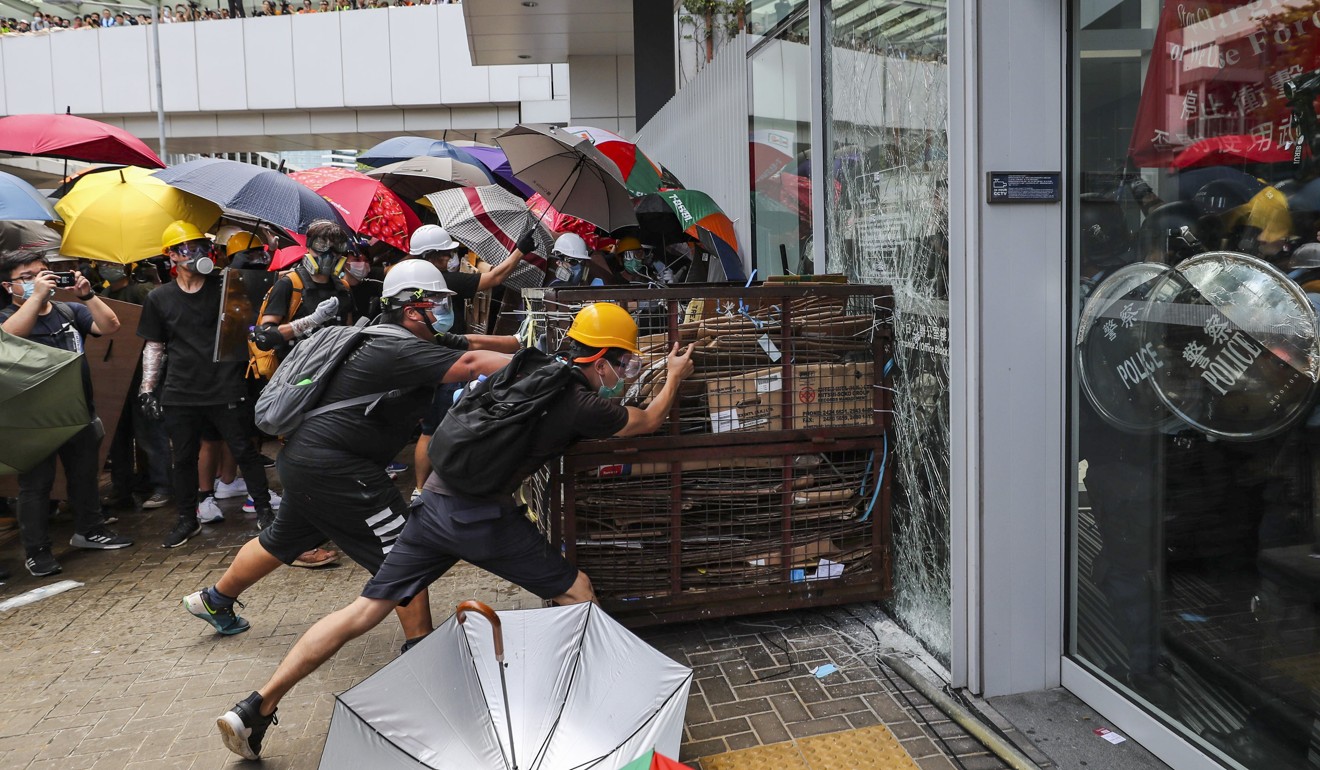 "High-ranking commanders feel it is a good tactic and successful because no casualties were reported. But a lot of our colleagues feel disappointed and dissatisfied with the strategy as it hit our morale and image," he said.
"Reports over the continuous attacks at the legislature could lead the public locally and globally to think law and order does not exist in Hong Kong."
He said the force's management had won public support this time, but "sacrificed us".
He added that it was not their task to do a public relations job and "our duty is to enforce the law and maintain order".
A spokesman of the 25,000-member Junior Police Officers' Association said that the overall morale among his colleagues remained high, but that some might find the enforcement not strong enough.
"Our determination to defend law and order in Hong Kong is still strong and this does not change," he said.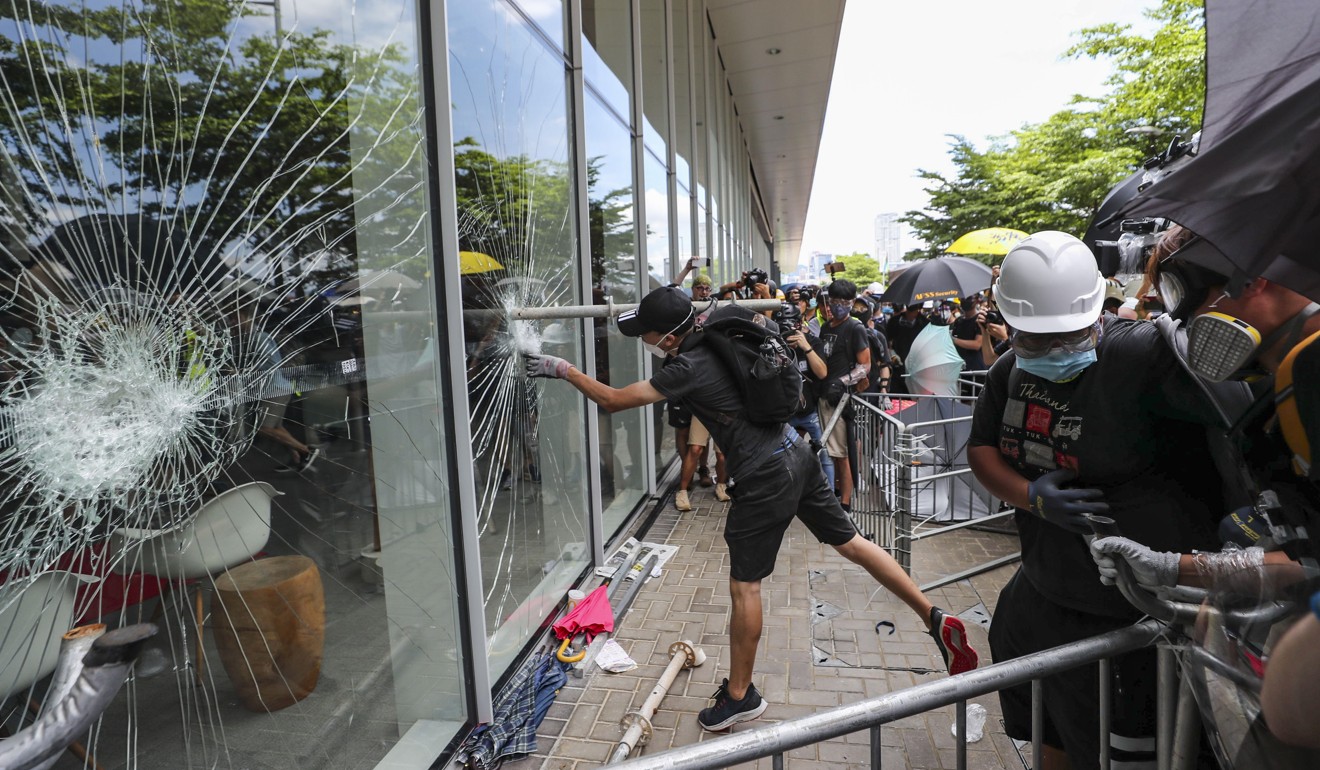 The association on Tuesday jointly condemned the protesters' violence along with three other groups representing officers of various ranks.
The police chief, Stephen Lo Wai-chung, at a 4am news conference on Tuesday, rejected the notion police retreated to play games for public support and to set a trap for protesters.
He said police had "no choice" but to retreat temporarily and rethink their strategy.
He cited several incidents that prompted police to retreat, including protesters' throwing unknown white smoke into the building and the fear of a total blackout and stampede after demonstrators tampered with an electricity box, causing some lights to go out.
Lo added there were 30,000 protesters outside Legco at around 9pm, including those who had used violent tactics to smash an inner door at the main entrance. The confined indoor environment would also have made it difficult for police, he added.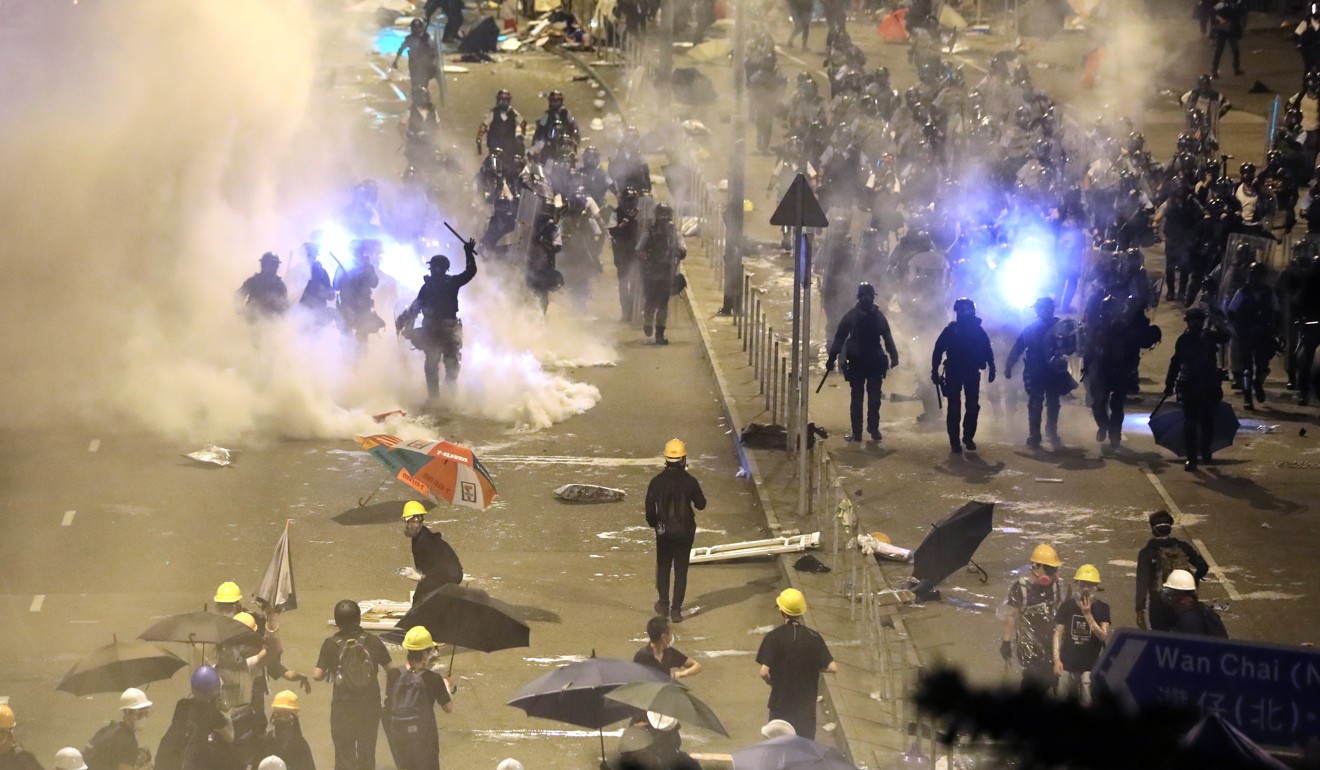 A law enforcement source said the force was worried a larger crowd outside Legco would join if any arrests or clearance action were made.
The police watchdog, the Independent Police Complaints Council, said on Tuesday it would launch a study into police actions during the protests on June 9, 12 and Monday.
IPCC Chairman Dr Anthony Neoh said that a report would be ready in six months for submission to Chief Executive Carrie Lam Cheng Yuet-ngor, with recommendations on how police procedures could be improved. It would not seek to find who should be held responsible for any possible deficiency in the operations.
He conceded the council had no investigative powers nor the ability to summon witnesses, but said Lam and Lo had vowed their "full support" and "full cooperation". He added the public and media could also provide information.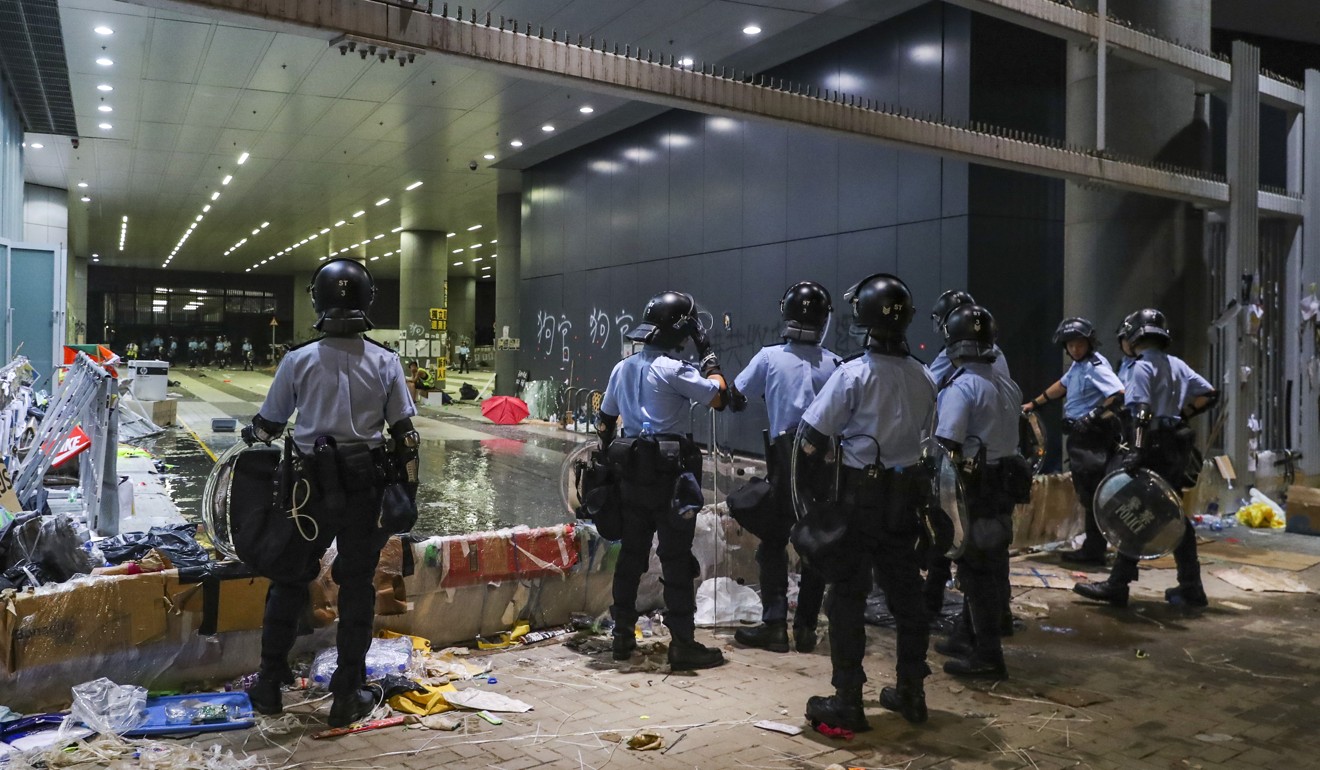 But he said the original idea to appoint a judge to help the review was dropped as it may clash with the appointee's judicial duties.
Former IPCC member and lawmaker Kenneth Leung Kai-cheong questioned the police retreat.
"I can't understand Stephen Lo's explanation that officers couldn't work when there was lots of smoke," Leung said. "Even in that case, they could stay in the building and guard it."
While the third law enforcement source said the illegal acts would be followed up, a veteran detective said an investigation would be difficult, as protesters wore masks and gloves at the time of the siege.
Nelson Lee Ka-kiu, a political scientist at Chinese University, said the unexpected retreat showed the government was trying to reuse a tactic to divide its opponents that had been employed during the Occupy movement in 2014.
"The government hopes to move more moderate members of society to stand against the violent acts and weaken opposition to the administration," he said.
Pro-establishment lawmaker Michael Tien Puk-sun said the force deserved "high praise" for its restraint.
"I can't imagine the consequences had police ramped up efforts to clear them out," he said.
Additional reporting by Naomi Ng and Rachel Yeo
This article appeared in the South China Morning Post print edition as: Tactics create divisions