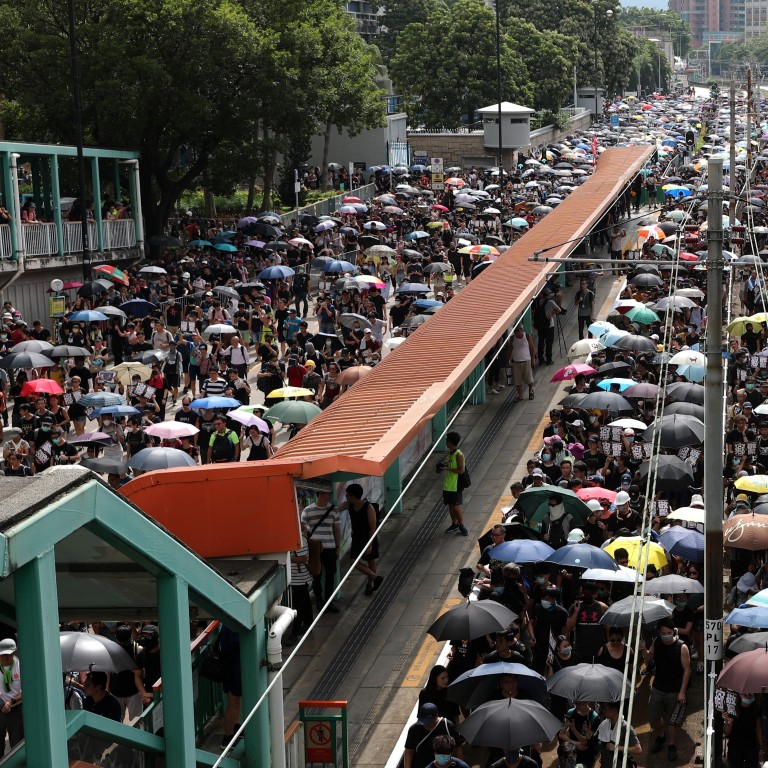 Key figure behind Yuen Long march Max Chung arrested for 'organising unlawful assembly' after hundreds of thousands join protest banned by Hong Kong police
Yuen Long resident Chung taken away by police after he attends forum at Victoria Park
Chung proposed march after bloody attacks at Yuen Long MTR station last Sunday when more than 100 men attacked protesters and passers-by
Police have arrested a proponent of Saturday's march in Hong Kong for organising an unlawful assembly, which hundreds of thousands of protesters were estimated to have joined despite it being banned by the force.
Max Chung Kin-ping, 39, was among the 14 people the police have so far arrested for the protest in Yuen Long. The others were arrested unauthorised assembly, possession of offensive weapons and common assault.
Chung was taken away by police after he attended an RTHK forum at Victoria Park, according to Michael Mo Kwan-tai, the march co-applicant.
After losing an appeal on Friday against the police objection to the march in Yuen Long, Chung said he would still go ahead alone and would not ask people to follow him.
But he added at the time: "Of course, if some people want to buy sweetheart cakes or do something else such as taking a walking in Yuen Long, as a Yuen Long resident, I absolutely welcome [them]."
And at a press briefing on Saturday night, Chung denied the protest was a march.
"First, I want to clarify that today is not a march. We are all individuals, so I haven't told anyone to do anything," he said.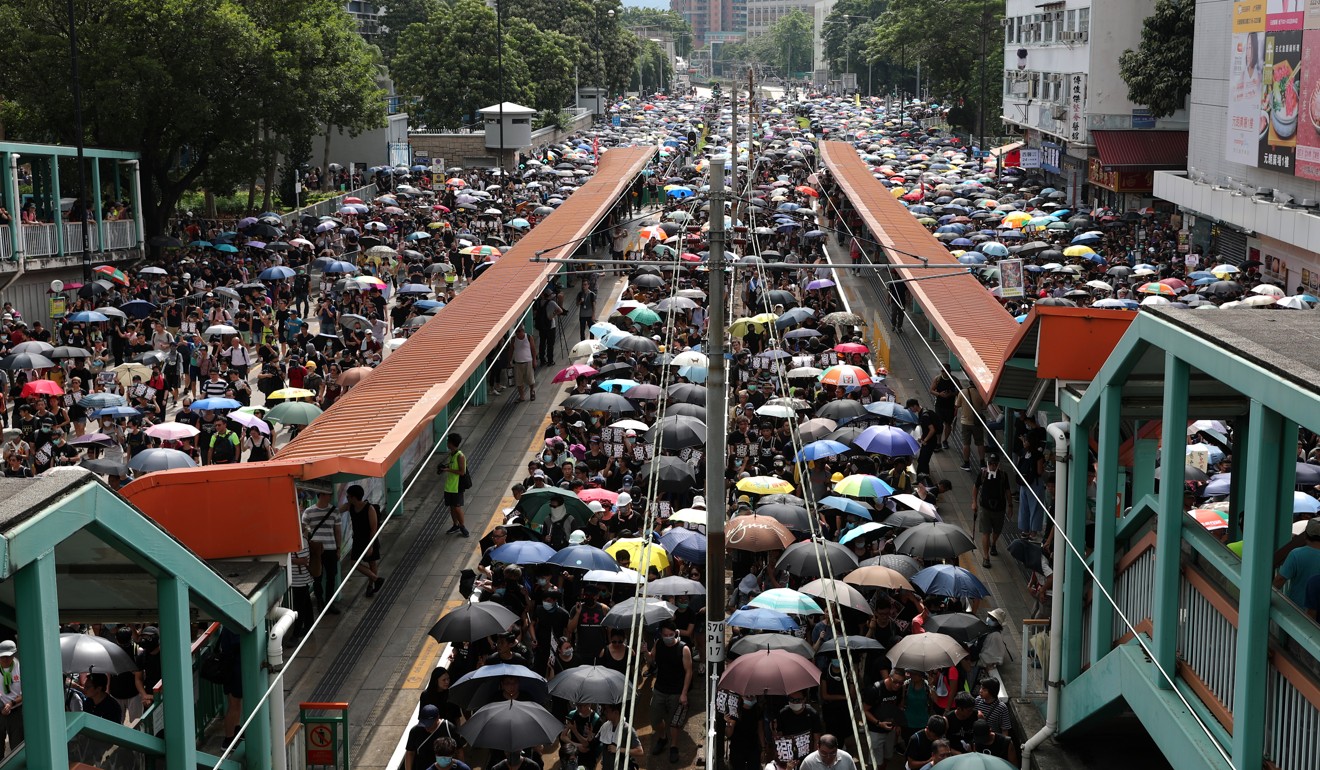 Chung proposed the march after bloody attacks at Yuen Long MTR station last Sunday when more than 100 white-clad men attacked protesters in black T-shirts, other passengers and journalists. At least 45 people were injured.
But Senior Superintendent Yolanda Yu Hoi-kwan of Police Public Relations Bureau said on Sunday afternoon: "[Chung] insisted on going to Yuen Long … ending in a series of violent acts. The police will never condone these behaviour."
Yu said the force had confiscated weapons, including imitation firearms and metal rods, at the protest.
She confirmed at least 14 people had been arrested in connection with the Saturday's protest in Yuen Long, and that Chung was arrested on Sunday for organising an unapproved march and assembly after receiving a letter of objection from the police.
Chung estimated 288,000 people marched the route he proposed. The police did not give a figure, saying it was an illegal assembly.
The march ended in clashes between the protesters and police when officers tried to disperse the crowds from occupied roads in Yuen Long with tear gas, rubber bullets and sponge grenades.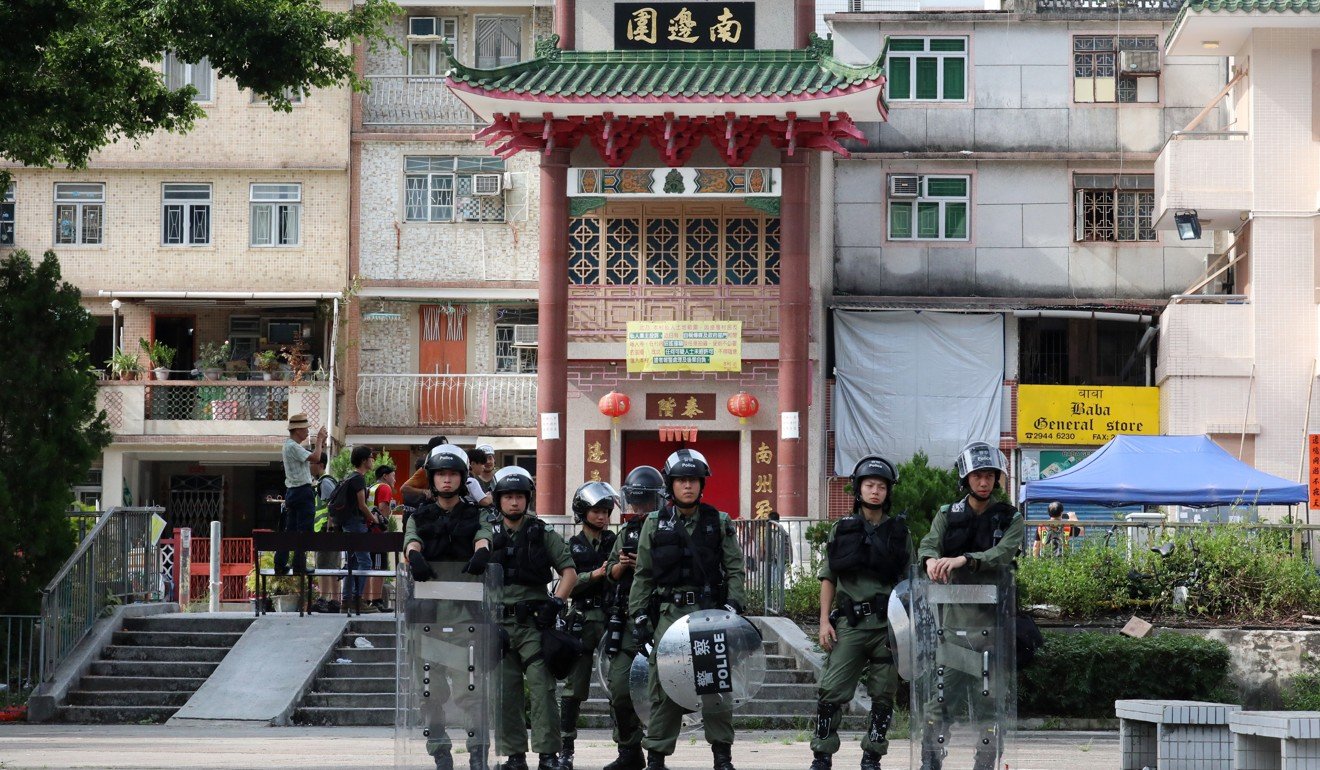 The last round of clashes broke out inside Yuen Long MTR station after 10pm when officers hit protesters with batons and fired pepper spray, after demonstrators threw fire extinguishers from a bridge. At least 23 people were injured in the clashes throughout the day.
Chung had said earlier that he advocated a "peaceful, rational and non-violent" protest, but could not give a guarantee.
In Hong Kong, public assemblies are governed by the Public Order Ordinance. An assembly can only be held if the police do not prohibit or object to it – otherwise it will be considered an unauthorised assembly. Participants and organisers found are liable to imprisonment for five years on conviction on indictment and a HK$5,000 fine and imprisonment for three years on summary conviction.
Barrister Albert Luk Wai-hung said there would be one key factor in determining if Chung had organised or taken part in an unlawful march and assembly.
"If he was only there shopping around, it should be no problem," said Luk, "If he had been there meeting other protesters or discussing with them what they should do, that is another story."
Luk said the police might have collected some evidence.
Lawmaker James To Kun-sun, of the opposition Democratic Party, who is also a lawyer, criticised the police for abusing their power, pointing out that Chung, who was walking alone in Yuen Long, could just be shopping there.
"How could he have the power to stop others from going to Yuen Long?" said To. "Basically, there was no march in Yuen Long."
This article appeared in the South China Morning Post print edition as: Key figure behind march in Yuen Long arrested