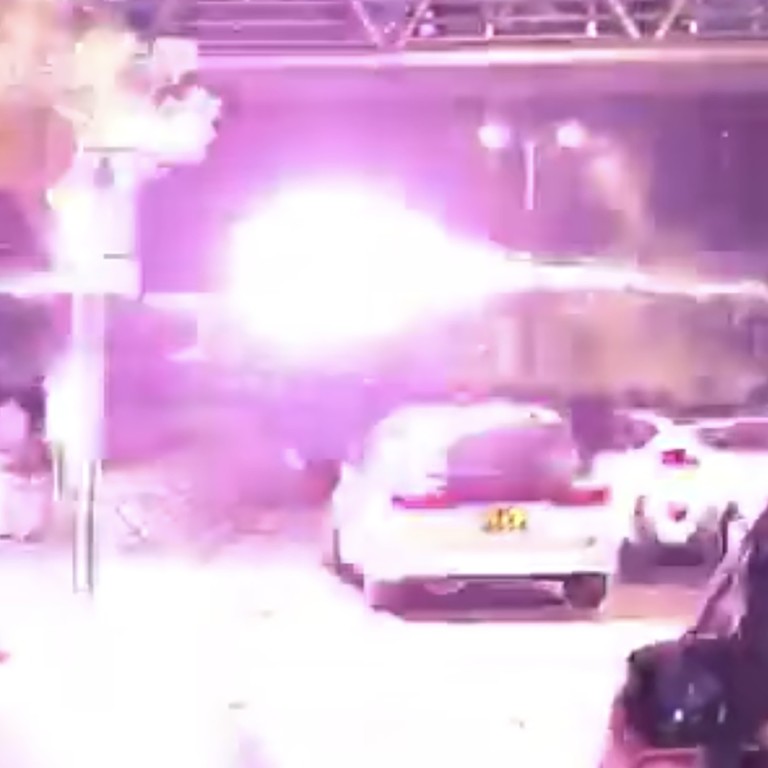 Hong Kong protesters injured in drive-by firework attack from private vehicle after clashes outside police stations
Demonstrators attacked as they vented anger over Lennon Wall arrests and riot charges, the first of their kind since extradition bill crisis erupted in June
Protesters gathered at stations in Kwai Chung and Tin Shui Wai as emotions ran high
Six people were injured when fireworks were let off at a crowd gathered outside a Hong Kong police station on Wednesday morning, in an escalation of violence that has shocked the city.
The drive-by attack from a private vehicle was launched as protesters besieged two police stations on Tuesday night over the
ongoing extradition bill crisis
in Hong Kong.
At Kwai Chung Police Station, officers used pepper spray on protesters and a sergeant emerged with a Remington shotgun, thought to be loaded with beanbag rounds, in an attempt to clear the crowd waiting for 44 suspects charged with rioting to be released on bail ahead of Wednesday's court appearances. It was the first such charges in two months of unrest.
Tensions also flared at Tin Shui Wai Police Station, where another crowd gathered after two people were arrested at a nearby "Lennon Wall", on which protesters had posted messages denouncing the government's now-abandoned bill.
At about 2.30am, a vehicle drove past Tin Shui Wai Police Station and let off several fireworks at the crowd, sending people screaming and running for cover. The incident resulted in six injured.
A witness told RTHK he was covered in firework residue, adding: "The second or third round exploded near me."
Five of the injured were admitted to Tin Shui Wai Hospital while the remaining person declined medical treatment. The Hospital Authority said on Wednesday morning all five had been discharged.
Sources at the scene in Kwai Chung said tensions escalated as a group of officers, responding to reports a man had collapsed nearby, were attacked by protesters and fired pepper spray at them in return.
A video clip of the incident showed a station sergeant pointing the Remington gun at the crowd. A police source said it was loaded with beanbag rounds, which had been used to disperse protesters in previous clashes. The source added the sergeant later sought treatment for facial injuries at a local hospital.
In a joint statement, Hong Kong Journalists Association and Hong Kong Press Photographers Association condemned police for what they described as the smacking of an Apple Daily journalist in the face with an officer's shield.
An officer also waved his baton in the direction of a Now TV journalist, the statement said, threatening to hit her.
Earlier on Tuesday evening, hundreds of protesters had gathered outside Kwai Chung Police Station, many of them masked and in black.
They called those arrested "honourable fighters" who were only protecting Hong Kong. Some also hurled verbal abuse at officers in the station.
Police officers in riot gear were on guard behind the station's gates.
The stand-off led to scuffles as protesters hurled objects at the station and officers armed with batons and shields tried to disperse the crowd at 10.40pm. Less than 10 minutes later, officers circled back to the station and went inside.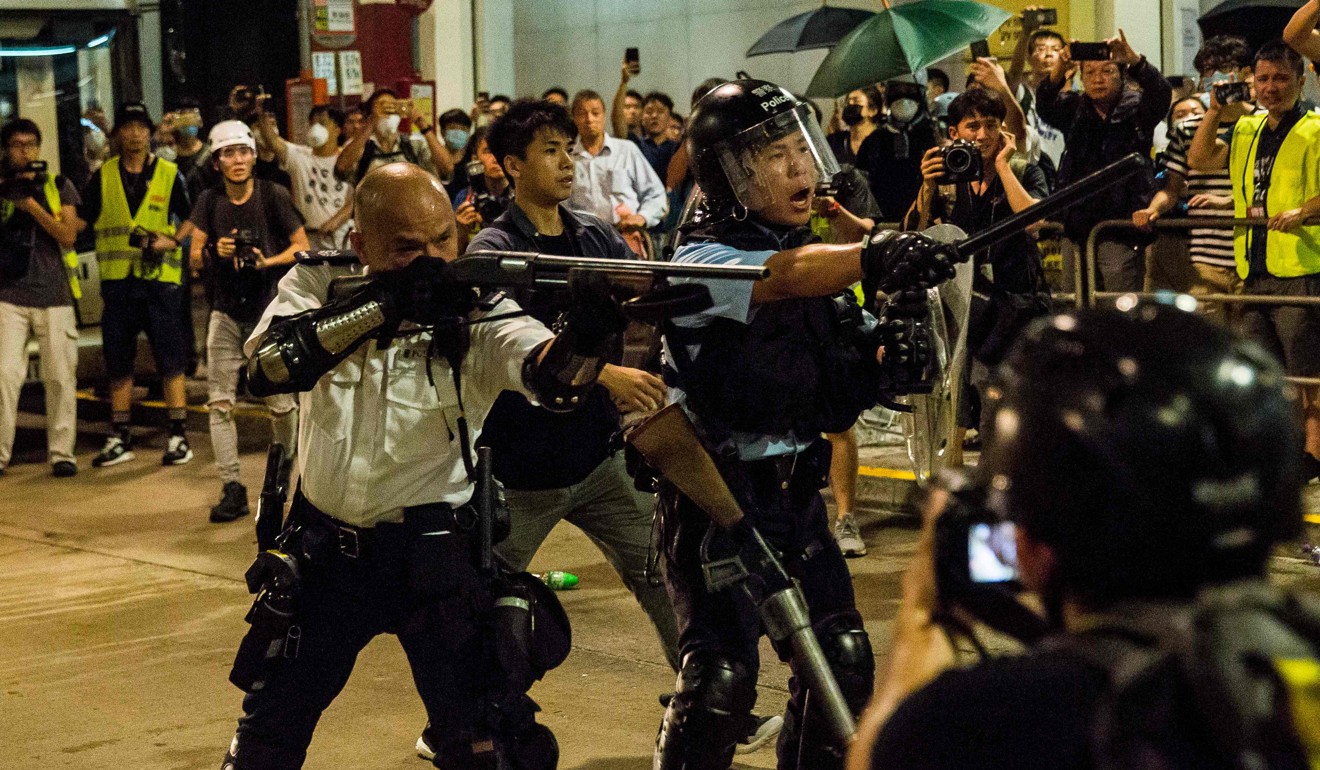 Sources at the scene said a group of officers left the station to locate a man who was reported to have fainted nearby.
But as soon as the officers went outside, they were surrounded by the protesters, and clashes followed.
Christine Kam, a 30-year-old Kwai Chung resident, said she saw a group of officers rush out of Kwai Chung Police Station and go all the way to the nearby MTR station.
"An officer was pointing a gun at people … without any warning," Kam said. "There were also officers spraying pepper spray at people inside the MTR station."
She said she did not see any protesters in the station at the time.
A video clip showed officers being chased by protesters, who threw bottles and umbrellas at them near the station.
"Police were dispersing people, mostly onlookers and those from the neighbourhood," Kam said, adding that there were lots of elderly people at the scene.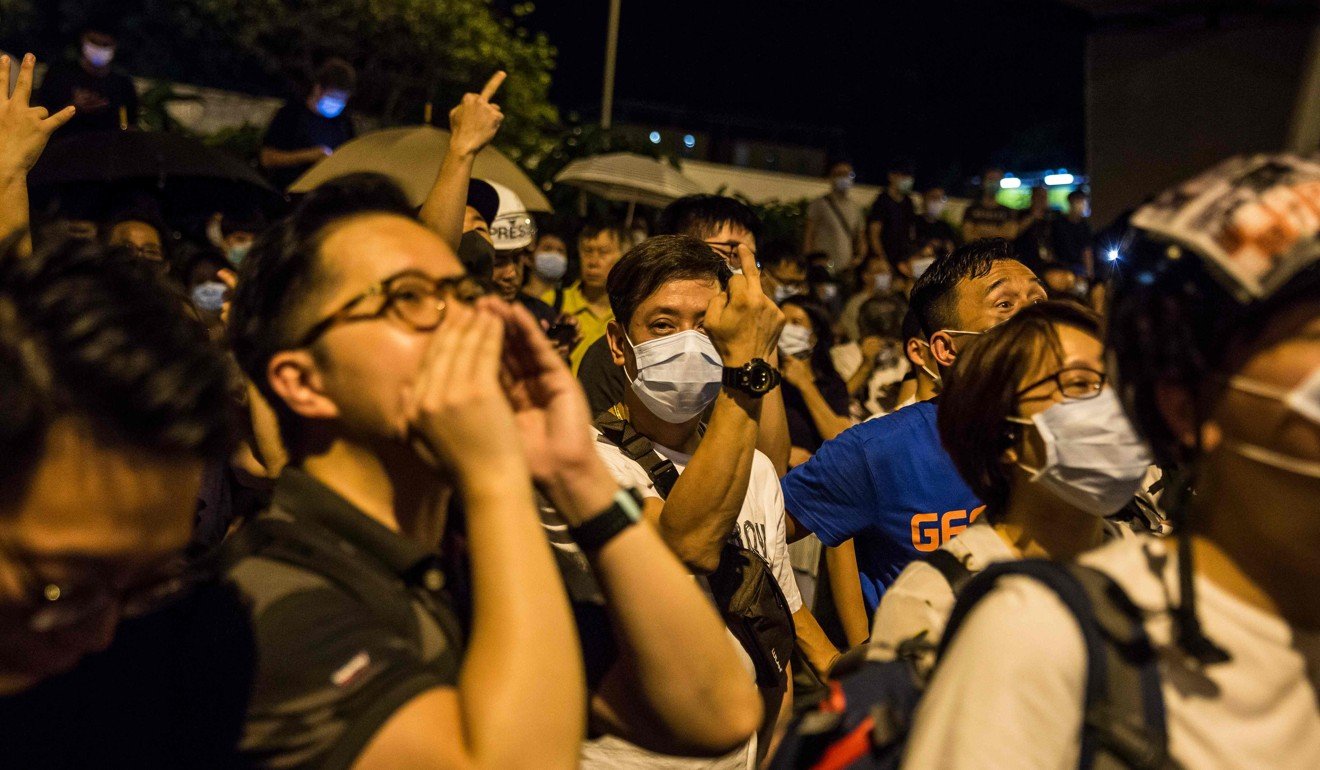 "It was really terrifying. You never think that [such scenes would happen] while you are just standing there to observe and everyone is being peaceful," she said.
Outside the police station, protesters attempted to trap officers in the building by sticking umbrellas into one of the gates and spray-painting cameras at the entrance. The latest escalation in the political crisis happened as a
No 3 typhoon signal
was in place.
By 12.45am on Wednesday, most arrested protesters had been released on bail, and the protesters gathered outside Kwai Chung police station left. But dozens waited outside for one remaining protester.
A fight broke out between a man dressed in white and other protesters at 1.08am. Police, armed with pepper spray and shields, eventually restrained the man and took him into the police station with protesters following behind.
The group of 44 charged for rioting were among 49 people arrested, comprising 32 men and 17 women, aged between 16 and 41. They were detained during clashes with police in the city centre on Sunday.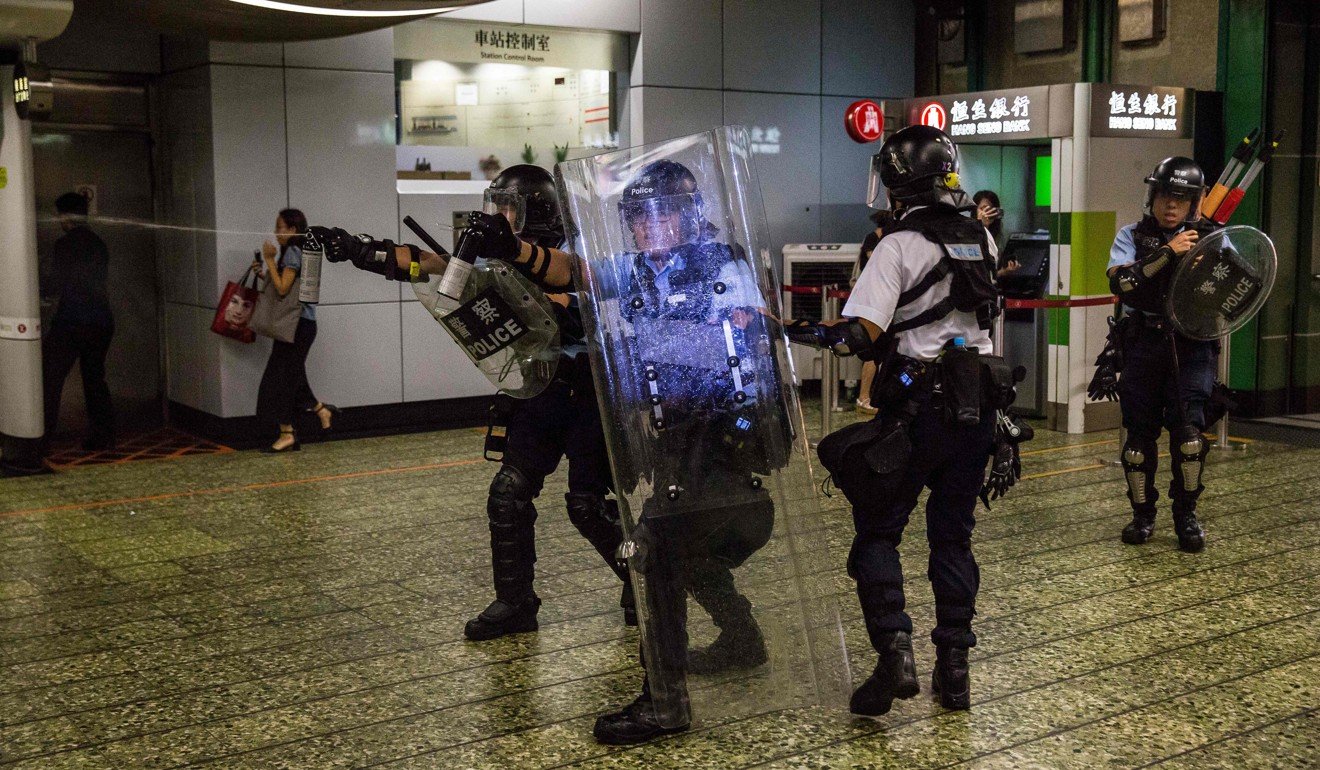 Among those facing riot charges, a 33-year-old man was also charged with assaulting a police officer. The group will appear at Eastern Court in Sai Wan Ho on Wednesday.
Of the remaining five people, two were released on bail pending further investigation, and two were temporarily released. Another suspect, 24, was charged with possession of offensive weapons.
Police said an active investigation was under way and the force would not rule out the possibility of further arrests.
On Sunday, an approved rally at Chater Garden expanded into an illegal march that ended in running battles between police and protesters in the city centre. Demonstrators hurled miscellaneous objects such as bricks at officers and set fires at various locations, according to police.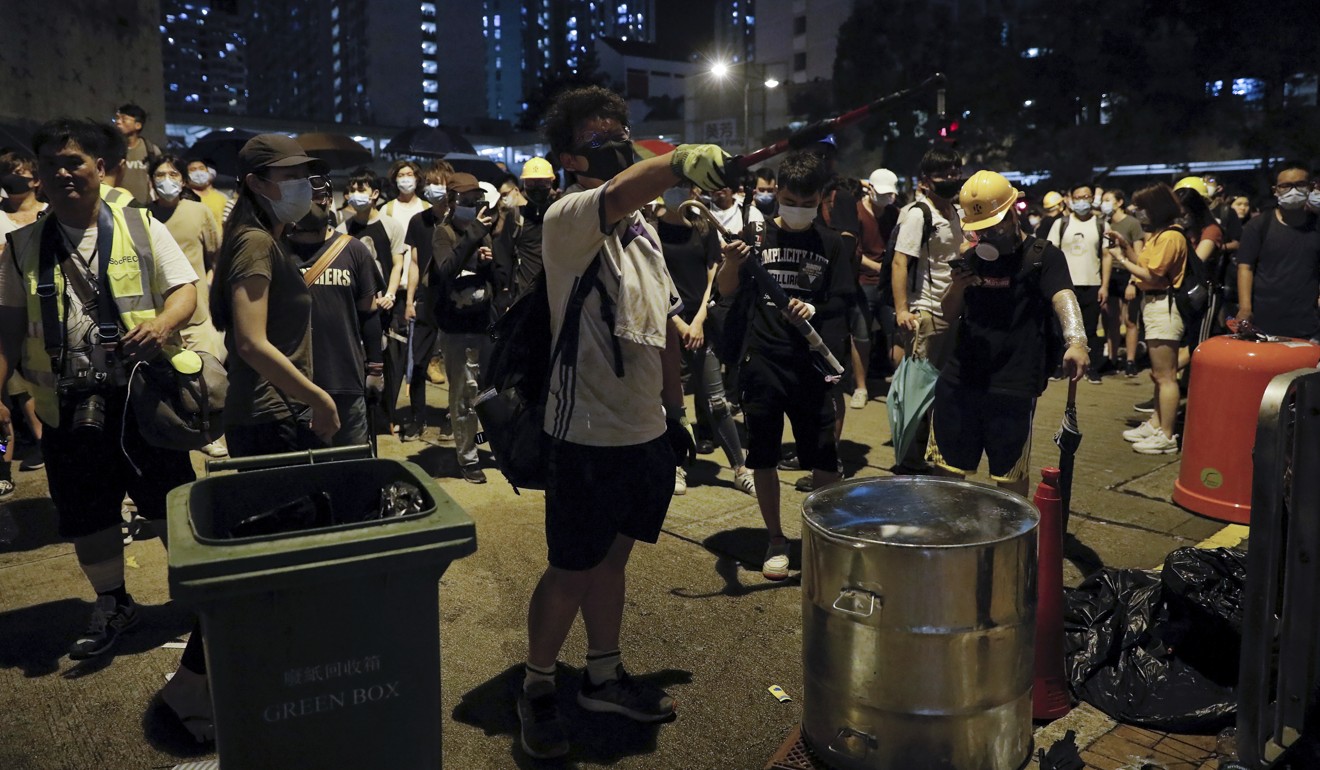 Officers fired tear gas, rubber bullets and sponge grenades to disperse the crowds.
Since June 12 when police first used tear gas, rubber bullets and beanbag rounds to disperse violent protesters outside the government complex in Admiralty, about 200 people have been arrested in connection with ensuing clashes, as well as the online release of personal information of officers.
In Hong Kong, rioting carries a maximum sentence of 10 years' imprisonment under the Public Order Ordinance.