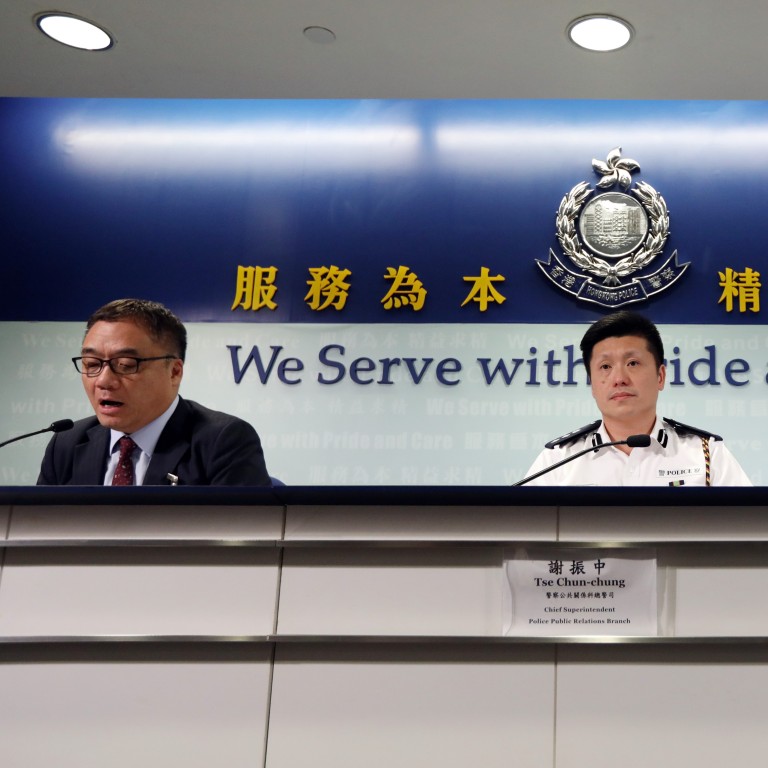 Hong Kong police defend arrest of Baptist University student leader for possessing laser pointers, even as lawmaker and professors question evidence to prove motive of accused
Police call items 'laser guns' and defend arrest by demonstrating power of beams they produced at press conference
Lawmaker and professors condemn arrest, saying pointers were bought legally and it was not clear if they were meant to harm anyone
Hong Kong police have defended the arrest of a student leader for possessing 10 laser pointers by experimentally showing at a press conference on Wednesday how the beams they emitted could burn a hole in sheet of paper in 10 seconds.
Describing the seized items as "laser guns", Chief Superintendent John Tse Chun-chung of Police Public Relations Branch said the beams could "flash blind" someone and also cause serious eye injuries.
To make their point, police pointed one of the lasers at a piece of paper no more than arm's length away.
Police said three of their officers needed medical treatment during the protests and violent clashes over the
now-abandoned extradition bill
in the past two months, after demonstrators pointed lasers at them.
The force conducted their demonstration less than 24 hours after Keith Fong Chung-yin, 20, the president of Baptist University Students' Union, was arrested for possessing 10 of the pointers.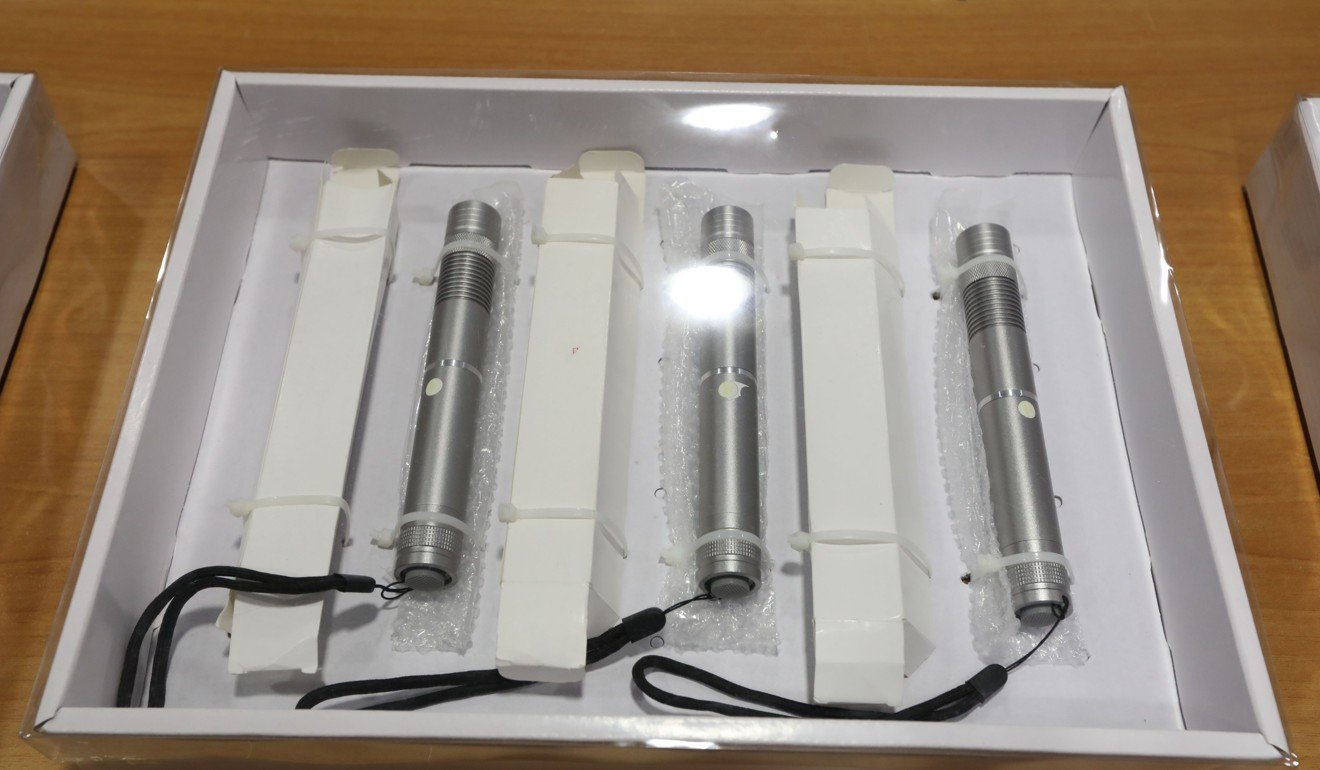 Fong was taken into custody after he spent HK$4,200 (US$536) to buying pointers from a stall in Apliu Street, Sham Shui Po, at about 7.30pm on Tuesday. His arrest prompted hundreds of protesters to besiege the district police station that evening.
Police fired tear gas to clear the crowd and arrested nine people, including another Baptist University student, Chan Ka-shing.
Steve Li Kwai-wah, the senior superintendent of the Organised Crime and Triad Bureau, said before purchasing the pointers, Fong had asked stall operators how powerful the beams were.
"After the purchase, he was found acting suspiciously and wandering around when our off-duty officers intercepted him," he said.
Democratic Party lawmaker James To Kun-sun questioned whether police had enough evidence to arrest Fong, while Li said Fong had failed to adequately explain why he bought the pointers.
"Had he given a reasonable explanation and addressed the concerns, our colleagues would have released him. But he chose not to, and tried to escape," Li said.
Police later arrested Fong and seized 10 pointers he was carrying in a polythene bag.
A video clip taken by a witness showed Fong trying to explain to police following his arrest that he would use the pointers to gaze at the stars.
When asked whether the police considered it proper to demonstrate how the articles could burn a paper as that could put the suspect in a disadvantaged position during the trial, Li said he found it his responsibility to inform the public about the dangers the weapons posed.
"I did not smear him or tell what it is used for. I just tell the power of this laser gun can reach this level."
He added they would only submit data and statements to the court, not the demonstration.
Barrister Albert Luk Wai-hung said using an exhibit in a press conference would not be considered as perverting the course of justice.
Luk assured the city's judges would be fair and not be affected by the presser as the demonstration was no evidence presented to the court.
Still, he said the act of tampering with the exhibits was improper, because the objects should not be interfered with before presenting to the court unless necessary.
Later on, the defence could cast doubt on whether the object should be used as an exhibit in the court, he added.
According to the Public Order Ordinance, an offensive weapon is any article made, or adapted for use, or suitable for causing injury to the person, or intended by the person having it in his possession or under his control for such use by him or by some other person.
Asked about the brand and model specifications of the seized articles, Li said: "The packaging has no such description."
But Li admitted the power of the beams would be weakened if used from a longer distance.
Fong's arrest on Tuesday prompted a heavy crowd to surround five off-duty officers who then called in police reinforcements.
Fong complained of feeling unwell and was taken to Caritas Medical Centre for treatment.
A large crowd quickly besieged the Sham Shui Po Police Station to demand Fong's release.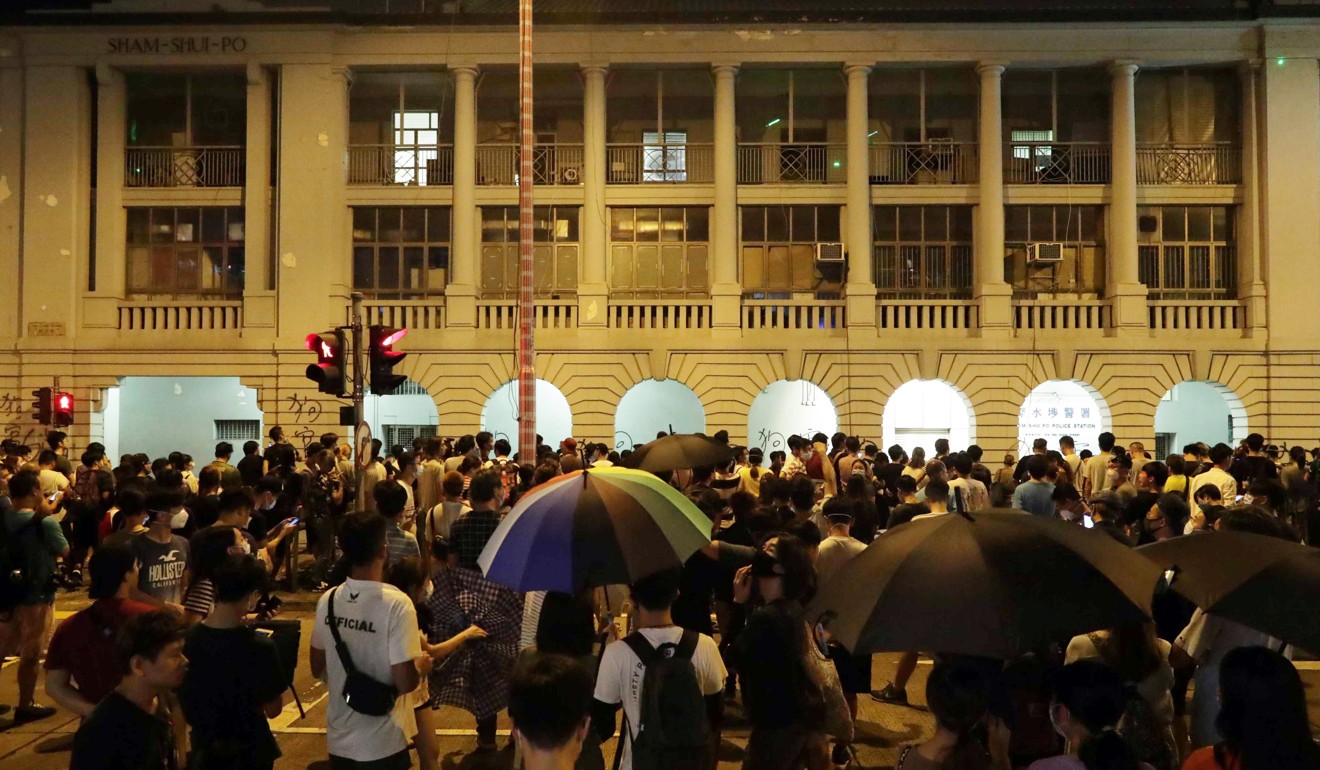 "More than 1,000 protesters
surrounded Sham Shui Po
police station. They hurled bricks and glass bottles into the station and spray-painted on the outer walls, causing damage," Tse said.
"Their acts put officers and other citizens in danger."
He said police had no choice but to fire tear gas to disperse protesters and restore public order at about 2am on Wednesday.
During crowd dispersal, around 20 rounds of tear gas were fired and nine people – seven men and two women – were arrested for various offences, including unlawful assembly and obstructing police officers in execution of duty.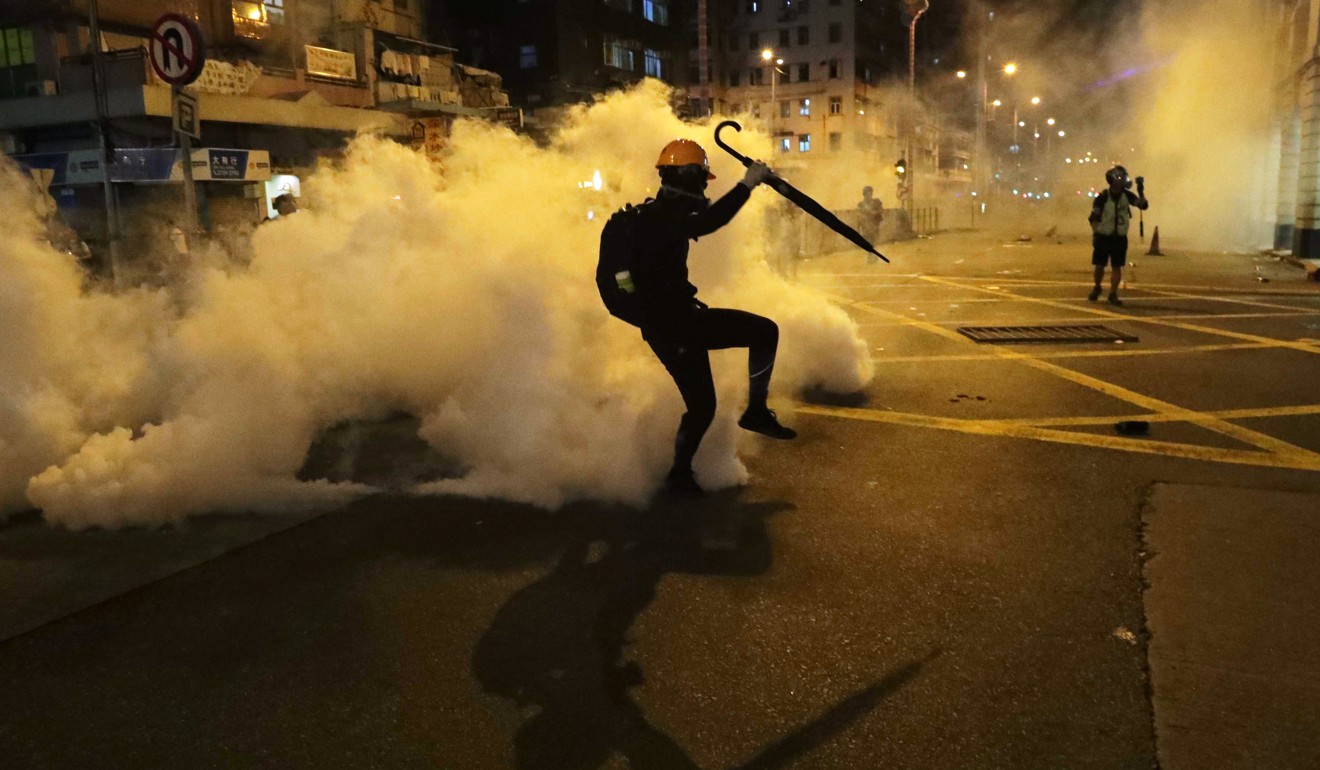 Upon learning some students were also the among hundreds gathered around the police station, Baptist University president
Professor Roland Chin Tai-hong
and his colleagues, who visited Fong in hospital earlier, went to the spot to persuade them to leave for safety reasons.
Chin said the police action had caused widespread public concern, and urged the government and law enforcement authorities to respond positively.
Some 45 professors and administrative staff of the university, along with 488 alumni and current students from the Department of Government and International Studies, have signed a petition to condemn the arrest.
The professors said that whatever reason Fong bought the laser pointers for, the fact that he bought them legally should not be a reason for his arrest.
Bruce Lui, senior lecturer in journalism at the university, said: "The basic assumption of law in Hong Kong is that people are presumed innocent. If laser pointers can be sold at a shop, it should be legal to buy and possess them."
"We should presume ordinary people are innocent unless you have a strong proof before accusing them."