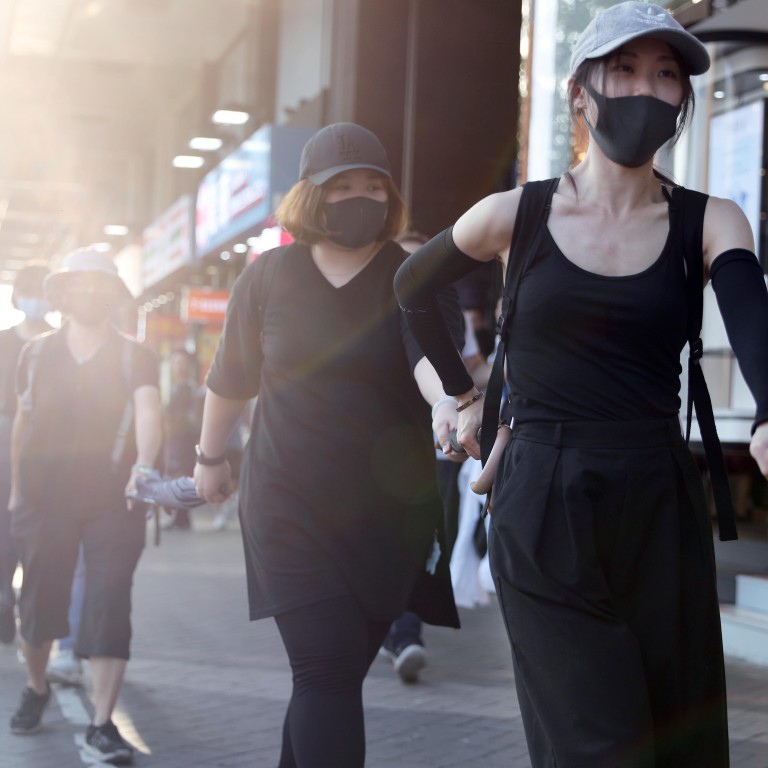 Hong Kong protests: hundreds take to streets in second straight day of defiance against newly imposed anti-mask law
Messages circulated on the internet called for protests in more than 20 areas, including hotspots such as Causeway Bay, Tsim Sha Tsui and Sha Tin
In Sheung Shui, masked radicals vandalised a number of shops, including Arome Bakery, China Mobile, Best Mart 360 and a pharmacy
Hundreds of protesters took to the streets of Hong Kong on Saturday in the second straight day of defiance against a newly imposed anti-mask law, while dozens of radicals vandalised shops in the border town of Sheung Shui.
The new law came into force at midnight on Friday and, in a first, officers at Mong Kok Police Station, a regular flashpoint during protests, warned a crowd of about 100 gathered outside late on Saturday to remove any face coverings immediately or they could face criminal charges.
Messages circulated on the internet had called for protests in more than 20 areas, including hotspots such as Causeway Bay, Tsim Sha Tsui and Sha Tin, as well as places like Sheung Shui, Tai Po and Aberdeen, which had been relatively quiet in recent months.
Some plans were realised, as more than 1,000 marched from Causeway Bay to Central, hundreds formed a human chain in Tsim Sha Tsui and others staged a peaceful sit-in at the Tai Po Mega Mall shopping centre. Dozens smashed several shops in Sheung Shui.
As night fell, groups showed up in other areas, including Yuen Long, Wong Tai Sin, Tai Po, Aberdeen, and the Metro City Plaza mall in Tseung Kwan O, for flash-mob protests, blocking roads, vandalising rail facilities and chanting slogans. The Shap Pat Heung rural committee building was broken into and vandalised by protesters who first threw a petrol bomb on the balcony of the two-storey premises.
Riot police arrested at least two people in Wong Tai Sin while a water cannon was on standby on Nathan Road in Mong Kok. In Tin Shui Wai, masked protesters vandalised outlets of Bank of China, Genki Sushi and Best Mart 360.
The protests came as the city's embattled leader Carrie Lam Cheng Yuet-ngor called on the public to
condemn violence
and dissociate themselves from rioters, a day after the government announced a ban on face masks, which triggered a widespread rampage across the city.
"The extreme acts of rioters caused Hong Kong to experience a very dark night yesterday," Lam said in a five-minute video.
On Friday, thousands took to the streets, wearings masks in a show of open defiance, while radicals on the front lines rioted across the city, triggering the
unprecedented closure
of the entire MTR railway system.
The train network remained at a standstill on Saturday, while dozens of shopping centres, stores and banks also closed as the city reeled from the aftermath of the destruction and violence.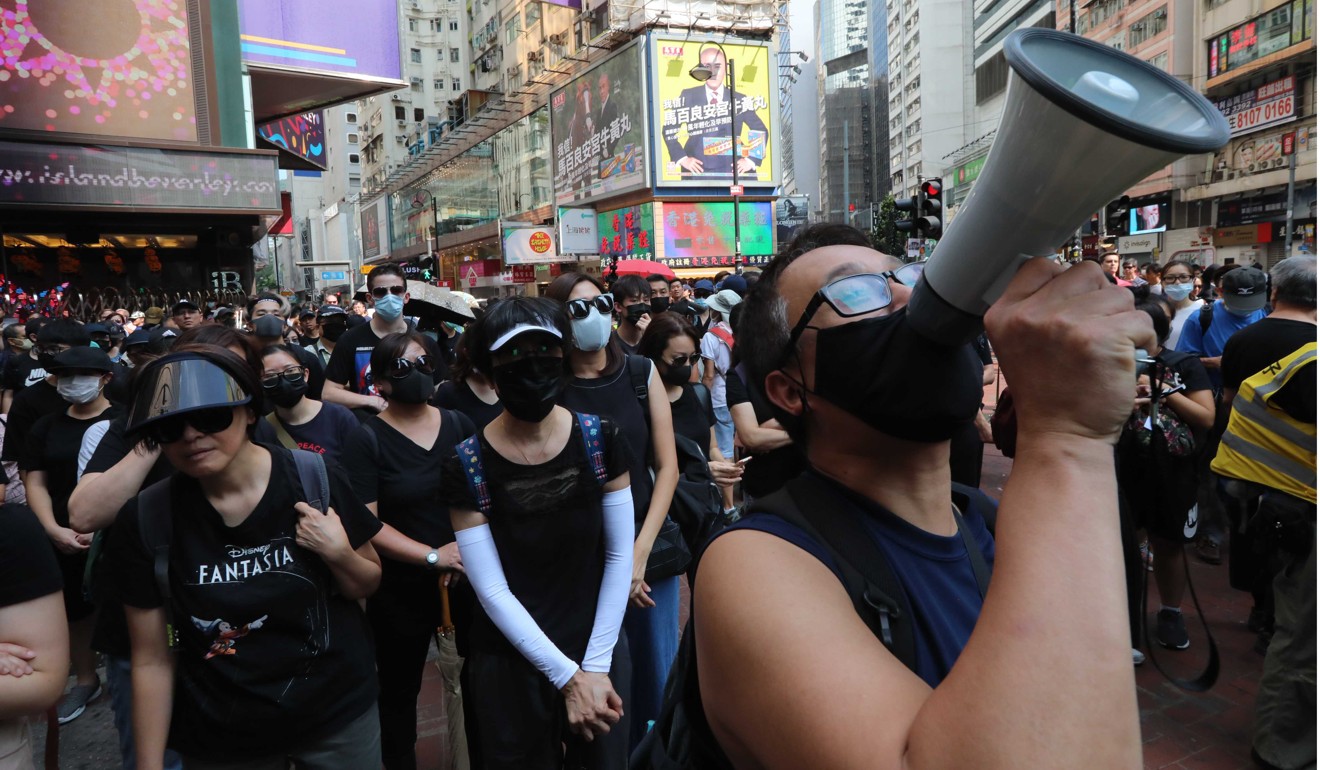 In Sheung Shui on Saturday afternoon, dozens of protesters, their faces covered, vandalised a number of shops, including Arome Bakery, China Mobile, Best Mart 360 and a pharmacy – businesses they regarded as pro-Beijing.
More peacefully, in the Tsim Sha Tsui tourist district, dozens of masked protesters formed a human chain outside the Star Ferry pier and walked along Canton Road, Haiphong Road and Nathan Road, chanting: "I have the right to wear a mask."
The crowd grew in size to hundreds as they walked about four kilometres to Maple Street playground in Sham Shui Po.
Earlier, they had gathered at Salisbury Garden at 3pm and chanted "Hongkongers, resist!" but the crowd was small.
A protester in a banana costume said she was not worried about being arrested and was just covering her face. "I am just an ordinary person. People can wear what they like," said the 30-year-old clerk, named Lan.
Retail sector worker Maggie Tse, 30, said she felt a bit disappointed that only a small crowd showed up at Salisbury Garden.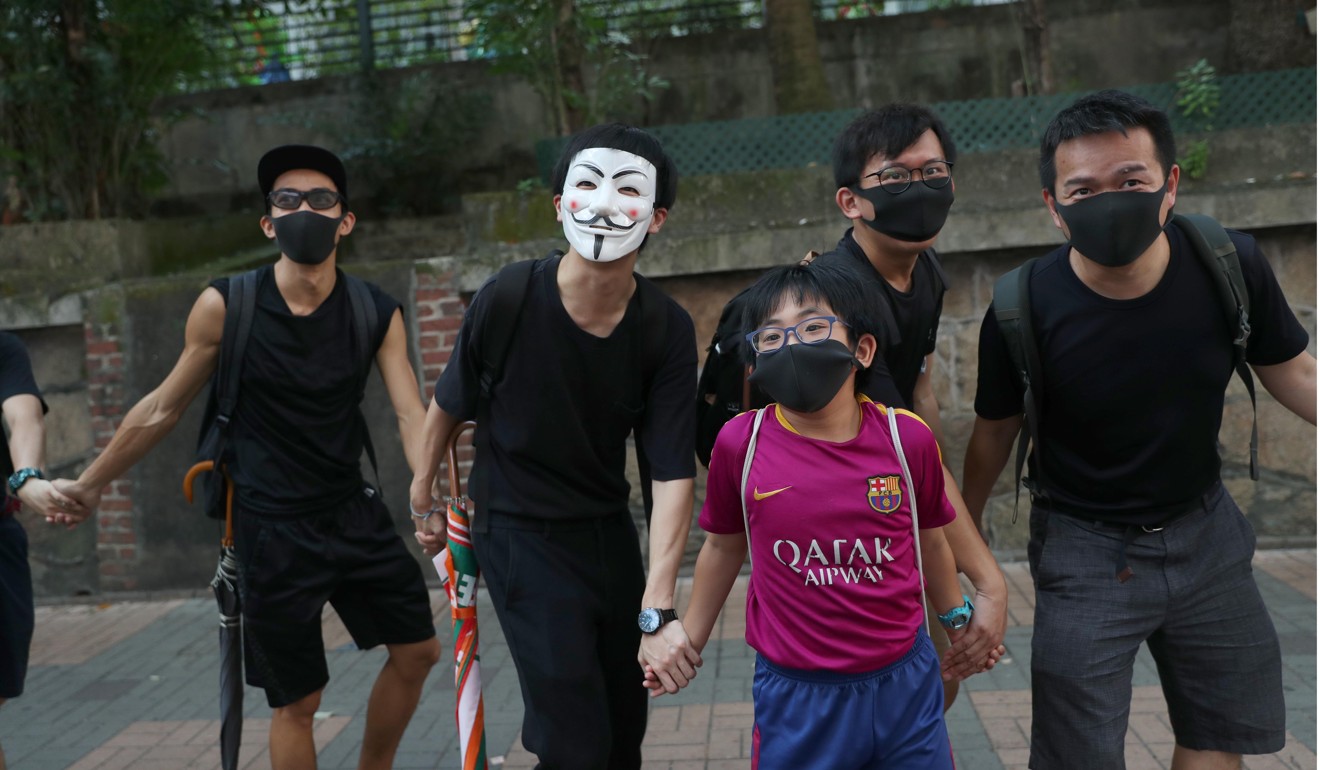 "I can't worry too much [about being arrested] because the law is depriving Hongkongers of their freedoms," she said.
On Hong Kong Island, marchers headed from Causeway Bay to Central.
One of them, a Wan Chai housewife named Mrs Chow, said that although it was inconvenient the MTR was shut, she did not blame it on violent protesters.
"The government gave such an unreasonable response to their demands. What is the anti-mask law going to solve?" Chow said.
She said covering faces during protests was a way to protect active and young protesters from being detained unjustly. "I came out today because if youngsters are deterred by the anti-mask law, who will fight for Hong Kong."
A female first-aider, 24, said the mask ban would not stop her from going to protests.
"Even without the anti-mask law, they can find other reasons to arrest you," she said.
In another development, a video showing a car hit a man in black in Tai Po was widely circulated online.
Police said they got a report at 2pm about the case on Hiu Wan Road, Tai Po. The victim suffered injuries to his head, hands, neck, and feet. He was sent to Alice Ho Miu Ling Nethersole Hospital in Tai Po. Police were investigating the incident as a case of dangerous driving, but there were suggestions the victim argued with the driver about politics before he was hit.
Additional reporting by Viola Zhou, Kathleen Magramo and Karen Zhang
This article appeared in the South China Morning Post print edition as: Protesters take to streets to oppose new mask law