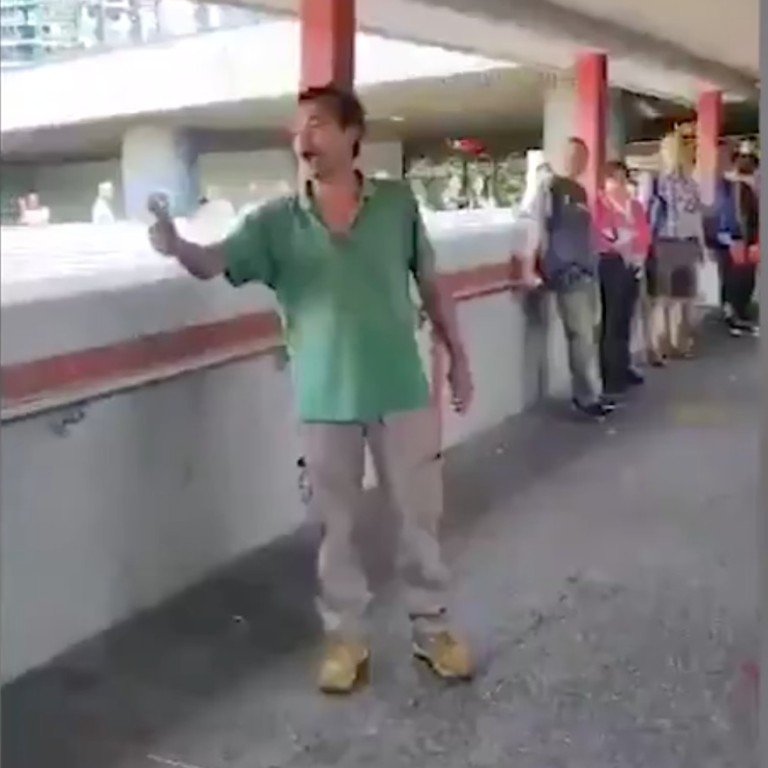 Hong Kong father of two 'burned alive' after chasing protesters at MTR station in grisly act of violence police classify as attempted murder
Lee Chi-cheung, a 57-year-old father of two daughters, now fighting for his life in hospital with severe burns to nearly 30 per cent of his body
Victim confronted group of protesters after they vandalised Ma On Shan station – but he was doused with flammable fluid and set alight
A Hong Kong man was set on fire in a horrific act of violence after he chased down a group of masked protesters who had vandalised an MTR station during Monday's noontime rush hour.
By Monday evening, Lee Chi-cheung, a 57-year-old father of two daughters, was fighting for his life in hospital with severe burns to his body as well as head trauma.
A spokeswoman for the Fire Services Department said Lee had second-degree burns on 28 per cent of his body, mainly his chest and arms. Police have classified the case as attempted murder.
At around 1pm, a group of more than 20 masked and black-clad protesters vandalised facilities at Ma On Shan MTR station on Sai Sha Road in Ma On Shan. The group fled on foot before the police arrived.
Lee, a construction worker who lives in the area with his wife and daughters, was on the way to hospital for a medical examination at the time.
According to police, he witnessed the damage to the station and chased after the protesters. When he reached the On Chun Street footbridge, he was attacked and suffered head injuries. An online video showed someone treating wounds on his forehead.
As Lee walked away, he shouted "You are not Chinese" to the group. The protesters responded by yelling "We are Hongkongers".
The video footage then showed Lee returning to confront the protesters, whereupon a dispute ensued.
"During the dispute, he was doused with flammable liquid and set alight," a police source said.
Lee was conscious when he was taken to Prince of Wales Hospital in Sha Tin, where he was admitted into the intensive care unit in critical condition.
Another source described the attack as ruthless.
"The victim stood up bravely after the sabotage, but the rioters tried to burn him alive," the source said. "Such an attack is inhumane."
Officers fromthe Commercial Crime Bureau were assigned to track down the attackers. By Monday evening, no one had been arrested.
Note: An earlier version of this story incorrectly named the victim as Leung Chi-cheung.
This article appeared in the South China Morning Post print edition as: Attempted murder case as father is set ablaze