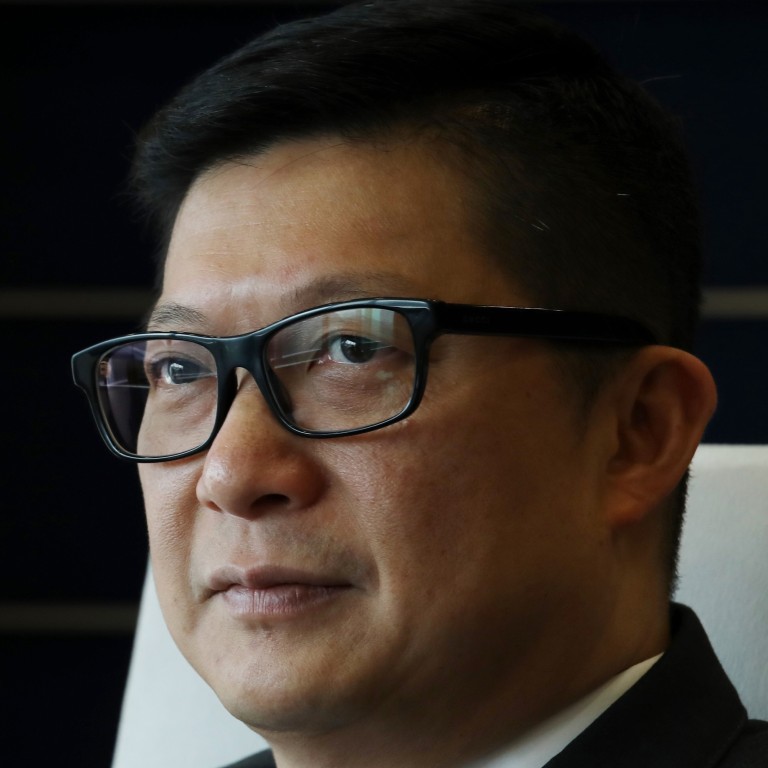 Exclusive
New Hong Kong police chief Chris Tang tells residents: the force cannot end the protests alone
Tang worries people only point fingers at police, turn blind eye to mob violence
Rejecting charges of brutality, new chief says worsening violence is 'close to terrorism'
Hong Kong's incoming police chief says the 31,000-strong force cannot end the city's unprecedented social unrest on its own, and needs the support of Hongkongers.
In an exclusive interview with the Post ahead of being sworn in on Tuesday, Chris Tang Ping-keung said the crisis, now in its sixth month, was much more than a law-and-order issue.
Taking over at a time when police are under unrelenting criticism for alleged excessive use of force, he wished Hongkongers would condemn the violence, saying their silence and tolerance only encouraged the masked radicals wreaking havoc.
He also found it worrying that people only pointed fingers at police, but turned a blind eye to violence.
"Enough is enough," he said. "Whatever your beliefs, do not glorify and put up with the violence. Do not let the mob further motivate themselves and become more radicalised.
"If everyone had come out earlier to condemn the violence, society would not have turned into this state in five months. We can only end the unrest with society's condemnation, reflection by the rioters, plus our appropriate tactics."
Tang, 54, is expected to be sworn in on Tuesday morning as the seventh Commissioner of Police since Hong Kong was handed over by Britain to China in 1997. The operational commander has been deputy to commissioner Stephen Lo Wai-chung, 58,
who retired on Monday
after 35 years in the force.
Since June, Tang has led the police operation code-named Tiderider, to deal with the street protests triggered by the now-withdrawn extradition bill.
Tang said the force's
reputation as "Asia's finest"
was highlighted in the way officers responded to the past five months of unrest. "
They work long hours, but still remain at their posts to maintain the city's law and order. I am very proud of the officers and the force," he said.
Violence 'close to terrorism'
The protests, now in their sixth month, have led to the
arrest of 4,491 people
, the youngest aged 11. Masked radicals have besieged roads, set fires on streets, vandalised MTR stations, businesses and banks, and
occupied universities
. Mobs have attacked police officers at the front line, hurling petrol bombs and bricks, and shooting at them with bows and arrows.
Tang said the spreading violence was not only "very heartbreaking", but also came "very close to terrorism".
Police have responded by firing more than 10,000 rounds of tear gas and 18 live rounds. About 1,700 people have been injured, including 450 officers.
Police have been criticised for using excessive force, including allegations that people have been mistreated and
sexually harassed
after arrest. Pan-democrats have accused police of acting as a political tool to suppress citizens.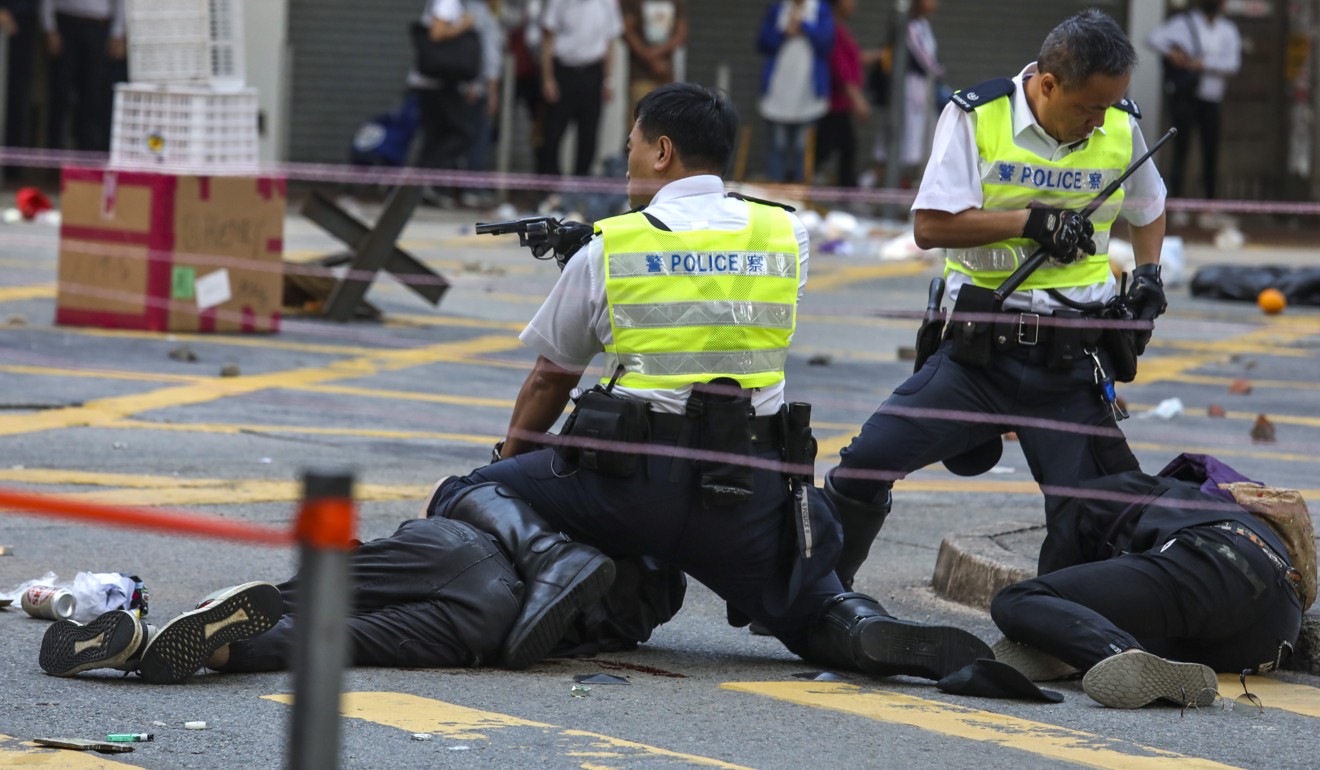 Tang rejected the accusations, slamming radical protesters and lawbreakers for fabricating news to damage police credibility. He called the criticism by foreign politicians unfair.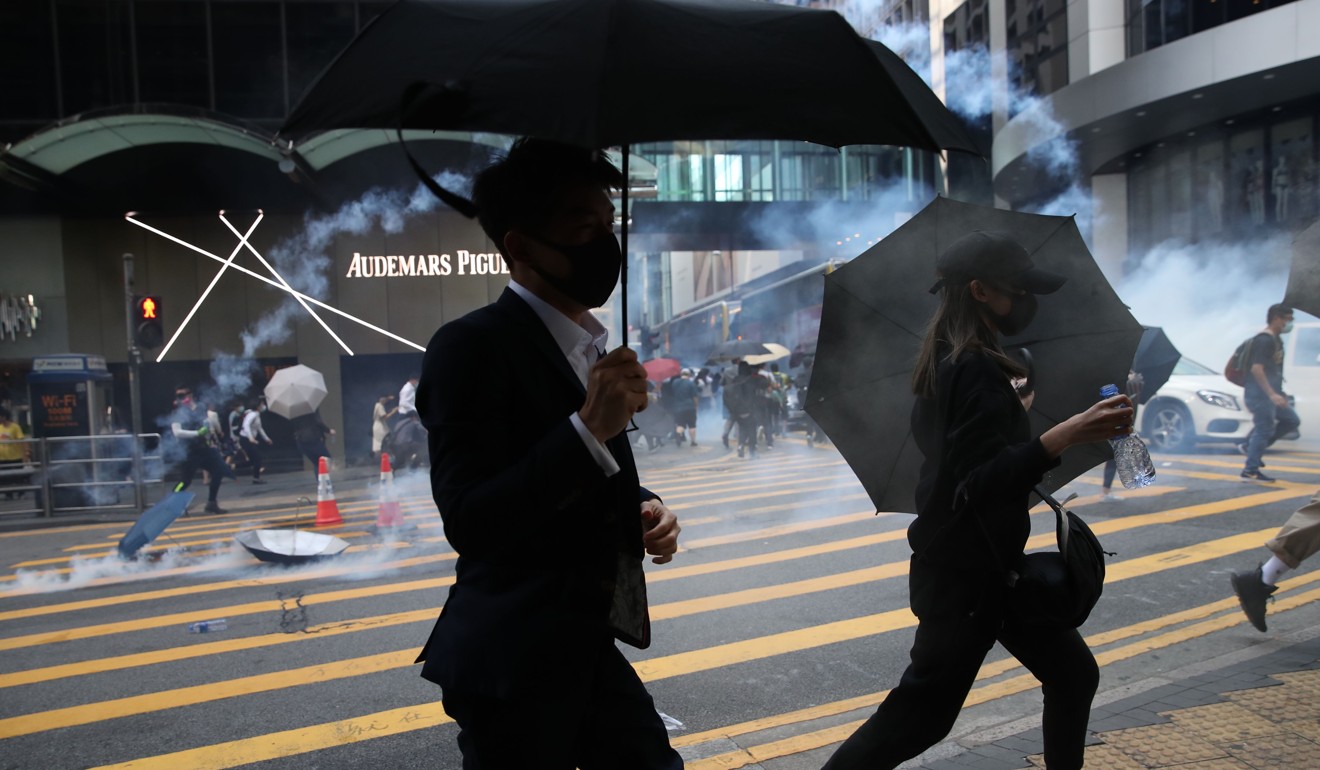 "I totally disagree that our officers are out of control and have used excessive force. We use force when there is violence," he said. "Many of our officers have been brutally attacked. They [drew their guns] to protect themselves, not to suppress the crowd."
Tang said he was prepared for more attacks: both personal and aimed at bringing down the force.
"The mob and their supporters do not want us to enforce the law effectively, so they do as much as they can to smear us," he said. "They have labelled us murderers whenever there was a suicide or an unidentified body. They also threatened to kidnap our children.
"Maybe these people know the truth, but they choose not to believe it so as to continue indulging in their ideology."
A career law enforcement officer and former head of Interpol's Criminal Organisation and Violent Crime Unit, Tang said people were quick to judge a snapshot of police action without knowing the full picture of what the protesters had done or understanding why officers sometimes continued to hit those who had been caught.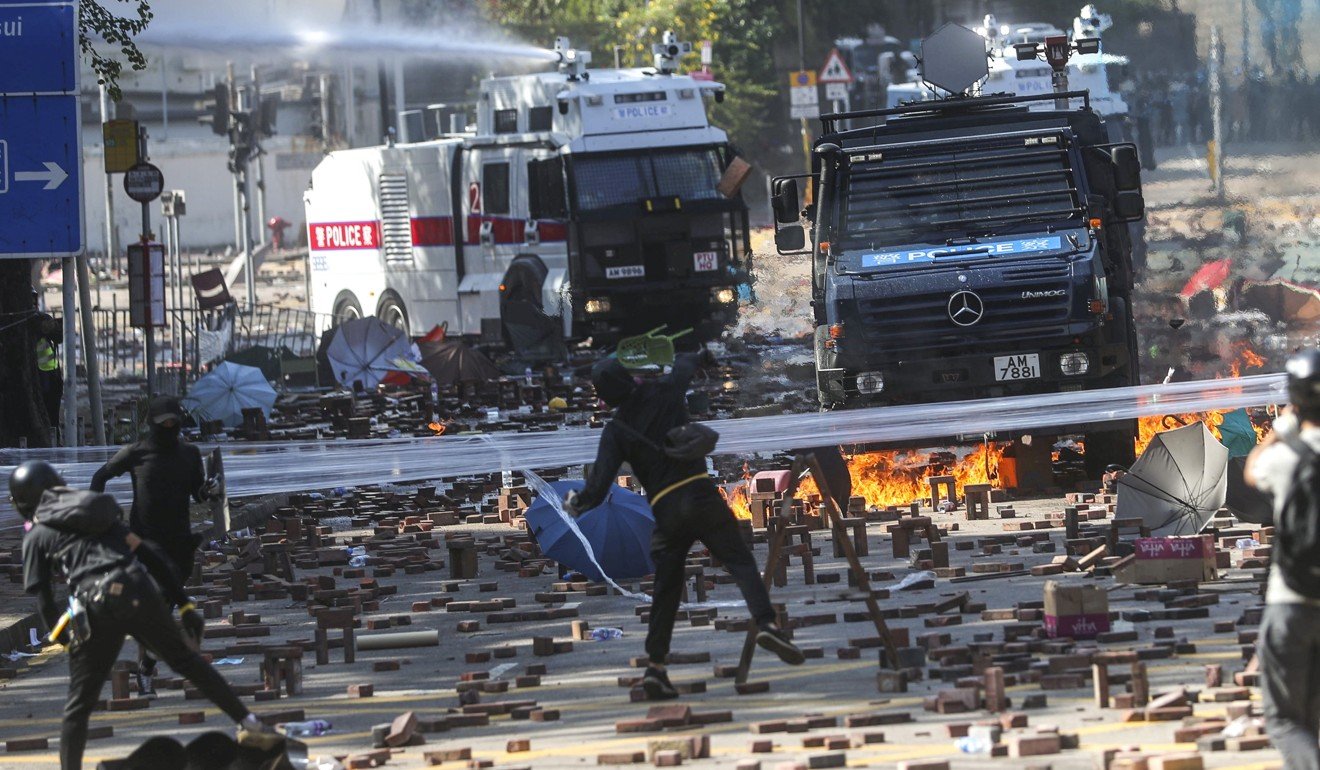 Suspects had to be subdued and handcuffed, he explained, or there was a high chance that they would struggle, flee and even attack the officers.
Asked if he will apologise for the misconduct of his officers when he is commissioner, Tang replied: "We must look at the situation as a whole, instead of examining every single thing with a magnifier. Do we have to apologise for every segment?
"Doing that will undermine the contribution and hard work of my men over the past five months. We make thousands and millions of decisions, it is impossible for each and every one of them to be perfect."
'Judge-led inquiry won't help'
Tang made it plain that police are against having an independent inquiry into allegations of brutality, saying such a judge-led probe will not ease the unrest and violence.
"I do not agree that setting up a commission of inquiry can help ease the tension," said Tang, who was also concerned about the effect such a move would have on the force.
"Our staff might think they are being particularly targeted if the well-established mechanism is bypassed. We will be disappointed," he said.
Tang preferred to leave it to the police watchdog to investigate complaints against the force, saying: "I believe the Independent Police Complaints Council (IPCC) can prove our innocence."
Chief Executive Carrie Lam Cheng Yuet-ngor recently promised to explore alternatives if the report of the IPCC, due by early next year, did not satisfy supporters of the protest movement.
She has so far rejected the protesters' demand for an independent inquiry into allegations of police brutality, saying it should be left to the police watchdog.
The protests, which began in June, were originally against the now-withdrawn extradition bill, formally called the Fugitive Offenders Ordinance, which could have seen suspects sent to mainland China, among other jurisdictions with which Hong Kong does not have an exchange arrangement.
The bill has been withdrawn, but protesters have four more demands:
an inquiry into alleged police brutality
; an end to referring to the protests as riots; amnesty for those arrested; and universal suffrage.
Tang said: "The demands are just slogans. The Chief Executive has withdrawn the Fugitive Offenders Ordinance, but I do not see any improvement in the situation."
For now, the IPCC is looking at complaints that police used excessive force at events on six dates between June 9 and August 31. It is also looking into the alleged mistreatment of protesters who were detained at the
San Uk Ling Holding Centre
, near the mainland Chinese border, in August.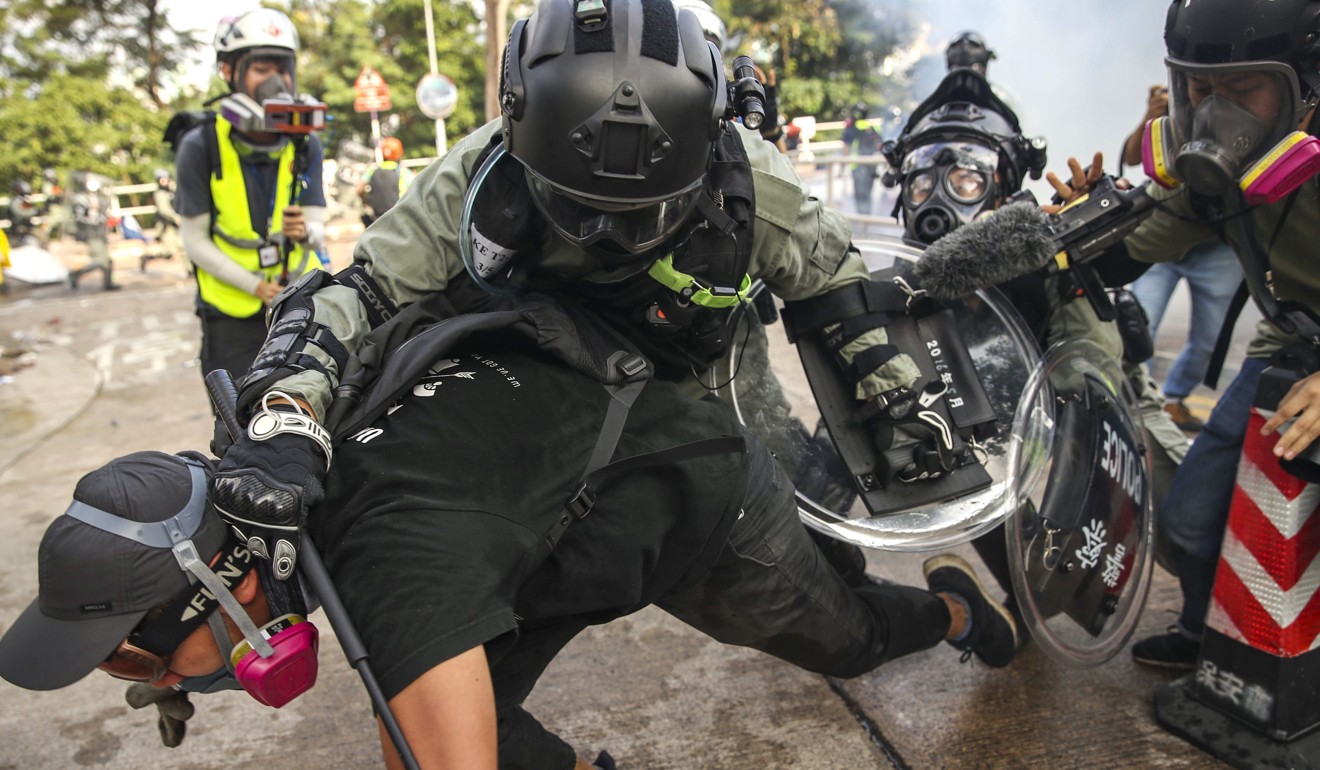 The council carries out its investigations mainly by looking at case files or internal documents passed to it by the force. Among other things, the five-member expert panel has called for investigative powers to subpoena documents and summon witnesses. 
Tang declined to comment on the panel's remarks, stressing that the IPCC probe was the best option, given the rich experience of council members and that it was an established mechanism for dealing with complaints.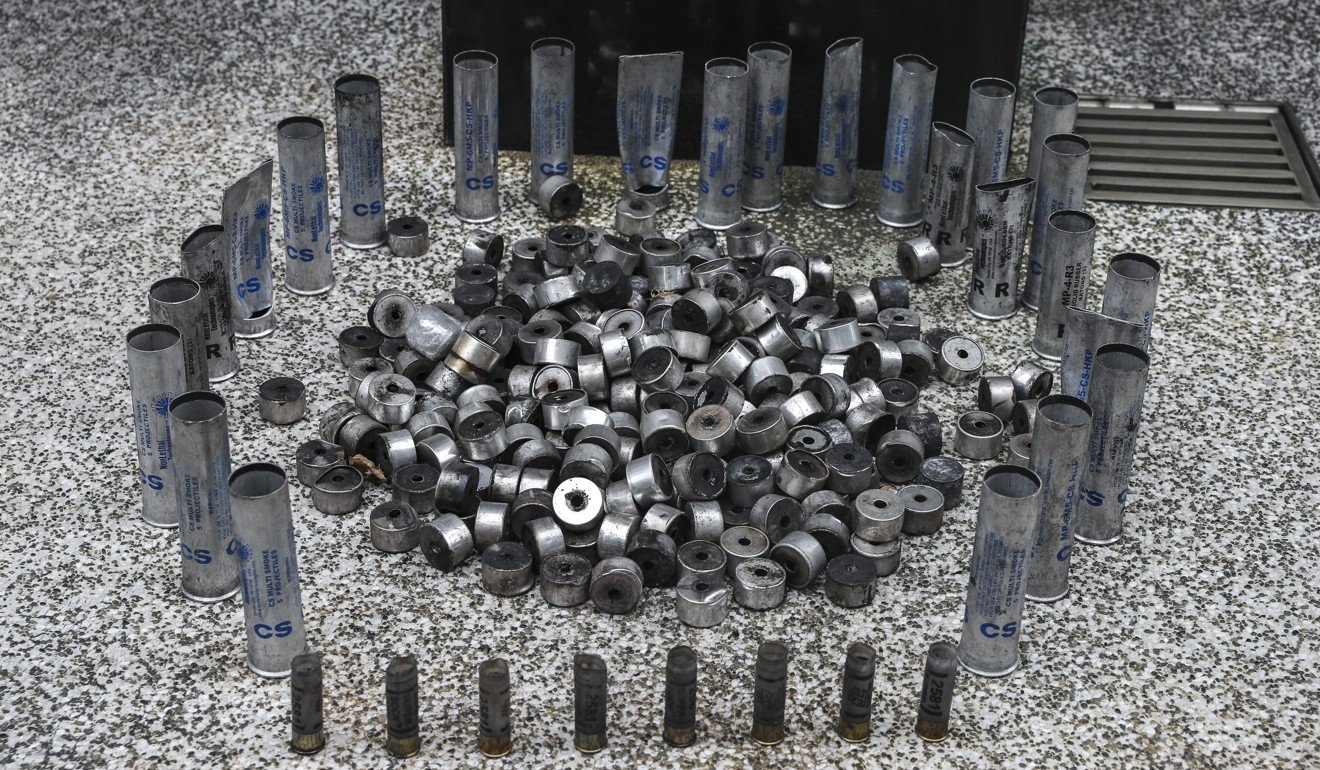 'Force is still Asia's finest'
Critics of police have expressed regret that the Hong Kong force has lost its long-held reputation as Asia's finest law enforcers.
Tang dismissed that assessment, saying, on the contrary, that police have proven themselves amply.
"Compared with the use of force and number of casualties in similar social unrest in other countries, our officers have performed relatively well and are very restrained," he said. "My men maintain high morale and have not quit, despite the tremendous stress and challenges."
He pointed out that as a metropolitan police force in charge of general law and order, the Hong Kong force was not designed to deal with long-term riots, yet has been steadfast in facing the unending unrest and worsening violence.
"Our performance over the past five months has highlighted how Hong Kong Police are Asia's finest," he said.
As the new chief, Tang said this was his message to Hongkongers: "I will support my men fully in the exercise of their duties. To effectively enforce the law, we need public support."