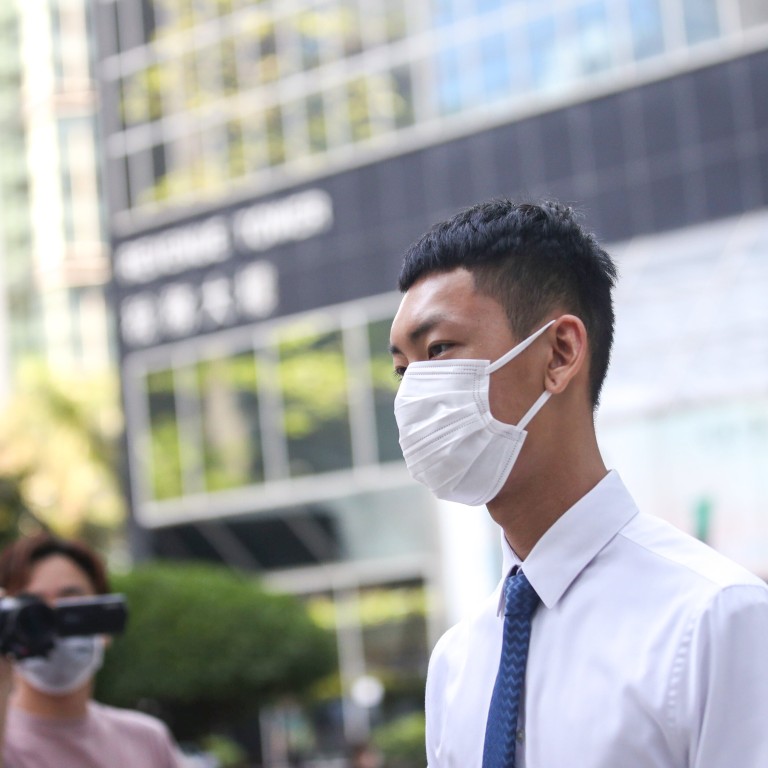 Hong Kong protests: first defendant to plead guilty to riot charge jailed for four years
Lifeguard Sin Ka-ho, 22, pushed police barricades and hurled objects at officers outside the Legislative Council on June 12
Officials called that clash a riot, a categorisation that fuelled what would become months of a wider anti-government movement
Lifeguard Sin Ka-ho, 22, rammed police barricades and hurled objects at officers outside the Legislative Council on June 12 after it announced the second reading of the now-withdrawn
Fugitive Offenders Bill
, originally scheduled for the day, would be postponed indefinitely.
District judge Amanda Woodcock said a deterrent sentence was needed as the case was very serious, with Sin caught red-handed after he "doggedly and relentlessly" assaulted police at the doors of the legislature in a "direct attack on the rule of law".
"Such violence cannot be tolerated in a civilised and diversified society," she said. "His best mitigation is his guilty plea."
Government officials have called this protest a riot. But that categorisation quickly became one of the contentious points fuelling what would become months of a wider anti-government movement, with protesters naming the retraction of that label as one of their five demands.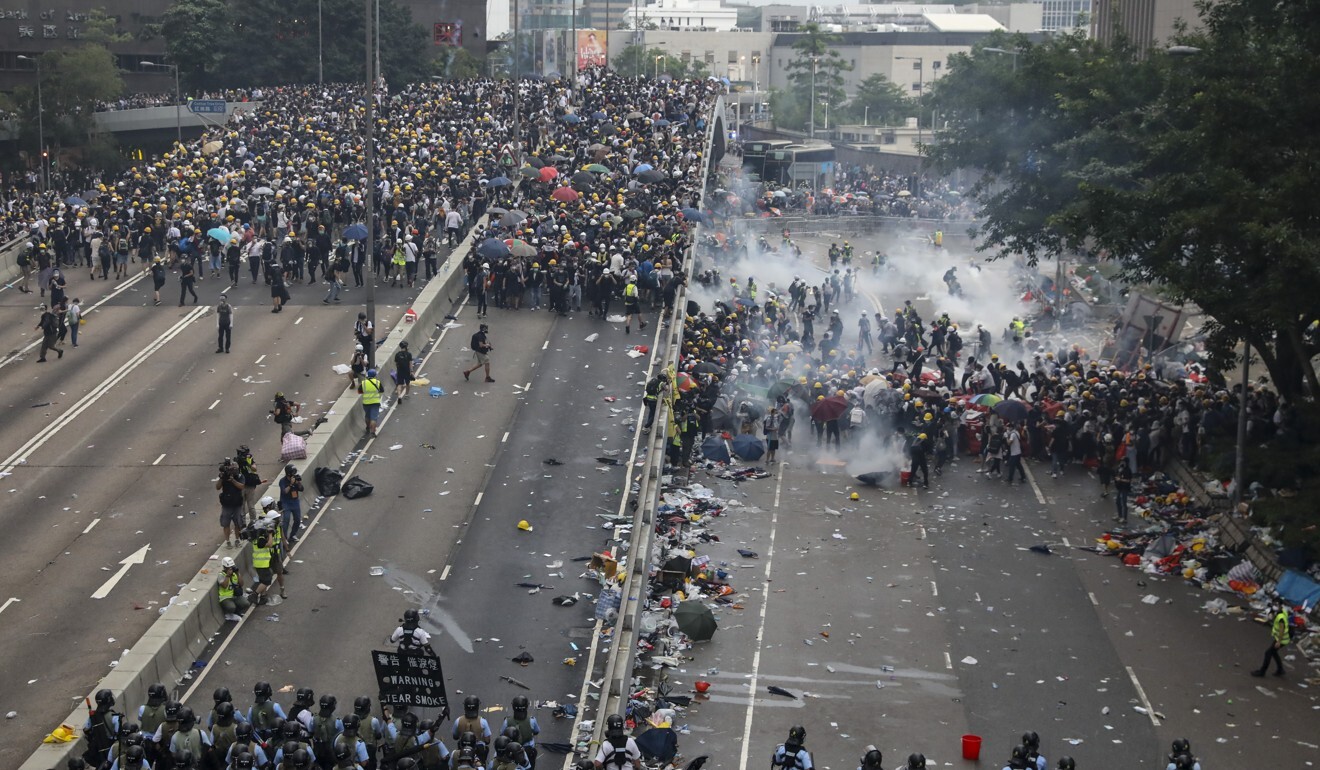 More than 8,300 people have since been arrested. Among them, 1,617 have been prosecuted, with 595 facing a riot charge, which is punishable by 10 years in jail, but capped at seven years in the District Court.
Sin appeared at the District Court earlier this month and pleaded guilty to one count of rioting – for pushing police barricades and hurling two umbrellas, a helmet and other unknown objects at officers outside the complex's public entrance.
He denied two other charges, alleging he resisted two unnamed officers on the same day. These two counts were kept on court file, meaning they cannot be pursued without the order of this court or the Court of Appeal.
Defence counsel Fiona Nam said there was not a day her client "hasn't looked back in regret" at the events that led to his arrest, which were "completely out of character" for the first-time offender.
"I set a bad example for those young people yearning for change," Sin wrote in a letter to the court. "If I had the opportunity to talk to them myself, I would urge them not resort to violence."
His sentencing on Friday drew more than 100 people, with two courts set up for family, media and public attendance of the hearing, while dozens more waited in the corridor and lobby for news.
The judge said she had watched all security camera and media footage that showed how the protest descended into a riot, and the degree of violence used.
She observed that the defendant was clearly captured on camera standing in front of the crowd, where he violently rammed metal security barriers, hurled umbrellas like a spear and threw objects with force at nearby police officers backed up against the building, who in turn responded with tear gas.
"By then everyone around him and behind him had run away yet he alone continues to attack doggedly and relentlessly," she said. "He was so intent on inflicting injury he didn't run when everyone else ran and was caught."
But Woodcock also observed from a 1970 court decision that a defendant's individual acts cannot be considered in isolation from the overall violence involved, which she found to be large in scale, very serious and escalating until it was cut short by police use of tear gas.
Eight officers were injured while manning police lines.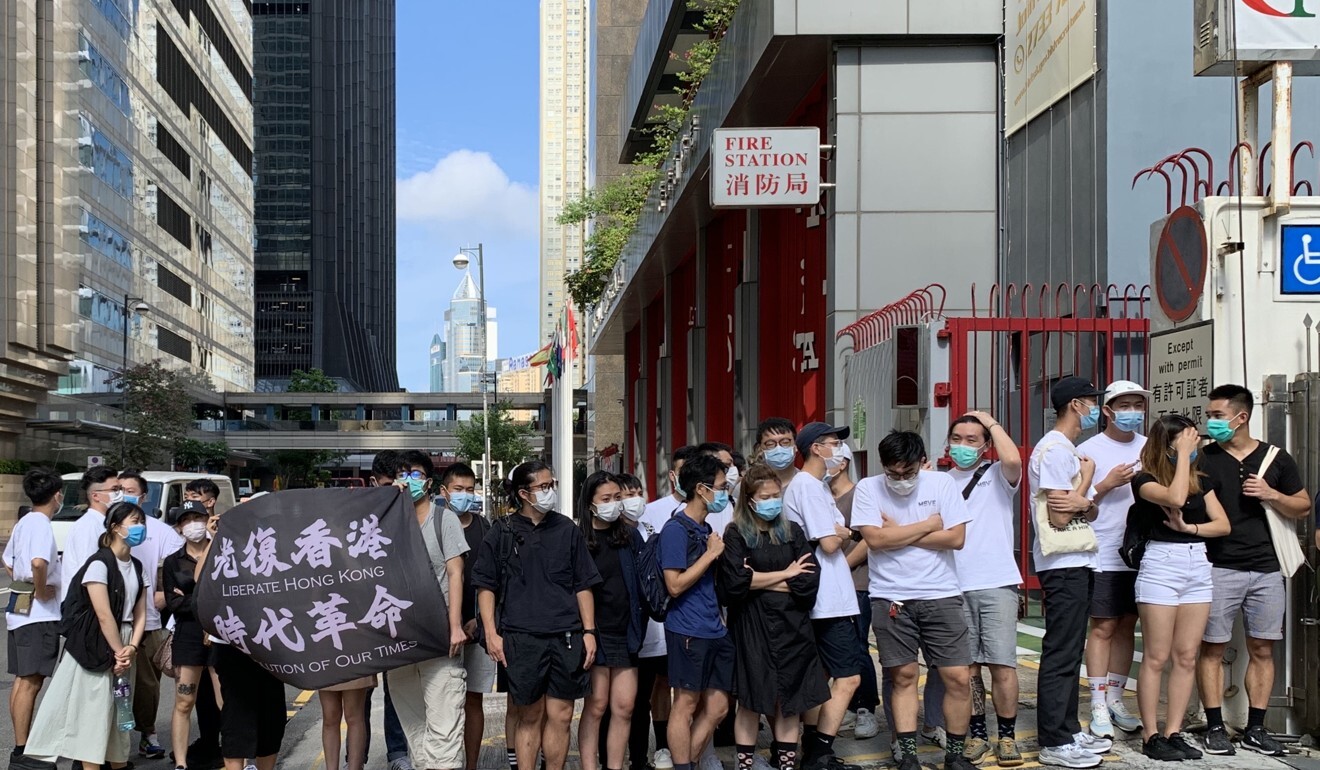 Woodcock concluded the present case was more serious than the 2016 Mong Kok riot, which saw localist leader Edward Leung Tin-kei sentenced to six years in prison.
"A repeated attack on the police in the due execution of their duties, their duty to protect the Legislative Council, which led to a riot at the doors of the legislature of Hong Kong was a direct attack on the rule of law," she said. "Such criminal conduct showed no respect for law and order nor the safety of law enforcement officers."
So while the judge accepted the defendant was a young man of previous good character who had displayed genuine remorse, she concluded that proper weight must be given to public interest, over personal circumstances.
She adopted a sentence starting point of six years, before reducing it by one-third to credit Sin's guilty plea.
The defendant was considering whether to appeal against the sentence.
Chief Inspector Basil Tang Yick-kay, of the organised crime and triad bureau, welcomed the court ruling, saying the jail term had sufficiently reflected the seriousness of the crime.
"I hope this sentence will offer our society an opportunity to reflect," Tang said. "Violence cannot be romanticised or rationalised."
Help us understand what you are interested in so that we can improve SCMP and provide a better experience for you. We would like to invite you to take this five-minute survey on how you engage with SCMP and the news.
This article appeared in the South China Morning Post print edition as: Four years' jail for first protester pleading guilty to riot