Crime
Get more with myNEWS
A personalised news feed of stories that matter to you
Learn more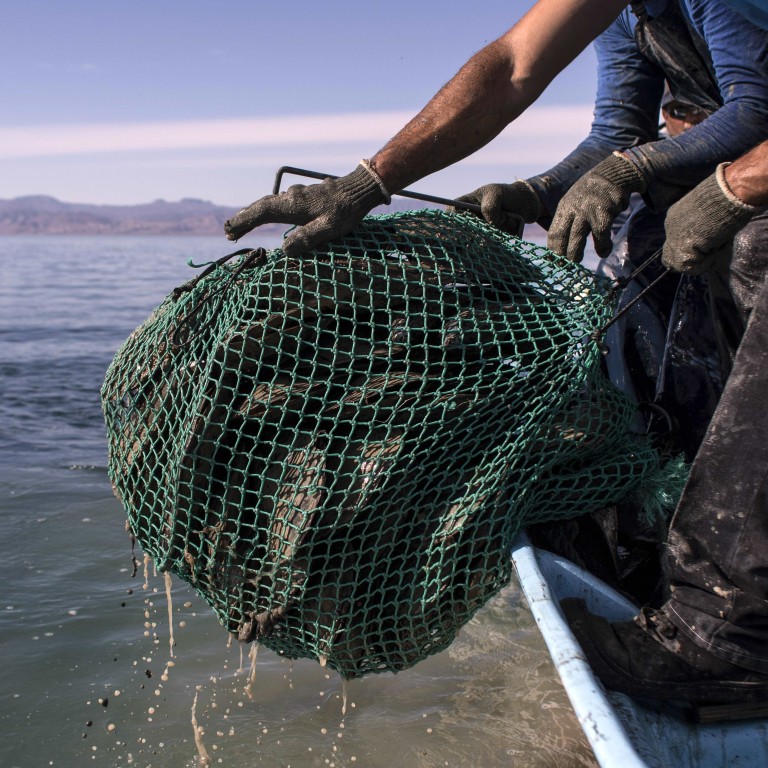 Five arrested and fish bladders worth HK$25 million seized by Hong Kong customs officers in biggest haul in nearly 20 years
Haul of 160kg of totoaba fish bladders that came from 270 protected marine mammals
Items discovered inside shipment of fresh fish airmailed into city from Los Angeles
Hong Kong customs officers have made the department's biggest seizure of totoaba fish bladders airmailed from the United States in nearly two decades, finding more than HK$25 million worth of the fish maw taken from 270 protected marine mammals, a senior official said on Monday.
The 160kg of fish bladders, found hidden in 15 Styrofoam boxes and sent from Los Angeles last week, was more than four times the amount seized by customs officers over the past 18 years.
Senior superintendent Mark Woo Wai-kwam, head of the Customs and Excise Department's syndicate crimes investigation bureau, said just 37kg of totoaba bladders – a gas-filled organ that helps control the fish's buoyancy – was seized in nine cases since 2002.
The bladders are a wanted item in Asia, because some people believe they are good for their health.
Five local men were arrested in connection with the city's latest endangered wildlife smuggling case when customs officers posed as couriers to deliver the consignment to two locations in the New Territories late last week.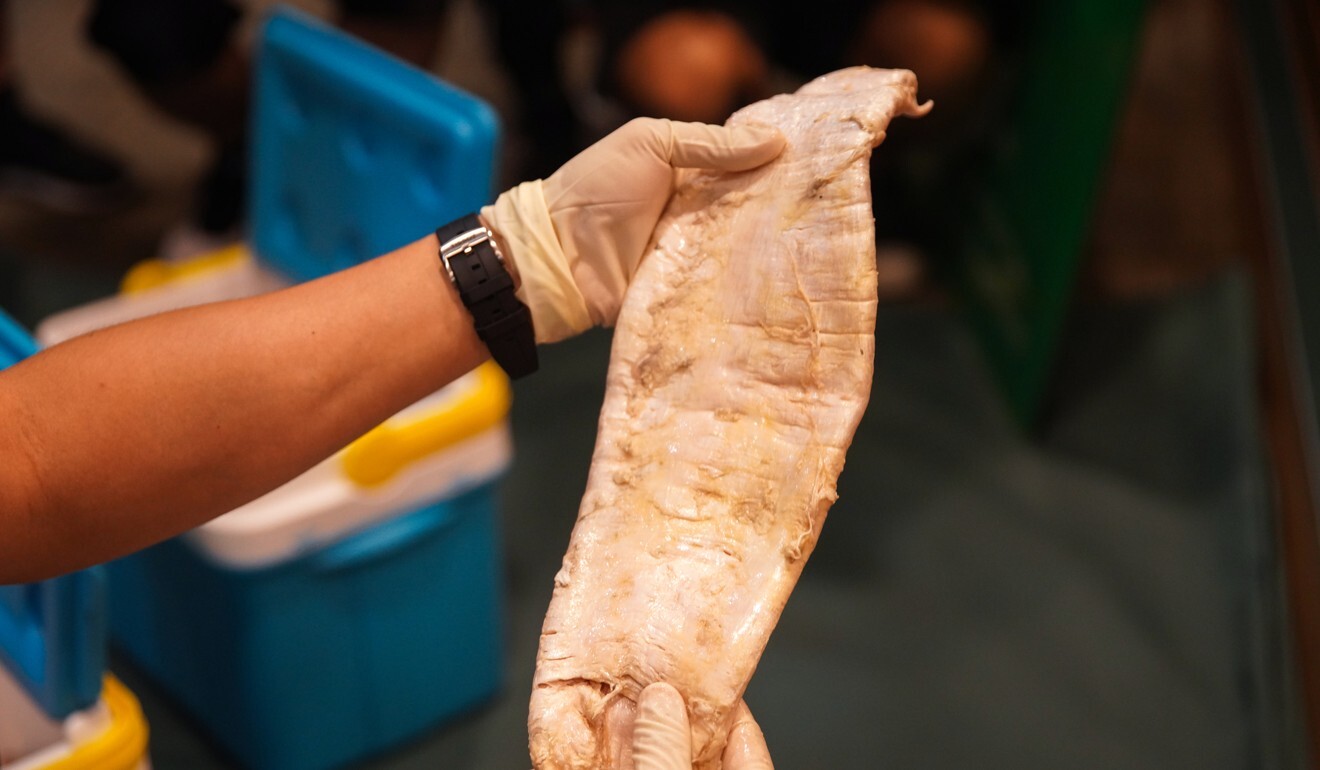 The cargo arrived at the airport's cargo terminal last Thursday, and was selected for inspection because it was unusual for fresh fish to arrive from Los Angeles.
"A bag of fish maws was found under a layer of fish fillet in each box," Woo said. "Each bag carried an average of 18 pieces of totoaba fish bladders. Each piece weighs about 600 grams and is 1.5 metres in length."
Describing its value as high as illegal drugs, he said this kind of fish maw fetched HK$160,000 per kg on the black market and its total value was more than HK$25 million.
"It's a high-graded fish maw and very expensive because people believe it is good for health," Woo said.
In the controlled delivery of the cargo to Yuen Long and Fanling last Friday and Saturday, five men were arrested on suspicion of importing or possessing endangered species without a licence – an offence that carries a maximum penalty of 10 years in jail and a HK$10 million fine.
Those arrested included the two directors of a warehouse in Yuen Long, and all five suspects were granted bail.
Woo said he believed the fish had been caught in the Gulf of California off Mexico, and the fish maws were delivered to Los Angeles before being airmailed into Hong Kong.
He said officers were still investigating whether the haul was for local consumption or bound for mainland China.
Under the Convention on International Trade in Endangered Species of Wild Fauna and Flora, an international treaty to protect endangered plants and animals, the totoaba is considered to be among the most endangered species on the planet.
In the first four months of this year, customs officers confiscated 25,000kg of different types of endangered products worth HK$12 million in 145 cases.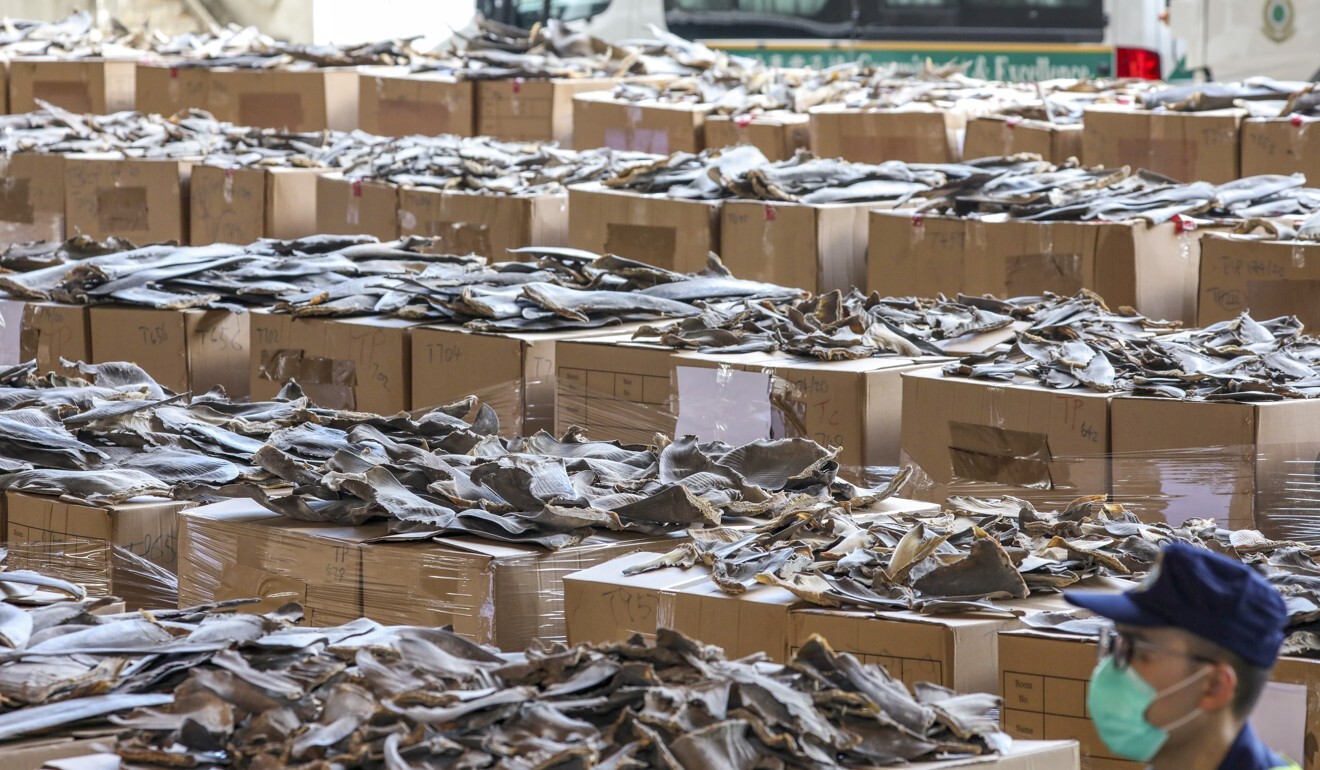 On May 6, customs officers made their
largest shark fin seizure
, uncovering 26 tonnes taken from about 38,500 endangered sharks inside a pair of shipping containers from Ecuador. The haul was valued at about HK$8.6 million.
According to figures from the department, customs officers seized 375 tonnes of endangered wildlife products worth HK$133 million in 659 cases in 2019, up 37 per cent from 273 tonnes worth HK$73 million in 745 cases the year before.
This article appeared in the South China Morning Post print edition as: Biggest seizure of fish maw in nearly two decades