Hong Kong police scheme to give only 'trusted media' access to cordoned off areas draws press backlash
Police chief declines to say whether force has a list of mistrusted outlets
Journalists from local outfit as well as foreign wire services among those barred from attending briefing at Apple Daily offices on Monday
Hong Kong police
have adopted a new system under which only journalists from "trusted media outlets" are allowed to report from inside the force's cordoned off areas, drawing a backlash from press groups.
The arrangement was in place on Monday as reporters covered police raids on the offices of the
Apple Daily
newspaper after the
arrest of its founder
, Jimmy Lai Chee-ying
.
Only representatives from 15 media agencies were allowed inside the cordon, police public relations branch Chief Superintendent Kwok Ka-chuen said on Tuesday, adding that the scheme was imposed in the wake of the "new challenges" in coordinating media reporting and police operations in the past year. Kwok also vowed to review the new arrangement and make improvements.
Commissioner of Police Chris Tang Ping-keung confirmed on Monday in an interview with local media outlet HK01 that the practice was a pilot programme.
But he denied that in running the arrangement police were effectively licensing the media, saying all journalists, including citizen reporters, could still report from outside cordoned off areas.
Journalists from "trusted" media, which Tang identified as those who had reported fairly, and had not acted unprofessionally or obstructed officers, would be allowed to report from inside cordoned areas.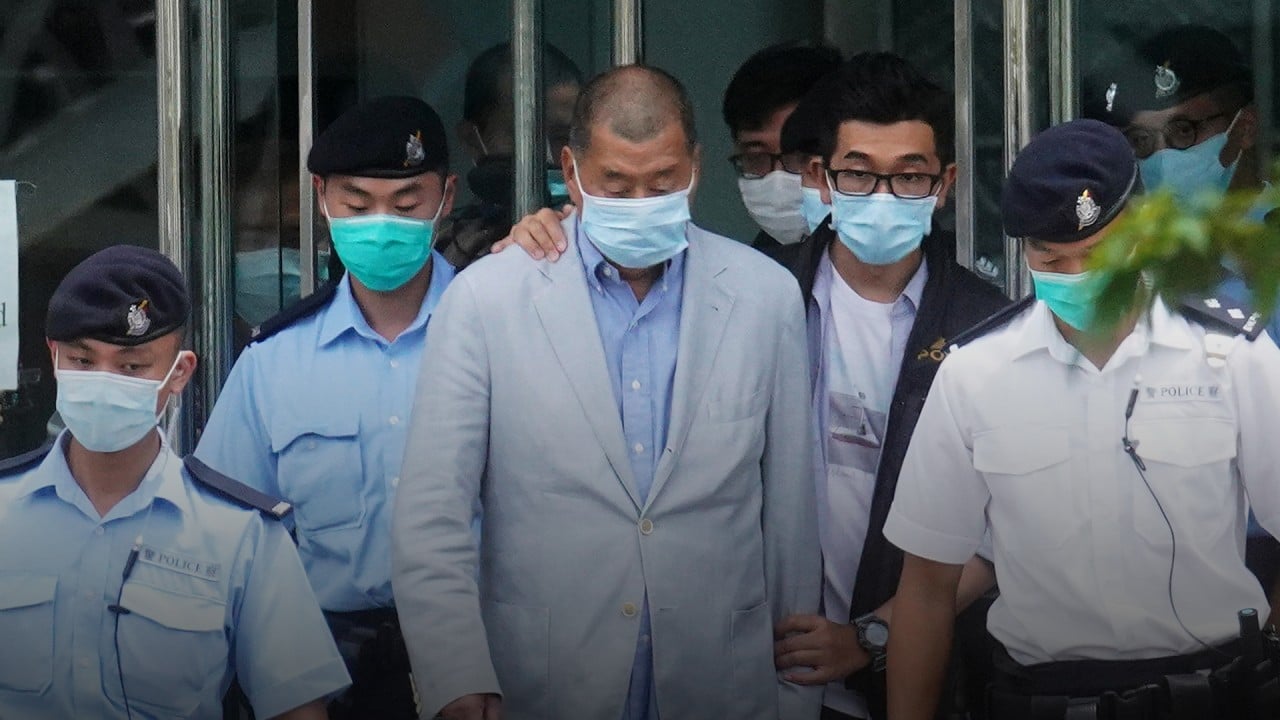 03:38
Hong Kong media mogul and opposition activist Jimmy Lai arrested under national security law
Hong Kong media mogul and opposition activist Jimmy Lai arrested under national security law
He declined to say whether police already had a list of mistrusted outlets, but insisted the force was not trying to punish certain media companies, or infringe on press freedom.
The police chief also said not everyone wearing yellow vests was a reporter, maintaining some in such gear – commonly worn as a means to identify journalists – had previously helped arrestees get away from police. The force had previously said such incidents happened during the
anti-government protests
that first erupted in June last year.
Meanwhile, in a radio interview on Tuesday, Kwok said some 15 media outlets were allowed to enter the police cordon lines to report the raid on the Next Digital headquarters compound on Monday (Aug 10).
"The aim is to facilitate the work of the media and increase the transparency of the police work," Kwok said, adding that officers had attempted to pick a wide range of media, including TV and radio.
"It was a new attempt. And we heard of some different views and also understood that some other media would also like to enter to report; the police would have a review and make improvements."
Kwok said the past year had presented "new challenges" regarding the coordination between media coverage and police work, prompting the force to try some new measures.
Earlier on Monday, an estimated 200 police officers raided the offices of
Apple Daily
after Lai was detained on suspicion of violating the sweeping new
national security law.
Six others linked to the tabloid-style publication were also arrested.
Before a scheduled press briefing by Senior Superintendent Steve Li Kwai-wah, head of the national security unit, the force told reporters only select representatives from well-known media outlets that had not obstructed police operations in the past would be allowed to attend.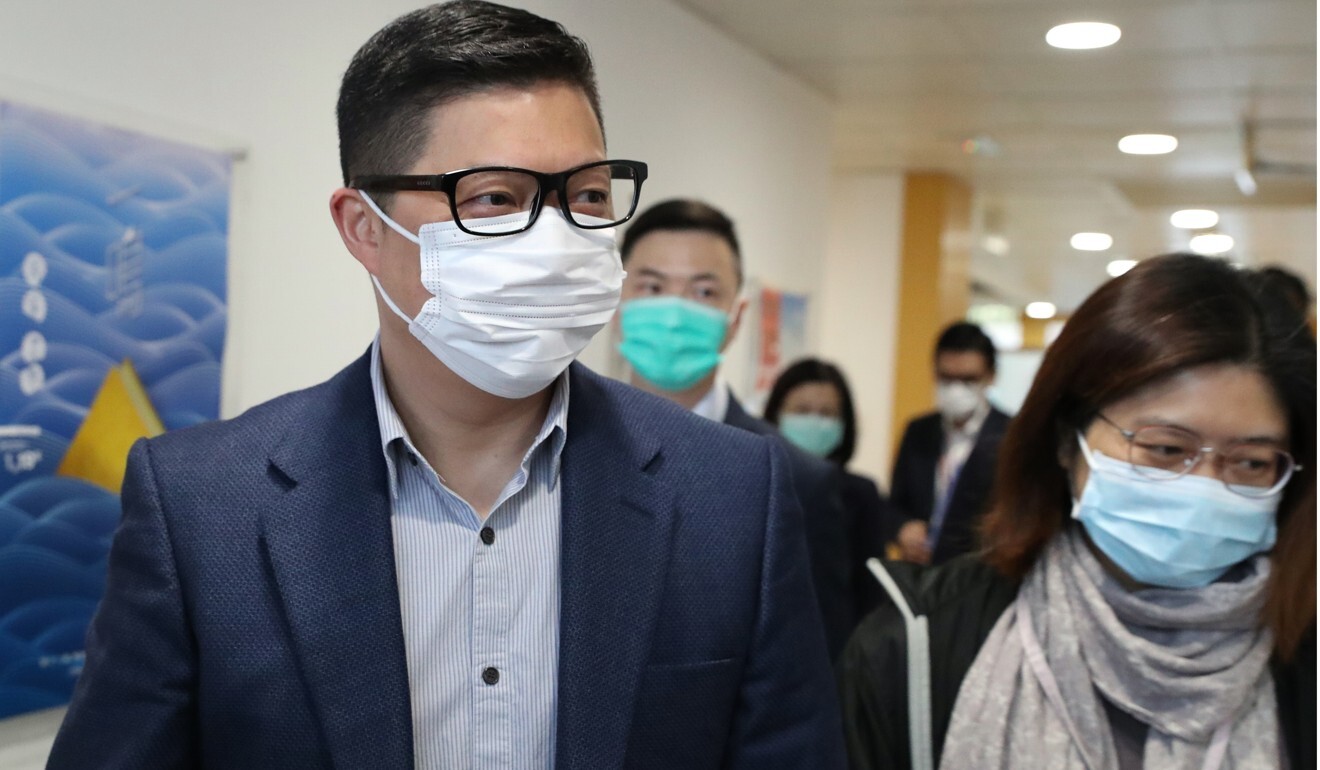 Journalists from Stand News, as well as foreign wire services, were among those barred from attending, while those from RTHK were only allowed to join after the public broadcaster protested.
The briefing took place outside the Apple Daily building, but inside a cordoned off area.
During the raid, officers walked around the newsroom, flipping through files and documents on some of the desks, leading to complaints from staff.
Li later explained they searched the second-floor editorial department because the offices of some of the suspects were situated there.
He said he knew there were news materials in the office so officers had been sent in to do an "initial screening" to check which parts of the premises could be searched and which could not. Areas with news materials would not be searched, he insisted.
The News Executives' Association said it was highly concerned police only allowed journalists from selected media to their briefings.
"The association believes that this has seriously infringed on press freedom, and has further damaged the thin trust between the media and law enforcers," it said, demanding an explanation from police.
It also criticised officers for going through documents on some journalists' desks during the raid, saying reporters had to protect their sources, and their privacy had to be "absolutely respected".
In another statement, eight media groups, including the Hong Kong Journalists Association and the Next Media Trade Union, demanded an explanation for the raid.
They also said police were trampling on press freedom by screening who could attend briefings.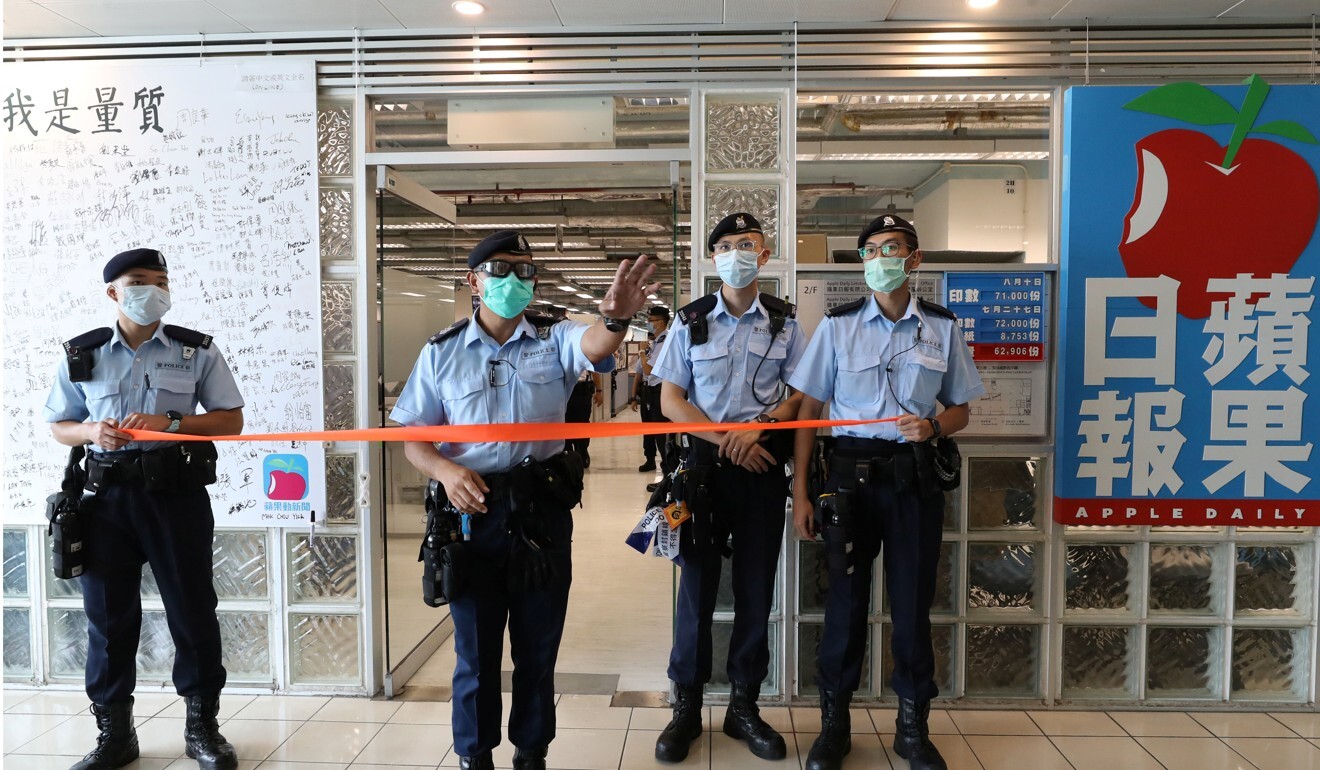 The RTHK Programme Staff Union also hit out at the force for the screening of journalists, saying Article 27 of the Basic Law, the city's mini-constitution, states that Hong Kong residents enjoy freedom of speech, news and publication.
In a Monday night briefing, Chief Superintendent Kwok Ka-chuen of the police public relations branch admitted the force had allowed only selected journalists to enter cordoned off areas. He said the move was designed to improve the transparency of operations, adding that he would listen to feedback from the outlets that had been barred.
Li, the senior superintendent, said he realised some journalists were dissatisfied that officers appeared to be looking at news materials, which was why he had subsequently told his colleagues to leave the editorial department.
Meanwhile, Apple Daily, which reported the police raid as it happened, continued a live stream of staff rushing to meet press deadline after midnight.
Next Digital, parent company of the paper, said in a stock exchange statement the arrests had not affected the firm's operations or fiscal position.
Additional reporting by Ng Kang-chung
This article appeared in the South China Morning Post print edition as: Police move to give 'trusted media' access sparks row