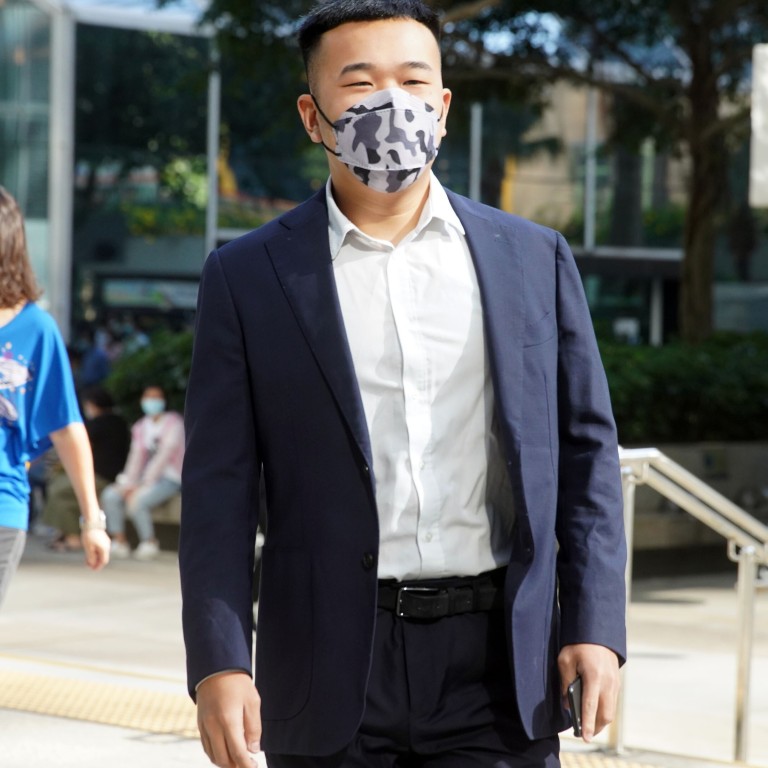 Hong Kong protests: student biting off part of policeman's finger while being subdued 'not a reflex action'
Prosecution cites a psychiatrist's assessment in maintaining that the bite was deliberate
The incident in question took place during clashes between police and protesters at a Sha Tin shopping centre last year
A Hong Kong student accused of biting off part of a policeman's finger has pleaded not guilty to assault charges, as prosecutors on Monday argued the bite was a deliberate act rather than a reflexive response.
The District Court heard Detective Sergeant Keith Leung Kai-yip was trying to use pressure-point control tactics to subdue To Kai-wa, 24, during a chaotic
anti-government protest
at a shopping centre on July 14 last year, when the student allegedly bit off the tip of his right ring finger and fractured what remained of the digit.
Psychiatrists for the prosecution have concluded that the alleged bite was not a reflexive response to shock or pain, but a voluntary movement, and noted that To had no symptoms of obsessive compulsive disorder.
The alleged assault at New Town Plaza came after To dropped an umbrella from a height and used another to assault two police officers, all of which was captured on camera, according to assistant director of public prosecutions Christal Chan Shuk-yi.
On Monday, To pleaded not guilty to four counts: disorderly conduct in a public place, assaulting a police officer, inflicting grievous bodily harm and wounding with intent.
Prosecutors at his trial on Monday said the case timeline began at about 9.40pm, when hundreds of people gathered in the shopping centre, some of them assaulting the police officers on site by hurling objects at them, following major protests in Sha Tin earlier that day.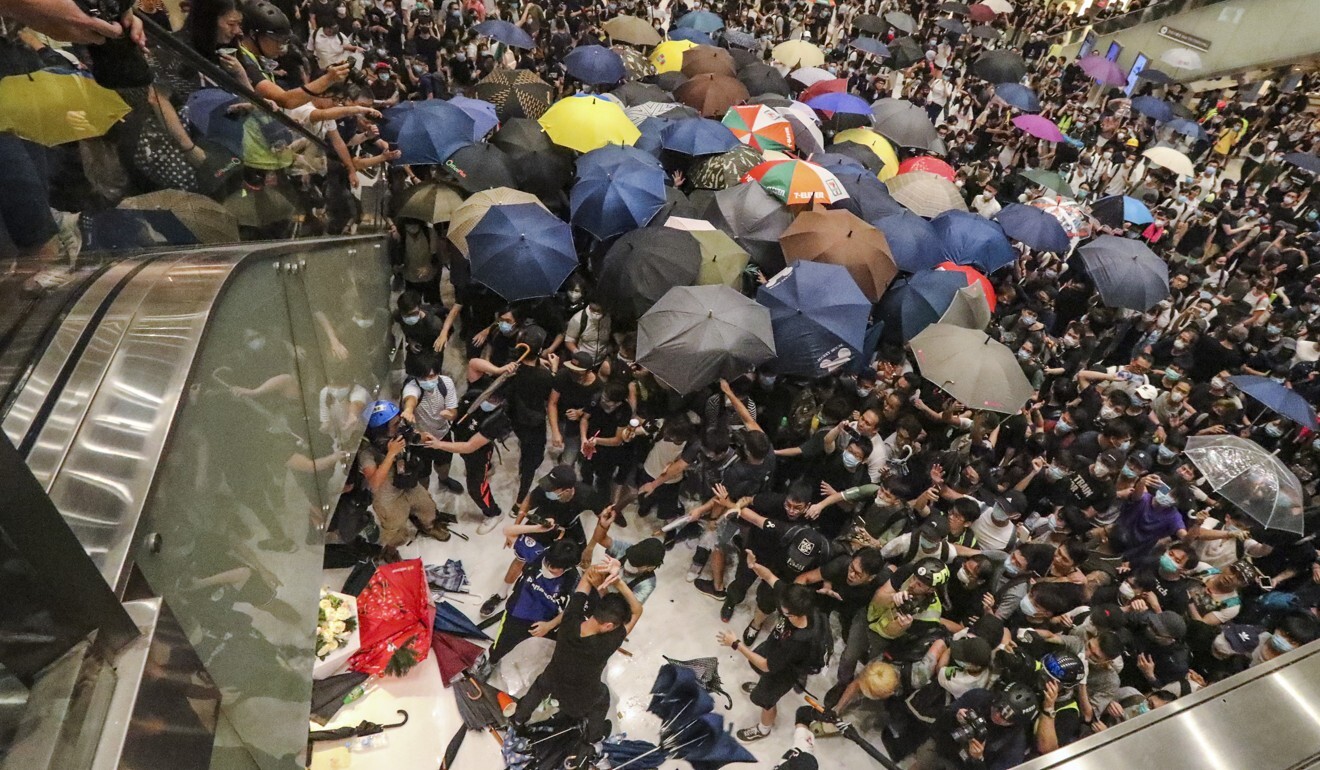 Chan observed that To was first seen at about 9.53pm, when he dropped an umbrella from level four and rushed down a nearby escalator to the lower floor.
Security footage next captured him picking up an umbrella from the floor, which he used to strike the back of police Constable Ip Cheuk-hin, the prosecutor said.
To was then said to have charged towards Ip's commander, Senior Superintendent Leung Tsz-kin, grabbed his vest and repeatedly struck his head with an umbrella as the senior officer lost his balance while surrounded by a group of about 20 people.
The court heard the senior superintendent used his right hand to shield himself from the blows, shouted for To to stop and eventually regained his footing to chase after and subdue the student, with the help of two colleagues.
Among them was Sergeant Leung, who was said to have tried to get To to calm down, but to no avail.
Chan said the sergeant then placed his right hand on To's head in an attempt to exercise pressure-point control tactics, but the student continued to struggle violently, biting off the tip of the officer's right ring finger.
To was arrested once he was subdued, and gave his name after officers found he was not carrying his identification card, but otherwise remained silent under caution.
Superintendent Leung was given three weeks of sick leave after doctors found he had fractured the tip of his right ring finger in the fracas.
Sergeant Leung was also given time off, for a longer period of 13 ½ months, after the tip of his right ring finger was "completely severed", with the remaining section fractured. He underwent replantation surgery to repair the severed digit on July 15, 2019.
Investigators seized To's clothes and later found Sergeant Leung's blood on his white shirt.
Psychiatrist Dr Yu Yuk-ling, according to Chan, concluded that To's bite was a voluntary act, given that the force of the bite had been enough to fracture Leung's finger.
Yu also observed that the bite could not have been a reflexive response towards the pain To might have experienced around his right eye, noting there was no documentation stating that a person's mastication muscles would move under the stimulation of such a shock.
Another psychiatrist Chan cited, Dr Tang Wai-kwong, studied To's mental state on July 17, 2019, and concluded that he had no symptoms of obsessive compulsive disorder or attention deficit hyperactivity disorder, adding that fingernail biting and skin scratching were not examples of compulsive behaviour.
The 12-day trial continues before district judge Johnny Chan Jong-herng.
This article appeared in the South China Morning Post print edition as: Student 'deliberately bit off part of officer's finger'