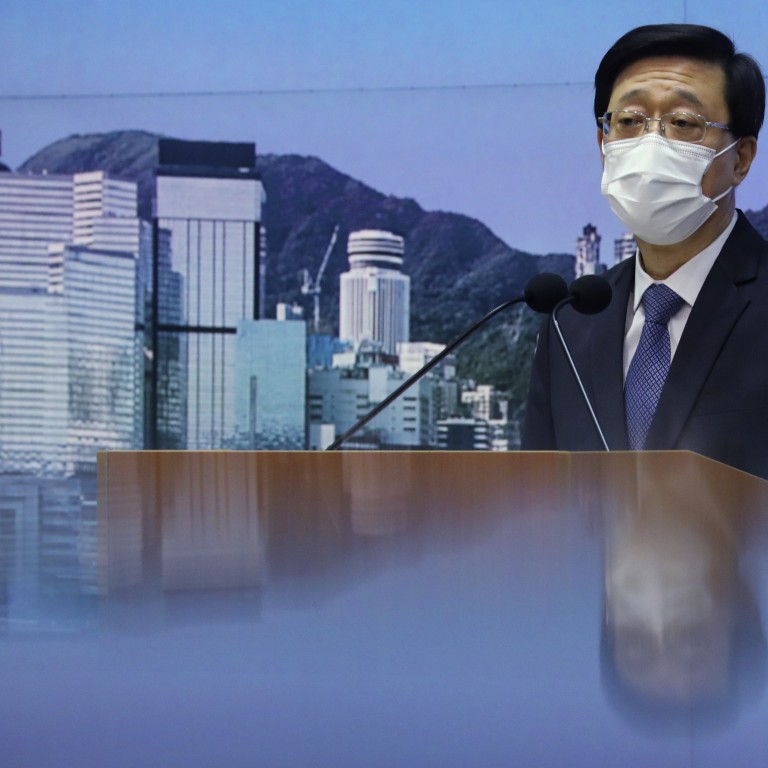 Taiwan throwing up obstacles stopping murder suspect from surrendering, Hong Kong security chief says
John Lee says Chan Tong-kai can be transferred to the self-ruled island through 'working-level cooperation' channel between police of two jurisdictions
Reverend assisting Chan says suspect willing to go in person to representative office to try again for visa
Hong Kong's security chief has slammed Taiwan for "making trouble out of nothing" with unreasonable demands that are hindering the surrender of Chan Tong-kai, who is wanted by Taipei authorities over the murder of his girlfriend.
John Lee Ka-chiu also said Chan's transfer to the self-ruled island would be possible with a "working-level cooperation" channel between the police of the two jurisdictions. A mutual legal assistance deal, which Taiwan has requested, was unnecessary, the secretary for security said on Wednesday.
Poon Hiu-wing was killed while holidaying with Chan in Taipei in February 2018. Police suspected he was the murderer, but he returned to Hong Kong before he could be prosecuted. Authorities in the financial hub cannot charge him for a murder committed in Taiwan, and he cannot be returned there due to the lack of an extradition agreement between the two jurisdictions.
Taiwan has asked Hong Kong to provide evidence in Chan's case and go through the formal "single-window" channel Taipei had set up.
"I hope the Taiwan authorities can drop their cannot-care-less attitude," Lee said. "There is no reason to refuse to accept a wanted criminal suspect. It is making trouble out of nothing to set up various obstacles and preconditions."
Lee pointed to a murder case in 2016, when Hong Kong suspects who fled to Taiwan were deported for overstaying their visas and handed over to officers from the financial hub at Taoyuan International Airport. They remained under Hong Kong police surveillance throughout their flight and were arrested upon landing.
"At that time, there was no mutual legal assistance deal with Taiwan," Lee said. "And we did not ask Taiwan to offer evidence [in the case]."
In a statement on Wednesday evening, a spokesman for Taiwan's Mainland Affairs Council replied that Lee's "emotion-charged" remarks had demonstrated Hong Kong's "passive, evasive attitude" and that it was eager to shirk responsibility over Chan's case.
"The case involves the jurisdictional rights and the exercise of related public powers of both the Taiwan and Hong Kong authorities. That has to be handled through discussion first by the two governments before the issue of [Chan's] entering Taiwan can be proceeded with," said the spokesman for the council, a governmental body responsible for policies related to Hong Kong and Macau.
"We strongly urge the Hong Kong side to assume its responsibility and hold talks with our side as soon as possible so as to bring justice to the victim and her family," the spokesman added.
He also again asked the Hong Kong government to respond to Taiwan's request that it handle the case through the mutual legal assistance mechanism it had created.
Upon his return to Hong Kong, Chan was jailed for money-laundering offences related to Poon's bank account. During the trial, he admitted he hit her head against a wall and strangled her before dumping her body in bushes. He was charged for the financial crime and released a year ago after completing his sentence, but remains in a police-operated safe house due to possible threats against his life.
Chan said three weeks ago he was instructing his lawyers to arrange for his return to Taiwan so he could surrender himself by the end of this month.
While the Taiwanese premier dismissed the prospect of Chan travelling to the island without formal negotiations, Taipei authorities later suggested he apply for a visa at the representative office in Hong Kong.
Reverend Canon Peter Koon Ho-ming, the Anglican pastor who is assisting him, has said the office did not accept an application he made on behalf of Chan, who was awaiting further instructions from his legal representatives in Taiwan. Chan was willing make another application in person if needed, Koon said on Wednesday.
Poon's mother earlier
called for police
to stop providing safe-house protection. Lee said the arrangement was based on an assessment of the threat level against Chan, but authorities could not stop him from going outside.
Opposition lawmaker James To Kun-sun said the problem was neither side was willing to sit down to talk about their differences, be it whether Taiwanese law enforcement officers should be allowed to do their job before or after the plane takes off or if Hong Kong police could accompany Chan aboard the plane.
"These are all details that can be negotiated," To said.
Chan's case became the impetus for the Hong Kong government's ill-fated
extradition bill
, which would have allowed rendition of criminal suspects to jurisdictions with which the city had no such deal, including Taiwan and mainland China.
The unpopular bill triggered months of
anti-government protests
, in which residents demanded not just that the bill be dropped, but greater police accountability and universal suffrage, among other goals. The extradition bill was eventually shelved.
The Post has contacted Taiwan's Mainland Affairs Council for comment.
Additional reporting by Chris Lau