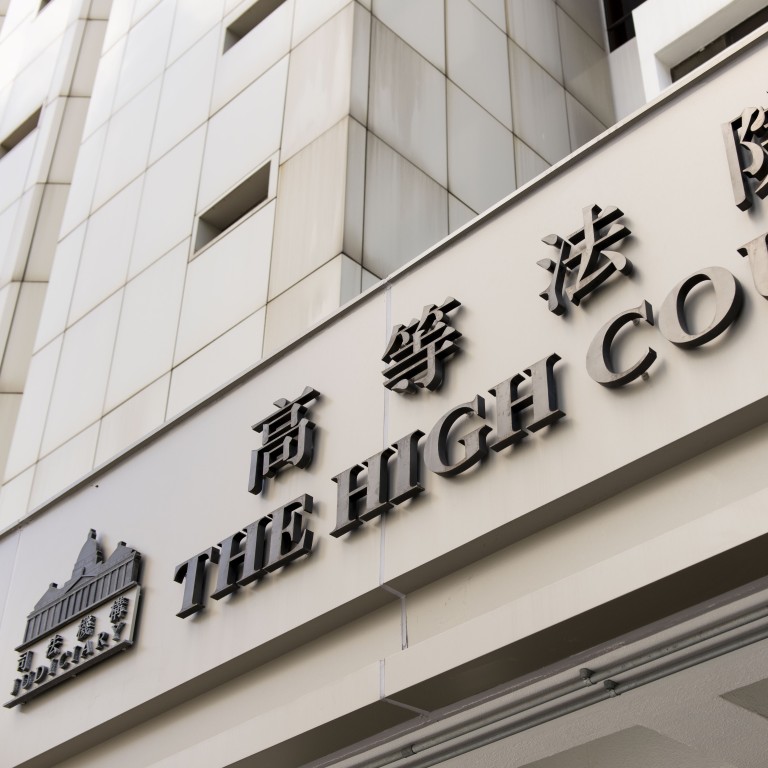 Hong Kong woman accuses husband of suffocating three-month-old daughter to death with pillows, quilt
But Cheung Ying-fai tells court that his wife Lo Yan-tung had abandoned their baby girl Cheung Ka-man and caused her death
The child was left unattended for 37 hours until Lo found her lying in bed, with two pillows and a quilt over her face and body
A Hong Kong woman has accused her husband of suffocating their three-month-old daughter to death with two pillows and a quilt when she had left home following a row two years ago.
But the father, Cheung Ying-fai, 42, now on trial for murder, told a court it was the mother, Lo Yan-tung, 22, who had abandoned their baby girl Cheung Ka-man and caused her death. His defence counsel revealed that child neglect charges against Lo were withdrawn on the condition that she testify against her husband.
The High Court previously heard that Lo and Cheung had left Hong Kong, one after the other, without any prior notice, and travelled to mainland China the day Ka-man turned three months old on August 21, 2018.
The child was left unattended in their village flat in Lok Ma Chau for 37 hours until Lo returned on August 23 to find her lying in bed, allegedly with two pillows and a quilt over her purplish face and body, in the locked unit, to which no one else had access.
In the emergency call that was recorded and played to the jury on Monday, Lo was heard explaining that she had left home after a quarrel with Cheung, thinking he would look after Ka-man.
"My daughter died," Lo was heard saying between sobs in the recording. "My husband suffocated my daughter to death at home. He used two pillows and a quilt to suffocate my daughter to death."
Lo could not recall the baby's weight. But it was not disputed that the two pillows had a combined weight of 1.8kg (4 pounds), while the quilt weighed 3.36kg (7.4 pounds).
Prosecutor Nisha Mohamed said a forensic pathologist had identified suffocation as the cause of death, with dehydration and starvation listed as contributing factors.
Cheung was arrested for manslaughter on October 7, 2018, upon his return to Hong Kong. The following March, the charge was elevated to murder, to which he pleaded not guilty.
Mohamed said Lo had texted Cheung on Facebook demanding answers following the discovery of Ka-man's body.
"Why [has it] come to this?" Lo asked on August 23. "The daughter has died. Why? Why? Why?"
Cheung responded minutes later, saying: "Unable to turn back."
Days later, he texted Lo to say "It's really tough on me", and began blaming his wife.
"You have completely ruined a well-maintained family," he wrote on August 23.
"Why is it that everybody blames me only but takes pity on you?" he continued on September 20. "To what extent are you pitiable? You are the main culprit, you are the one causing the death of the daughter."
Testifying on the third day, Lo said she did not respond to these messages as she had been arrested and was barred from communicating with Cheung.
Defence counsel Ian Polson pointed out that Lo had also been accused of manslaughter, before the charge was reduced to child neglect, then withdrawn to allow her unconditional release, provided that she testified against his client.
His cross-examination also delved deep into Lo's troubled past, revealing how she had been placed on probation by the Juvenile Court over criminal charges during her teenage years, sent to a drug rehabilitation centre for three years when she was 15, then declared bankrupt around the time she met Cheung on Facebook in 2017.
The pair got married in March 2018 and gave birth to Ka-man on May 21. But Lo also revealed that she had already filed for divorce from Cheung and was raising her second child – of 14 months – as a single mother.
Polson said Lo had planned to walk out on Cheung, knowing that he was capable of taking care of Ka-man as he was usually the one who did so while Lo would hang out with friends and become uncontactable.
Lo disagreed with all of the above, adding that she had put those days behind her to be a caring mother for Ka-man.
But she also admitted forgetting the baby's coming medical appointments, and acknowledged that Cheung had loved the child.
Lo's testimony continues before Madam Justice Esther Toh Lye-ping on Tuesday.