Hong Kong activists Joshua Wong, Ivan Lam, Agnes Chow jailed over 2019 Wan Chai police HQ siege
The trio previously pleaded guilty to their roles in a 15-hour siege of police headquarters in the early days of last year's anti-government unrest
Magistrate Wong Sze-lai had harsh words for Joshua Wong in particular, calling him 'selfish', and accusing him of 'challenging police's authority'
One of Hong Kong's most prominent young political activists,
Joshua Wong Chi-fung
, was jailed for more than 13 months on Wednesday for organising and inciting others to join a 15-hour siege of police headquarters at the start of last year's
anti-government protests
.
Wong's high-profile comrade, Agnes Chow Ting, was sentenced to 10 months behind bars for her role in the same illegal protest, while their associate, Ivan Lam Long-yin, received a seven-month term.
In passing sentence, West Kowloon Magistrate Wong Sze-lai sharply criticised Wong, for challenging the authority of the police force in a premeditated plot, and called him "selfish" for obstructing traffic at the massive rally in Wan Chai on June 21 last year.
She said they had committed their offences at a time of "social unrest and large-scale public protests", which "makes this case more serious".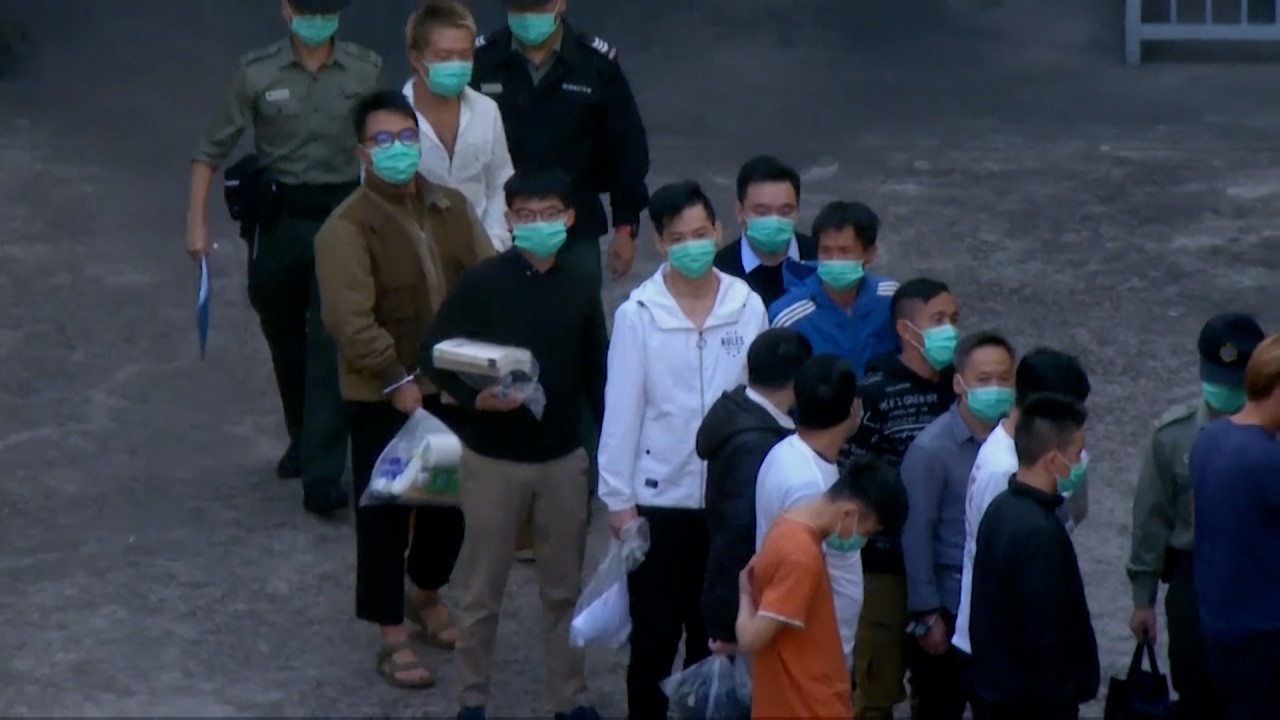 01:06
Hong Kong activists Joshua Wong, Ivan Lam sentenced to prison
Hong Kong activists Joshua Wong, Ivan Lam sentenced to prison
Wong, 24, was given a 13½-month prison term after pleading guilty to a charge of organising an unauthorised assembly and another charge of inciting others to take part in the event. Prosecutors dropped a charge of knowingly taking part in an unauthorised assembly.
Lam, 26, had pleaded guilty to a charge of incitement, while Chow, 23, had admitted to charges of incitement and taking part in an unauthorised assembly.
Chow, the only one of the trio without a previous criminal record, burst into tears in the dock as she learned that the community service order her lawyers were seeking had been rejected.
"Keep holding on," Joshua Wong yelled at the public gallery filled with his supporters before being escorted away.
The three were immediately taken away by police officers after the magistrate rejected Chow's application for bail pending an appeal of her sentence.
The magistrate argued, in effect, that Chow's initial sentence was long enough that even if it were shortened on appeal in a few months' time, it was unlikely to matter.
Lawyers for the other two activists said they would study the ruling before considering further action.
The jailing prompted immediate international criticism on Wednesday, triggering in turn a rare and strongly-worded response from the Department of Justice, which has a long-established convention of refraining from commenting on ongoing cases.
Calls for the defendants' release, a spokesman said, demonstrated disrespect for the city's judiciary, and amounted to a "blatant denial of the fact that the defendants themselves pleaded guilty".
Citing past judgments, the spokesman added that freedom and human rights, while protected by the city's mini-constitution, the Basic Law, were not absolute.
"It is unbecoming and irrational for people making sweeping attacks and baseless accusations against our judicial and legal systems without reference to the fact and circumstances of the case. Such statements, if made with a view to exert undue influence on our judicial and legal systems will be futile," it said.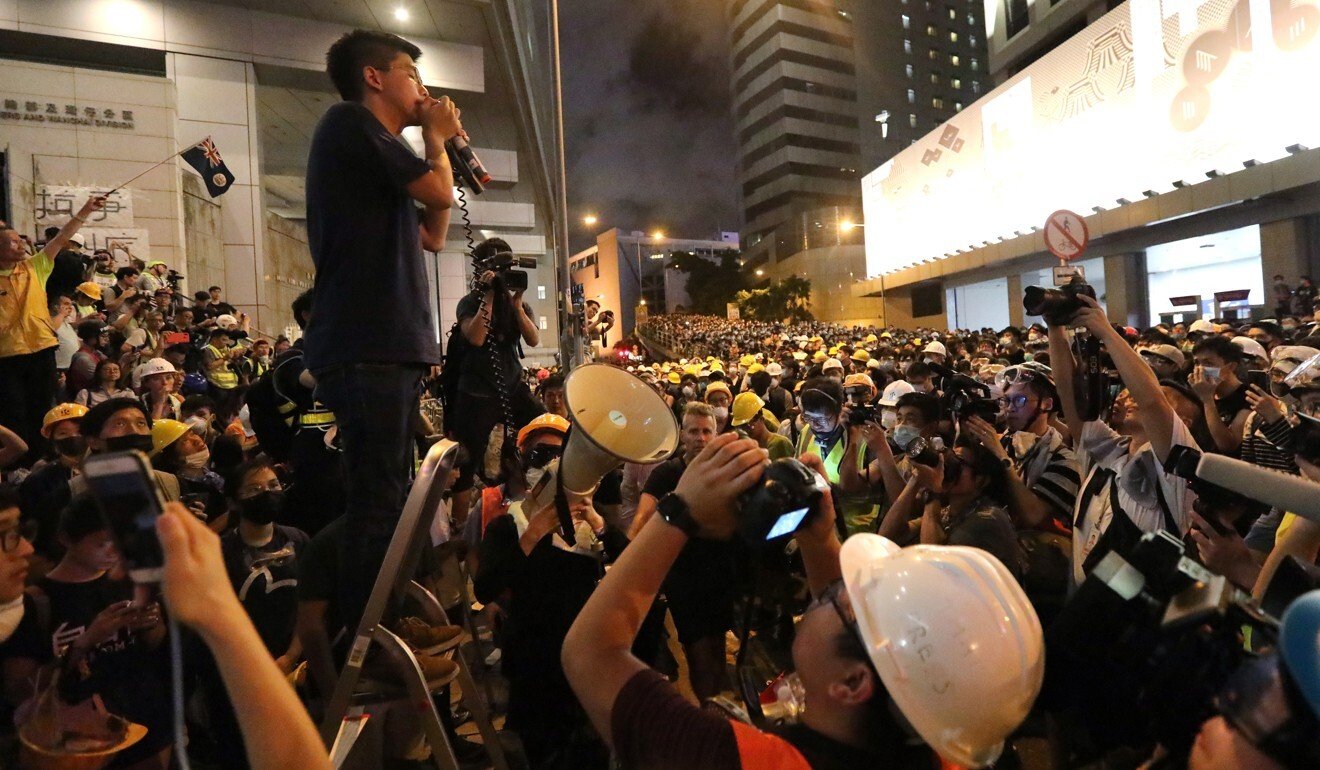 The activists' case centred on one of the most striking scenes from the early days of the citywide protest movement triggered by opposition to a now-withdrawn extradition bill, one that saw a large crowd of demonstrators pour into Wan Chai to swamp the area outside the police headquarters.
Demonstrators at the time were calling for the withdrawal of the bill, which would have allowed extraditions to mainland China, while also voicing their concerns about the excessive force they said police had used against participants in previous protests.
Explaining her reasons for sentencing on Wednesday, Magistrate Wong said the number of protesters had swollen from the initial 400 to more than 9,000 as the siege of police headquarters wore on.
The protest ran from 11am on June 21 to 3.45am the following day, with demonstrators pelting the police station with eggs and soft drink cans, and daubing graffiti on its walls.
The gathering also led to a police vehicle being trapped for three hours at one point, and caused a traffic obstruction that left police unable to respond to 61 emergency calls.
Prosecutors had painted Wong as the leader of the protest that night, showing videos of him telling people at the scene through a loudhailer that they should get more people to come and "completely besiege police headquarters".
"The first defendant was very selfish," the magistrate said, referring to Joshua Wong, whom she said played the most active role in giving instructions to protesters around him. Lam and Chow also helped direct the protest at times, the court found.
The magistrate said phone messages showed Wong had planned the event a day ahead, proving premeditation.
She also noted that the target of the demonstration, the police station, was a "symbolic edifice" representing the force's authority, and that the protest featured slogans denigrating its officers.
"The series of acts committed by [Wong] was to charge the police, challenging the police's authority," she said.
Following the sentencing, Wong posted a message to Facebook through his lawyers, saying: "I know this is tough. But I will carry on."
In addition to the jail time, the ruling means that the trio – former leaders of the now-defunct opposition group Demosisto, which disbanded in June when Beijing imposed its sweeping
national security law
on Hong Kong – will be barred from running in any local elections for five years, unless they manage to overturn their sentences on appeal. Hong Kong law bars any candidate who has been jailed for more than three months from running in the Legislative Council or District Council elections for five years.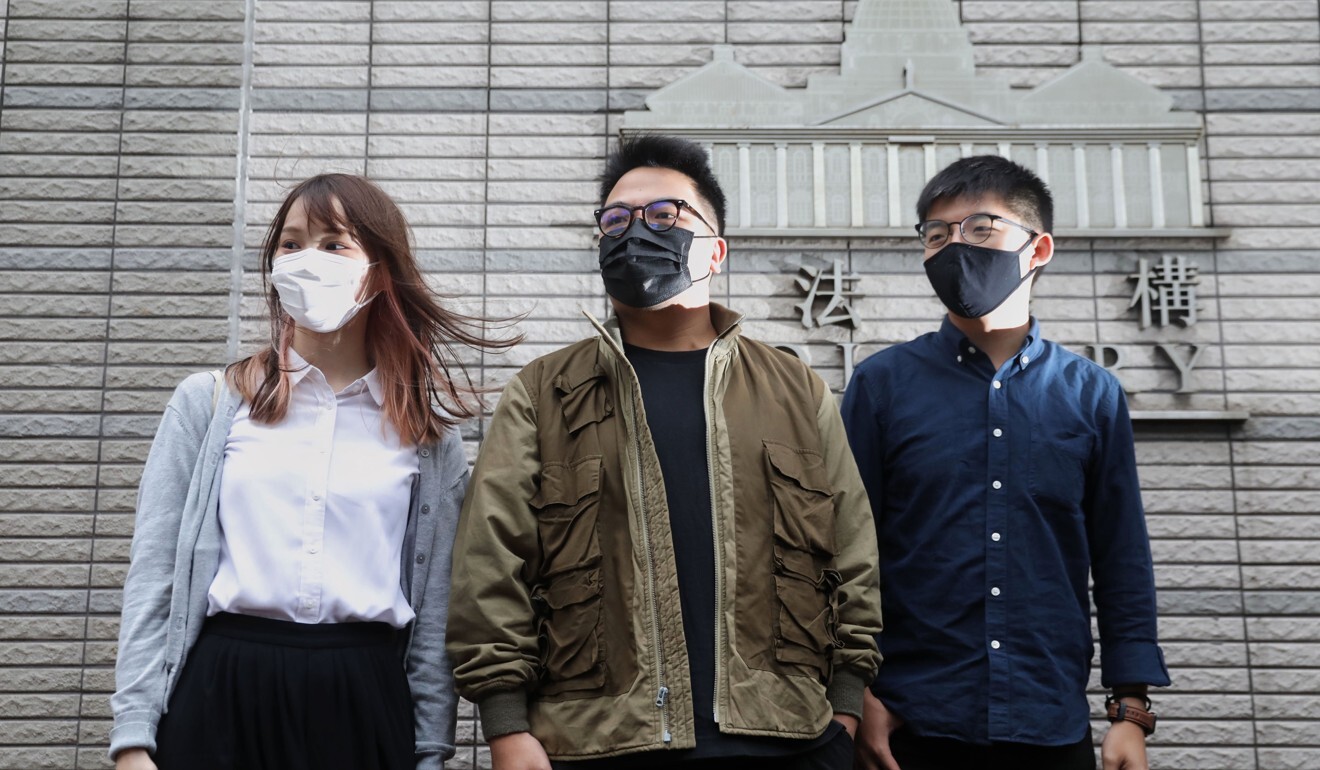 Wong has been jailed before, including briefly in 2016 for storming the forecourt of the Central Government Office in Admiralty on September 26, 2014, two days before the Occupy protests broke out that year. He was later released after winning an appeal.
In 2017, he was sentenced to three months in jail after pleading guilty to contempt of court for failing to leave an Occupy protest site contrary to a court order, but his term was reduced to two months by the appeal court.
That reduction enabled him to narrowly dodge the election restriction, only for his candidacy to be invalidated in the District Council elections last year by a government returning officer.
Chow was also previously barred from running in a 2018 Legislative Council by-election because of Demosisto's advocacy for self-determination, the same reason cited for Wong's disqualification.
Returning officers argued the position amounted to advocating independence, but Chow's invalidation was later overturned by a court that found the election official had erred in failing to allow her to explain her stance.
Observers and foreign politicians, meanwhile, were swift to criticise Wednesday's sentencing.
One of the trio's closest allies, Nathan Law Kwun-chung, a former Demosisto member who moved to Britain in the wake of the passage of the national security law, called their sentences "absurd".
"It's devastating to see the sentencing," he said.
He noted that Chow had also been facing an investigation under the national security law, while the other two could also face fresh prosecution at any time.
"To be honest, I have no idea when the trio could step out of the prison," he said, urging the international community to join him in calling for the activists' release.
British Foreign Secretary Dominic Raab, meanwhile, urged the authorities in Hong Kong and Beijing to bring an end to what he characterised as their campaign to stifle opposition.
"Prosecution decisions must be fair and impartial, and the rights and freedoms of people in Hong Kong must be upheld," he said.
The last colonial governor of Hong Kong, Chris Patten, also weighed in, called the activists' jailing "another grim example of China's determination to put Hong Kong in handcuffs".
He urged foreign states to follow the example of 155 parliamentarians from 18 countries – who issued an open letter to the city's chief executive on Tuesday calling for the return of the 12 Hong Kong fugitives detained on the mainland – and present a unified front in standing up for the city.
Samuel Chu, a US-based activist who runs the Hong Kong Democracy Council, said he was "heartbroken and indignant" over the sentencing.
"Make no mistake, Wong, Chow and Lam are political prisoners," he said.
This article appeared in the South China Morning Post print edition as: Activist trio jailed over police HQ siege