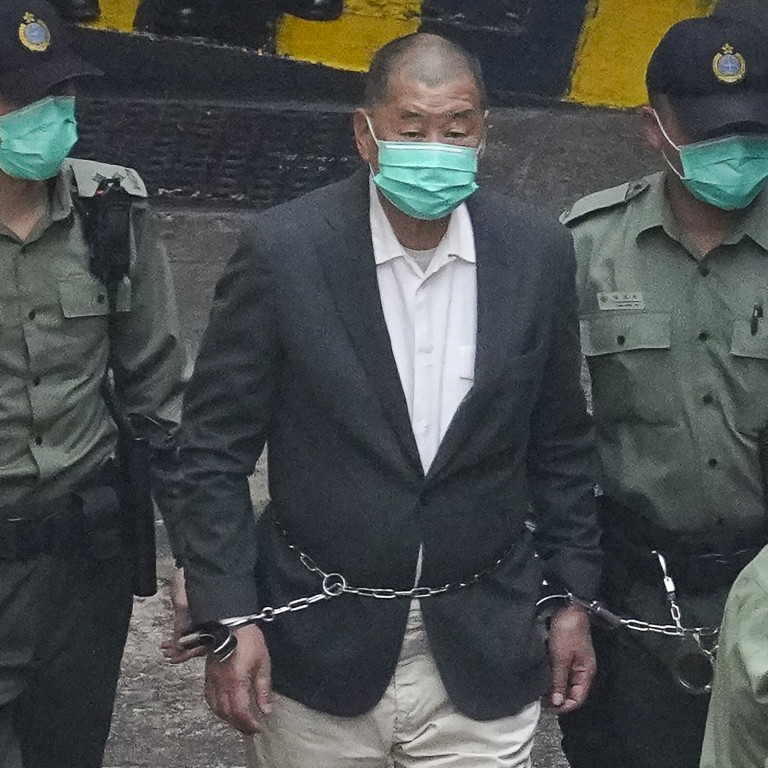 Hong Kong media tycoon Jimmy Lai used tabloid and Twitter to push for illegal sanctions against local and Chinese authorities, prosecutors say
Lai stands accused of colluding with foreign powers under the Beijing-imposed national security law
Businessman denied bail again after being remanded in custody over a separate fraud case last week
Hong Kong media tycoon
Jimmy Lai
Chee-ying used his
Apple Daily
tabloid and his Twitter account to call for sanctions against local and mainland Chinese authorities, according to a document prosecutors submitted to court on Saturday.
The 17-page filing, obtained by the
Post
, was submitted to West Kowloon Court where Lai was charged with one count of colluding with foreign powers, an offence under the
national security law
Beijing imposed on Hong Kong in June.
Lai, the 73-year-old founder of Next Digital that owns Apple Daily, was handcuffed and chained around the waist while being escorted to court. He was denied bail and is expected to spend the coming four months in detention while police comb through his social media posts and examine his overseas visits to gather evidence.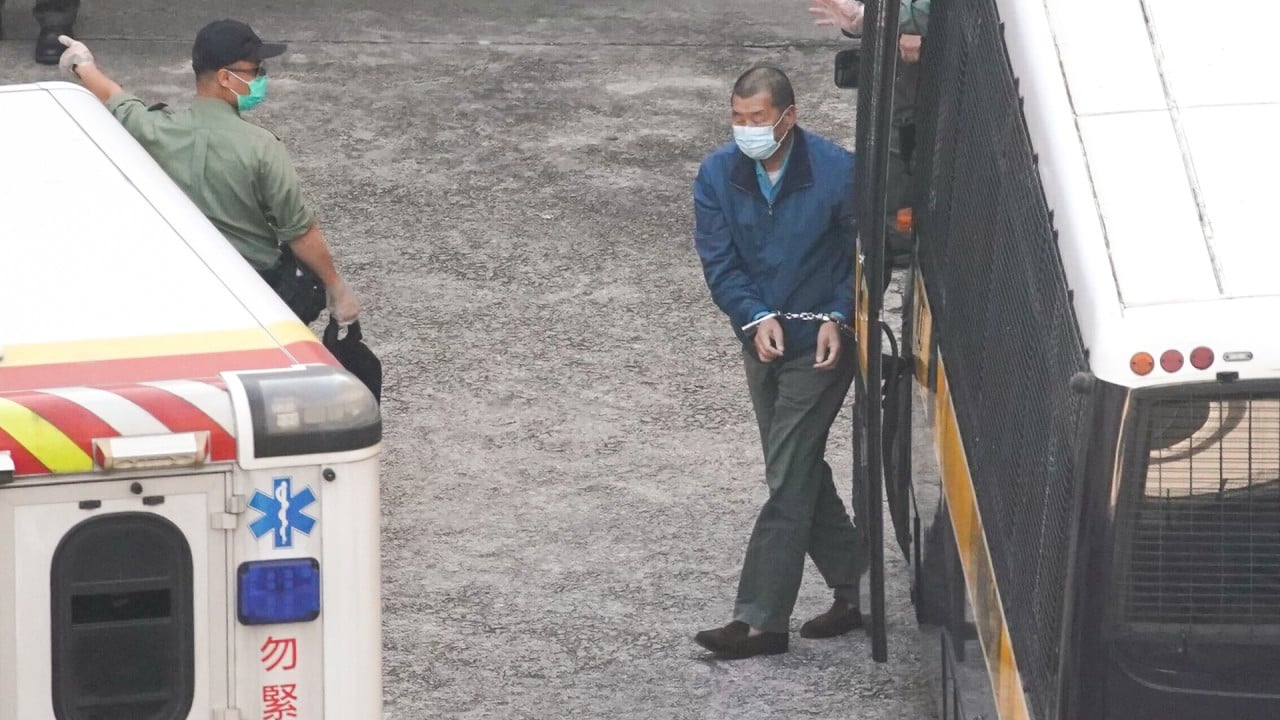 01:23
Hong Kong media mogul Jimmy Lai denied bail in fraud case and ordered to remain in jail
Hong Kong media mogul Jimmy Lai denied bail in fraud case and ordered to remain in jail
According to prosecutors, Lai called for overseas countries to "voice out and take action" over Beijing's suppression in a tweet tagging United States Secretary of State Mike Pompeo, even after the national security law came into force. In another tweet, he urged the US to "be lenient" towards young Hongkongers seeking asylum in the country.
Prosecutors also targeted Lai's commentaries published in his newspaper, in which he said he believed international sanctions against Beijing over the new law would be more severe than the penalties imposed over the 1989 Tiananmen Square crackdown.
According to the filing, Apple Daily also hosted online chats with prominent guests such as Nicholas Kristof, a US-based journalist, and Mark Clifford, executive director of the Asia Business Council and who served as Post editor-in-chief more than a decade ago. Prosecutors said Lai would discuss how he thought Western countries would unite against China and why the West should be on guard against Chinese President Xi Jinping – whom he called Mao Zedong No 2.
Some of the allegations also covered activities carried out before the national security law was enacted on June 30, including interviews he did with American news networks Fox News and CNN and a meeting with US Vice-President Mike Pence.
The document also noted Lai had 120,000 Twitter followers and pointed to prominent individuals he followed such as Pompeo and Taiwanese President Tsai Ing-wen, as well as Benedict Rogers and Luke de Pulford, from concern group Hong Kong Watch based in Britain.
Lai was not required to enter a plea at this stage.
Principal Magistrate Victor So Wai-tak, one of the six jurists designated to handle national security cases, refused to grant the media mogul bail, citing his record of involvement in the current case while on bail for other ones. So rejected a similar application for release over a fraud case last Friday.
Barrister Peter Duncan SC, for Lai, urged the magistrate to at least cut the adjournment period of four months sought by prosecutors to one month. "We have a defendant in detention, in custody for four months, unchecked," he argued.
Prosecutors said the extra time sought would "enable police to conduct further investigation", and So granted the request, adjourning the case to April 16.
Lai, clad in a black blazer, stood with his hands behind his back soon after he was led to the dock. He was later invited to sit down by So. He replied "understood" when a court interpreter read him the charge. Lai formed his fingers into a heart shape in a gesture to his supporters in the public gallery before he was taken away.
Saturday's court ruling adds an extra hurdle to his bid to secure temporary release while awaiting trials.
Lai's lawyers said they originally planned to bail him out for the previous case through the higher Court of First Instance next Tuesday. But following the latest development, they would set aside the application and reformulate it for another occasion by the end of the year.
Court security was enhanced, with staff officers screening every journalist or visitor arriving for the hearing. The heightened measures came after So
received a bomb threat
while presiding over Lai's previous case.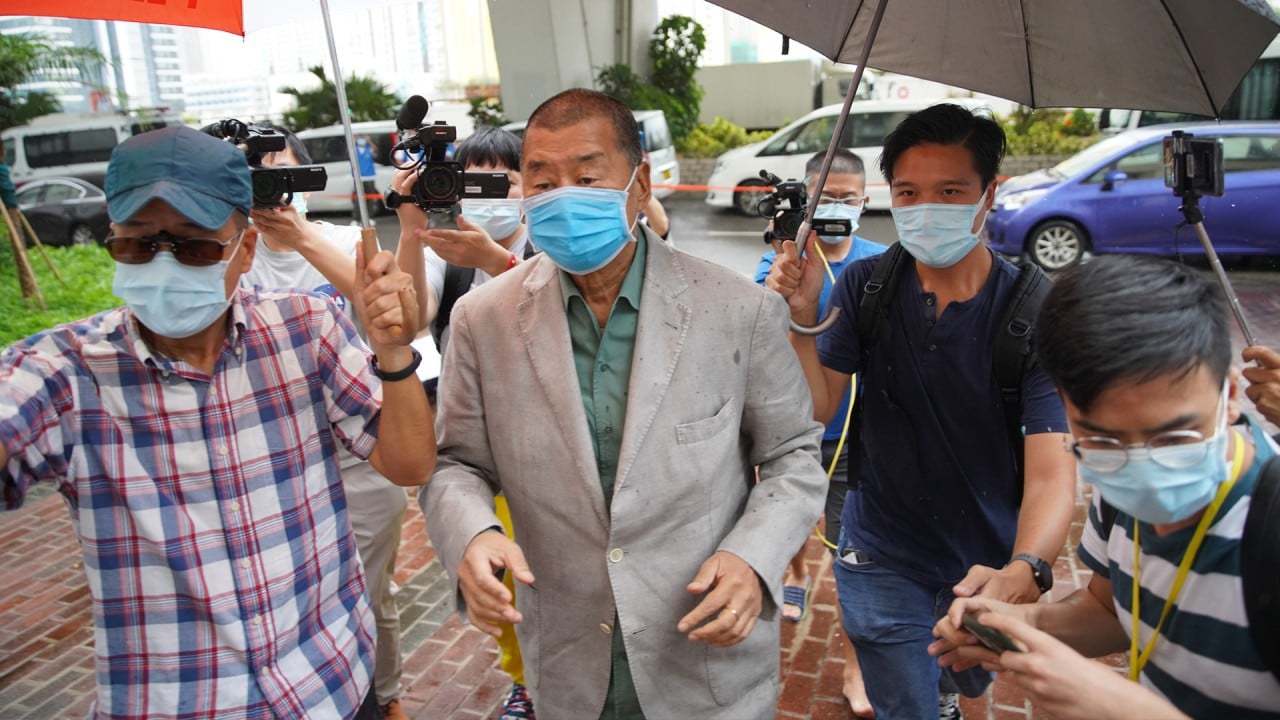 02:24
Apple Daily founder Jimmy Lai cleared of threatening reporter from rival Hong Kong newspaper
Apple Daily founder Jimmy Lai cleared of threatening reporter from rival Hong Kong newspaper
In that case, centred on fraud, Lai and two Next Digital executives – chief operating officer and chief financial officer Royston Chow Tat-kuen, as well as chief administrative officer Wong Wai-keung – stand accused of breaching land lease terms by improperly using Next Digital's office space in Tseung Kwan O. Both Wong and Chow were granted bail, while Lai was immediately detained.
He was brought straight from a detention centre to the court on Saturday.
Besides Lai, there are three other suspects facing national security charges, a legislation which comes with a higher bar for release. None of them have been granted bail.
Pompeo on Saturday called the national security law "a mockery of justice" on Twitter. "@JimmyLaiApple's only 'crime' is speaking the truth about the Chinese Communist Party's authoritarianism and fear of freedom," he said, and later called for his release.
Pence said the charges against Lai were "an affront to freedom-loving people around the world" in a tweet with a picture of them meeting.
A spokesman from the Department of Justice said it was "appalled by such open demands for withdrawal of charge and immediate release of the defendant by senior officials in another jurisdiction".
"Such acts not only disrespect [Hong Kong's] judicial system and undermine the spirit of the rule of law, but also attempt to meddle in Hong Kong's affairs which are internal affairs of the People's Republic of China," he said.
This article appeared in the South China Morning Post print edition as: Jimmy Lai 'used tabloid, Twitter to call for sanctions'