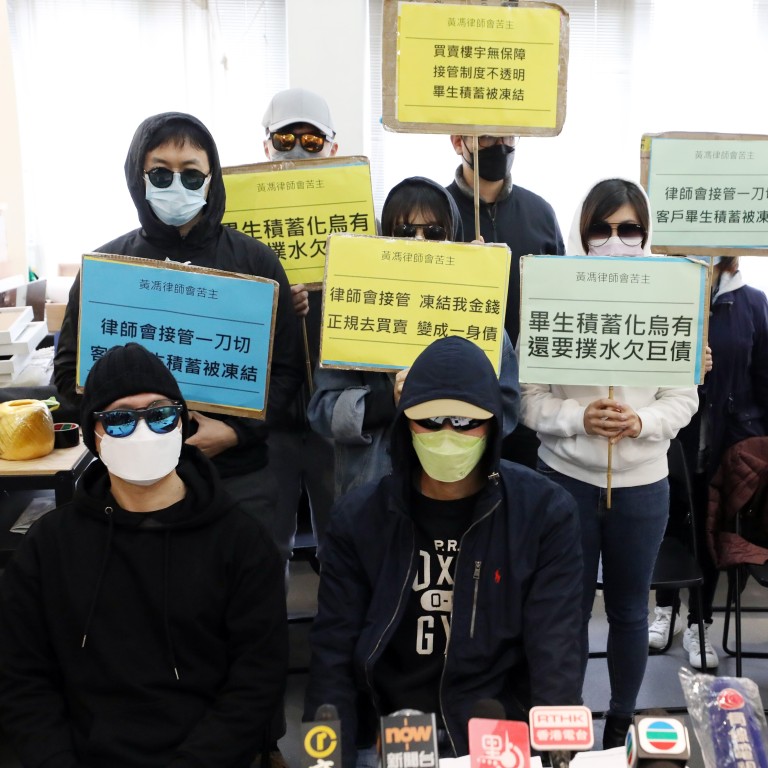 Hong Kong families with money trapped in closed law firm's frozen bank accounts turn to government for low-interest loans
Wong, Fung & Co, which specialises in second-hand property transactions, was shut down by the city's Law Society over alleged breaches of fiduciary duty
But thousands of clients have been left on the hook, as money for pending deals was held in the firm's accounts
The victims of
a financial scandal
that has led to a Hong Kong law firm being shut down and its bank accounts frozen are calling on authorities to offer them interest-free loans so they can meet looming obligations and avoid bankruptcy as they wait to access their funds.
If authorities do not step in, some of the thousands of victims have said, they will lose their life savings.
"I am being forced to file for bankruptcy," said Chan, a victim in her 30s. "But it's not my fault. I have done nothing wrong."
The Law Society last month found Wong, Fung & Co, a law firm specialising in property transactions, had committed serious breaches of fiduciary duty, including siphoning client funds.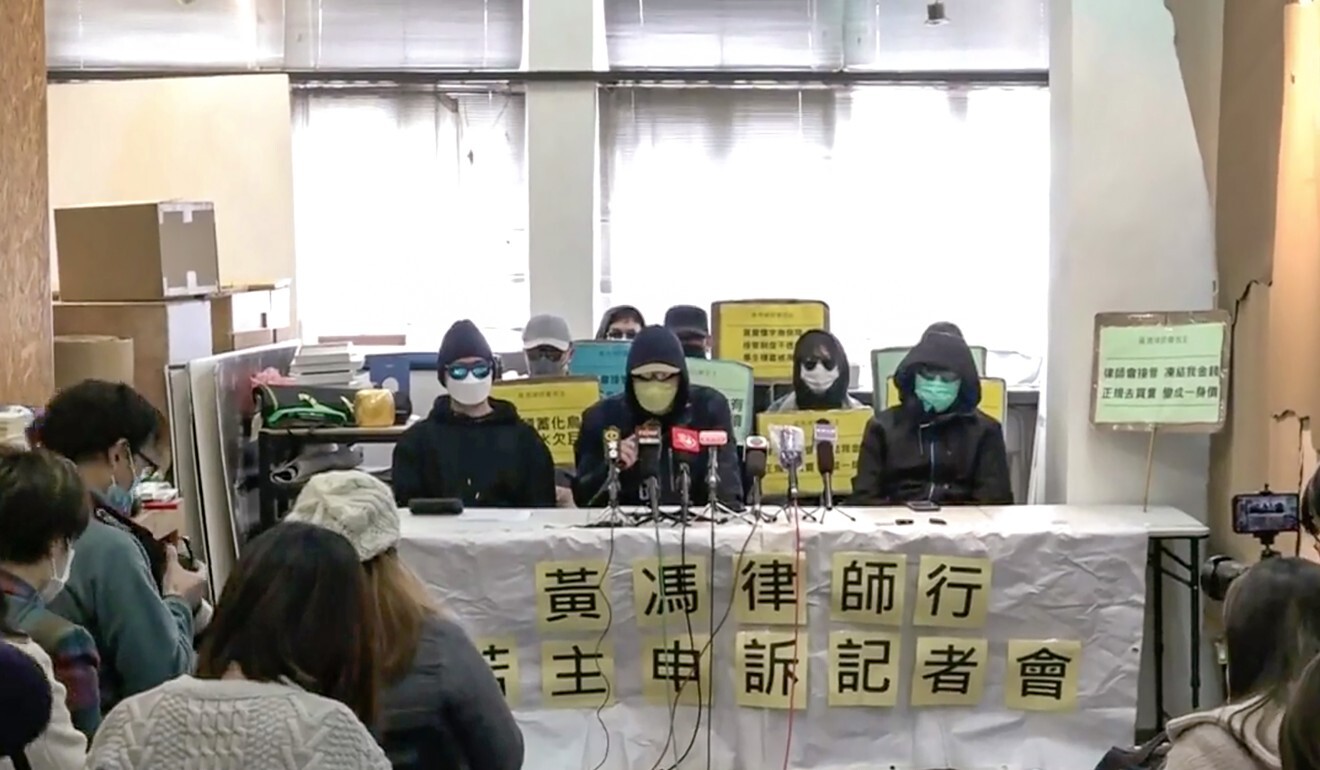 According to data from Centaline Property, Wong, Fung & Co was responsible for 4.9 per cent of the city's second-hand property deals in 2019.
The Law Society, which regulates some 12,000 solicitors and 900 law firms, closed the firm and froze its accounts on December 24 after discovering a former clerk at the company had misappropriated an unspecified sum from clients.
Sources have said as many as 10,000 clients were duped, though it remained unclear how much money was involved.
But a group of at least 79 affected families has now formed an alliance demanding the society unfreeze accounts they say hold HK$100 million (US$12.9 million), suggesting the total amount could be much bigger.
In Chan's case, she borrowed about HK$4 million several years ago from a bank in order to buy her dream house. Last month, she sought to switch her mortgage to a bank offering a lower interest rate.
The process involved the new bank transferring HK$4 million to Wong, Fung & Co, before the firm was then to transfer the money to the old bank to settle the old mortgage.
But the law firm's accounts were frozen soon after they took possession of the funds.
Now Chan owes both banks a total of HK$8 million, and she is supposed to pay back a combined HK$40,000 a month.
"I don't have the ability to pay back that much every month," she said.
She demanded that the Law Society unfreeze the firm's accounts so clients could get their money back as soon as possible.
In the event of a delay, she is asking the government to offer victims interest-free loans that can be repaid once the firm's accounts have been released.
Another victim, 31 years old, had HK$800,000 frozen in the firm's accounts. The money was to be used to pay off the stamp duty and a deposit on a flat she was purchasing.
Had she been unable to pay off the sum by December 28, the property seller was allowed to confiscate the deposit. She resorted to borrowing HK$800,000 from her parents to meet the deadline.
"This is my parents' retirement fund," she said, urging the government to set up a special fund offering the victims interest-free payments.
Another alternative, according to barrister Albert Luk Wai-hung, would be for authorities to tell the banks to offer additional loans to the victims.
"If you get a personal loan from a bank, you need to provide documents proving you are able to pay back the money," Luk said. But, he suggested, authorities could tell the banks not to be too stringent when it came to collateral demands for the victims.
Under Hong Kong's existing regulations, anyone late by even a day in paying a property stamp duty is liable for double the amount.
Luk said the government could consider waiving that penalty for the victims.
In a statement, the Law Society said it had contacted the Department of Justice, the Stamp Office and the Hong Kong Monetary Authority (HKMA), among other bodies, to assist the victims.
The Department of Justice declined to comment, citing unfinished legal procedures.
The HKMA said banks had already contacted the clients who had their mortgages frozen to offer assistance. He added the organisation had reminded banks to adopt a reasonable and understanding attitude in handling these cases and consult the body when necessary.