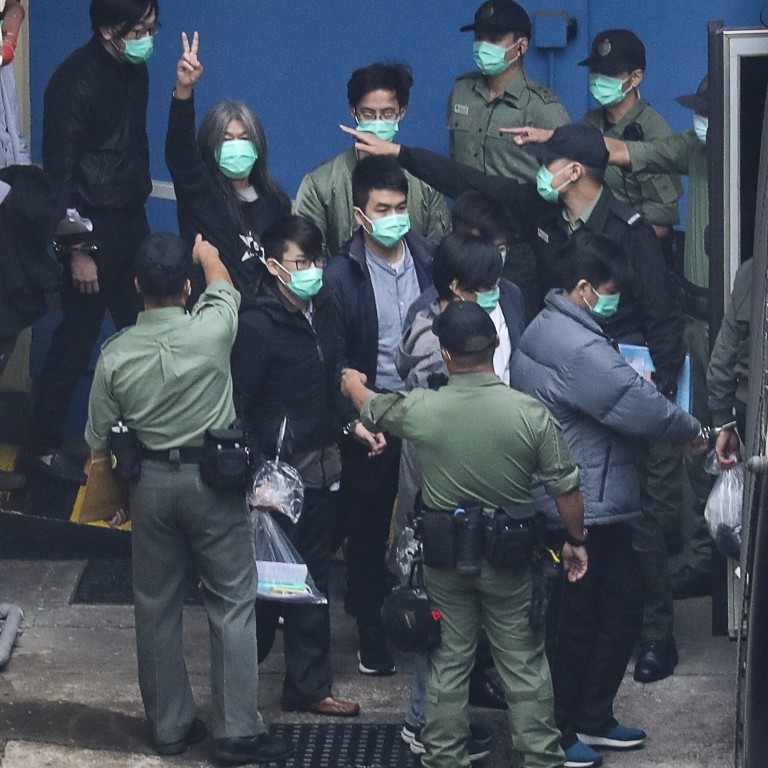 National security law: bail denied again for 11 of the 47 Hong Kong opposition figures charged with subversion; 10 others withdraw bids at last minute
Of the 21 defendants challenging bail decisions on Friday, 11 are denied temporary release and the remainder rescind their applications late on
Forty-seven defendants in total are accused of plotting to paralyse the government and topple the city leader through an unofficial primary election last July
Eleven of the 47 Hong Kong opposition activists charged in the city's largest national security law crackdown to date have been denied bail for a second time, while 10 others withdrew their challenges at the last minute.
Chief Magistrate Victor So Wai-tak on Friday reviewed the bail applications from 21 of the defendants accused of subversion in relation to an unofficial primary election last summer.
Those who failed again at West Kowloon Court to secure temporary release were former lawmakers "Long Hair" Leung Kwok-hung and Claudia Mo Man-ching; district councillors Jimmy Sham Tsz-kit, Tiffany Yuen Ka-wai, Fergus Leung Fong-wai, Lester Shum and Henry Wong Pak-yu; and activists Gordon Ng Ching-hang, Prince Wong Ji-yuet, Carol Ng Man-yee and Winnie Yu Wai-ming.
Ten others – ex-legislators Au Nok-hin, Wu Chi-wai, Eddie Chu Hoi-dick, Andrew Wan Siu-kin, Lam Cheuk-ting and Alvin Yeung Ngok-kiu; and activists Joshua Wong Chi-fung, Gwyneth Ho Kwai-lam, Owen Chow Ka-shing and Frankie Fung Tat-chun – withdrew their applications at the eleventh hour and will also remain behind bars.
The 21 were among 31 defendants who had their bail applications refused after four days of
marathon proceedings
last week.
Legal scholar Benny Tai Yiu-ting also remained in jail after he withdrew his application at the last minute, following a Court of Appeal decision to remand him in custody in another case.
Despite Friday's rulings, the 21 accused – together with another 11 who did not seek a review – can still apply for bail directly at the High Court.
The 47 opposition politicians and activists are accused of plotting to paralyse the government and topple the city leader by holding an unofficial primary election last July.
Magistrate So released 15 of the defendants on bail last Thursday, but then immediately extended their stay behind bars at the request of prosecutors, who sought to overturn his decision to grant them temporary release.
In a surprise U-turn last Friday, prosecutors decided to withdraw their challenge against four of the 15 suspects.
A fifth defendant, former lawmaker Helena Wong Pik-wan, was released on Thursday after a High Court judge rejected the prosecution's appeal. Another defendant, however, had his bail revoked after the judge granted prosecutors' appeal.
The same judge will hear the appeals of the nine remaining defendants granted bail on Saturday on Monday.