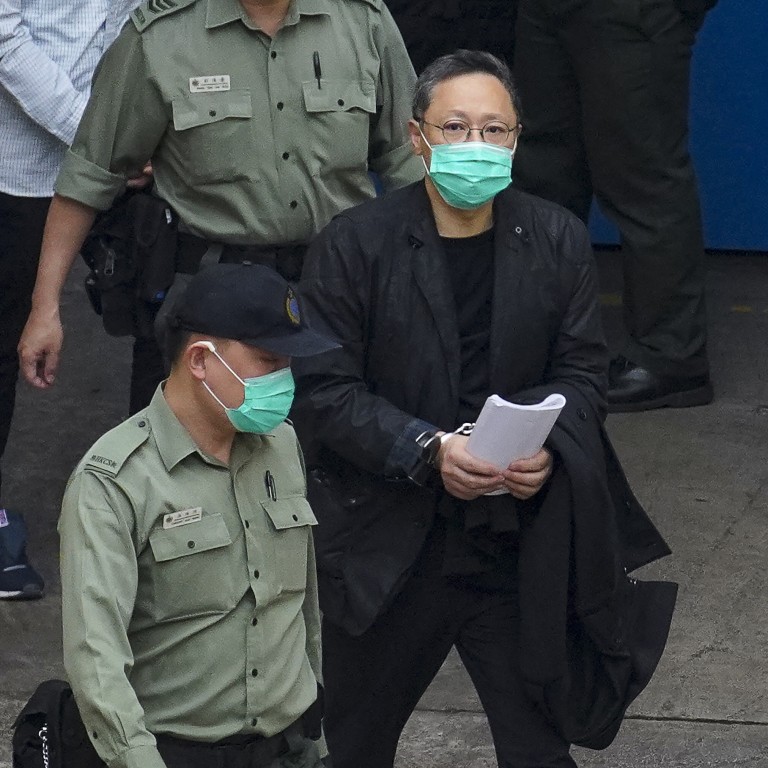 Hong Kong's High Court unanimously rejects appeal against Occupy convictions by Benny Tai, eight others
Reverend Chu Yiu-ming and retired sociologist Chan Kin-man also among group of nine convicted of public nuisance charges for blocking roads during the 79-day protests in 2014
Their lawyers had argued treating political rhetoric as criminal incitement could have 'a very damaging, chilling effect on freedom of expression'
Nine Hong Kong opposition leaders and activists have lost an appeal against their convictions for their roles in the 2014
Occupy protests
.
The Court of Appeal on Friday delivered its unanimous ruling to the challenge mounted by the final group to be tried over the 79-day protest, also known as the umbrella movement. Among them were the movement's three founders: legal scholar
Benny Tai Yiu-ting
, retired sociologist Chan Kin-man and Reverend Chu Yiu-ming.
The three-judge panel also unanimously dismissed appeals by Tai and League of Social Democrats chairman Raphael Wong Ho-ming against their sentences. Tai has yet to complete his 16-month term, while Wong, 32, has already served his eight-month stint. The pair were each convicted of two charges.
Outside court, Chan said he was "very disappointed" with the appeal judges' failure to correct what he described as inappropriate charges that "gave too much power to the prosecution" and "did not protect the civil rights of the people".
"We believe the court should respect the tradition of common law to give light sentences to those involved in civil disobedience, because civil disobedience is in the public interest and it is peaceful in nature," said Chan, who had abandoned his own appeal against sentence.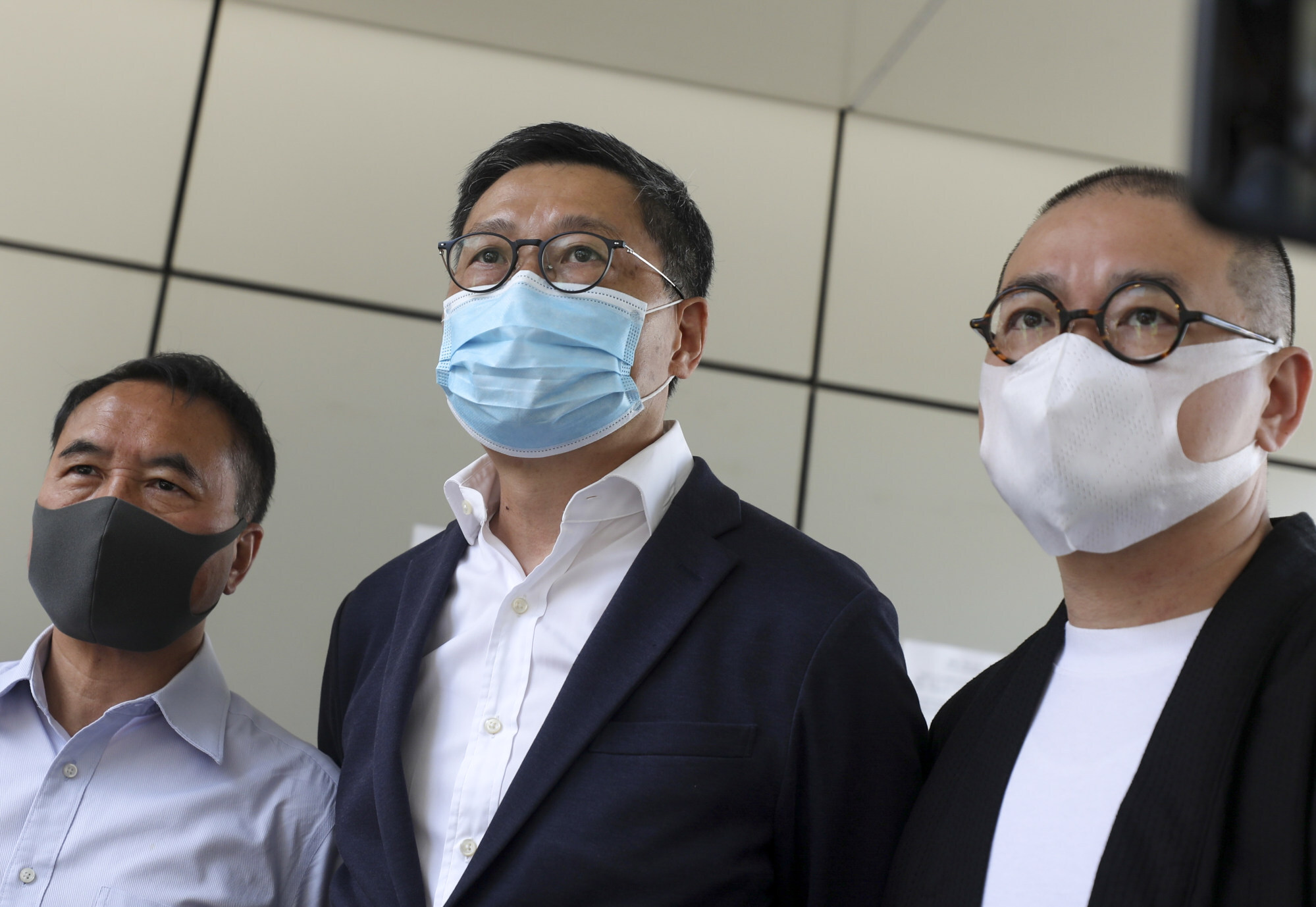 Chan said they would discuss with their lawyers whether to mount a further appeal to the city's top court, but added that they were concerned about monopolising resources that could be used to help others who are arrested or incarcerated.
The nine defendants were found guilty of a string of public nuisance charges two years ago, with the District Court acknowledging the occupation they advocated was a peaceful one in the name of greater democracy, but ruling it had caused serious and unreasonable obstruction to public places and roads for a prolonged period. 
On appeal, their lawyers argued that if they were guilty of anything, it was merely "conspiracy to inspire Hong Kong people", and submitted that treating their political rhetoric as criminal incitement could have "a very damaging, chilling effect on freedom of expression".
They also said the lower court had imposed a "manifestly excessive" sentence, and had erred in principle by considering the peaceful protests as having fallen "outside the parameters of civil disobedience".
But the panel of appellate judges – comprising Court of Appeal vice-president Andrew Macrae, and madam justices Maggie Poon Man-kay and Anthea Pang Po-kam – not only dismissed more than 42 grounds for appeal, but commended District Judge Johnny Chan Jong-herng for handling a difficult trial with "consummate patience, fairness and ability".
Macrae said it was important the court decided the case in the context of Hong Kong, and be mindful that the crux of the crime of public nuisance, as pointed out by Lord Bingham, was "the suffering of common injury by members of the public by interference with rights enjoyed by them as such".
"This was no mere demonstration in Central in support of a cause that exceeded its original remit: it was a determined and sustained effort to paralyse the main arterial roads in the very centre of Hong Kong for weeks on end in order to pressure the government into changing its mind, and which went far beyond a matter of inconvenience for ordinary citizens going about their business and trying to earn their living," Macrae wrote in the 76-page judgment.
He also said that Tai, Chu and Chan Kin-man must have known before issuing their call to "over-cram" Central and Admiralty on September 28, 2014 that the consequences of the proposed occupation would be far-reaching and inevitably cause a public nuisance.
To suggest otherwise was "to surrender reality and common sense to an abstract and theoretical notion of the reasonable exercise of individual rights", Macrae said.
"We cannot accept the argument that the applicants, having planned the Occupy Central Movement for some 18 months, and having seen how events had unfolded in Tim Mei Avenue [in Admiralty before the announcement], did not knowingly conspire to commit, or incite, a public nuisance," he continued.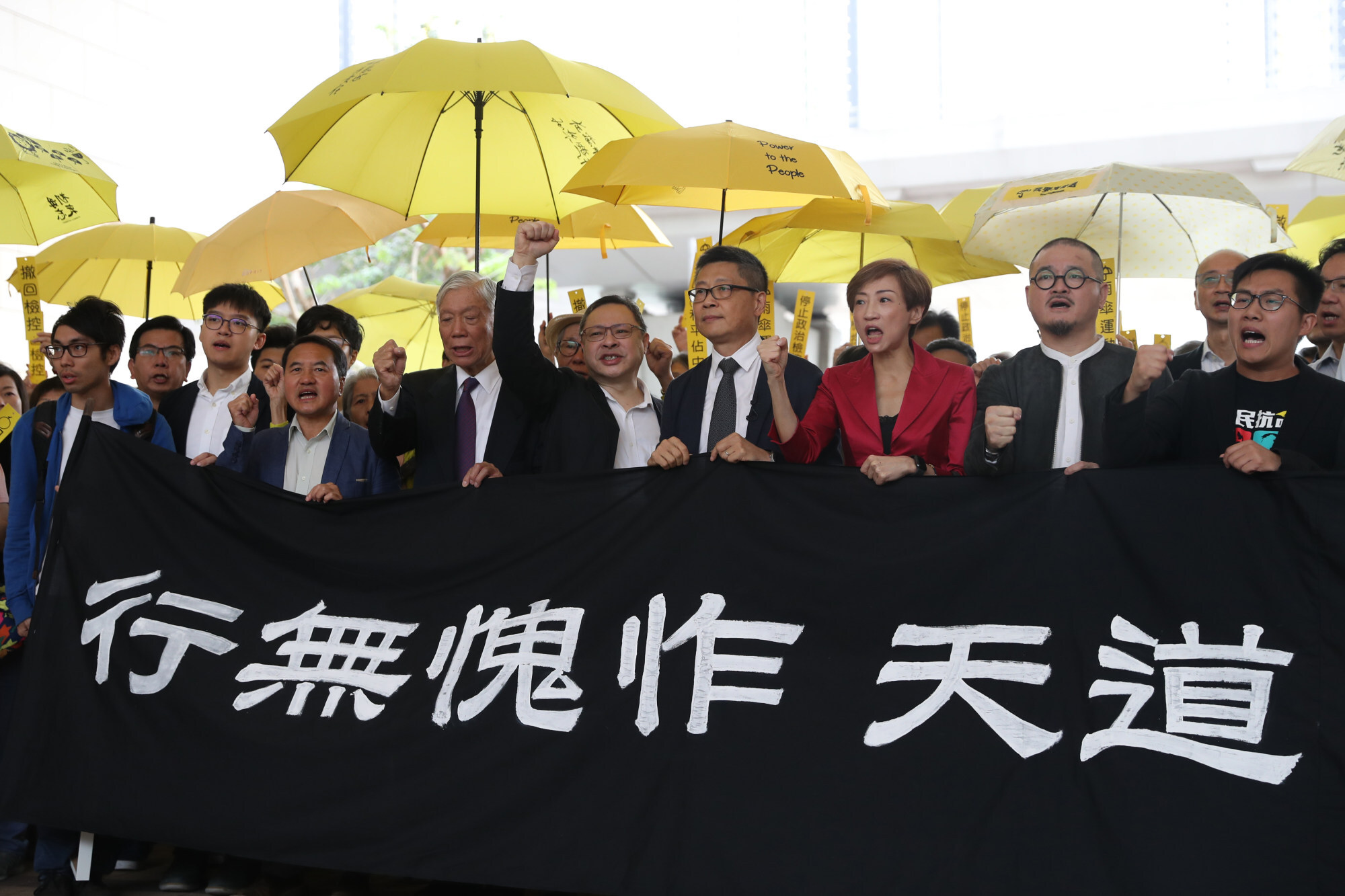 Macrae also upheld Judge Chan's ruling that the common law offence of "incitement to incite" – which eight of the defendants were charged with – was both justiciable and constitutional under Hong Kong law, and found that the charges laid out by prosecutors appropriately reflected the scale of the conduct and the seriousness of its impact.
Tai, 56, and Chan Kin-man, 62, were each jailed for 16 months on one count of conspiracy to cause a public nuisance and another of inciting others to do the same. Chu, 77, who was also convicted of the conspiracy charge, had his 16-month sentence suspended because of health concerns.
Tai was granted bail in August 2019, after serving five months and 21 days of his term. He is currently remanded over a
national security law
case related to an unofficial primary election last year.
The six other co-defendants are former lawmakers Tanya Chan, 49; Shiu Ka-chun, 51; Lee Wing-tat, 65; League of Social Democrats chairman Raphael Wong Ho-ming, 32; and former student leaders Tommy Cheung Sau-yin, 26, and Eason Chung Yiu-wa, 28.