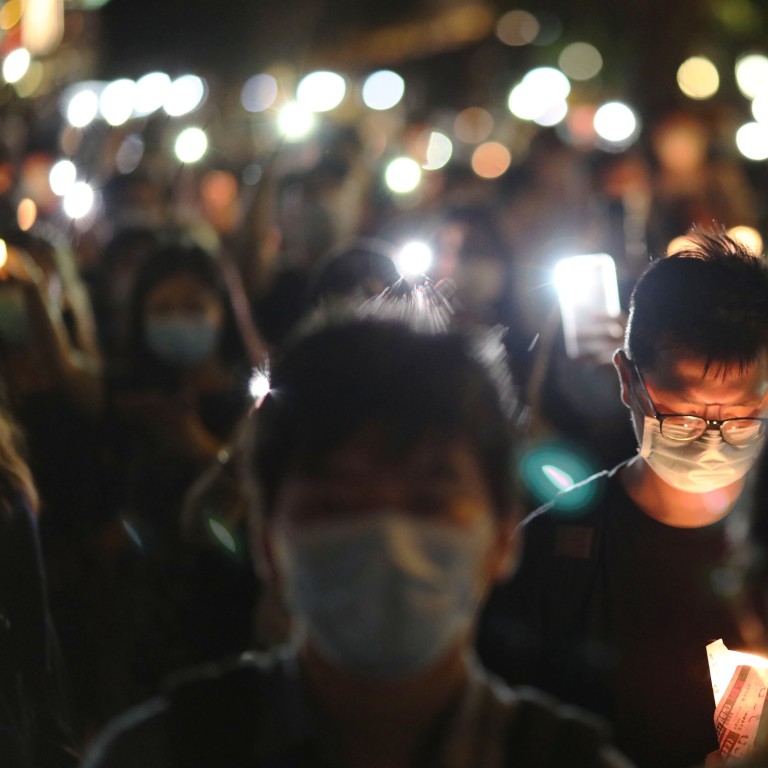 Tiananmen vigil: Hong Kong police to put 3,000 anti-riot officers on standby, promising swift action against any unauthorised June 4 gatherings
Members of Police Tactical Unit to conduct stop-and-search checks near Victoria Park where annual candlelight vigil is traditionally held
Force to also have increased presence near June 4 museum where people can lay flowers in memory of those killed in Tiananmen Square in 1989
Police plan to have more than 3,000 anti-riot officers in reserve to stop any possible unauthorised gatherings on Friday, force insiders have warned, following the banning of Hong Kong's annual June 4 vigil.
Organisers of the annual candlelight vigil to commemorate the
Tiananmen Square crackdown
in 1989 previously lost an appeal to hold this year's gathering in Victoria Park, with authorities citing
Covid-19
restrictions for the second year in a row.
It would be the force's largest deployment of officers to deal with any potential trouble this year.
The Hong Kong Alliance in Support of Patriotic Democratic Movements of China said it would drop calls for people to show up at the park, and unlike in 2020
would not run
a ceremony online this year.
The alliance told the Post it was concerned police would accuse those watching the live broadcast together of sharing a "common purpose" and arrest them for unauthorised assembly. The law defines a public procession as one organised for a common purpose which takes place in, to, or from a public place.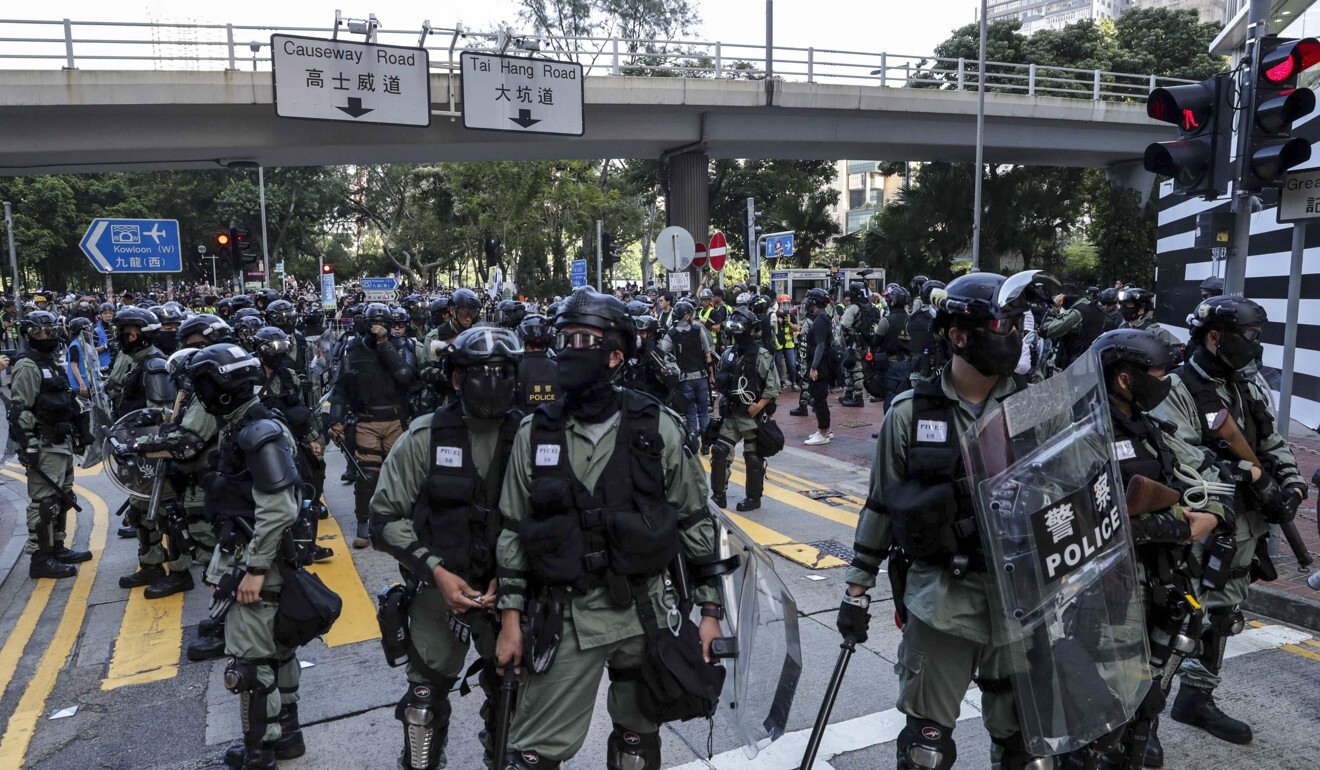 A senior police source told the Post that all officers in five regional response contingents drawn from the elite Police Tactical Unit, emergency units and other teams, would be expected to be on standby across the city for any potential chaos on Friday, though the force was still finalising its approach.
Officers from those contingents form the backbone of the 6,000-strong anti-riot squad established in the second half of 2019 to handle that year's
anti-government protests.
The squad was disbanded, with officers returning to regular duties, in the latter half of 2020 after the social unrest had waned.
If people still took part in an unauthorised assembly at the park on Friday evening despite the ban, the senior police source said they should be prepared for a strict response.
"A lenient approach on unauthorised assemblies is not expected, as our operations need to bring deterrent effects after courts handed down lengthy jail terms to protesters," the source said.
The source said officers would guard high-risk areas to prevent public gatherings and stop people from forming groups, as
social-distancing rules
ban more than four people from meeting.
On what would constitute a breach of those rules, qualify as disorder in a public place, what slogans would break the national security law, and what actions officers might take, the insider said it all depended on their behaviour, the contents and the actual circumstances.
"There is no definitive answer to these questions," they said. "It all depends on the situation. Officers would collect relevant evidence for investigation and seek legal advice when necessary."
Another source said traffic police would set up roadblocks near Victoria Park and officers from the tactical unit would carry out stop-and-search checks around the venue.
Although there was no intelligence to indicate any trouble, the second source said police had to "prepare for the worst in case of mass turnout to the venue", and the large deployment of officers to ensure there was "sufficient manpower ready to deal with any sudden occurrence".
He said it was appropriate to prepare for trouble regardless of whether there was relevant intelligence, adding: "Nobody wants to be caught unprepared".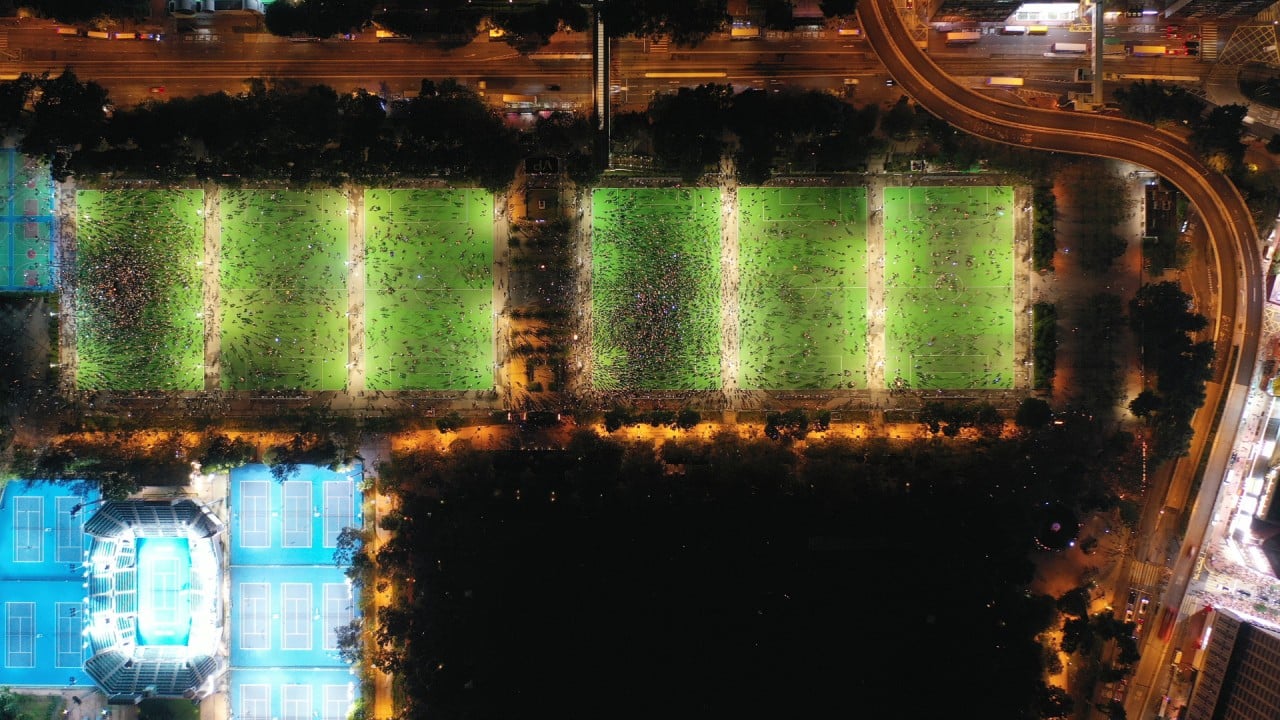 06:13
Thousands of Hongkongers defy ban and gather to mark Tiananmen anniversary
Thousands of Hongkongers defy ban and gather to mark Tiananmen anniversary
A third source said there would be an increased presence around the June 4 museum in Mong Kok, which the alliance originally planned to open so people could place floral tributes to those killed in the 1989 crackdown.
The alliance said on Wednesday it was temporarily
closing
the venue after the government launched an investigation following a licensing complaint.
On Tuesday, Chief Executive
Carrie Lam Cheng Yuet-ngor
refused to be drawn into taking a definitive stance on whether if it was unlawful for Hong Kong residents to call for an end to China's "one-party rule", a regular refrain at the vigil.
Lam said the legality of slogans depended on the specific circumstances, as well as evidence gathered by law enforcement, adding any future action the city might take involving remembrances of the bloody 1989 crackdown would follow the
national security law
and existing constitutional documents.
The Leisure and Cultural Services Department earlier pointed to the coronavirus pandemic when it said the alliance's application for the use of Victoria Park on June 4 would not be processed.
The mass gathering in Causeway Bay has been the only large-scale commemoration of the crackdown on Chinese soil. Police banned the vigil on health grounds for the first time last year, but an estimated 20,000 people turned out at Victoria Park.
Last month, Wong was jailed for 10 months after pleading guilty to knowingly taking part in an unauthorised assembly, an offence that carries a maximum sentence of five years in prison. Three district councillors were also sentenced for up to six months for their roles in the June 4 event.
When sentencing, Judge Stanley Chan Kwong-chi criticised the group for openly defying the law, saying it was clear their actions had been "deliberate and premeditated", at a time when Hong Kong's public order situation remained volatile in the aftermath of the 2019 protests.
Chan said the court could not underestimate the event's potential risk factor, as emotions could have run high, and the unruly might have taken advantage of that to incite violence.
So far, the city's national security police have arrested more than 100 people and prosecuted 57 of them since the legislation came into force on June 30 last year.
This article appeared in the South China Morning Post print edition as: 3,000 officers put on standby ahead of june 4 anniversary