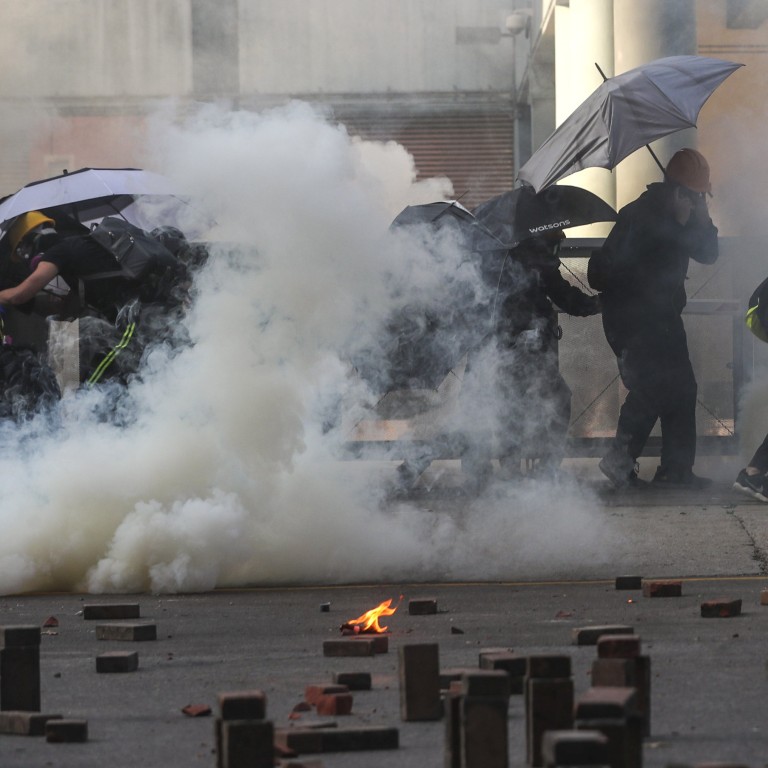 Hong Kong protests: Polytechnic University graduate first person to be found guilty of rioting over clashes with police at campus
Lui Sheuk-hang convicted in District Court over his role in protest at height of anti-government unrest in 2019
The product engineer was carrying 26 marbles and 100 cable ties when he was arrested in Hung Hom on November 18
A Polytechnic University graduate has become the first person found guilty of rioting during the violent clashes around the campus at the height of Hong Kong's social unrest in 2019, while a clerk admitted his role in a lunchtime protest. 
Product engineer Lui Sheuk-hang, 31, was convicted on Tuesday on one count of rioting and another of possession of instruments fit for unlawful purposes, in Hung Hom on November 18.
The District Court heard Lui was arrested at the scene when he fell over while police were clearing an assembly of more than 100 protesters gathered at Wuhu Street at about 11pm, after the group hurled petrol bombs and bricks, shone bright lights at officers, and ignored repeated warnings to disperse. 
Lui was seen wearing protective gear. A subsequent search revealed a bag of 26 marbles and another one of 100 cable ties in his backpack. 
Traces of toluene, a highly flammable solvent, were also found in a pair of arm warmers he was wearing. 
But Lui denied taking part in the protest, claiming he was only there, as a university alumnus, to witness the moment when conflicts were resolved. 
He also said he did not know he was carrying the marbles and cable ties, explaining that the beads were meant to be a toy for his cat while the ties were intended to be used for fastening wire nets to window grilles to protect his pet. 
His evidence was rejected by District Judge Frankie Yiu Fun-che, who observed from video footage that Lui was situated among or even in front of the protesting crowd, closer to police, contrary to his own description of his location and claim of avoiding the site of conflict. 
The judge also found Lui's explanations "rather tenuous" as he noted that marbles and cable ties were both used by protesters to obstruct police passage. 
"Obviously, the accused was in possession of the above-mentioned articles for unlawful purposes and taking part in the riot," the judge said.
Lui will be sentenced on July 19, pending reports on his background. 
Also in court was clerk Hon Po-sang, 31, who pleaded guilty to three counts over a lunchtime protest in Central on November 12, 2019. 
The charges are rioting, use of facial covering during unlawful assembly, and possession of instruments fit for unlawful purposes.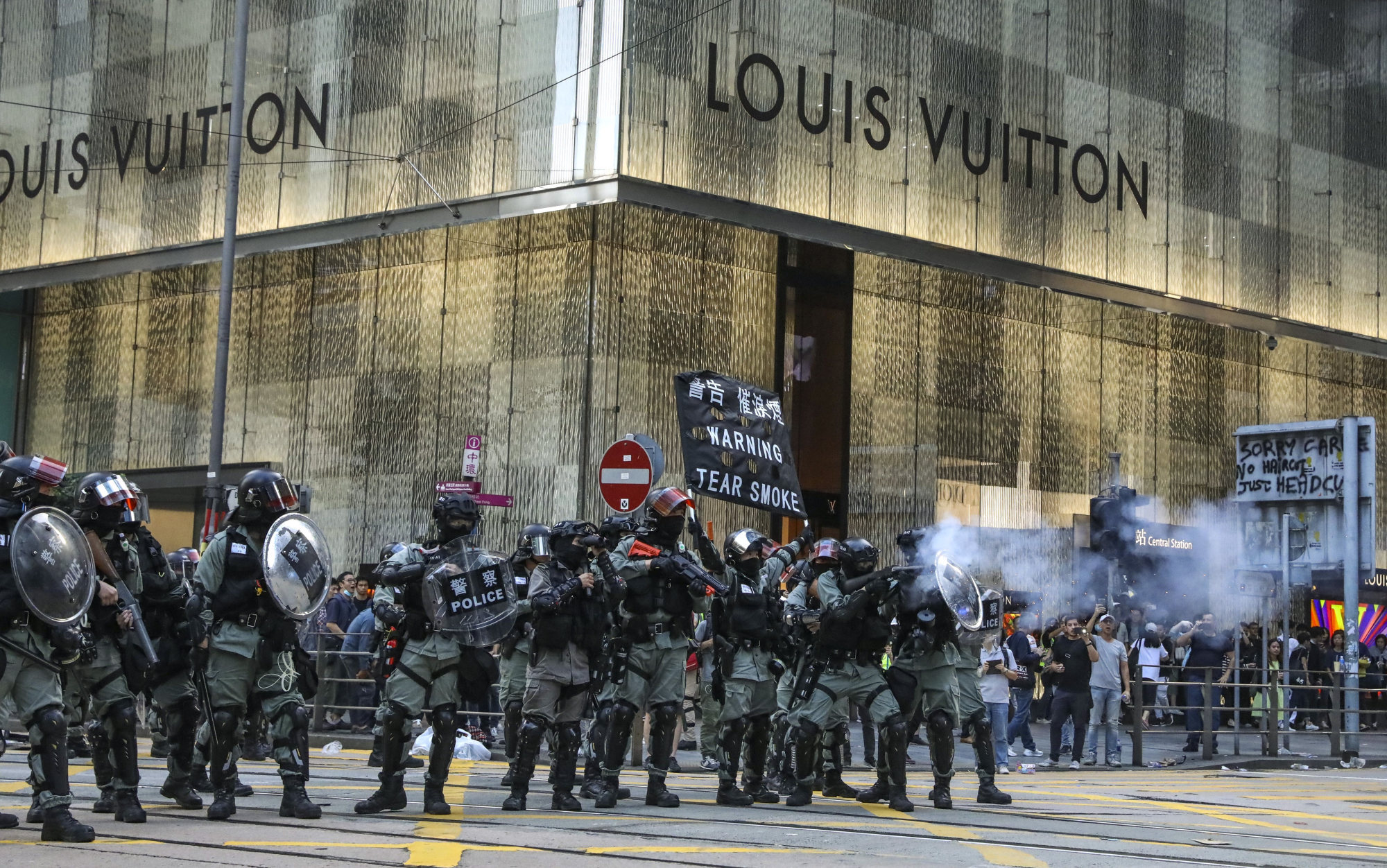 Thousands of protesters had answered online calls to obstruct the vicinity of Pedder Street that day, setting roadblocks, vandalising buses, and trashing two stores on Connaught Road Central – Genki Sushi and Yoshinoya – while ignoring police warnings and tear gas. 
One roadblock was also set on fire by two petrol bombs and the obstruction later exploded. 
Prosecutors said Hon was seen as early as 12.26pm, wearing a cap and a mask, as well as holding an open umbrella. He later used the umbrella to shield a protester who was spray-painting a kerb. 
At 3pm, Hon was seen picking up bricks from the ground and twice hurling them into a tunnel on Connaught Road Central.
He also joined others in erecting an umbrella formation against police, before retreating towards Ice House Street, during which he and some 30 people were arrested outside Landmark shopping centre. 
In mitigation, his defence counsel said Hon was a peaceful person who became influenced by others on site, and deeply regretted his actions. 
Deputy district judge Peter Hui Shiu-keung will sentence Hon on July 2.
Rioting is punishable by 10 years in prison, but that term is capped at seven years when the case is heard in the District Court.