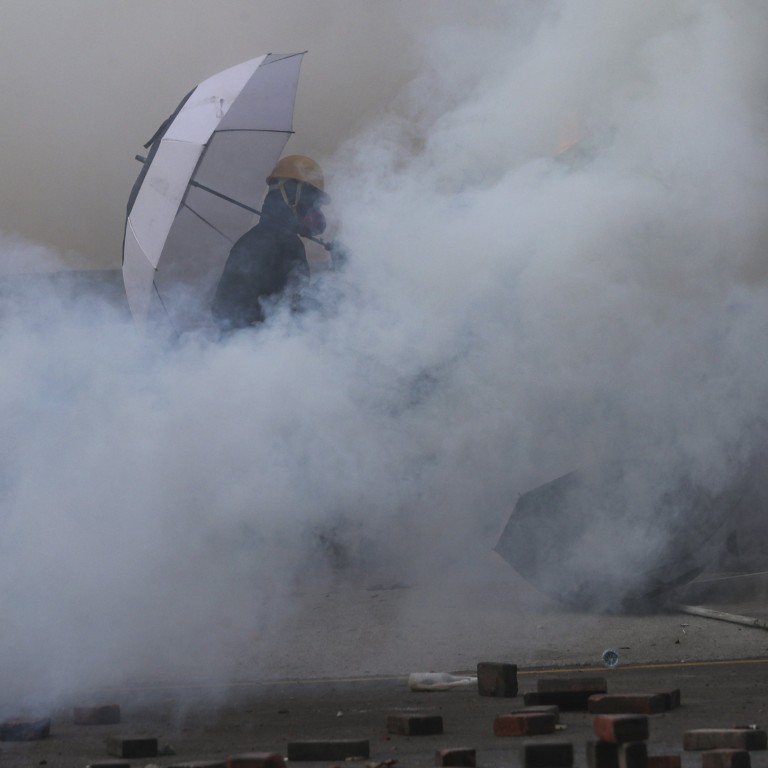 Hong Kong protests: first defendants to admit rioting during PolyU clashes jailed for 32 months each
Sze Ying-ho, 24, and Man Tsz-keung, 21, sentenced for their involvement in violent disturbances during the siege of PolyU, a notorious episode of the 2019 unrest
The pair were among dozens who clashed with police near to PolyU's Hung Hom campus to give besieged protesters there a chance to escape
The first two protesters to admit to rioting during violent clashes with police two years ago around Hong Kong Polytechnic University (PolyU) have each been jailed for 32 months.
District Judge Edmond Lee Chun-man on Thursday said rioting was a serious offence, but acknowledged that the present case – at the height of the 2019 anti-government
protests
– was a spontaneous incident of limited scale and impact, carried out at some distance from unlawful activities inside the university.
The judge also noted that construction worker Sze Ying-ho, 24, and clerk Man Tsz-keung, 21, were both young men of prior clear record, with proper jobs and the support of their family, and that they had committed the offence on impulse. 
The pair were among 50 who assembled beneath a section of the Gascoigne Flyover near Diocesan Girls' School on November 18, when protesters clashed with police near PolyU in an attempt to give their comrades – who had been trapped inside the campus for seven days – a window to escape.
Sze, who was carrying two knives and a hammer at the time, was spotted placing a plastic barrier in front of a police cordon on the road. 
His co-defendant, Man, was intercepted by police a minute later, with suspected petrol bombs found in his possession.
In mitigation, Sze said he was on his way to work when he decided to go to the area out of concern, believing rumours that police or the People's Liberation Army would barge into the university.
Sze initially was a mere observer. But, as emotions ran high, he became influenced by others on site and picked up equipment from the ground to join the action, pushing a barrier to the front lines with the aim of protecting others. 
He also explained that he was carrying the knives and hammer for work, which was accepted by the judge. 
The pair were the first defendants to plead guilty to rioting in relation to the violent episodes in and around the university in Hung Hom. 
Just a week after those pleas were entered, a PolyU graduate, Lui Sheuk-hang, 31, was convicted after trial of rioting and possession of marble beads and cable ties, during a related protest near the other side of the campus, on Wuhu Street. 
Also on Thursday, clerk Lai Hiu-tung, 30, was jailed for 32 months for rioting in Admiralty, where crowds had assembled after an unauthorised march from Causeway Bay, on September 29, 2019. 
The court previously heard that Lai was among some 500 protesters assembled on Queensway in a stand-off with police. She stood in the first few rows of the crowd and shielded herself behind an array of umbrellas but was captured on camera. 
At the time of her arrest, Lai was wearing a yellow helmet, a pair of goggles and a respirator. She was also in possession of a laser pointer and two pairs of gloves. 
Mitigation letters depicted Lai as a well-loved, kind-hearted and helpful person devoted to marine environment protection.
Lai also wrote that she regretted her impulsive behaviour and was sorry for what she did. 
In sentencing, deputy district judge Merinda Chow Yin-chu said Lai was well-equipped to protect herself and conceal her identity in a large-scale riot involving extremely serious violence, as protesters had hurled petrol bombs, bricks and other hard objects and flashed laser beams at police officers. 
The judge also noted that the riot caused serious disruption to traffic on an important road surrounded by commercial buildings, five-star hotels and the High Court, at the centre of Hong Kong Island. 
But she acknowledged there were no injuries or any damage to property and that the defendant was remorseful. 
Lai was given a six-month reduction in sentence in recognition of her charity work, after the judge imposed a starting point of four years and nine months, and granted a full one-third discount to credit her timely plea. 
Rioting is punishable by 10 years in prison, but the sentence is capped at seven years when the case is heard at the District Court.