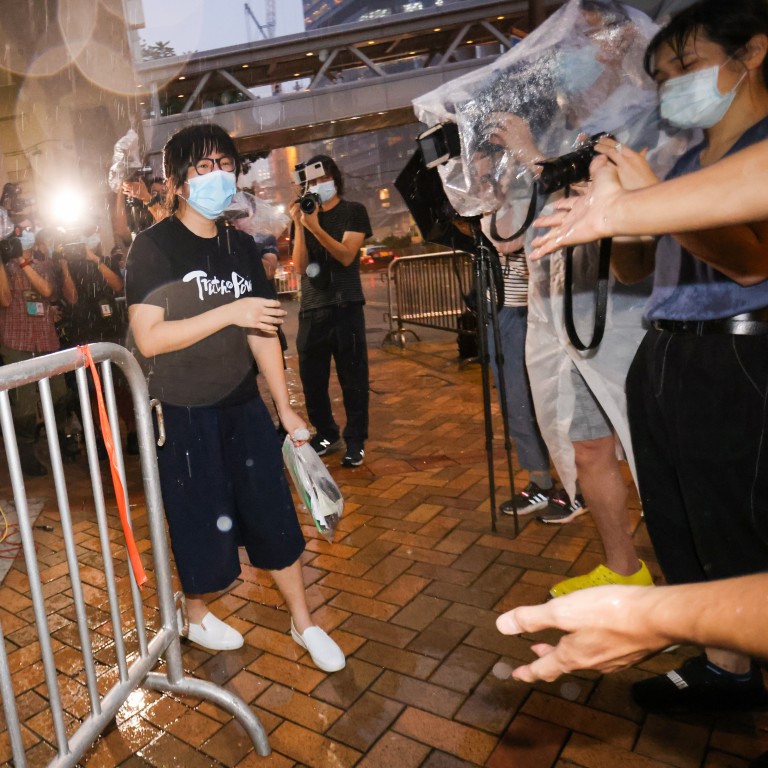 Vice-chair of June 4 vigil organiser wins bail at Hong Kong High Court
Chow Hang-tung is accused of inciting others to knowingly take part in unauthorised assembly
Cheering erupts in court after judge grants HK$50,000 bail to the defendant, who has been in custody since June 30
The High Court has granted bail to the vice-chairwoman of the organiser of Hong Kong's annual June 4
Tiananmen Square vigil
before she goes on trial for alleged incitement later this year.
Barrister Chow Hang-tung, one of the leaders of the Hong Kong Alliance in Support of Patriotic Democratic Movements of China, won bail at the Court of First Instance on Thursday, after failing three times since she was charged last month.
Madam Justice Judianna Barnes set the amount at HK$50,000 (US$6,430), and required another HK$50,000 in surety.
Chow was required to remain in the city, surrender her travel documents, including her Hong Kong passport and home return permit, and make an affirmation or affidavit declaring she had no British passport.
She was also required to reside at her Ma On Shan address and report to the district police station once a week.
"I'm sure, as a barrister, you understand all the contents of the bail," the judge said. "So please make sure you comply with the conditions."
Chow, 36, was seen taking notes in the dock as her defence counsel Cheung Yiu-leung made submissions on her behalf.
Applause erupted in the public gallery when Barnes announced she would grant bail.
"Please behave yourself," she told the attendees. "Otherwise I'll have to clear the court."
Speaking afterwards, Chow thanked her supporters and described the decision as a "small victory", which she hoped could offer some encouragement to others "in this atmosphere".
"It's a victory that confirms that detention without trial should not be the norm," she told reporters. "It confirms that we need not exchange our freedom of expression in return for bail."
Chow said she was "not under any illusion that [she] can escape jail forever" but would continue to voice her opinions while awaiting trial.
"To be free at this very difficult time in Hong Kong, I feel that it imposed on me a greater sense of responsibility to continue to speak up, to tell the world what's really happening in Hong Kong, to expose that behind this facade of stability imposed by the national security law," the activist said.
She also described her time in custody as a learning experience.
"Living in prison is just a lesson that all Hong Kong activists have to learn if we are to continue to fight for democracy and freedom," she said. "So I'm actually grateful for the experience despite the injustice of being deprived of my freedom."
Chow has been in custody since June 30 and was formally charged on July 2 with one count of inciting others to knowingly take part in an unauthorised assembly, an offence punishable by up to five years in prison. The crime was alleged to have taken place between May 29 and June 4.
Chow has pleaded not guilty and her trial is scheduled to run two days beginning on October 5.
She first applied for bail on July 2. When that was refused, she twice applied for review, on July 9 and July 23, but was again unsuccessful.
This article appeared in the South China Morning Post print edition as: key June 4 vigil group organiser wins bail