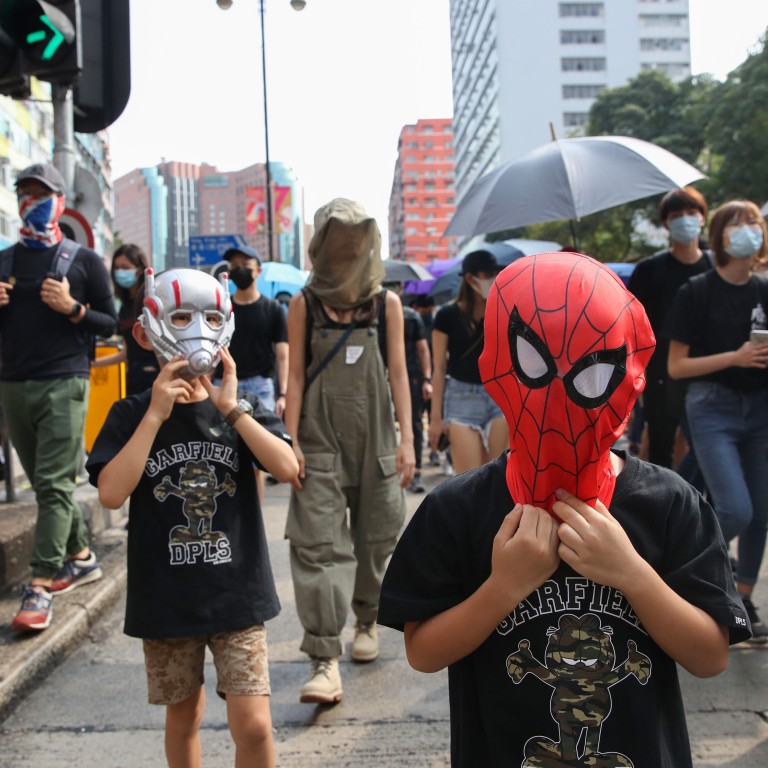 Hong Kong protests: opposition activists plead guilty to incitement over unauthorised march, which they claim more than 350,000 people attended
Former lawmakers among group of seven who admit to organising and incitement charges over rally on October 20, 2019
Police had previously banned gathering on the grounds of public order and safety
Seven Hong Kong opposition activists and former lawmakers have pleaded guilty to charges of organising and inciting others to take part in an unauthorised march during
anti-government protests
in 2019.
On Thursday, the District Court heard police had objected to the procession on the grounds of public order and safety, when the now-disbanded Civil Human Rights Front notified the commissioner of its intention to hold a march from Salisbury Garden in Tsim Sha Tsui to the West Kowloon terminus on Austin Road on October 20.
But front convenor Figo Chan Ho-wun and three ex-lawmakers, "Long Hair" Leung Kwok-hung, Cyd Ho Sau-lan and Albert Ho Chun-yan, remained defiant and announced plans to proceed with the march during a press conference held outside the Court of Final Appeal in Central the day before.
The rally proceeded with the same theme, at the same time and on the same route as the front had planned, with organisers claiming 350,000 people had joined them.
Participants called for the abolition of the "evil" mask law that prohibited the use of facial coverings, establishment of an independent committee of inquiry into the protests and reorganisation of the police force.
Some protesters vandalised a police station, traffic lights, shops, restaurants, banks and train stations along the way, with repair costs and losses amounting to HK$7.3 million (US$937,260).
"At the end of the day the risks identified by the police did materialise," acting senior public prosecutor Karen Ng Ka-yuet said.
Chan, 25, Leung, 65, Cyd Ho, 66, and Albert Ho, 69, pleaded guilty to one count of incitement to knowingly taking part in an unauthorised assembly.
Chan, Leung and Cyd Ho also pleaded guilty to a second count of organising an unauthorised assembly, along with then League of Social Democrats chairman Raphael Wong Ho-ming, 32, former chairman Avery Ng Man-yuen, 44, and ex-lawmaker Yeung Sum, 73.
"People have the right to peaceful assembly," Leung said.
"So do you plead guilty or not guilty?" judge Amanda Woodcock asked.
"Guilty," Leung replied.
But the six denied a further charge of knowingly taking part in an unauthorised rally, which was then kept on court file, meaning it cannot be pursued without the leave of the District Court or the Court of Appeal.
"I understand this is political prosecution," Wong said as he pleaded not guilty to the charge. "There's no crime to admit."
When the defendants were asked whether they agreed with the case presented by the prosecution, Leung replied: "I admit the facts, but they have little relevance to this case."
Thursday's hearing was Chan's first public appearance since the front, which had organised some of Hong Kong's largest protests, announced on Sunday it was disbanding.
"I'm sorry the Civil Human Rights Front couldn't stay till the very end, hang in there, everyone," he said during a court break.
Arguments for mitigation will be presented on Friday.
The court heard six of the defendants were among the banner group leading the procession, with Leung describing the march as an act of civil disobedience and Chan appealing to participants to join him in wearing masks in protest.
Upon arriving at the junction of Canton Road and Austin Road at 2.41pm, Chan said through a loudhailer that he knew "some friends and others would take other actions" and asked the participants to disperse.
But thousands remained in the area, and violence escalated in Tsim Sha Tsui and neighbouring districts such as Yau Ma Tei and Mong Kok.
Traffic was seriously disrupted and at least 118 bus routes were affected, while train service to Tsim Sha Tsui and East Tsim Sha Tsui was temporarily suspended.
According to the Bank of China, damage to four of its branches exceeded HK$5 million, while Best Mart 360 reported vandalism at three of its stores cost HK$1.78 million in repairs.
The MTR Corporation claimed HK$350,000 in repairs and maintenance at two vandalised stations, while the Hong Kong Cultural Centre said it incurred a loss of more than HK$113,000 as 29 activities were affected.
This article appeared in the South China Morning Post print edition as: Opposition figures plead guilty over unauthorised 2019 march