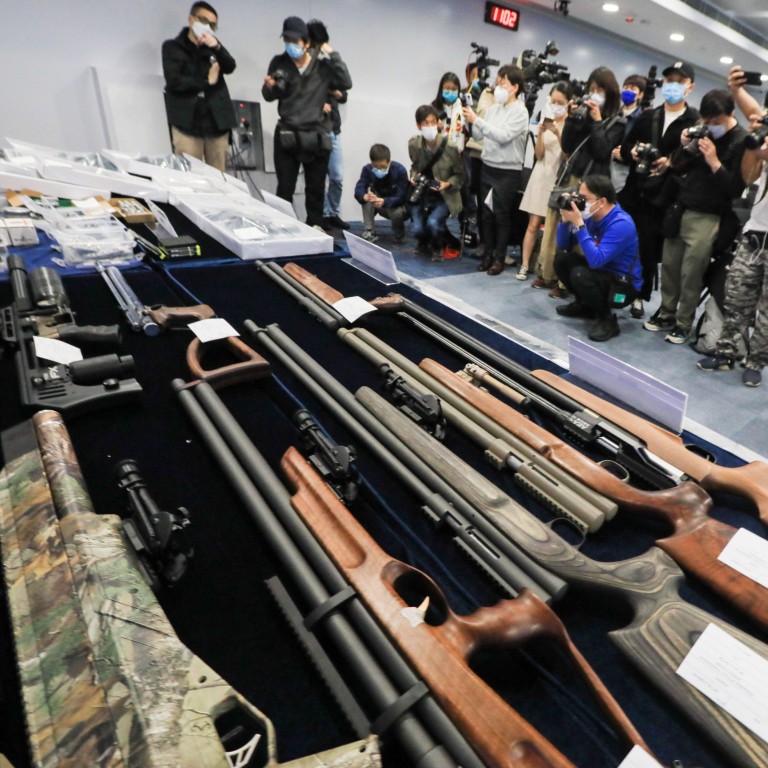 Hong Kong police seize 200 airguns, arrest 10 members of 'hidden' organisation in raids ahead of Legislative Council election
Eleven of the airguns seized were as powerful as an anti-riot shotgun, police said on Tuesday, while others had been modified to increase their firepower
Some of those arrested in Operation Cosmospan were actively involved in the 2019 anti-government protests, according to Superintendent Chan Yan
Hong Kong police have arrested 10 alleged members of a "hidden" violent organisation and seized more than 200 airguns – some as powerful as an anti-riot shotgun – they say might have been intended to disrupt Sunday's
Legislative Council election
.
Eleven of the 201 air-powered weapons were pre-charged pneumatic airguns capable of killing a deer with a single shot, according to Senior Inspector Lucas Lam Yen-lau of the organised crime and triad bureau.
Those weapons had a muzzle capacity of 2,000 joules – a measurement of kinetic energy. By comparison, a 9mm pistol can produce 500 to 900 joules, while a riot gun has a muzzle capacity of 1,700 to 2,200 joules.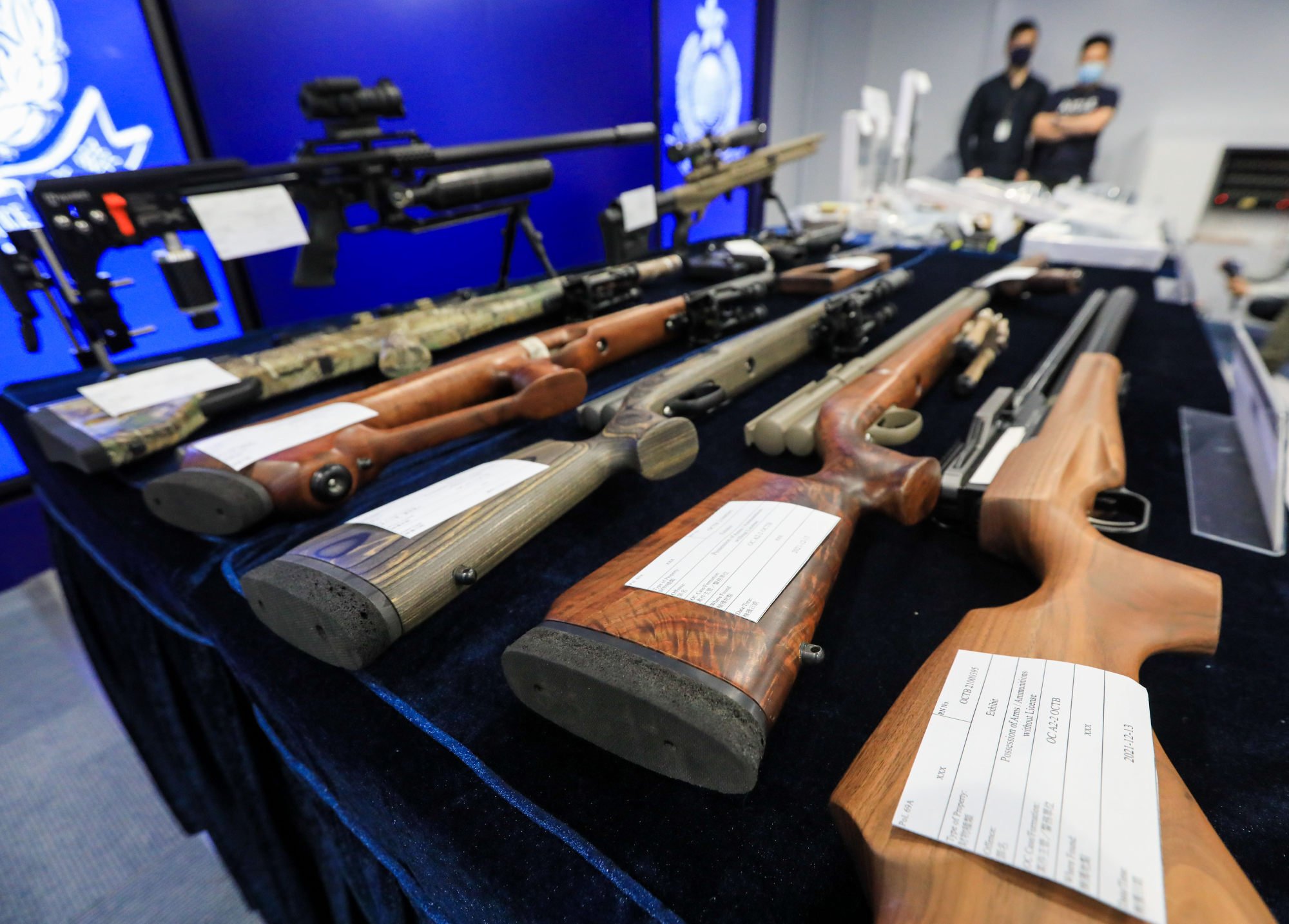 Lam said some of the other 190 airguns had been illegally modified to increase their firepower. In Hong Kong, an airgun capable of producing more than two joules is classified as a firearm, the unlicensed possession of which is punishable by up to 14 years in jail and a HK$100,000 (US$12,820) fine.
"So when we just simply look at the numbers, they are some dangerous weapons," Lam said.
One of the pneumatic airguns was found concealed in a parcel that was mailed to the city from the United States and seized by customs officers at the airport's cargo terminal earlier this year, according to a force insider. Police then took over the investigation, which led them to the gang.
Superintendent Chan Yan, also of the organised crime and triad bureau, said an in-depth investigation had led police to identify the "hidden" organisation, some members of which were actively involved in the 2019
anti-government protests
.
"Among the suspects, a 21-year-old woman had been arrested on suspicion of taking part in a riot in 2019, and a 26-year-old man was accused of joining an illegal assembly during the social unrest in 2020," the police insider said.
He said five other suspects, one of them a postsecondary student, professed to have taken part in the
13-day occupation
of Polytechnic University in 2019, which turned the Hung Hom campus into a battleground between radical protesters and police.
The source said four of the suspects were thought to be the core members of the gang who bought the weapons from overseas and stored them in two warehouses in San Po Kong and Tai Kok Tsui.
In all, police arrested nine men and one woman, aged 21 to 46, in the operation, code-named "Cosmospan".
In addition to the air-powered weapons, more than 6,700 lead pellets of different calibres, a home-made smoke grenade launcher, axes, knives and radio communication devices were seized in 11 residential units and two warehouses in a series of raids on Sunday and Monday.
Other seized items included nine respirators and 16 body armour plates classified as strategic commodities, which require a licence to import, according to the force.
The suspects were detained on suspicion of possession of firearms without a licence, possession of offensive weapons, import of strategic commodities and possession of radio communication devices without a licence.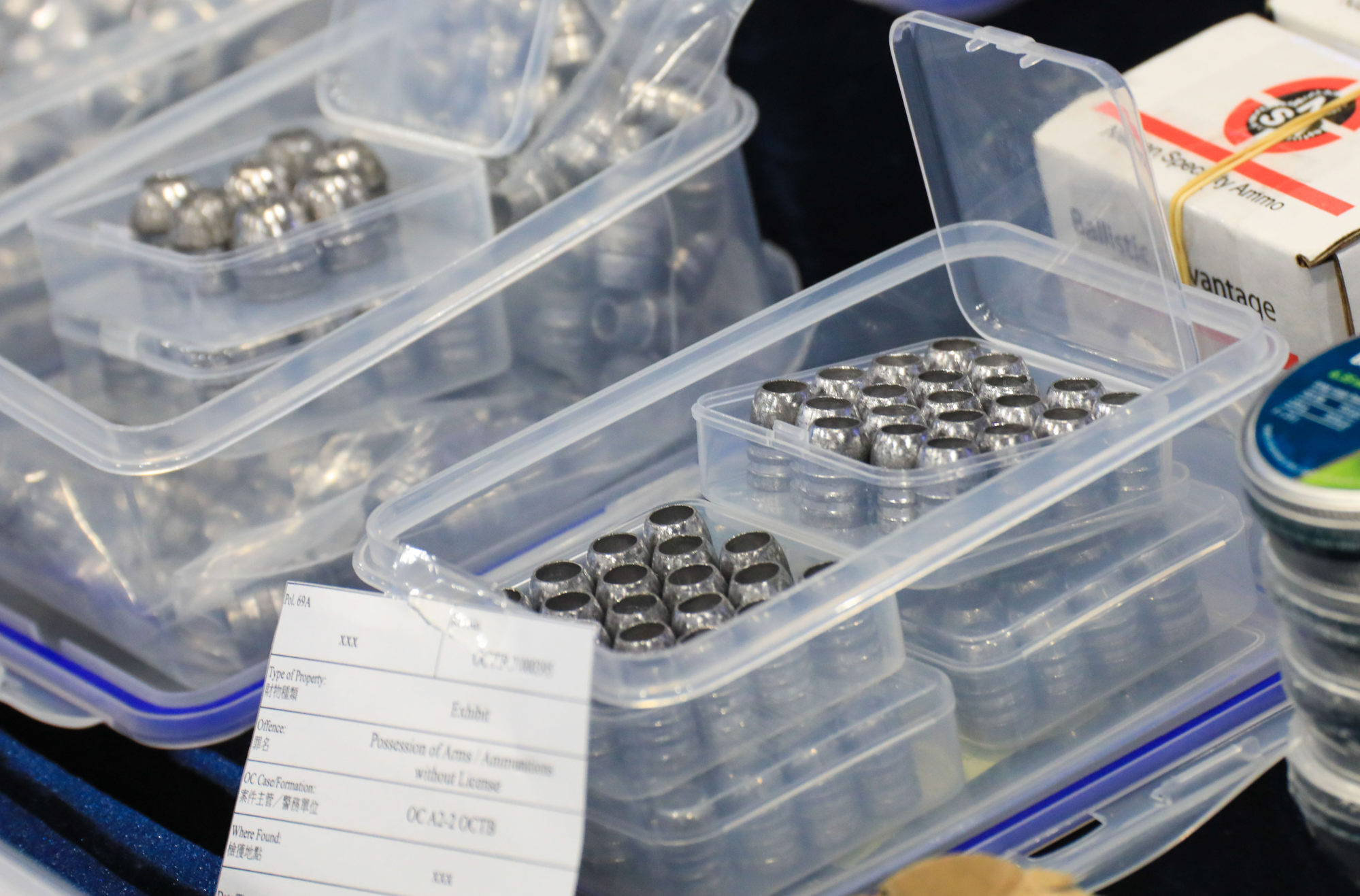 Pointing to the
stabbing
of an officer outside a Causeway Bay department store on July 1, Chan said police were very concerned about the possibility of violent attacks.
The assailant, described by authorities as a "lone wolf terrorist", turned the knife on himself after the attack and was pronounced dead at a local hospital.
"We are looking into what the intended use of these high-powered weapons might have been," the superintendent said.
"We will investigate if they were intended to cause any damage or disturbance to a celebration or important day such as the coming Legislative Council election on December 19. This is one of our vital tasks to look into."
Chan said they would also investigate whether the gang had accomplices.
As of Tuesday afternoon, the suspects were being held for questioning and none had yet been charged.
Earlier this month, security minister Chris Tang Ping-keung revealed that police would
deploy
more than 10,000 officers on election day to ensure voting ran smoothly and safely.
He said the officers would be supported by thousands of disciplined services personnel, including special constables who would stand guard at the city's 620 polling stations on Sunday.