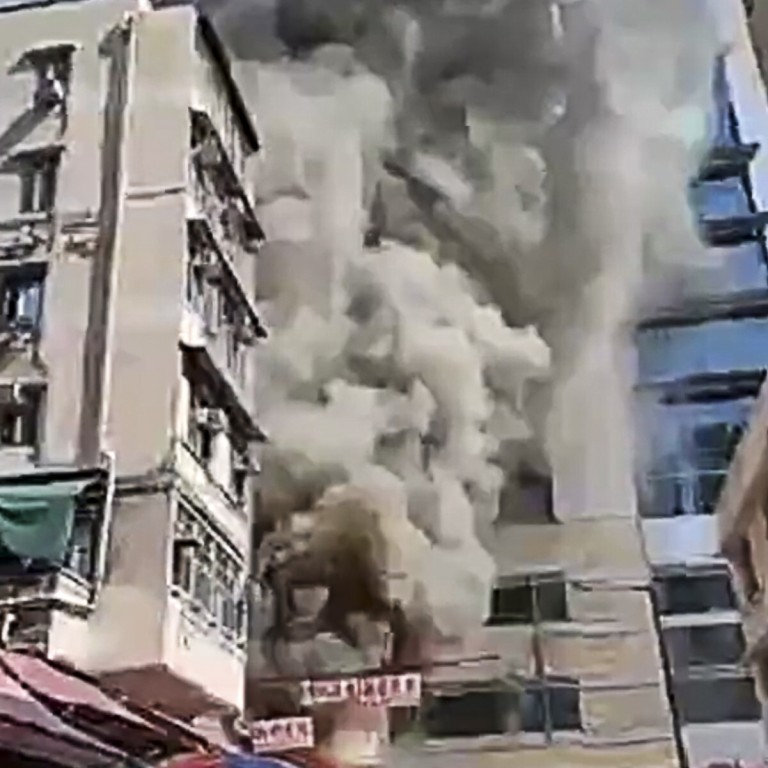 Smoke pours from Hong Kong dim sum shop after brunch spot bursts into flames
Emergency responders called to Mong Kok after dim sum store catches fire during lunchtime
Viral video on social media captures thick smoke clouds pouring onto Nelson Street
Thick smoke poured from a Hong Kong dim sum shop after it burst into flames at lunchtime on Thursday, prompting firefighters and an ambulance to be called to the ground-floor store in Mong Kok.
According to the Fire Services Department, eight fire engines and one ambulance were deployed to the first-alarm incident at the junction of Nelson Street and Reclamation Street at 12.49pm. In Hong Kong, fires are rated on a scale of one to five according to their seriousness.
A viral video posted in a Facebook group dedicated to reporting emergencies in Hong Kong showed thick clouds of smoke pouring out of the storefront and rising up into the air as nearby shoppers watched.
A department spokesman said that initial reports suggested the shop's ventilation duct had caught fire.
He said that emergency responders used a water jet and sent in a team of firefighters equipped with breathing apparatus to douse the flames shortly before 1pm.
No evacuation was made and no casualties were reported during the incident, according to the spokesman, adding the cause of the fire was still under investigation.
The shop is about 500 metres from the site of a deadly blaze at a Reclamation Street tenement block that killed one man and injured 13 others in March last year.
In November 2020, eight people were killed after a fire broke out in an unlicensed restaurant at a tenement block on Canton Road in nearby Jordan. It was the deadliest fire in Hong Kong in almost a decade.