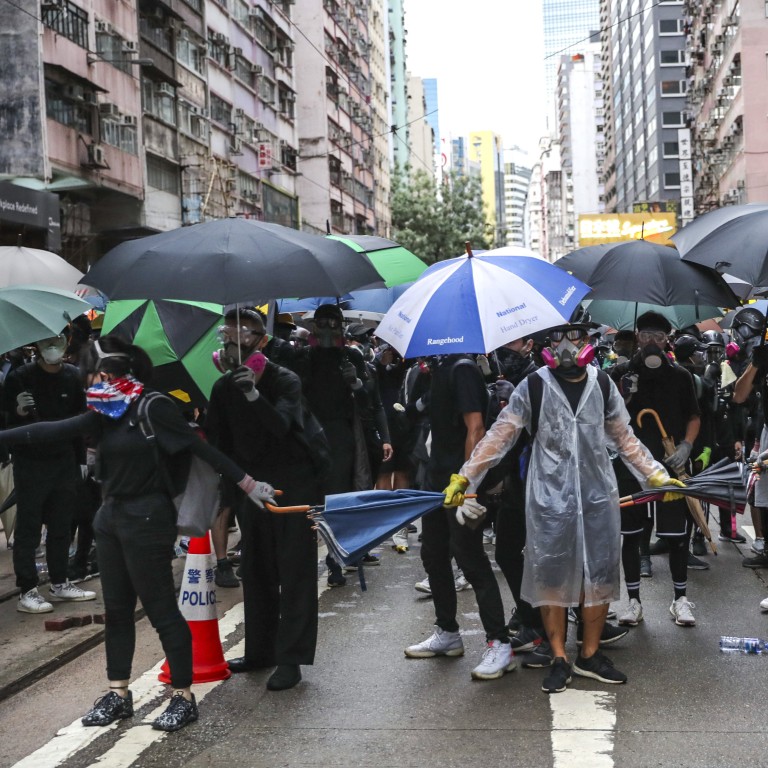 Hong Kong protests: 3 jailed for 2½ months each for breaking anti-mask law; 2 others get correctional training, community service
University students So Nga-yin and Henry Tse, and music teacher Chan Lok-sun, get prison terms as judge emphasises need for deterrent sentences
Two other defendants, Form Six pupil Lam Hin-shing and diploma student Angie Lee, sentenced to up to nine months of correctional training and 240 hours of community service, respectively
Two university students and a freelance musician have been jailed for 2½ months each for breaking the Hong Kong government's ban on wearing masks in public meetings during the 2019 civil unrest.
A Form Six pupil and another university student have been sentenced to correctional training and community service, respectively, over the same offence in Wan Chai on October 6, 2019, one day after the Prohibition on Face Covering Regulation took effect.
Passing sentence at West Kowloon Court on Tuesday, Deputy District Judge David Ko Wai-hung said the large number of masked protesters and the impact they had on public order called for deterrent sentences, despite the defendants' clear record and good background.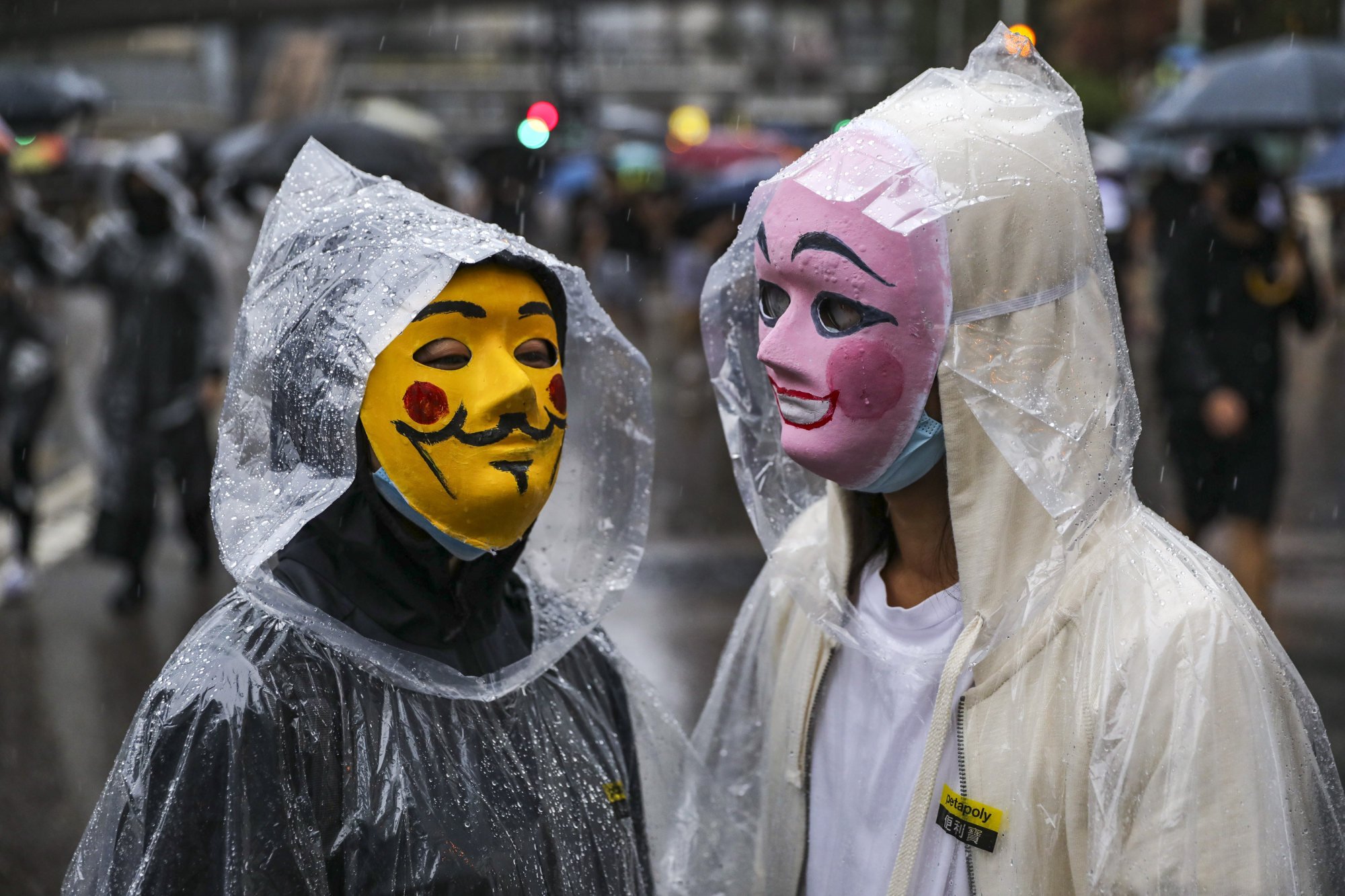 "The regulation had been widely reported by the media prior to the present offences. The defendants could not have been unaware of the consequences once the law was breached," Ko said.
The five defendants were among 26 people charged over the disturbance in Wan Chai, which saw thousands of protesters confronting police during an unapproved rally against the invocation of the Emergency Regulations Ordinance to ban mask-wearing in protests.
This case concerned the stand-off that started from 5.12pm between Canal Road West and Tonnochy Road, where protesters set up barricades, burned rubbish on the streets and shone laser lights at officers.
A total of 14 petrol bombs were launched at police during the conflict, with two of the projectiles hitting two reporters by mistake.
Last month, the judge acquitted the five suspects of rioting due to a reasonable doubt that they might have been caught up in the chaos by chance. But he found the group guilty of breaching the government's directive, rejecting the defence that they had worn a mask that day for health reasons.
The three sentenced to jail were Baptist University student So Nga-yin, 23, Chinese University student Henry Tse Siu-hung, 24, and music teacher Chan Lok-sun, 28. Both So and Tse are in the final year of their undergraduate studies.
Defence counsel Tony Li Chung-yin urged the judge to consider a jail term of less than two months to enable the two students to complete their degrees in time, but Ko refused, saying the need for deterrence outweighed their personal circumstances.
Form Six pupil Lam Hin-shing, 17, was sentenced to up to nine months of training in two institutions run by the Correctional Services Department.
Angie Lee On-kiu, 19, who is pursuing a diploma at Chinese University's School of Continuing and Professional Studies, was spared jail and instead ordered to perform 240 hours of unpaid community work, thanks to her guilty plea before trial.
Under the mask law, wearing facial coverings in a public meeting or procession is punishable by up to a year in jail and a HK$25,000 (US$3,206) fine.
In July last year, without lifting the law, the government made wearing a mask compulsory in light of the coronavirus pandemic. Offenders face a fixed penalty of HK$5,000.