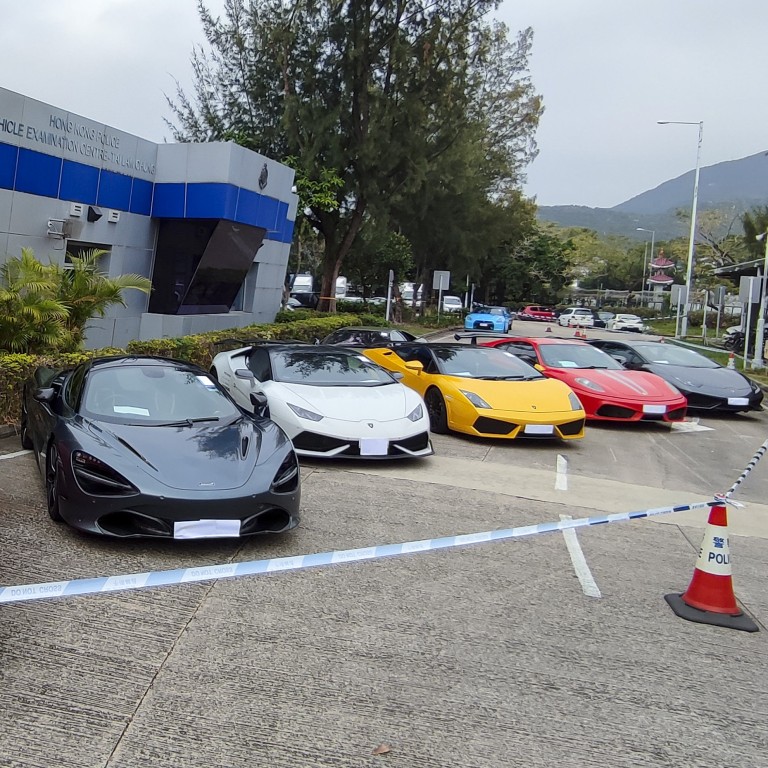 Hong Kong police arrest 10, seize 9 luxury sports cars after video of alleged illegal racing emerges
The nine men and one woman arrested include a doctor, several merchants and property agent; four Lamborghinis, a Ferrari and a Porsche among the cars seized
Eight vehicles in the video seen racing at high speed along Fanling Highway at about 7.30am on January 2, as investigation shows alleged incident involved total of 17 sports cars
Hong Kong police have arrested 10 people and impounded nine luxury sports vehicles after an online video emerged of some supercars racing on a highway.
The suspects – nine men and one woman – aged 30 to 60, included a doctor, several merchants and a property agent, a force insider said on Wednesday.
Four Lamborghinis, a Ferrari, a McLaren and a Porsche were among the nine cars impounded during the operation earlier this week.
Eight of the male suspects were accused of taking part in an illegal road race while the remaining two were detained on aiding and abetting the race that involved another eight cars, according to police. The offences carry a maximum penalty of one year in jail.
Officers began investigating the incident after a new police task force, set up to combat road racing in the New Territories North region, discovered the online video of eight sports cars racing on a highway last week.
Superintendent Ng Wing-see, of the New Territories North traffic unit, said the eight cars were captured in the video speeding along Fanling Highway near the upscale Hong Lok Yuen housing estate at about 7.30am on January 2.
Footage showed those cars switching lanes and overtaking other vehicles at high speed, Ng said, adding that investigation showed the alleged racing involved a total of 17 sports cars which drove from Kowloon to the New Territories via Lion Rock Tunnel.
A source said police were trying to establish the speed of the vehicles involved. "We believe the sports cars [captured in the video] were running beyond the speed limit of 100km/h on Fanling Highway at the time of the incident," he said.
After checking surveillance camera footage at the tunnel and gathering intelligence, officers arrested the 10 suspects and impounded nine cars in a series of raids across the city on Monday and Tuesday.
Chief Inspector Tsui Ka-wing, of the New Territories North regional crime unit, said police were still trying to track down other drivers and vehicles involved, including those who organised the race.
She said officers were trying to establish the race route and looking into whether a monetary reward was involved, adding that dashcams were seized from the nine vehicles to gather evidence.
Police set up the task force earlier this year to combat illegal racing after observing that some motorists usually emerged in groups to drive their expensive cars at high speed at night or early morning, and post related videos online.
Tsui said police would "spare no effort to crack down on illegal road racing and speeding". As part of such efforts, officers from the task force would check online websites for race videos and step up patrol of areas such Tolo Highway, Bride's Pool Road and Route Twisk, which were notorious black spots for illegal racing.
As of Wednesday afternoon, some of the suspects were being held for questioning, while others had been released on bail pending further investigation.
On October 31, two motorists were killed and five people injured when a Lamborghini and two other cars crashed on Bride's Pool Road in Tai Po.