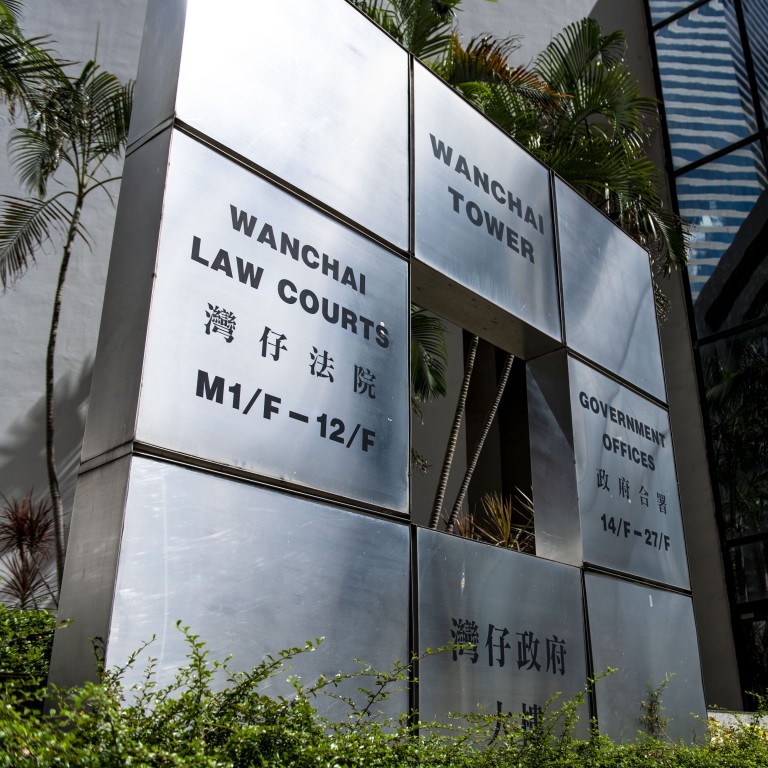 School clerk, student plead guilty to sedition over leaflet urging Hong Kong independence
However, the pair have disputed that the leaflet was aimed at inciting violence, with a judge set to pass sentence only after determining the intent behind the document
The leaflet, titled 'Hong Kong Federal Republic', contained slogans calling for the establishment of an army and 'an independent sovereign state'
A clerk and a secondary school student have pleaded guilty to conspiring to produce and distribute seditious leaflets advocating Hong Kong independence, with their sentences to be handed down after a judge determines whether the publications were intended to incite violence.
Chloe Cho Suet-sum, 45, a senior clerk at the Tsing Yi campus of the Hong Kong Institute of Vocational Education, was refused bail for a seventh time on Monday after spending seven months in remand. The other defendant, Wong Chun-wai, a 17-year-old student, was granted bail to prepare for a school exam later this week.
The pair pleaded guilty before the District Court on Monday to a charge of "conspiracy to print, publish, distribute, display or reproduce seditious publications" over the material advocating Hong Kong independence.
They admitted three seditious intentions listed under the charge: fostering hatred against the city government, exciting residents to attempt to unlawfully alter any legally established matter in Hong Kong and counselling disobedience to law or to any lawful order.
However, the defence and the prosecution have disputed whether the material was also meant to incite others to violence – another one of the seven seditious intentions listed under the Crimes Ordinance.
They court heard that the pair got to know each other at a protest in Mong Kok in May of 2020, with Cho asking Wong to design a leaflet advocating independence. She printed them in her office and delivered them to various places in December of the same year.
The leaflet, titled "Hong Kong Federal Republic", contained slogans urging the city to "establish an independent sovereign state", "regain the dominating power" and "build an army".
Citing Wong's evidence that the red paint on the leaflet signified blood, prosecutor Karen Ng Ka-yuet argued that "the natural interpretation" of the admonition to build an army was to resist the government by force.
"This form of resistance, we say, is not a peaceful means," she said. "The only irresistible inference to be drawn is to incite people to use violence or force against the central people's government or the Hong Kong government."
But counsel Steven Kwan Man-wai, who was defending Cho, disagreed, saying it was only the prosecution's "extreme interpretation or imagination".
"Resistance can be achieved by economic means, for example. That is not violence … Hongkongers have the right to persuade the central people's government, by peaceful means, to change the political structure of Hong Kong," he said.
Kwan asked judge Kwok Wai-kin – one of several jurists hand-picked by the city's leader to hear national security-related cases – to adopt the reasonable doubt standard in determining the intent behind the two-page leaflet before sentencing.
In mitigation, the defence said the conspiracy was "very unsophisticated", considering that Cho had no connection to any political organisation and only distributed 110 leaflets on the street.
Cho, who is married, was described as a "simple woman" who had worked for the Hong Kong Institute of Vocational Education for 27 years and who had received no complaints about her behaviour while remanded in custody.
Meanwhile, letters written by Wong's mother, principal, teachers and social workers described him as a "kind and naive youngster", and begged the court for leniency.
The defence also cited sedition cases locally and overseas as evidence that fines without imprisonment served as "sufficient deterrents".
In one such case in 1952, the publisher and editor of the pro-Beijing newspaper Ta Kung Pao were accused of republishing an article by a mainland Chinese publication criticising the colonial government's handling of an assembly attended by residents displaced after a fire.
A local court ultimately fined the pair a few thousand Hong Kong dollars but declined to put them in jail, the defence said.
Judge Kwok said it would take time for him to review relevant cases and reports, and adjourned the hearing to January 31.
The maximum penalty for sedition on first conviction is a fine of HK$5,000 (US$642) and two years in prison.