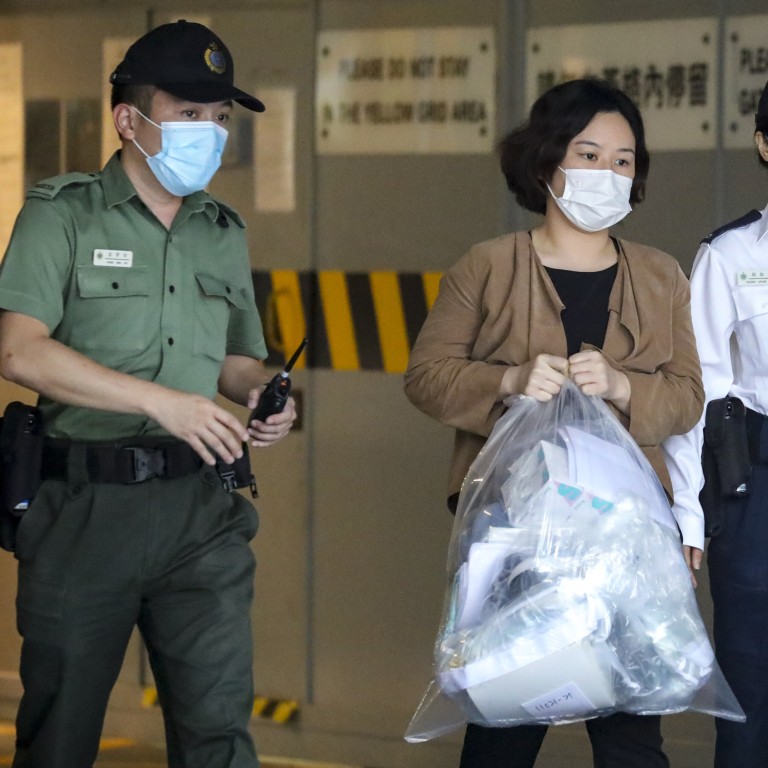 National security law: Hong Kong activist arrested on suspicion of violating bail conditions with online comments
Winnie Yu was released on bail last July after being charged with conspiracy to subvert state power over an unofficial primary election
Hospital clerk's release came with stringent conditions, including an order to refrain from all acts and speeches that could endanger national security
A Hong Kong activist hospital worker has been arrested on suspicion of violating her bail conditions by making comments online that could endanger national security, the Post has learned.
Winnie Yu Wai-ming, founder and former chairwoman of the Hospital Authority Employees Alliance, a union that emerged from the anti-government protest movement in 2019, was released on bail last July after being charged with conspiracy to subvert state power over an unofficial primary election in 2020.
She was detained when she reported back to Sha Tin Police Station on Monday afternoon, a police source said.
According to police, the 34-year-old was being held in custody and would be brought before West Kowloon Court on Tuesday afternoon.
Yu was among dozens of activists and members of the opposition camp arrested in January last year for taking part in the unofficial primary the previous July. The primary was held to pick candidates for later-postponed Legislative Council elections.
She was later charged with other opposition figures in connection with an alleged conspiracy to subvert state power.
She was granted bail on her fourth attempt last July after several months in custody. Bail was set at HK$100,000 (US$12,820) plus a HK$50,000 surety to be paid by her husband.
Yu's release came with stringent conditions as Madam Justice Esther Toh Lye-ping of the High Court imposed a travel ban and daily curfew between midnight and 6am, as well as ordering her to surrender all travel documents and report to police four times a week.
The hospital clerk was also told to refrain from all acts and speeches that could endanger national security, including taking media interviews, as well as running, organising and coordinating any elections.