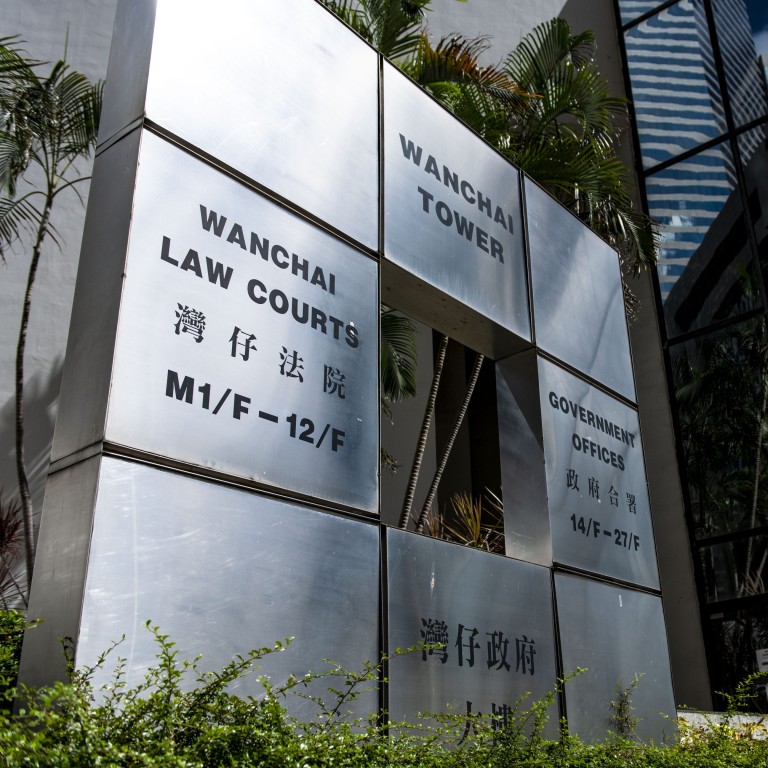 Hong Kong fugitives who tried to flee to Taiwan admit possessing petrol, other chemicals for making bombs for 2019 protests
Former MTR trainee Cheng Tsz-ho, student Liu Tsz-man and two others plead guilty to possessing articles with intent to destroy or damage property
Raw ingredients, chemicals 'enough for making 16 petrol bombs' to be used during demonstrations in 2019 found during police raid on Wan Chai flat
Two fugitives caught by the mainland Chinese coastguard in a thwarted attempt to flee to Taiwan have admitted in a Hong Kong court to possessing four litres of petrol and other chemicals for producing Molotov cocktails and thermite bombs ahead of
anti-government protests
on National Day three years ago.
Former MTR Corporation trainee Cheng Tsz-ho and student Liu Tsz-man were among five men charged in relation to the semi-finished weapons seized from a Wan Chai tenement flat in a police operation on September 30, 2019.
The pair were among 12 Hongkongers who boarded a Taiwan-bound speedboat on August 23, 2020, with a view to fleeing criminal proceedings. A Shenzhen court jailed Cheng for seven months for illegally crossing the border after a closed-door trial. Cheng was handed over to Hong Kong police in March last year after he completed the sentence on the mainland.
Salesman Tang Kai-yin, one of the organisers of the illegal trip, is among the five defendants linked to the haul in the Wan Chai flat. He is still serving a three-year jail term in a Shenzhen prison.
The five, aged 17 to 31 at the time of the offence, initially faced a joint count of possessing offensive weapons, which carries a maximum jail sentence of three years. Prosecutors later upgraded the charge to one of conspiracy to endanger life by fire with intent, which is punishable by life imprisonment.
Cheng and Liu, together with fashion designer Cheng Chun and cook Li Wai-lung, pleaded guilty before the District Court on Wednesday to a lesser count of possessing articles with intent to destroy or damage property. The offence is punishable by 10 years' imprisonment, but capped at seven years when the case is heard before a district judge.
On-fiat prosecutor Mark Wei Ho-tong said police intercepted Cheng Chun and Tang outside the flat in Kam Lok Mansion on Lockhart Road at 10.30pm on September 30, 2019, before they raided the premises with a search warrant.
Cheng Tsz-ho was found inside one of the bedrooms, whereas the remaining two suspects were arrested after trying to escape via a window.
Officers found in the flat raw ingredients for producing petrol bombs, including 22 glass bottles, 4.07 litres of petrol, 11 white towels and 14 lighters.
They also found chemicals linked to the preparation of thermite bombs, including powdered aluminium, magnesium and iron oxide. An unlicensed walkie-talkie, goggles and gas masks were also seized.
Cheng Chun admitted under caution Tang had intended to produce bombs inside the flat. He said he was there to watch the production process "out of curiosity".
Forensic analyses on Cheng Chun and Li's smartphones revealed the two had studied the composition of petrol bombs on the internet.
Police also found Telegram exchanges between Cheng Chun, Li and Tang about plans to use the incendiary devices against police during demonstrations on the coming October 1.
A government forensic scientist said the chemicals found in the flat were enough to produce 16 petrol bombs.
Judge Douglas Yau Tak-hong will hear mitigation on May 24 before passing sentence.