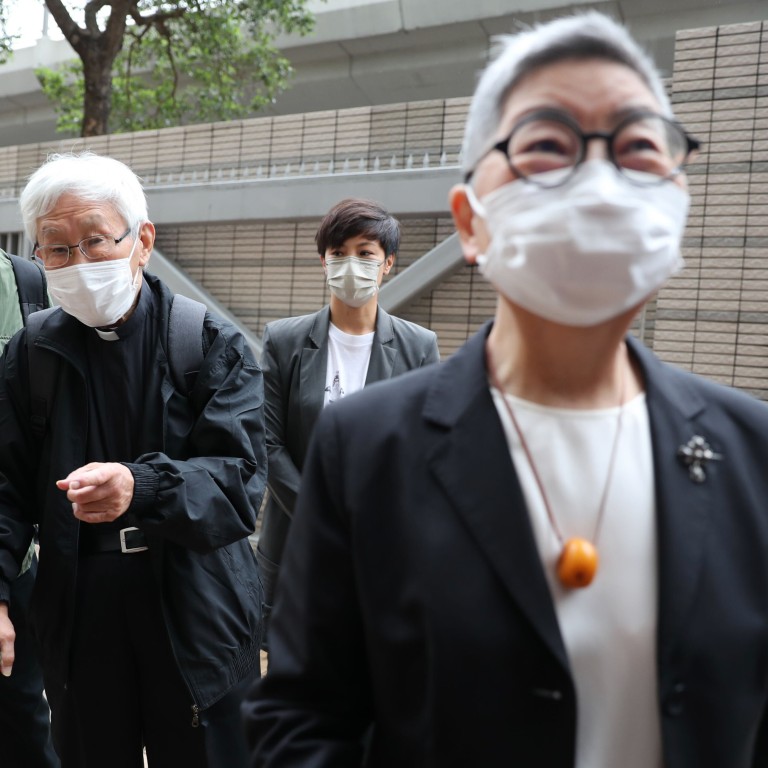 Hong Kong's Cardinal Joseph Zen, 5 other activists deny charges over alleged failure to register legal fund for protesters
Six appear before West Kowloon Court for the first time since arrest by national security police two weeks ago
Defence counsel say defendants will dispute whether the now-defunct 612 Humanitarian Relief Fund required registration under Societies Ordinance
Retired Hong Kong Catholic leader Cardinal Joseph Zen Ze-kiun and five other activists have denied charges for allegedly failing to register a legal defence fund that provided financial help to protesters facing trouble stemming from the 2019 social unrest.
The six appeared before West Kowloon Court on Tuesday morning for the first time since their arrest by national security police two weeks ago.
Defence counsel said the six would dispute whether the now-defunct 612 Humanitarian Relief Fund, set up in 2019 during the anti-government protests, required registration under the Societies Ordinance, adding that the organisation had operated in a "very open" manner for a few years before the prosecution.
The six will stand trial at the same venue for five days starting on September 19.
Zen did not respond to reporters' questions when he left court.
A European Union delegate and diplomats from Germany and Sweden were among dozens of spectators sitting in the court's public gallery during Tuesday's session.
Western governments have condemned the cardinal's arrest, while the Vatican said it was monitoring developments in the case carefully.
Officers from the police force's National Security Department earlier this month arrested Zen, singer Denise Ho Wan-see and former Lingnan University academic Hui Po-keung, as well as ex-opposition lawmakers Margaret Ng Ngoi-yee and Cyd Ho Sau-lan, who is already in jail for her role in illegal assemblies.
The five and Sze Ching-wee, the fund's secretary, all face one count of failing to apply for registration of an organisation within a specific period between July 16, 2019 and October 31 last year.
Under the ordinance, a local organisation or its branch must register with the societies officer or apply for an exemption within one month of its establishment, or else the responsible person could be fined HK$10,000 (US$1,274) upon a first conviction. Subsequent convictions risk jail terms of as long as three months.
Prosecutor Laura Ng Shuk-kuen said her team would rely on the testimonies of 17 witnesses and eight hours worth of video footage, including evidence showing fund members setting up street booths during the 2019 protests.
Senior counsel Robert Pang Yiu-hung, representing the six in Tuesday's session, said the prosecution had unnecessarily increased the amount of evidence just before the trial, adding his clients would only face a fine even if they were found guilty of the offence.
"It is a little excessive that the prosecution needs this much evidence to deal with such a simple matter," Pang said. "The fund had received donations in a very open manner for a few years since 2019."
But Principal Magistrate Peter Law Tak-chuen said prosecutors were just fulfilling their duties by showing all of their cards to their opponents before the court began examining the evidence.
Law instructed both sides to prepare a set of agreed facts before the next pretrial hearing on August 9.
All defendants except Sze were held on suspicion of colluding with foreign forces in relation to their work with the fund, but no charges were laid.
The fund announced it would close in October 2021 given "the current political environment", but stopped taking donations a month earlier after police opened an investigation into its activities for suspected breaches of the national security law.