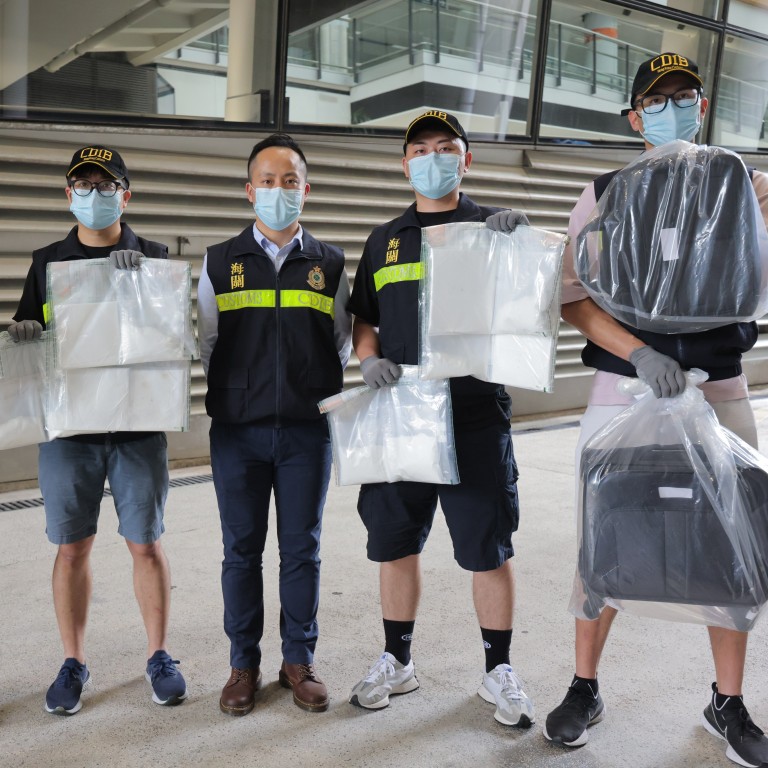 Man flying into Hong Kong from Brazil found with HK$4.6 million worth of cocaine in first arrest of air traveller for drug trafficking in 17 months
Suspect, 63, stopped for inspection at airport by customs officers, who found nine slabs of suspected cocaine hidden in false compartments in briefcase, suitcase
Initial investigation suggests man was paid US$1,000 to work as drug courier; most recent drug trafficking case uncovered at airport was in December 2020
A 63-year-old man flying into Hong Kong from Brazil has become the first air traveller arrested over drug trafficking in the past 17 months after he was found with HK$4.6 million (US$586,030) worth of illegal narcotics in his luggage.
The suspect flew into the city via Doha in Qatar from Sao Paulo in Brazil on Monday and was stopped for inspection of his suitcase and briefcase at the arrival hall of Hong Kong International Airport, according to the Customs and Excise Department.
"Our suspicions were aroused because the two items were relatively heavy and an X-ray examination showed suspicious images," Senior Inspector Chow Wing-cheong of customs' drug investigation bureau said on Tuesday.
Officers found nine false compartments in the briefcase and suitcase that stored nine slabs of suspected cocaine, Chow added.
"The nine slabs of suspected cocaine weigh 4.2kg in total. The haul has an estimated street value of more than HK$4.6 million," he said, adding that he believed the drug was intended for the local market.
An initial investigation suggested the suspect was paid US$1,000 to work as a drug courier, Chow said.
As of Tuesday afternoon, the man, who claimed he was a merchant, was still being held for questioning and had not been charged. In Hong Kong, trafficking in a dangerous drug is punishable by up to life in prison and a HK$5 million fine.
According to the senior inspector, it was the first arrest of an air traveller for drug trafficking at the airport since January 2021. The previous case was detected on December 24, 2020.
Chow said it was possible drug syndicates had resumed the use of couriers to traffic illegal narcotics as the coronavirus pandemic around the world was easing and travel restrictions in some countries had been cancelled.
Frontline customs officers would not let their guard down and continue their strategy of combating drug trafficking at its source, he added.
Seizures of five major illegal drugs in the city – cocaine, cannabis, crystal meth, heroin and ketamine – more than doubled to 10,627kg in 2021 from 4,678kg the year before.
Local authorities confiscated 2,895kg of cocaine last year, up 128 per cent from 1,269kg in 2020.