Crime
Get more with myNEWS
A personalised news feed of stories that matter to you
Learn more
Hong Kong, Macau police arrest 22 over money-laundering syndicate behind HK$2.2 billion in suspected crime proceeds
Police arrest four alleged core syndicate members during joint operation code-named 'Deferscheme' in series of raids
HK$84 million linked to 32 cases of deception, including 15 phone scams, six investment frauds and five internet love swindles
Police in Hong Kong and Macau have arrested 22 people in a crackdown on a cross-border syndicate that laundered HK$2.2 billion (US$280 million) in suspected crime proceeds through 181 bank accounts in 18 months.
According to Hong Kong police, HK$84 million was linked to 32 cases of deception reported in the city, including 15 phone scams, six investment frauds and five internet love swindles.
During the joint operation, code-named "Deferscheme", 17 of the suspects were rounded up in a series of raids in Hong Kong on Tuesday. In Macau, authorities picked up another five people on the same day.
Four of those arrested in Hong Kong were allegedly core syndicate members, while 13 were suspected holders of bank accounts used to handle illegal proceeds, according to Senior Inspector Chan Hok-lun of the force's financial intelligence and investigation bureau.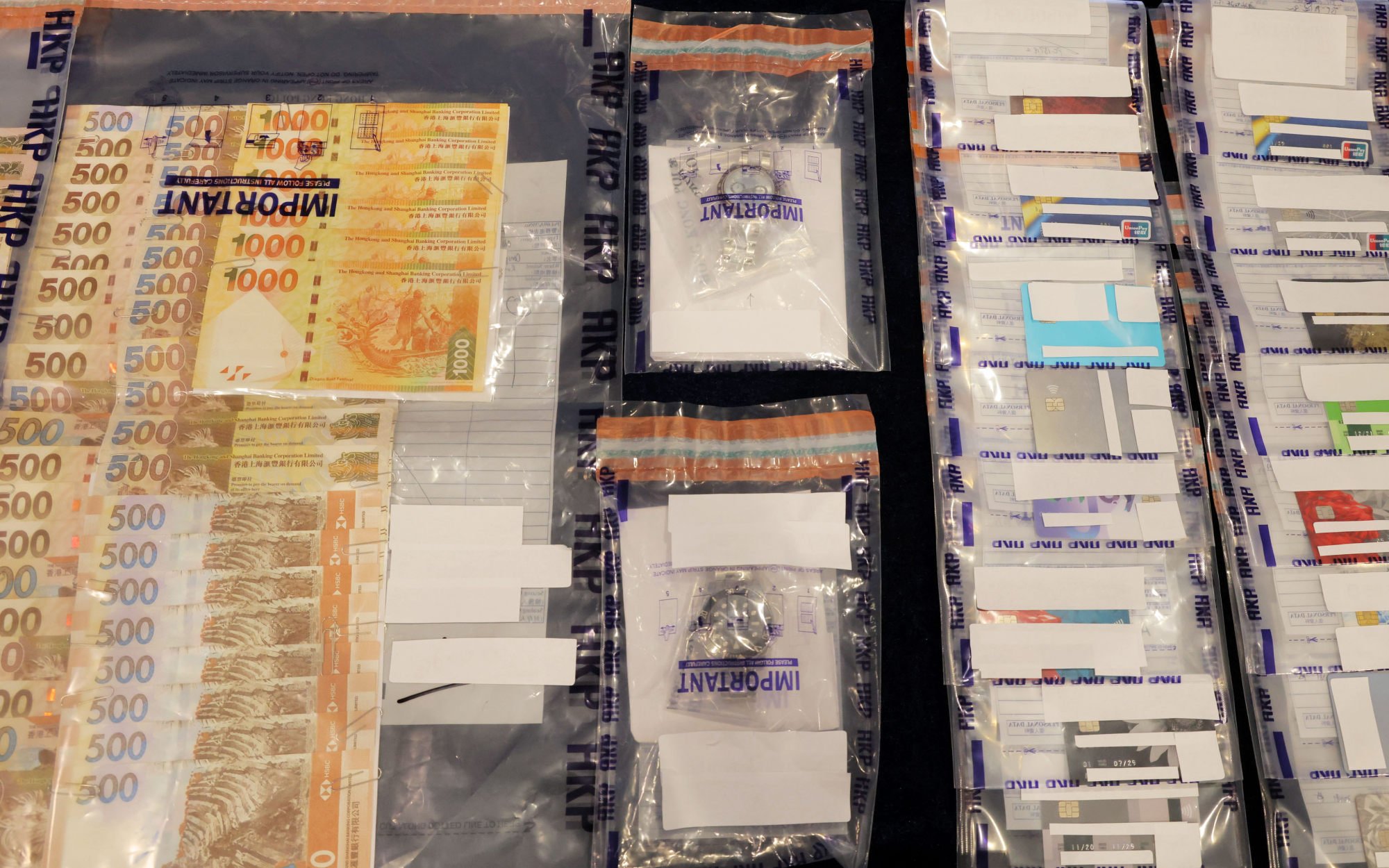 Chan said the investigation suggested relatives, lovers, spouses, ex-colleagues or former schoolmates of the core members set up the accounts in exchange for payments. Some of the main members had also set up accounts for the syndicate.
"They were paid between HK$10,000 and HK$60,000 each. They received more money if they set up more accounts. One of them had set up 12 bank accounts." Chan said.
He added that the holders were instructed to surrender their personal information and account details, such as passwords, as well as bank cards to the core members.
Chief Inspector Cheng Sze-wai of the same bureau said the money involved was moved through bank accounts to create layers of transactions and make it more difficult for police to track down the funds.
"To escape detection, core members of the syndicate then went to Macau and used bank cards to withdraw the money through automated teller machines from the accounts involved," he said.
Cheng revealed the investigation showed the syndicate had laundered HK$2.2 billion in illegal proceeds through 181 bank accounts between October of 2020 and March of 2022.
He said part of the money was linked to 32 cases of deception in Hong Kong in which victims lost a total of HK$84 million between September of 2021 and March of 2022. According to the force, the victims, aged from 25 to 67, were each swindled out of HK$20,000 to HK14 million.
Local police began investigating the money-laundering syndicate controlled by Hong Kong and Macau residents after noticing illegal activities.
After gathering evidence, officers swooped into action and detained 11 men and six women in Kowloon and the New Territories on Tuesday. The suspects included housewives, construction workers and clerks.
During the operation, police seized more than HK$300,000 in cash and more than 50 bank cards.
The suspects, aged from 25 to 60, were detained on suspicion of conspiracy to launder money – an offence punishable by up to 14 years in jail and a HK$5 million fine.
As of Wednesday afternoon, they were still being held for questioning and had not been charged. Police said an active investigation was under way and further arrests were possible.
In Macau, another five people were arrested for the same offence on Tuesday. They are two holders of Hong Kong identity cards, two Macau residents and one mainland Chinese. Hong Kong police said they were suspected core members of the syndicate.
The arrests marked the third money-laundering syndicate uncovered by local authorities in four weeks.
On May 11 and 12, police arrested 17 people and smashed a syndicate believed to have laundered HK$97 million over the past 16 months.
On April 28, customs officers arrested four alleged core members of a similar group, suspected to have funnelled HK$600 million in illegal proceeds through more than 750 bank accounts over the past two years.