Crime
Get more with myNEWS
A personalised news feed of stories that matter to you
Learn more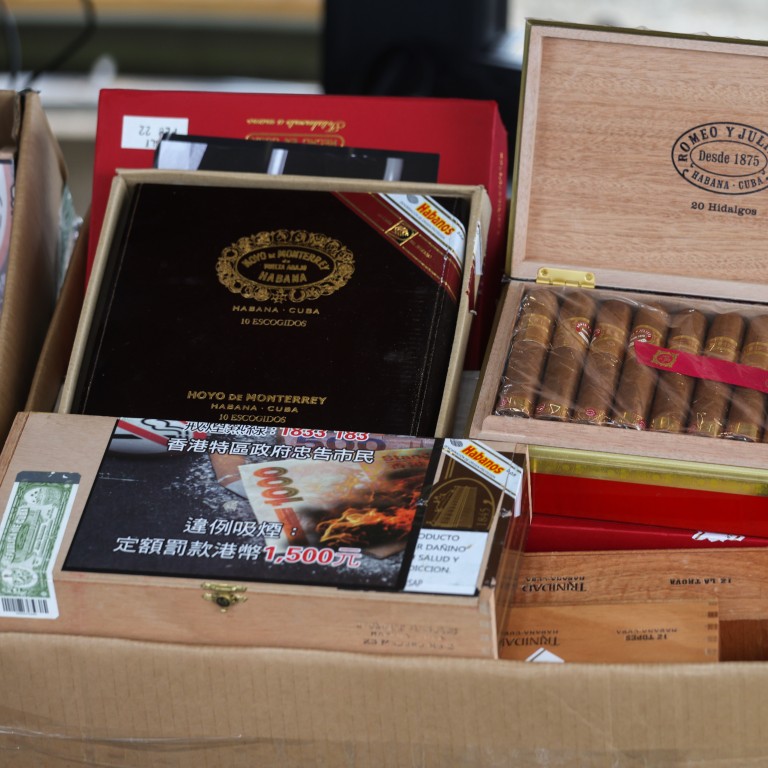 Hong Kong customs officers seize contraband, including dried seahorses and cigars, worth HK$50 million from smugglers' vessel
Syndicates change tactics in attempt to evade enhanced patrols and enforcement
Six mainland seamen arrested, but more could follow, says officer
Hong Kong customs officers have seized HK$50 million (US$6.3 million) worth of contraband products, ranging from dried endangered seahorses to cigars, and arrested six men after intercepting a mainland China-bound vessel near the maritime boundary in the city's northwestern waters.
Superintendent Cheng Tak-hei of customs' syndicate crimes investigation bureau said on Tuesday that the raid was part of the enhanced enforcement against cross-border sea smugglers attempting to ship contraband from the city in mainland-registered cargo vessels, also known as river trade vessels, in recent months.
Last month, his officers seized HK$160 million worth of high-value electronic products destined for the mainland after intercepting a Guangzhou-bound river trade vessel in the western waters of Hong Kong. The smugglers would have avoided mainland tariffs worth HK$90 million.
Cheng said stringent enforcement actions by Hong Kong and mainland authorities had deterred smugglers from using speedboats.
"We have noticed [cross-border] smuggling syndicates have changed tactics and used river trade vessels instead of speedboats in their illegal operations in an attempt to evade our detection," he said.
Customs officers had enhanced the gathering of intelligence and identified a river trade vessel which entered Hong Kong waters from the mainland on Sunday.
On the same day, a shipping container believed to have carried cargo was found loaded on board the vessel in the Kwai Tsing district. About an hour later, the container, which was empty, was unloaded from the boat.
"This aroused our suspicion and we then placed it under surveillance round the clock," Cheng said.
As the vessel was about to leave Hong Kong at the city's northwestern waters around lunchtime on Monday, customs' boats were deployed to intercept it near the sea boundary.
Aboard the vessel, three containers carrying tyres were placed on the same side on its deck while another six empty containers were left on the other side. Six mainland men were on board.
Cheng said it was not common to put all the loaded containers on the same side because the vessel would be unbalanced.
He said the vessel was taken to the Tuen Mun River Trade Terminal, where officers carried out a thorough search.
On the deck of the vessel, an opening leading to the ballast tank was found when the empty containers were removed.
Inside the tank was a large quantity of high-valued dried seafood, electronic goods and cosmetic products. The goods included endangered seahorses, bird nests, sea cucumber and shark fins along with cigars, computer processors (CPU) and RAM.
The six mainland seamen, aged between 30 and 40 were detained on suspicion of attempting to export unmanifested cargo – an offence punishable by up to seven years in jail and a HK$2 million fine. As of Tuesday afternoon, they were still being held for questioning.
Cheng said the haul had an estimated street value of HK$50 million, adding that an initial investigation showed the consignment was bound for Shekou.
He said an active investigation was still under way and further arrests were possible.
In the first five months of this year, customs officers confiscated HK$380 million worth of contraband products in 25 sea-smuggling cases. There were 42 cases with the seizure of HK$370 million worth of illicit goods in the same period last year.
The Post earlier reported mainland authorities had tasked at least two coastguard gunboats with regularly patrolling the waters near Hong Kong since February, as part of efforts to deter smugglers and discourage people from sneaking across the border.
Rampant smuggling activities around the middle of last year involved more than 100 speedboats that usually gathered under the Hong Kong-Zhuhai-Macau Bridge in mainland waters west of Hong Kong every night to wait for their assignments. The boats are no longer seen in the area because of the presence of the gunboats and enhanced enforcement.