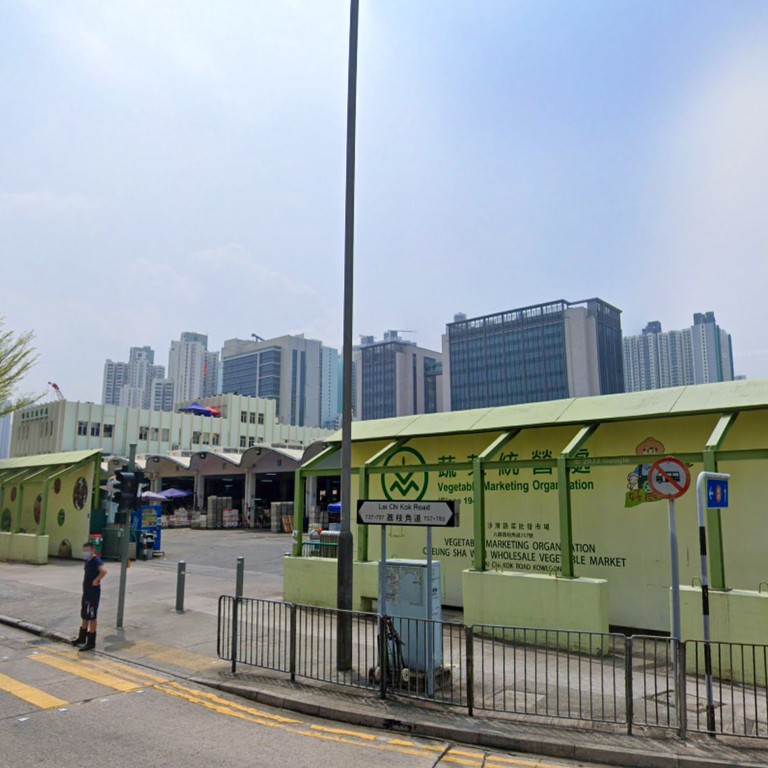 Hong Kong men plead guilty to manslaughter after attack on woman to steal her gold necklace proved fatal
The woman suffered a 9cm fracture on her skull and bleeding in the brain, and died five days later
One of the assailants sold the gold necklace for HK$12,400 to repay drug-related debts
Two jobless Hong Kong men have pleaded guilty to manslaughter after hitting a woman on the head and snatching her gold necklace worth HK$15,000 (US$1,912) so one of the assailants could repay drug-related debts.
Chan Lai-ming, 58, and Lo Kin-keung, 59, appeared before the High Court on Thursday over the offence they committed in broad daylight outside Cheung Sha Wan Wholesale Vegetable Market on May 24, 2020.
The court heard the victim, 55-year-old kitchen worker Lian Lifen, was on her way to her job when she was mugged by Chan at around 10.20am, with Lo offering support.
Lian went to work anyway at Fairwood restaurant in Pacifica shopping centre in Cheung Sha Wan without telling anybody about the crime, but she was nonetheless forced to take the day off after feeling unwell.
Lian was sent to hospital shortly after noon, after her son realised her head was swollen and bleeding. He believed at the time his mother had been hit by an object falling from height.
It was not until the son removed Lian's accessories ahead of consultation that he noticed the necklace with a heart pendant, which he gave her as a birthday present the previous year, was missing.
Initial examinations revealed Lian had suffered a fractured skull and bleeding in the brain. She never recovered and died five days later.
A police investigation revealed the two defendants briefly met in Sham Shui Po on the morning concerned, before separately roaming the neighbourhood to look for potential targets.
Chan began tailing Lian after noticing she was wearing a necklace, and Lo followed the pair from a distance to provide backup.
CCTV footage collected from the vicinity of the wholesale market did not capture the fatal blow, but autopsy findings showed Lian sustained a 9cm linear fracture on the back of her head, which was compatible with trauma inflicted by "a hard unyielding surface".
Chan denied using any weapons against Lian in the mugging, while Lo claimed he did not witness the assault.
Chan told police he sold the necklace at HK$12,400 at a jewellery store in Kowloon Bay an hour after the crime. He repaid the HK$10,000 incurred in debts after buying Ice from drug dealers, gave HK$2,000 to Lo as a reward and spent the remainder on food.
The defendants pleaded guilty on Thursday to a joint count of manslaughter by way of an unlawful and dangerous act.
Prosecutor Bobby Cheung Man-kwan said that both defendants were liable for the killing based on the legal doctrine of joint enterprise.
"The unlawful and dangerous act underlying the manslaughter [charge] is not merely snatching, but snatching by [the defendants] acting in joint enterprise which is in law robbery," he said.
Mr Justice Joseph Yau Chi-lap will pass sentence next Thursday. Manslaughter is punishable by up to life in jail.