John Lee
Get more with myNEWS
A personalised news feed of stories that matter to you
Learn more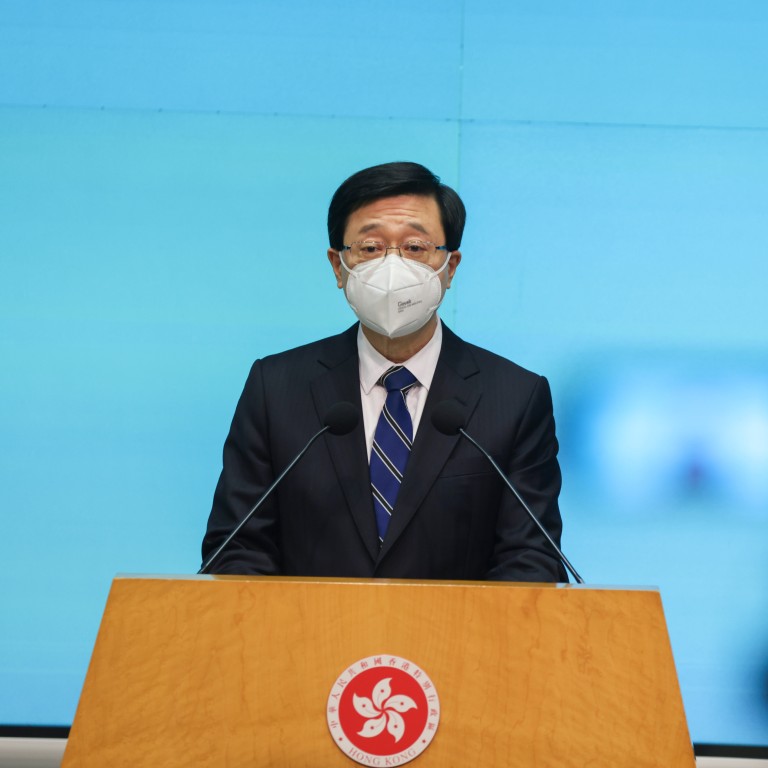 Incoming Hong Kong leader John Lee vows US sanctions will not interfere with safeguarding national security
John Lee says sanctions imposed by 'some bullying countries' will not deter him and his government from their 'must-fulfil' responsibility
Lee was among 11 current and former Chinese officials sanctioned by White House in 2020 over national security law
Incoming Hong Kong leader
John Lee Ka-chiu
has vowed sanctions imposed by "some bullying countries" will not deter him and his government from assuming the "must-fulfil" responsibility of safeguarding national security.
Lee on Sunday also said he would not bother to lobby for the penalties to be dropped when he assumes office on July 1.
The chief executive-designate and at least 14 members of his governing team highlighted the importance of safeguarding national security, with the incoming justice minister Paul Lam Ting-kwok stressing that it was the city's "fundamental mission" under the Chinese constitution and the Basic Law, the city's mini-constitution.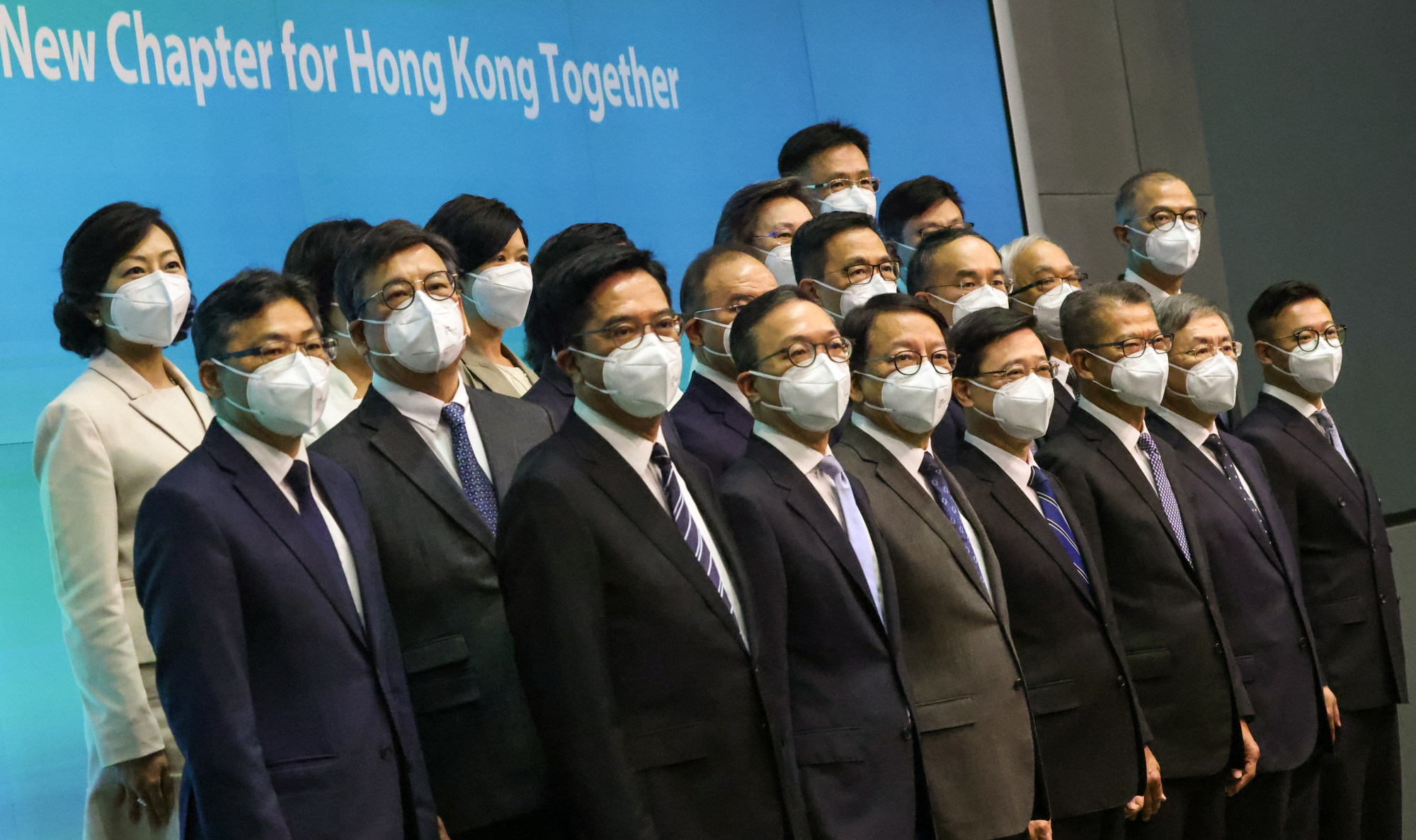 "National security is the duty and responsibility of every single Chinese," Lee said. "Safeguarding national security is perfectly justified and a must-fulfil responsibility of this term of government and those in the future.
"Some bullying countries have hoped to frighten our officials by using sanctions, especially when their plots to threaten our national security have failed because of our measures. It only makes us more determined to assume the responsibility of protecting national security.
"I only have one goal – which is also shared by my team. That is to fulfil our responsibility to our country and to our country's sovereignty, security and development interest," Lee said.
Lee made the remarks as he introduced the line-up of his governing team on Sunday, in which a number of officials with disciplinary service or security background had been picked to fill senior posts, sparking speculations that the new administration would put more emphasis on national security.
In August 2020, the White House imposed economic sanctions on 11 current and former Chinese officials, including Hong Kong Chief Executive Carrie Lam Cheng Yuet-ngor and then security minister Lee, over what Washington claimed were their roles in "undermining Hong Kong's autonomy" following the adoption of the national security law.
Beijing imposed the law on Hong Kong in June 2020 outlawing subversion, secession, terrorism and colluding with foreign forces. But under Article 23 of the Basic Law, Hong Kong is still required to enact its own national security legislation prohibiting treason, subversion and theft of state secrets, as well as banning foreign groups from conducting political activities in the city and local political bodies from establishing ties with foreign political organisations.
Lam, the incoming secretary for justice, dismissed concerns that the city's rule of law had been hurt by the introduction of the national security law, noting a rule of law index compiled by the World Justice Project last year ranked Hong Kong 19th among 139 countries and regions, while the United States came 27th.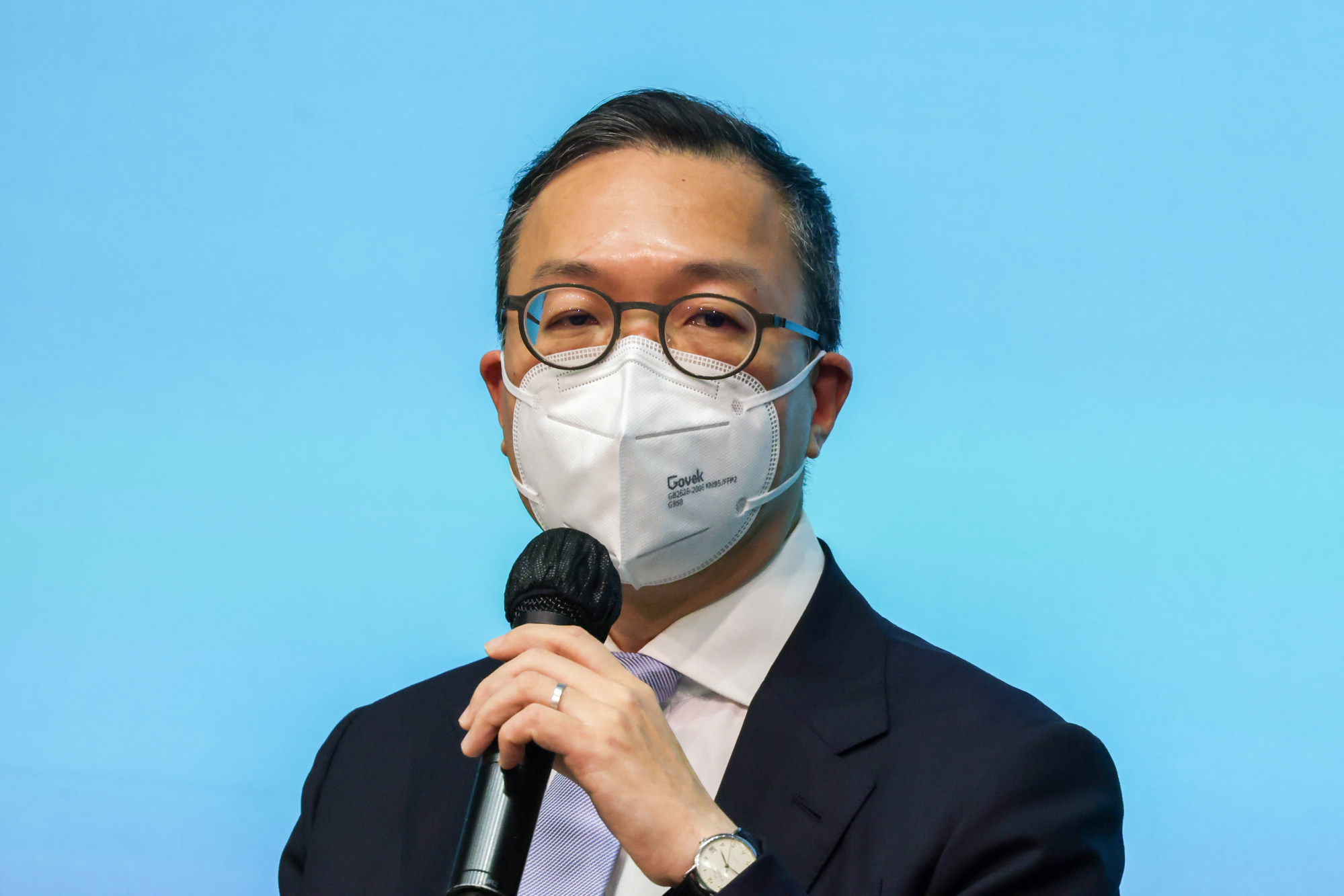 Lam also stressed the importance of safeguarding national security, saying it was the city's "fundamental mission" under the Chinese constitution and the Basic Law, and that it helped the city remain stable, which made it possible for the city to tackle other social problems.
"It is a prerequisite of allowing the steady and successful implementation of 'one country two systems'," he said, referring to the formula that governs relations between Hong Kong and the central government.
Lam, who was Bar Association chairman in 2017, was once a critic of the government's plan to set up a joint border checkpoint with mainland China at a high-speed rail terminus in West Kowloon. He argued that the arrangement could be a breach of the Basic Law as it would allow mainland laws to be enforced in Hong Kong.
Lam on Sunday conceded he was wrong but argued: "The concept was very new back then. It would be natural that different concerns would arise. The co-location [row] was in 2017 or 2018. Looking back, it has been proven that the co-location arrangement is not only lawful but also is in the best interest of Hong Kong."
Paul Chan Mo-po and Chris Tang Ping-keung, who have stayed on as financial secretary and security minister, and incoming deputy chief secretary Cheuk Wing-hing also stressed the importance of safeguarding national security.
"I will hold firm to the bottom line of national security and financial security," Chan said.
Tang pledged to continue his work safeguarding national security and Hong Kong's safety during his next term of office.
"Only in a safe and stable environment can residents live and work in peace, and the economy, as well as the people's livelihood, be further developed," he said.
Tang added that police would continue their work safeguarding law and order and protecting the public.
Lee maintained his team had a diverse background, with different networks, which would allow the government to take into account different views when formulating policies. He added that he had picked his cabinet members based on their ability, experience and knowledge.
Former immigration chief Eric Chan Kwok-ki was picked to be the next chief secretary, the city's No 2 official. The incumbent constitutional minister Erick Tsang Kwok-wai, who was also a former immigration director, will stay on.
Lee, Chan, Tang, and Tsang were among the Hong Kong officials sanctioned in August 2020.
The incumbent permanent secretary for security Carol Yip Man-kuen will serve the new government as the director of Lee's office.