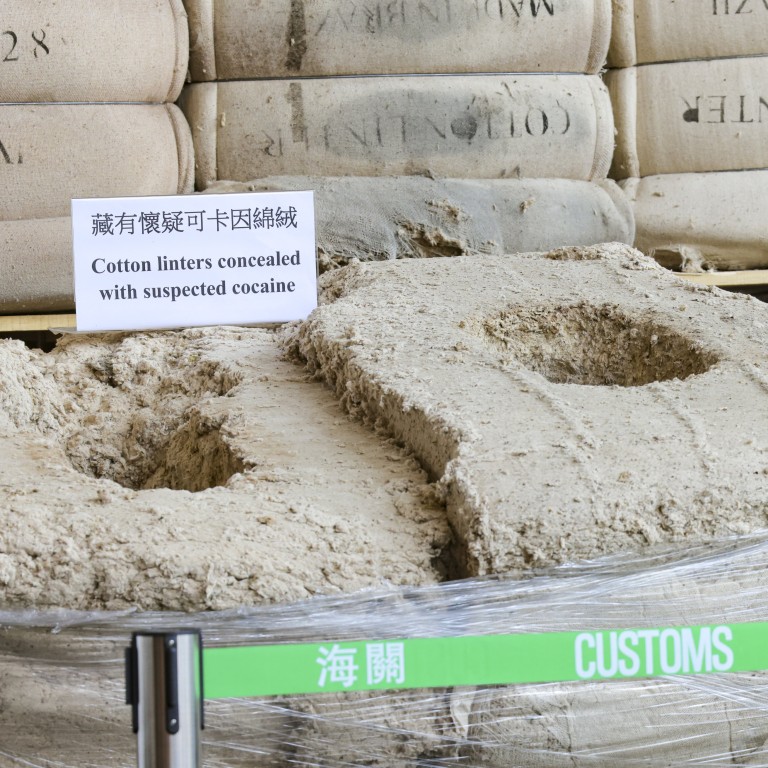 Hong Kong customs seizes cocaine worth HK$14 million and arrests 3 men after inspecting seaborne container
Manhunt under way for director of local trading company listed as recipient of shipment
Container singled out after X-ray detects suspicious objects
Hong Kong customs officers have arrested three men after confiscating HK$14 million (US$1.8 million) worth of cocaine hidden in a seaborne container that arrived from South America.
A citywide manhunt for the director of a local trading company, which was listed as the recipient of the shipment, was under way, authorities said on Thursday.
The container, declared to be carrying more than 100 bales of cotton linters, arrived from Brazil earlier this month. Each bale weighed about 200kg (441lbs).
It was selected for inspection because the trading company was set up late last year and had no history of importing or exporting goods from overseas, according to the Customs and Excise Department.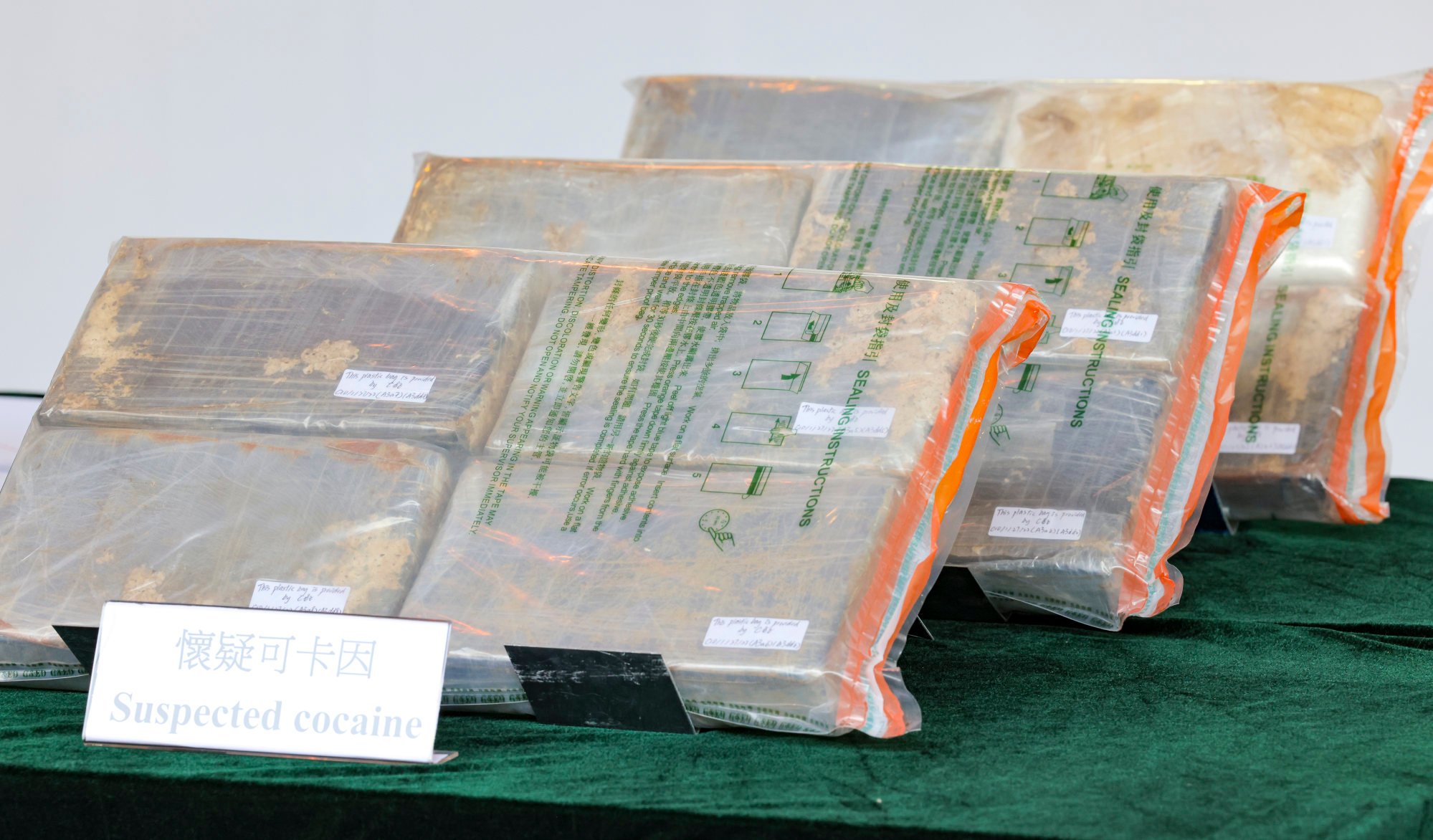 Officers decided to open the container for inspection at the Kwai Chung Customs cargo examination pound on Friday because suspicious images were found in an X-ray examination.
"Fifteen slabs of suspected cocaine, weighing 16.5kg in total, were found concealed in two bales of cotton linters. The haul has an estimated street value of HK$14 million," Inspector Chan Kit-lun of customs' ports and maritime command said.
Two drivers aged 37 and 62, the employees of a transport company, were arrested on the same day when they came to pick up the consignment.
Also on the same day, customs officers posing as transport workers carried out a controlled delivery of the consignment to a warehouse in Mai Po, where a 49-year-old man, who is the director of a logistics company, was arrested.
Senior Inspector Ho Ming-wai from customs' drug investigation bureau said the third suspect was authorised by the recipient to store the consignment in the city.
He said that evidence suggested the illegal drug was not for local consumption and it was destined for overseas, adding the investigation was continuing.
The three suspects were released on bail, pending further investigation. None of them have been charged.
In Hong Kong, trafficking in a dangerous drug is punishable by life in prison and a HK$5 million fine.
"During the coronavirus pandemic, drug trafficking syndicates tried to mix narcotics with general cargo and used different concealment methods in an effort to avoid detection," Ho said.
He stressed Hong Kong customs would spare no effort and continue to adopt various strategies to combat drug-trafficking activities.
In the first six months of this year, authorities confiscated 492kg of cocaine, down 62.7 per cent from 1,320kg in the same period of 2021. Last year, 2,895kg of the substance was seized, up 128 per cent from 1,269kg in 2020.