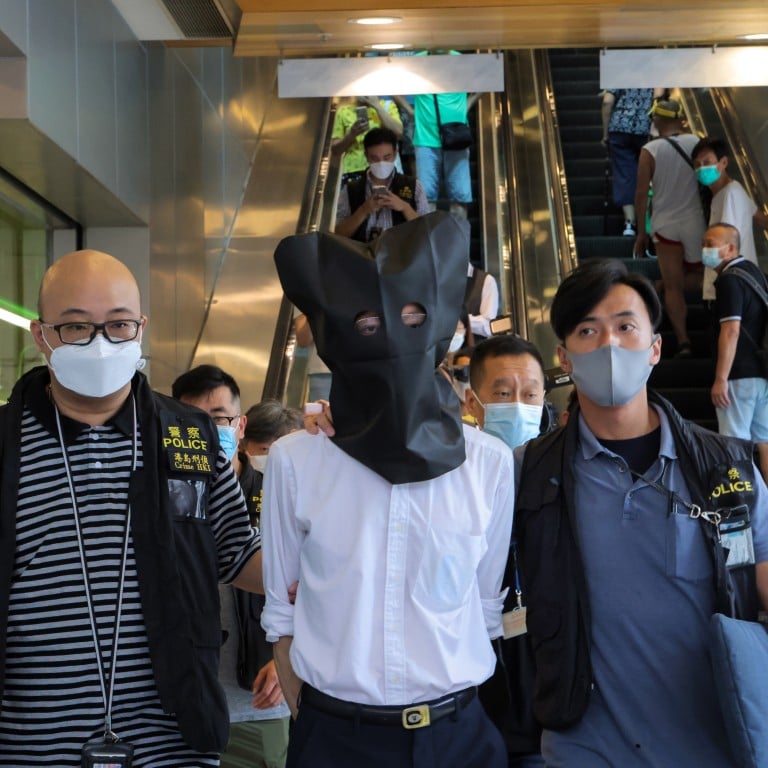 Hong Kong health minister blasts alleged fraudulent issuing of Covid vaccination exemptions; 3 more Hong Kong doctors arrested
Lo Chung-mau vows that any abuses of Covid jab exemption system will not be tolerated and promises criminal, professional investigations
Latest crackdowns come after force detains 76-year-old doctor, accused of charging undercover officers HK$4,000 per certificate
Hong Kong's health minister has expressed "deep disappointment" and promised criminal and professional investigations after three more doctors were arrested on suspicion of illegally issuing Covid-19 vaccination exemption certificates, which brought the number of people detained on similar charges this month to five.
Executive Council member and former health minister Ko Wing-man, medical sector lawmaker David Lam Lam Tzit-yuen and 10 local doctors' organisations issued a condemnation of abuse of the jab exemption system a day before the latest crackdown.
Secretary for Health Lo Chung-mau said at a press briefing on Thursday: "I am deeply disappointed in the alleged violation of the professional code, and as a doctor myself, I hope our colleagues can comply with the rules so as to gain the trust of the public."
"Professionals should abide strictly by our professional codes, and follow clinical judgments … For those who have really violated their professional code, or even criminal law, I think the whole society should condemn that," he said, adding: "I know that the police have already begun investigations and if necessary, the Medical Council will also follow up with appropriate steps."
Police on Thursday morning detained the three general practitioners – two men and a woman – in separate raids in Chai Wan, Yuen Long and Tung Chung.
Officers also arrested eight patients of a doctor who was on Tuesday night apprehended along with three of his female assistants. The practitioner, 76, was accused of charging undercover officers HK$4,000 (US$510) each for the exemption certificates without proper medical diagnosis.
The doctor was later charged with three counts of accessing computers with dishonest intent. He will appear in Kowloon City Court on Friday morning. His three employees were released on bail and must report back to police next month.
The three doctors in Thursday's arrests were detained on suspicion of conspiracy to defraud – an offence punishable by up to 14 years in jail under the Crimes Ordinance. Two of them were picked up at their clinics, while the third, the woman, was escorted from her home to her practice in Tin Shui Wai.
The 59-year-old general practitioner arrested in Chai Wan is alleged to have issued more than 6,600 exemption certificates from February to September this year, charging each patient HK$3,000, acting Superintendent Lo Yin-lam of the Hong Kong Island regional crime unit said.
The GP is alleged to have signed more than 3,000 exemption certificates in one month at the peak, Lo said, adding that "if he didn't take any day off, he had to give out more than 100 certificates in a day, which is definitely an odd figure".
Police said the other two doctors – a woman, 51, and a man, 62 – with clinics in Tin Shui Wai and Yuen Long, are alleged to have issued more than 1,300 certificates each from February to September and charged each patient between HK$350 and HK$700.
Police believe the trio had not followed guidelines from the Department of Health and not examined patients' medical records before issuing exemptions.
Officers separately arrested three men and five women on suspicion of conspiracy to defraud.
Police confirmed they were patients of the 76-year-old doctor. The practitioner is said to have issued about 200 exemption certificates a day over the past three months.
Ko, Lam and the medical workers' groups said in their Wednesday statement: "We are deeply disturbed and concerned about the alleged involvement of the doctors. Such behaviour seriously deviates from morality and the responsibilities of medical staff.
"The perpetrators should not be qualified to practise medicine."
They also called on residents to get vaccinated, saying that only a high inoculation uptake would provide a viable basis for the safe reopening of society and the lifting of travel restrictions.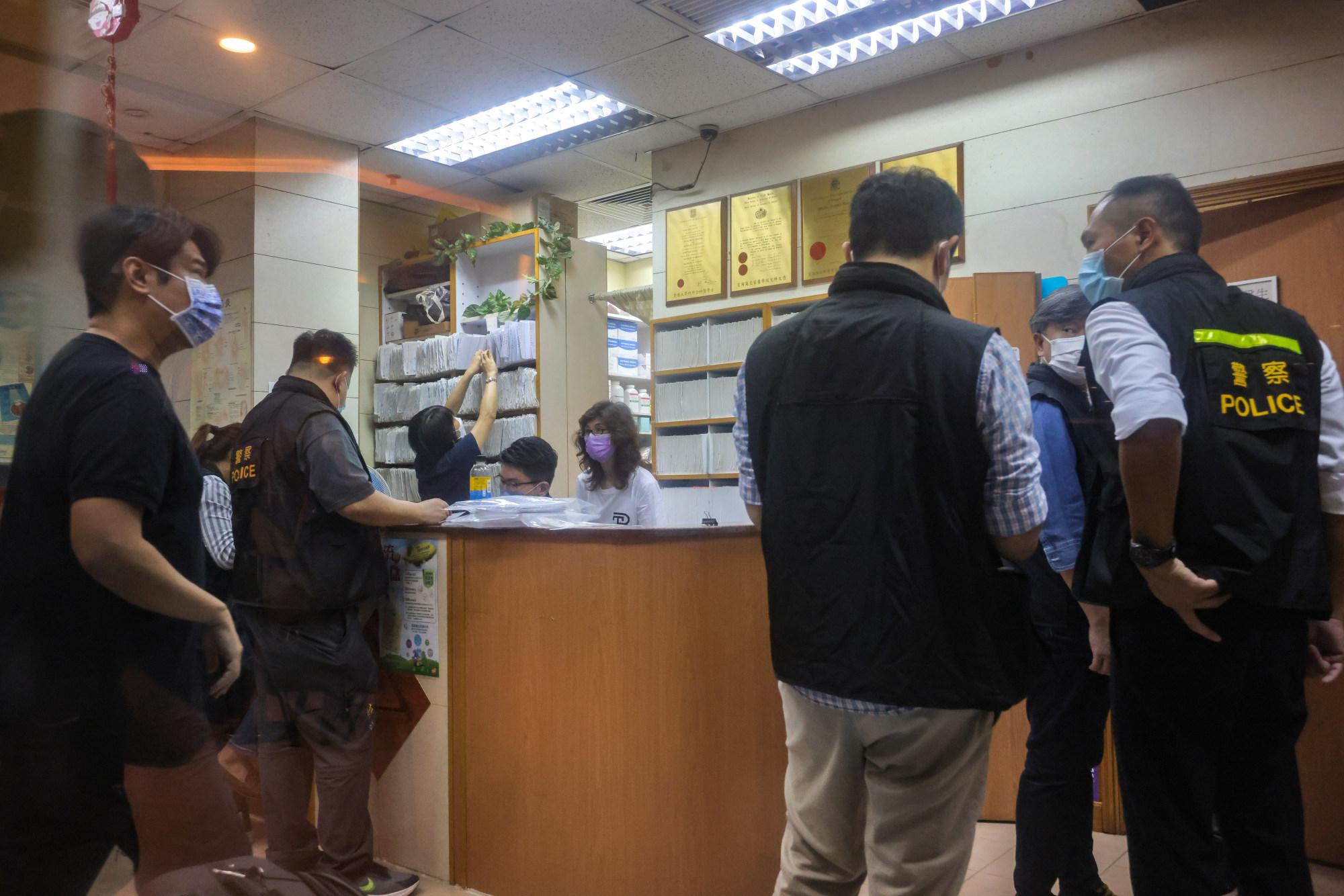 Dr Annie Choi Suk-mui, 64, whose clinic is in Yuen Long, was arrested on September 5 for allegedly issuing exemption certificates without proper diagnoses.
Police on Thursday said it was alleged that she had issued more than 14,300 exemption certificates between February and September.
A total of 14 of her patients were also arrested on suspicion of conspiracy to defraud between September 7 and 14.
The latest arrests on Thursday were made less than 24 hours after Chief Secretary Eric Chan Kwok-ki, the city's No 2 official, condemned unscrupulous medical staff who put financial gains first, and promised the government would hold them legally liable.
"It is a pity that some mercenary medical practitioners place personal interests above that of the whole society," Chan wrote on social media on Wednesday.
The chief secretary also said he had ordered the Security Bureau to track down people who had used fake certificates.
"Their abuse of exemption certificates will undoubtedly contribute to the spread of the virus, endanger public health and indirectly hinder society's recovery," Chan said.
People who are medically unsuitable for coronavirus vaccination must obtain an exemption certificate from a doctor.
The Department of Health earlier set out guidelines for private practitioners, listing reasons people would be medically unsuitable for the two vaccines available in Hong Kong, Sinovac and BioNTech.
The guidelines said that doctors should make clinical judgments in line with the code of professional conduct and the relevant government instructions when they decided if patients qualified for vaccination exemption.
Additional reporting by Ezra Cheung.