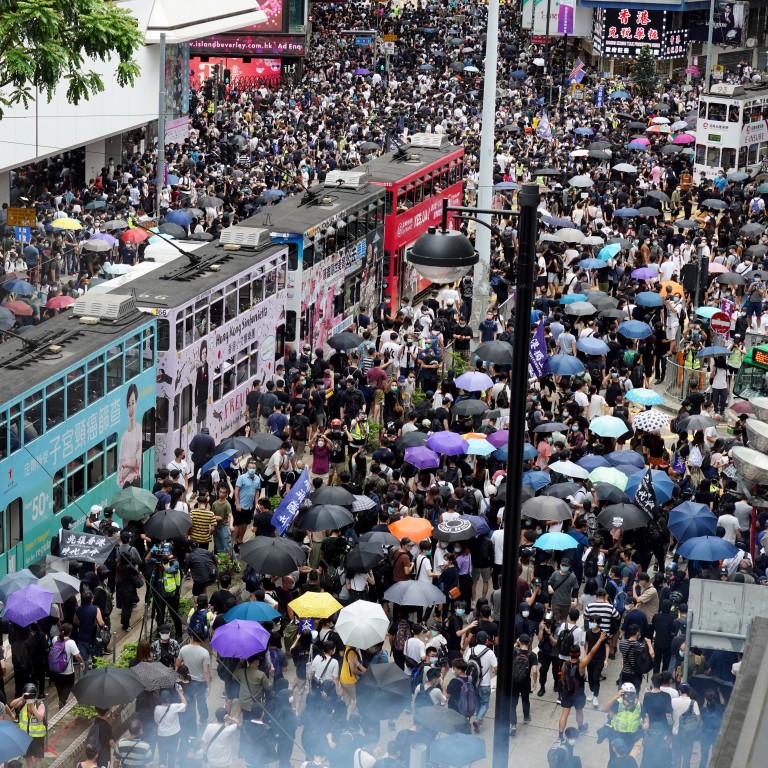 3 men plead guilty to attacking Hong Kong lawyer during demonstration against national security law in 2020
Lawyer who called out protesters for vandalising a store was assaulted and spent three days in hospital
Fourth suspect who denied charges will go on trial from Wednesday
Three men have pleaded guilty to attacking a Hong Kong lawyer who denounced protesters vandalising property during a demonstration against Beijing's imposition of a national security law on the city two years ago.
The trio were among four suspects appearing in the District Court on Monday on charges arising from the violence in Causeway Bay on May 24, 2020.
Yue Wai-lun, 27, Cheng Hok-ming, 25, and Owen Wong Ho-wan, 17, admitted joining a dozen masked men in the assault against Chan Tze-chin, a partner at Cheung & Liu Solicitors. The remaining defendant, 32-year-old truck driver Tong Kin-pong, denied the allegation.
The court heard thousands of protesters took part in an unauthorised rally on Hong Kong Island that afternoon to register their discontent with proposed national security legislation and a national anthem bill put forward by the local administration.
Some participants erected roadblocks, damaged and set fire to public facilities along the protest route from Causeway Bay's Sogo department store to the Southorn Playground in Wan Chai.
Chan, who was 40 at the time, condemned protesters for defacing a fashion store on Leighton Road when he walked past the area at around 3.25pm.
Just as the lawyer was about to leave, a group of masked men charged towards him and hit him with hard objects, with some warning they would beat him to death if he called police.
The assault continued along a 100-metre path, as the victim struggled to break away from his attackers. At one point, around 15 assailants besieged Chan and punched his head and torso, kicked him and hit him with umbrellas. Some attempted to throw a metre-long metal road sign at the lawyer but missed.
Chan collapsed to the ground with his face bloodied when he finally received help from staff at the South China Athletic Association, some 250 metres away from where he was last attacked.
The lawyer spent three days in hospital for lacerations to the scalp, forehead, right ear, chin, left hand and left leg, as well as bruises on his back.
Video footage of the attack showed Yue and Cheng kicking Chan's back one to two times before punching him two to six times, while Wong was seen swinging a long object three times at the victim. Police arrested the four defendants on June 30 that year.
Prosecutors said all but Wong had admitted their respective involvements in the crime during police interviews, but Tong's lawyers argued their client had entered an involuntary confession.
On Monday, Yue, Cheng and Wong pleaded guilty to wounding with intent and a lesser count of taking part in an unlawful assembly, having been previously prosecuted over the more serious offence of rioting.
A charge of possessing an offensive weapon or illegal instrument against Yue over an extendable baton seized from his home was left on court file.
Deputy judge Daniel Tang Siu-hung extended the trio's bail until October 18 for mitigation and sentence.
Tong's bail was also extended. He will stand trial from Wednesday having denied the charges of rioting and wounding with intent.
Taking part in an unlawful assembly carries a maximum sentence of five years behind bars. Wounding with intent is punishable by up to seven years imprisonment at the District Court.