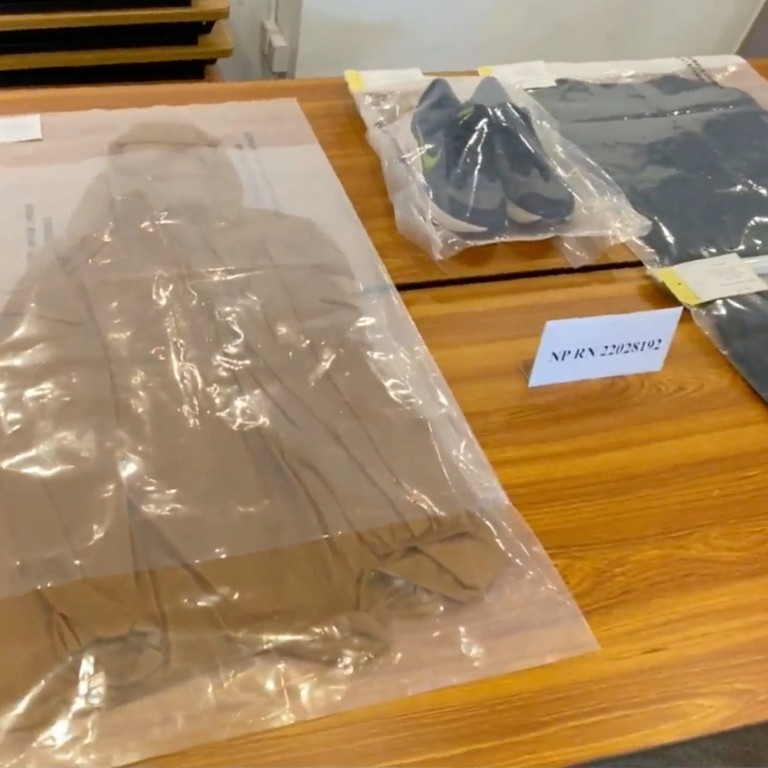 Hong Kong police arrest man on suspicion of desecrating Chinese flag, criminal damage after bamboo poles hurled onto road
Bamboo poles with 25 Chinese and Hong Kong flags attached to them to celebrate National Day ripped from railings and hurled onto road
Passer-by called police on Sunday morning, saying flags were scattered on Electric Road in Fortress Hill and passing vehicles were running over them
Police
have arrested a 36-year-old man in Hong Kong after bamboo poles with 25 Chinese and city flags attached to them to celebrate National Day were torn off railings and hurled onto a road before being run over by passing vehicles.
"Security camera footage showed that an expatriate man deliberately tore down bamboo poles carrying the flags and threw them onto the road at 4.18am," Senior Inspector Yip Chin-yeung of the Eastern police district crime squad on Wednesday said.
The suspect was detained on suspicion of desecrating the national and regional flags, as well as criminal damage, after he was picked up in Shau Kei Wan on Tuesday.
Desecrating either the national or city flag is punishable by up to three years in jail in Hong Kong, while criminal damage carries a maximum penalty of 10 years in prison.
The case came to light at 5.22am on Sunday when a passer-by called police, saying national and Hong Kong flags were scattered along Electric Road near the junction with Watson Road in Fortress Hill, with passing vehicles running over them.
Officers found 13 Chinese and 12 Hong Kong flags on the road. No one was arrested at the scene.
Chief Inspector Cheung Hang-fai said the vandalism occurred over several minutes. The man then spent about two hours walking more than 5km (3 miles) from the site to Shau Kei Wan Main Street East, the force said.
Officers arrested the suspect as he entered a building on Shau Kei Wan Main Street East at about 6pm on Tuesday.
Yip said the investigation showed the man acted alone.
At the suspect's home, officers seized the clothes and shoes he was allegedly wearing at the time of the incident.
Cheung said police were still investigating the motive behind the act and looking into the man's mental state.
As of midday on Wednesday, the suspect, who came to the city in 2015 after marrying a Hong Kong woman, was still being held for questioning. He works in the catering industry. The man had recently separated from his wife, a source said.
Detectives from the Eastern district crime squad are following up on the case.
The chief inspector stressed that the force would never tolerate any crime, appealing to the public to report such illegal activities.
The force said on social media that there had been multiple instances of theft, desecration and damage to Chinese and city flags set up as part of National Day celebrations.
Officers had arrested three men, aged 19 to 79, between September 30 and October 2 in connection with several of the cases, it said.
Police warned the public against desecrating either Chinese or regional flags, and also urged residents to also refrain from disrespecting the national anthem.
Lawmakers had earlier called for authorities to provide more activities and increase funding for decorations at housing estates to mark National Day, arguing the move would help residents to feel more engaged.