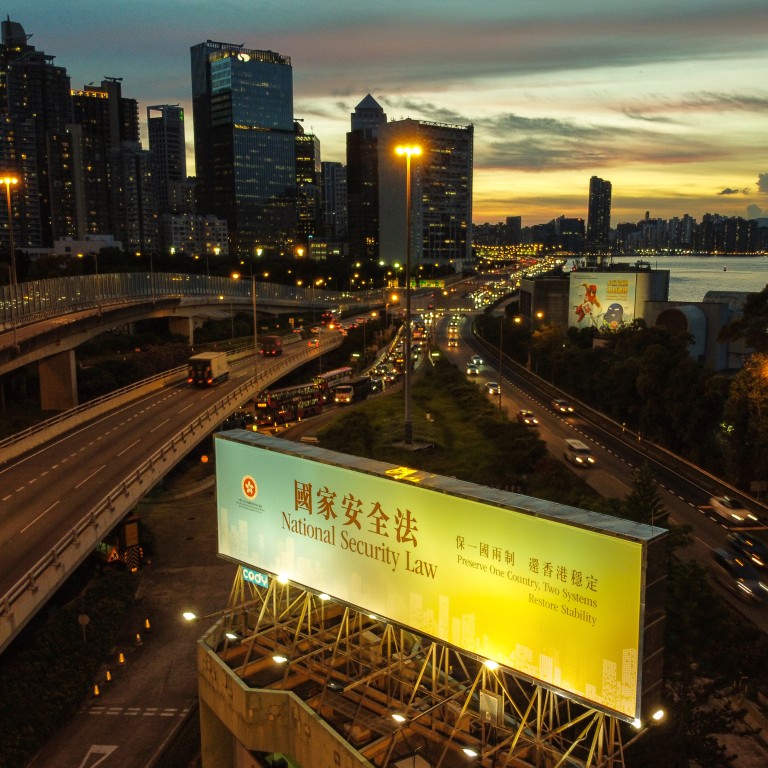 Hong Kong national security law: 5 teens from pro-independence group get up to 3 years' detention for abetting 'armed revolution'
They are part of 20-strong Returning Valiant group believed to have organised street booths and press briefings, calling themselves 'embers of revolution'
Among them is a teen who was only 15 at time of her arrest, the youngest defendant to be convicted of a national security law offence
Five teenage members of a pro-independence group in Hong Kong have been sentenced under the national security law to up to three years in detention at a correctional facility for abetting an "armed revolution" to overthrow the local and state governments.
The five were among seven defendants convicted by a judge designated to adjudicate national security cases. They admitted conspiracy to incite subversion under a joint count in August and September.
The seven from the now-defunct Returning Valiant group comprised five secondary school pupils – Wan Chung-wai, 16, Yuen Ka-him, Leung Yung-wan and Tseung Chau Ching-yu, all 17, and Kwok Man-hei, 19 – as well as salesman Chris Chan Yau-tsun, 26, and shopkeeper Choi Wing-kit, 21, who founded the group.
Wan, who was only 15 at the time of her arrest, is the youngest defendant to be convicted so far of a national security law offence.
Yuen and Choi also pleaded guilty to unlicensed possession of a radio apparatus and possession of offensive weapons with intent, respectively.
Judge Kwok Wai-kin on Saturday imposed a training centre order on the five students, under which they will be required to go through vocational training and development programmes at a penal institution for up to three years.
He adjourned sentencing for the remaining two, pending a Court of Appeal ruling on the principles regarding minimum sentences in national security proceedings, an issue that arose earlier this year in a
case
involving a university student jailed for inciting secession.
Kwok ruled the five other teenagers had undermined the city's stability and residents' safety with their calls to stage a "bloody" uprising and all-out resistance against authorities.
"Any city seeking stability cannot tolerate any form of military uprising, be it large or small or even lone-wolf style, or allow people to disseminate such thoughts," he said.
The judge noted the incitement offence was committed at a time when a substantial part of society remained antagonistic towards Beijing, which was evident from
football fans booing the national anthem
in a recent match.
"The defendants, knowing the national security law was already in force, set up the Returning Valiant group nonetheless to challenge the law and the national sovereignty of the People's Republic of China over Hong Kong," he said.
Kwok said Beijing did not impose any draconian laws on Hong Kong through national security legislation, but the five were deluded into believing both the central and local governments practised totalitarianism in the city and had deprived them of democracy and their local identity.
Although the five had engaged in a serious offence, their culpability was relatively low given their relatively young age, immaturity, recklessness and susceptibility to influence, the judge added.
Calling itself the "embers of revolution", the 20-strong group was said to have organised 13 street booths and press conferences and operated three social media accounts between January and May last year with the goal of toppling Beijing and the Hong Kong administration.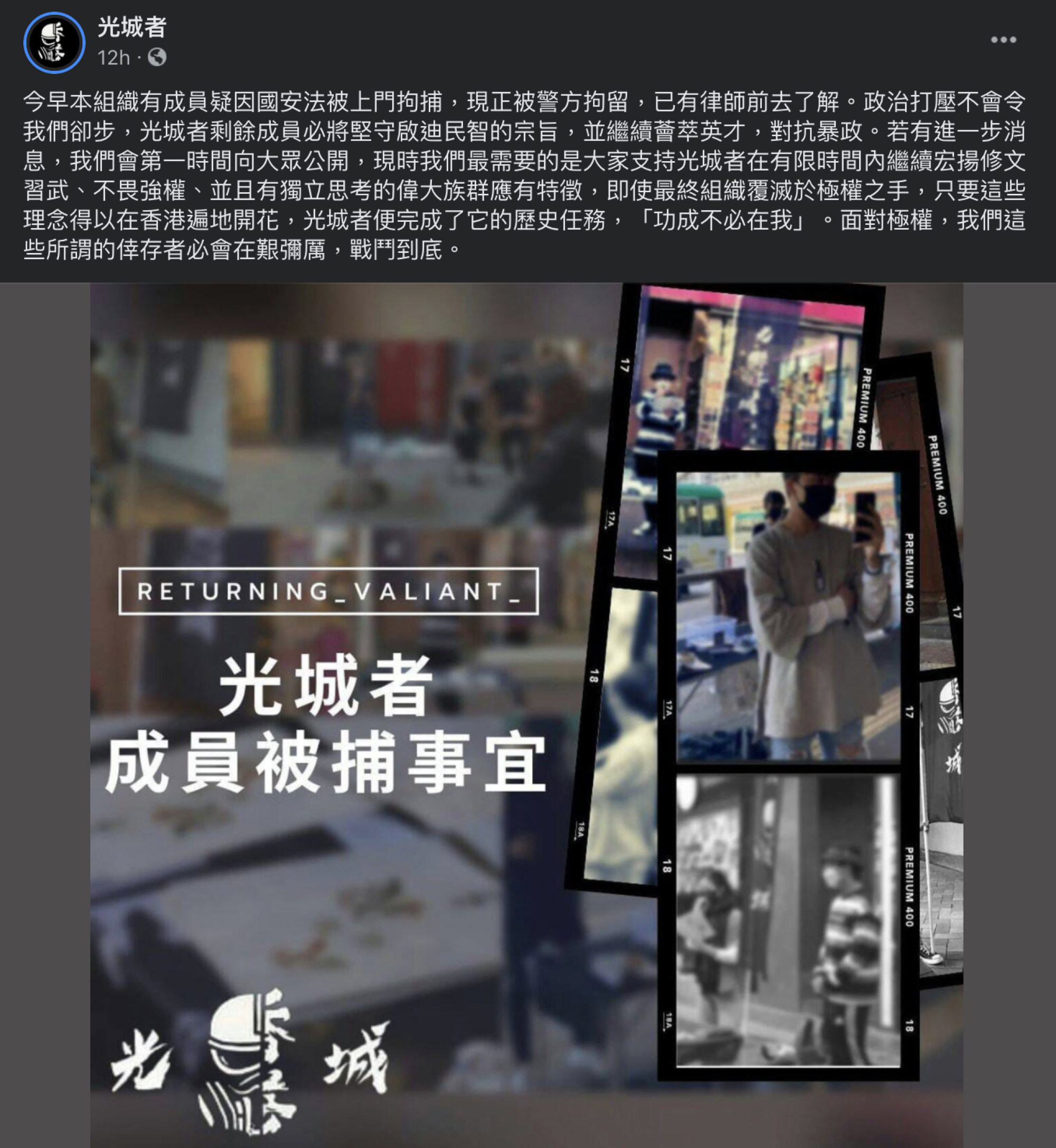 All seven suspects either spoke in support of insurgency or distributed fliers during public events. Wan also delivered live broadcasts on the internet in her capacity as a part-time news reporter.
National security police seized an array of weapons and protest equipment in a raid on the group's storage room in Cheung Sha Wan and the defendants' respective homes, including air guns, extendable batons, knives, respirators, helmets and tactical vests.
In mitigation, defence lawyers sought to play down the group's influence on society and their respective clients' level of participation.
The defence said the seven had either been influenced by anti-government sentiments that persisted following the 2019 protests, led astray by "misleading" media reports, or were oblivious to the legal consequences due to a lack of a national security curriculum in school.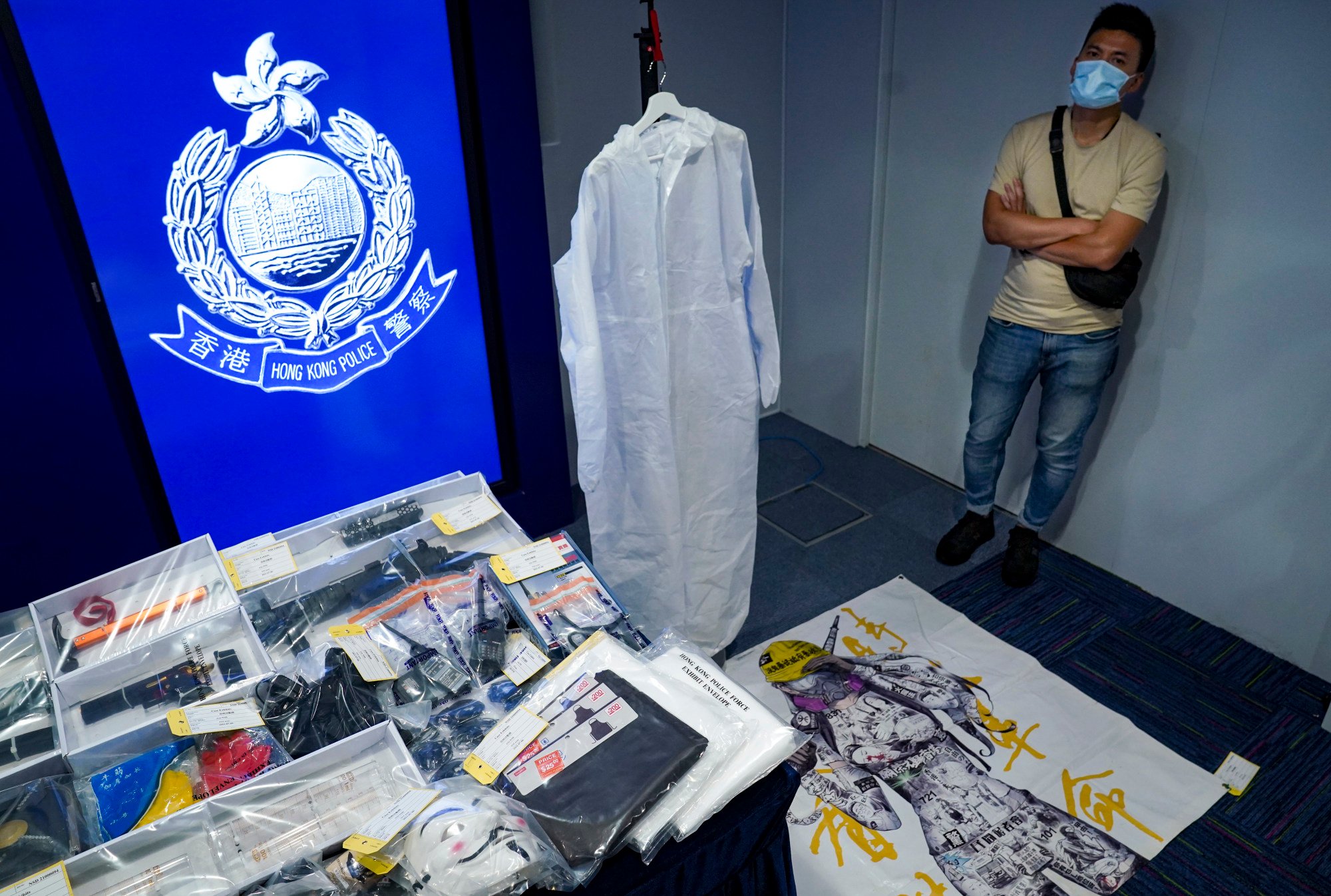 Some lawyers described the group's public speeches as "nothing but a joke" which had hardly caught people's attention.
But Kwok said the group's continued incitement of violence entailed a substantial risk that a "bloody revolution" could become reality, noting the defendants' offence mirrored a "military operation".
Yuen and Choi were also among four members of the group charged over a break-in at a secondary school in May last year.
Police seized an unlicensed walkie-talkie from the former and two batons from the latter during the incident. Further investigations found Choi had stored 275 obscene articles involving minors on his mobile phone.
Prosecutors agreed to drop a joint charge of burglary against the pair and a count of possession of child pornography against Choi following a plea bargain.
All but Tseung Chau were remanded in custody after they first appeared in the lower West Kowloon Magistracy in September last year. Chau spent three months behind bars before he was granted bail in December, but it was revoked last month.
Sixteen people have been convicted of offences under the national security law to date. The Beijing-decreed legislation took effect on June 30, 2020, outlawing acts of secession, subversion, terrorism and collusion with foreign forces.