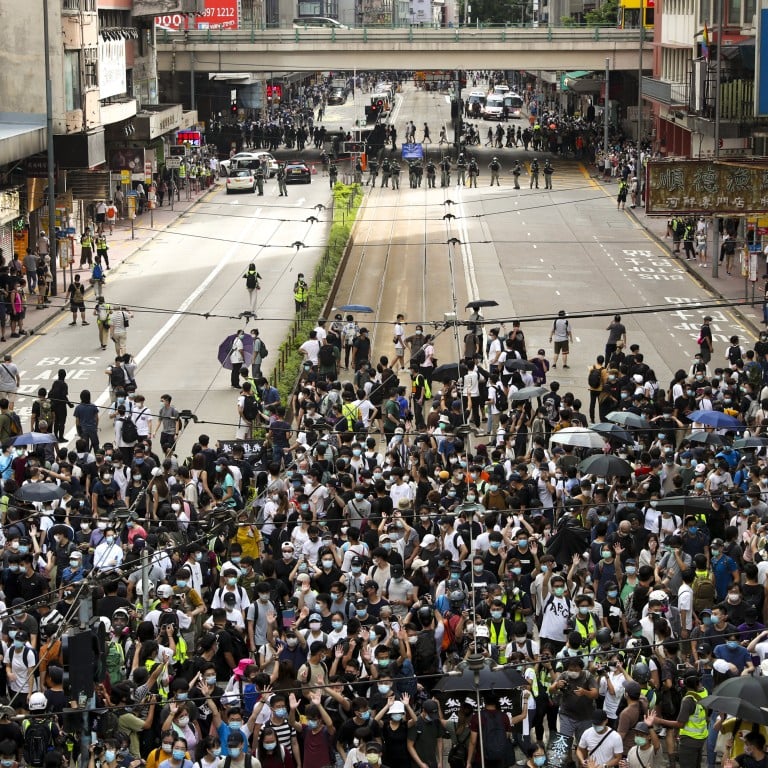 Former Hong Kong civil engineer gets 5 years' jail for rioting, stabbing policeman in protest against national security law
Wong Kwan-wa, 26, was intercepted on plane bound for London after police received anonymous tip-off
He is among trio who confessed to involvement in illegal rally on July 1, 2020, against national security law
A former civil engineer has been jailed for five years on rioting and wounding charges after he
admitted stabbing
a police officer in an anti-government protest against the national security law.
Wong Kwan-wa, 26, was escorted back to the District Court on Thursday to be penalised for what the judge described as "extremely serious" offences.
He was among a trio of protesters found guilty upon their own confession for being involved in an illegal rally in Causeway Bay two years ago on July 1, a day after Beijing imposed the national security law on the city.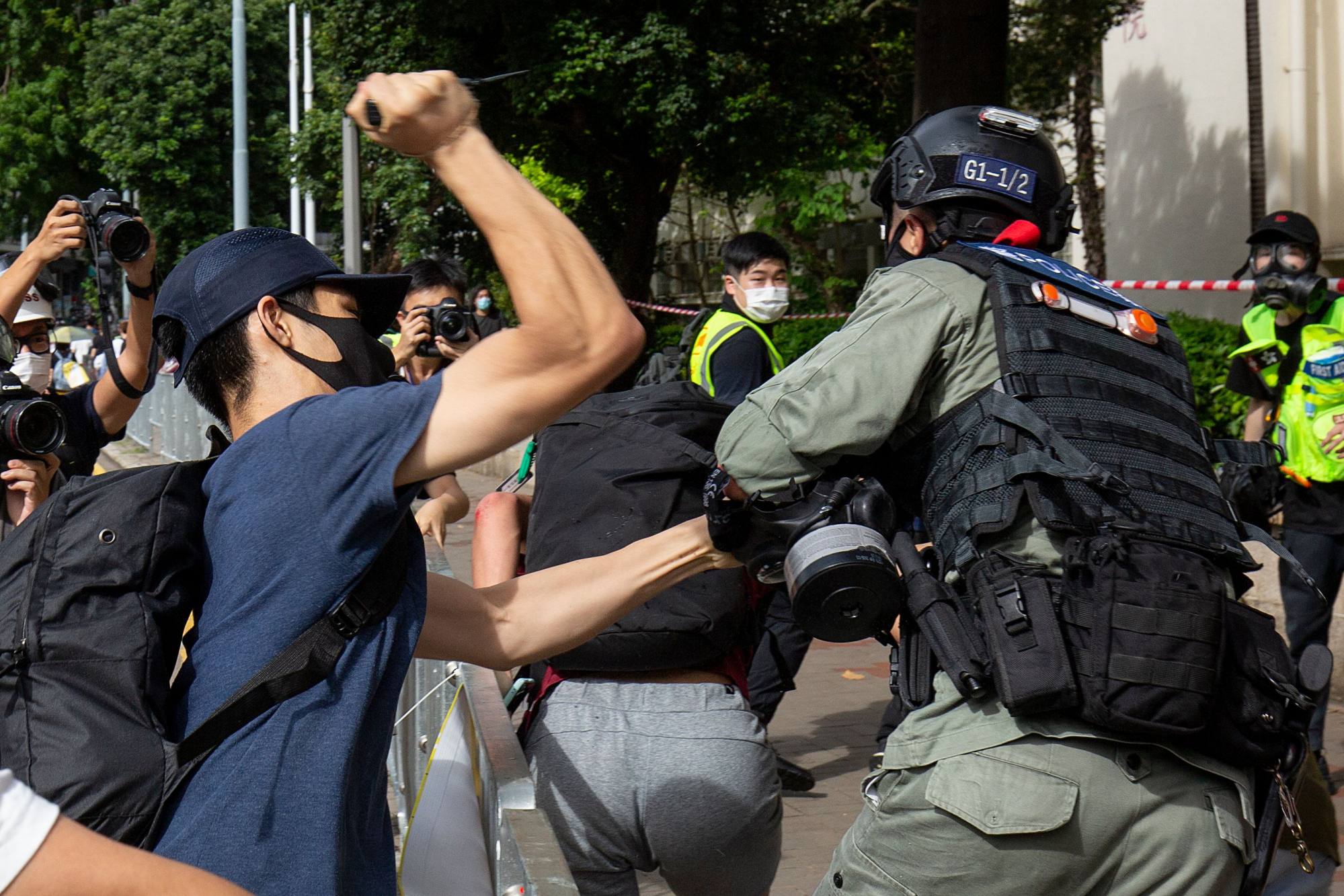 University first-year student Percy Chau Pui-lam, 21, was slapped with 33 months behind bars for rioting and obstructing a police officer. Another student, Law Kok-sum, 20, will be sentenced at the end of the month pending further assessment.
A fourth defendant, Cheung Tsz-ching, 26, who was Wong's girlfriend, is currently on bail awaiting the court's verdict.
During the 2020 protest, which occurred on the anniversary of Hong Kong's return to Chinese rule, about 300 mostly black-clad protesters gathered in the area, with some setting up roadblocks and chanting political slogans.
Wong was found to have stabbed a constable in the upper left arm with a military knife outside Queen's College when the officer was trying to subdue Law.
Some protesters, including Chau, also rushed towards the policeman in an attempt to pull the student away. The officer let go of Law and fell to the ground as protesters fled the scene.
Later on the same day, Wong met his friend Cheung, who allegedly helped plan the engineer's escape to London. Wong was arrested on the plane that night after police received an anonymous tip-off.
The trio pleaded guilty to rioting, with Wong, Law and Chau respectively admitting additional charges of wounding with intent, resisting police and obstructing an officer. Cheung denied a charge of perverting the course of justice.
Wong, a former employee of China State Construction Engineering (Hong Kong), worked as a part-time chef at a Taiwanese noodle shop after he was sacked for taking part in a strike.
In his mitigation letter, Wong acknowledged the present case was the result of "the misdeed of [his] inner self", adding he was sorry for worrying his teachers and friends.
Chau, meanwhile, said he had committed the offences out of "youthful impetuousness" and had fallen short of the expectations his family and teachers had in him.
Judge Frankie Yiu Fun-che said in sentencing the pair had substantially contributed to the large-scale disturbance, which had paralysed traffic in a bustling district, caused nuisance to residents nearby and undermined relationships between different sectors of society.
He added that Wong's attack on the injured officer had a long-term impact on the latter's career, as he was no longer able to take part in frontline operations in the force.
A wounding case of "extreme gravity" such as the present one, on top of allegations of rioting, could have been moved to a higher court for trial, the judge noted.
"Although [Wong] acted alone, he suddenly stabbed a police officer, who was making arrests, from behind ... His attack could potentially be fatal," Yiu said.
Yiu sentenced the pair to 32 months in jail for rioting, before handing four years to Wong for wounding and two months to Chau for obstruction. The judge ordered partially consecutive sentences for a total of five years for Wong and 33 months for Chau.