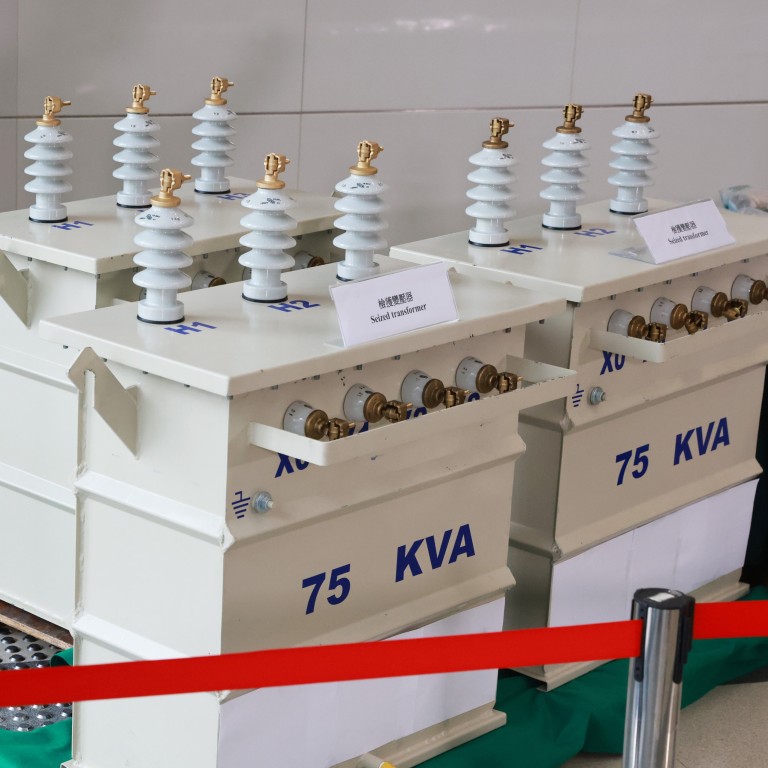 Hong Kong customs finds crystal meth hidden in Sydney-bound electrical transformers worth HK$334 million at destination
Consignment containing 76kg of meth was in transit in city and scheduled to be delivered by air to Sydney
Customs finds three wooden boxes carrying transformers weighing 300kg each
Customs officers have seized a haul of crystal meth hidden in a shipment of electrical transformers going from Mexico to Sydney via Hong Kong, with the narcotics worth as much as HK$334 million (US$42 million) in Australia.
The consignment containing 76kg (168lbs) of methamphetamine, or Ice, a strong and highly addictive drug, arrived at Hong Kong International Airport on Thursday night, the Customs and Excise Department on Tuesday said.
Comprising three wooden boxes each carrying a transformer weighing 300kg, the shipment was in transit and scheduled to be delivered by air to Australia within 24 hours.
A source said the drugs could fetch about A$68 million, or HK$334 million, if sold in Sydney. He added customs was working with overseas law enforcement agencies to identify the sender and recipient of the consignment.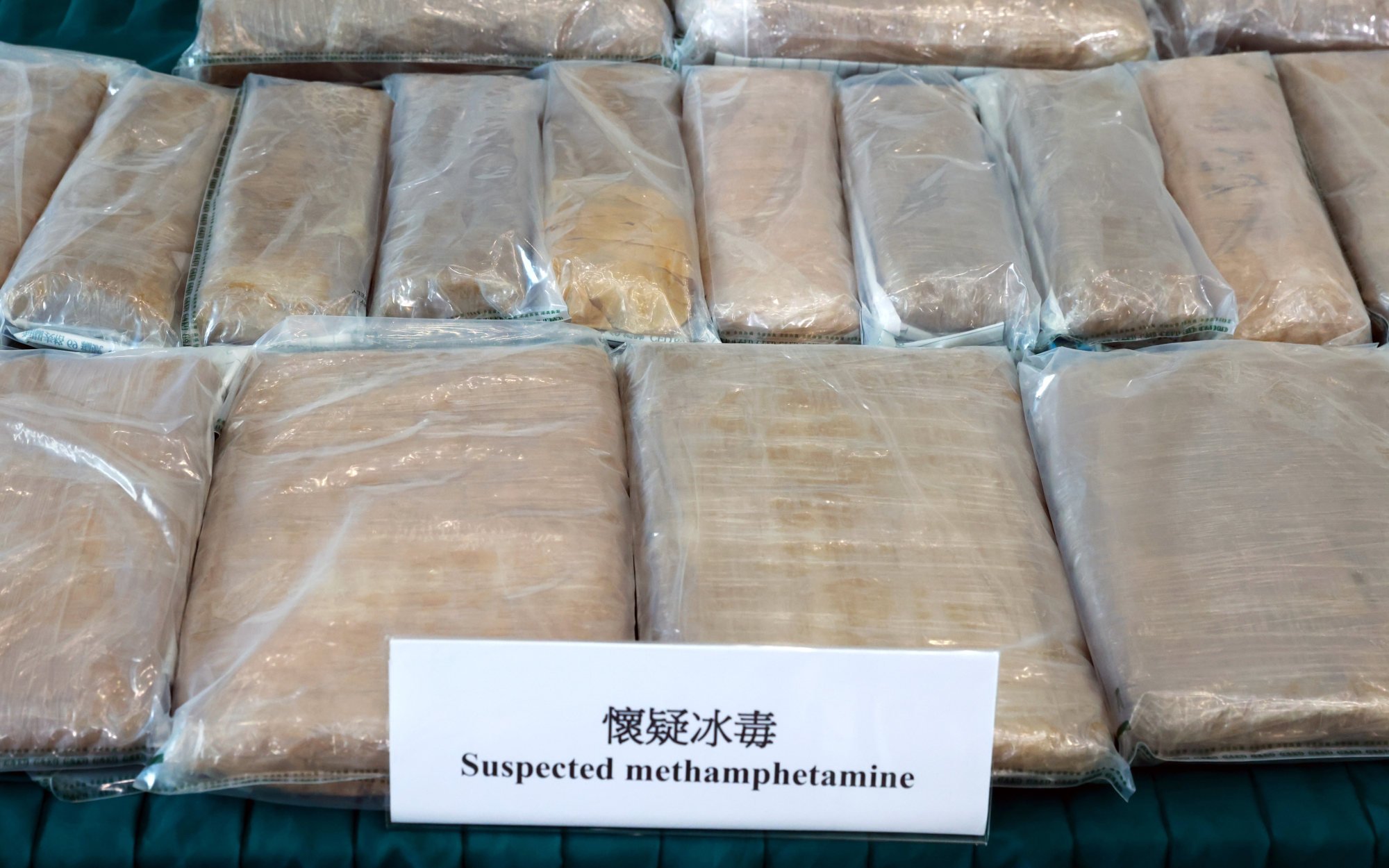 Customs officers decided to open the transformer for inspection at the airport's cargo terminal after suspicious images were detected in an X-ray examination, according to Senior Inspector Lam Kai-shan of the department's air cargo division.
"The frame of the machine was seen in the X-ray examination but no core components such as high voltage cables or coils of wire were found," she said.
Lam added signs of welding were found on the outer case of the transformers and officers detected screw heads had been ground before being painted.
They also noticed that the recipient address for the industrial machines was a residential house in Australia.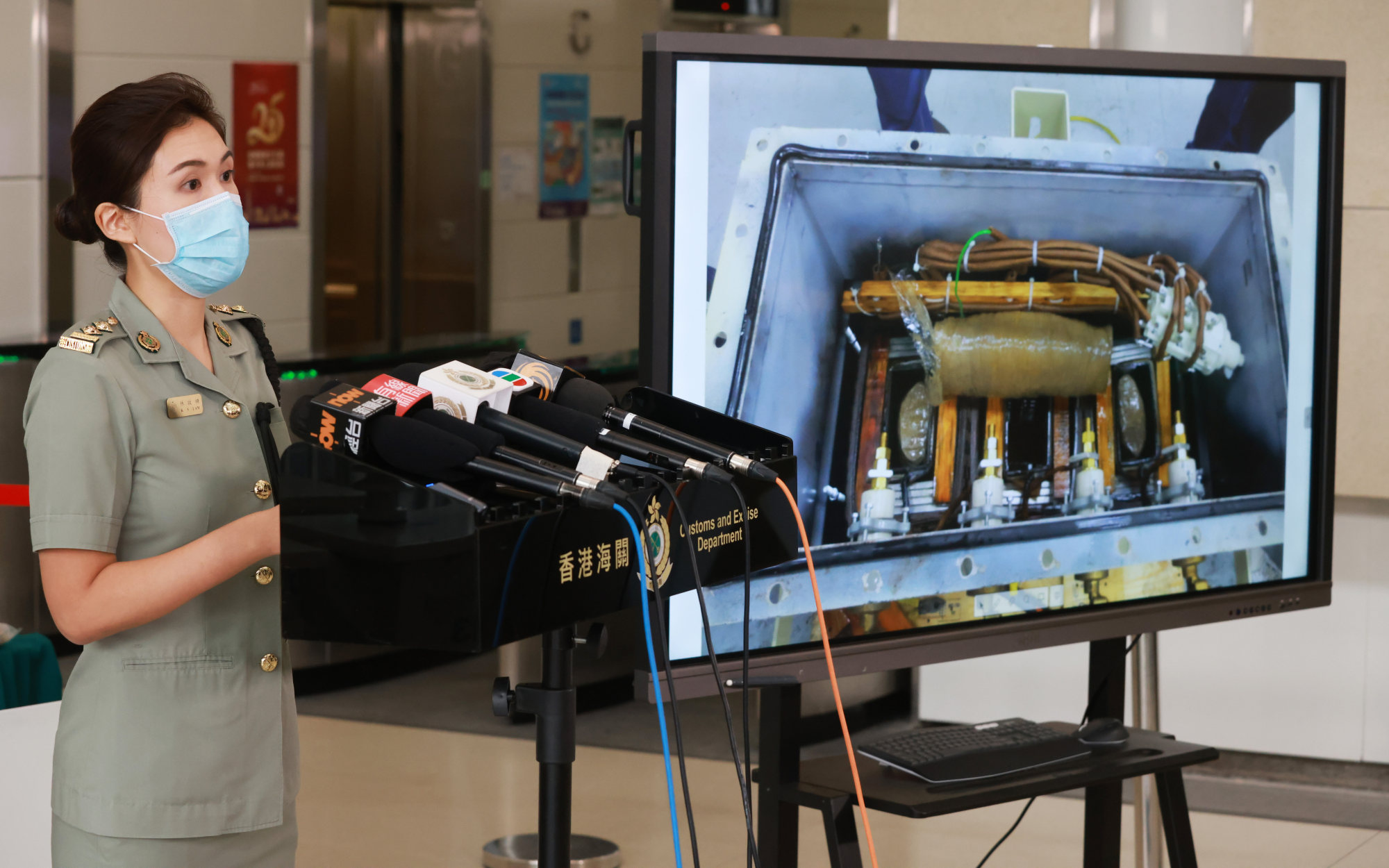 Customs officers then spent about 16 hours unscrewing and pumping oil out of the three transformers before discovering nine metal cases that were used to hide 45 bags of crystal meth.
"A total of 76kg of suspected crystal meth was found in the operation. The haul has an estimated street value of HK$46 million [in Hong Kong]," the senior inspector said.
The drug trafficking case was identified in an exchange of intelligence with overseas law enforcement agencies. No arrests were made in the city.
Senior Inspector Leung Kwok-wai of customs' drug investigation bureau said it was the third narcotics shipment from the region this year to be discovered by officers and involving the use of transformers.
In March, customs officers seized HK$400 million worth of methamphetamine in two shipments from Mexico, with one containing three electric transformers concealing 447 litres of liquid methamphetamine, which had an estimated market value of HK$260 million. In a follow-up raid, authorities seized 253kg of crystal meth, worth HK$140 million in a Sheung Shui warehouse.
In February, the department discovered HK$110 million worth of cocaine concealed in an electric transformer from Costa Rica.
Leung said customs would continue to exchange intelligence with overseas law enforcement agencies and tackle drug trafficking at the source.
In the first 10 months of this year, customs officers seized 3.4 tonnes of illegal drugs, up 8 per cent from 3.14 tonnes from the same period last year.