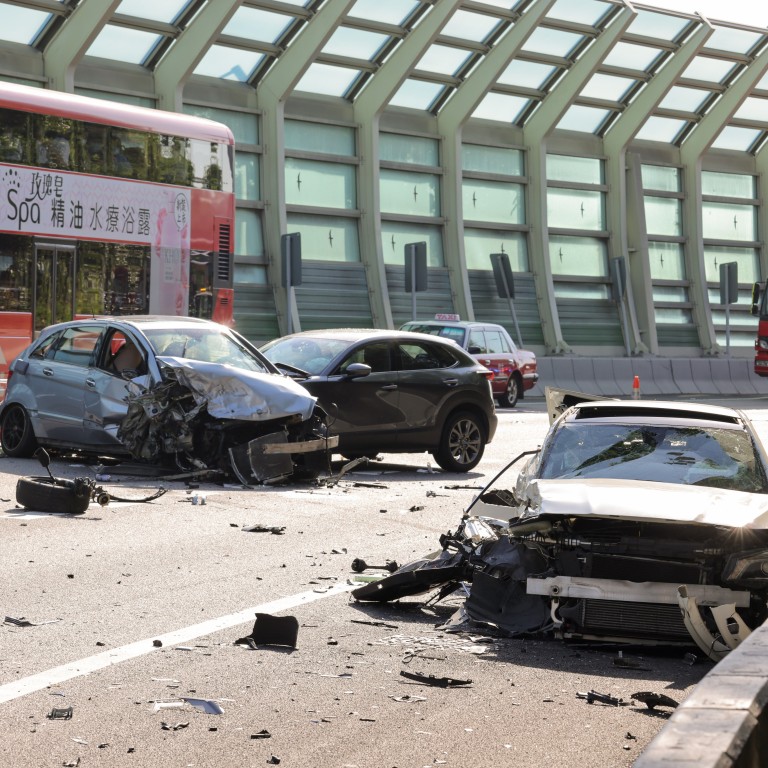 Woman, 52, arrested after high-speed police chase against traffic flow on Hong Kong highway ends with 3 injured in crash
Woman arrested after her Mercedes-Benz hits two other cars, injuring herself and drivers of both vehicles
Police 12km pursuit, including 3km against flow of traffic, starts after officer noticed woman's car registration was out of date
A Mercedes-Benz driver was arrested on Thursday after she led Hong Kong police on a 12km (7.5 mile) high-speed chase before her vehicle hit two other cars.
The 15-minute chase ended just after midday when the silver Mercedes, driven by a 52-year-old woman, hit two other cars as she drove against the flow of traffic on Kowloon-bound Tuen Mun Road near Yau Kom Tau in Tsuen Wan.
The woman and the two male drivers of the other vehicles were all injured in the crash, with one of the men having to be cut free from the wreckage.
The woman was taken to Princess Margaret Hospital in Lai Chi Kok for treatment, and the two male drivers, 33 and 53, were sent to Yan Chai Hospital in Tsuen Wan.
The drama began at 11.50am when a police traffic car on the West Kowloon Corridor in Cheung Sha Wan spotted the Mercedes and found its registration had expired.
The officer signalled the woman to pull over, but the Mercedes raced off with the police car in pursuit.
A video posted online showed a police car in front of the Mercedes, switching lanes in an effort to pull it over on Cheung Pei Shan Road in Tsuen Wan.
But the Mercedes stopped, did a U-turn in the middle of the busy road and headed against the traffic in a bid to escape.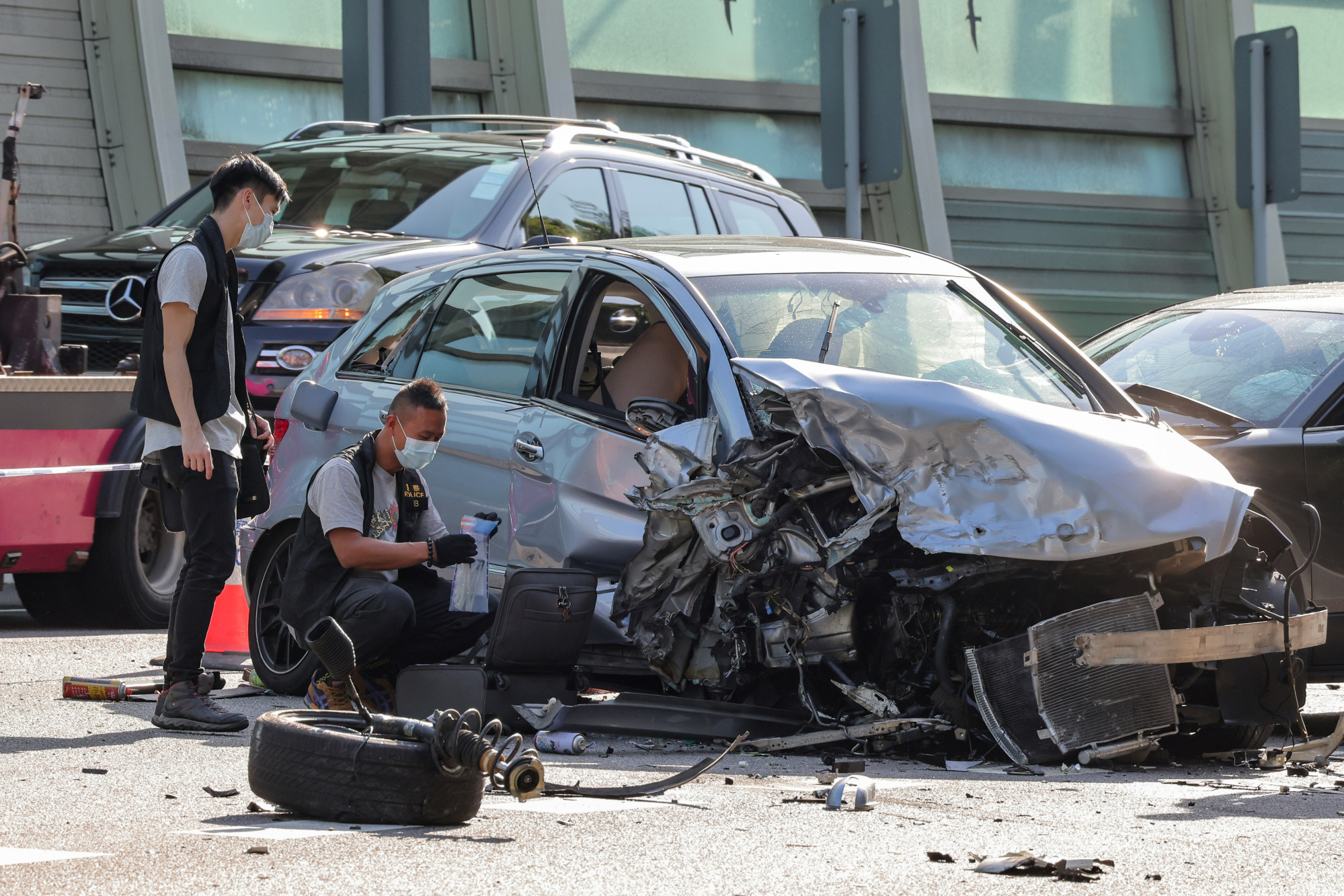 Another clip showed the woman travelling against the traffic on Tuen Mun Road near Yau Kom Tau, just a short distance away from the site from where she hit the other two cars.
The Mercedes drove on Lai Chi Kok Road, Kwai Chung Road, Texco Road and Cheung Pei Shan Road after leaving the West Kowloon Corridor, according to police.
Chief Inspector Lau Kam-pun of the New Territories South traffic unit said the car ran about nine kilometres before travelling against traffic for another 3.1km in the incident.
The woman was arrested on a series of charges, including furious driving, car theft, driving without insurance and driving a non-registered vehicle.
Police said they were trying to determine the car's owner.
Chief Inspector Ho Chun-him of the Kowloon West traffic unit said the woman was found to be wanted in connection with a drug trafficking case and on allegations she had used two forged documents.
More than 10 police motorcycles and several patrol cars descended on the scene, along with firefighters and paramedics.
The Mercedes was checked by a police drugs sniffer dog, but nothing was found.
The Transport Department said some lanes on the Kowloon-bound side of Tuen Mun Road near Yau Kom Tau were closed because of the incident.
Traffic was tailed back for 3km at about 1pm to the Ting Kau area and road users were advised to use alternative routes.